Are you tired of looking at expensive bird cages since you can't really afford them right now so you'd wish to get a cheap parrot cage and still not save on quality?
You'll definitely find one here if you continue reading this article. We did our best to review cages that almost anyone can afford and we've even provided you with a  large variety of cages like large and small cages and even cages on wheels and with a stand. It's up to you to decide on one and up to us to lay down all the information that you need.
The Summary
Best 6 Cheap Parrot Cages
BEST OF BEST CHEAP PARROT CAGE
Super Deal Pro Large Bird Cage
Top Playground
Тhe top of this cage is what's really interesting about it. Thanks to the fact that it's a flat top, the manufacturer was able to place a little bird playground on top. This playground has a metal frame to hold everything together and consists of a perch, 2 stainless steel bowls, and a playing ladder.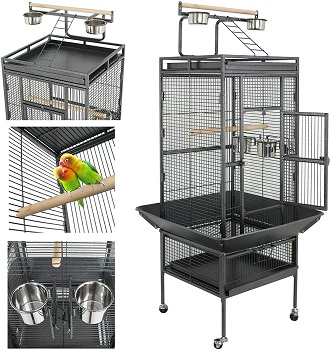 Build And Coating
This cheap parrot cage is actually a wrought iron bird cage. It's one of the more common materials used in making bird cages and it's pretty reliable in terms of strength. What wrought iron needs is a quality finish and this cage has it. It's a powder coat finish that's not harmful to birds and it's also lead-free.
Cage Cleanliness
In terms of how clean this cage will be, we can safely assume that it's going to be easy to clean and maintain the area surrounding it. That's because the top playground has a cleaning tray of its own and there's also a cleaning tray on the bottom. For floor protection, you'll get to place a seed guard on it.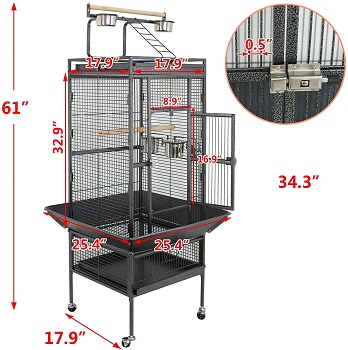 Entrances And Interior
The front door that will allow your birds to access the cage and for you to access it as well is large and features a safe heavy-duty lock. You'll also get two small entrances on the right side where you can put and then easily refill the 2 stainless steel bowls that come with it. You'll also get an additional wooden perch.
In Short:
Made out of wrought iron
Has a lead free and non-toxic powder coat
Features a top playground with a perch, bowls, and a ladder
Comes with 2 feeding entrances
Has a seed guard
The top and bottom both have cleaning trays
BEST WITH STAND CHEAP PARROT CAGE
Yaheetech 69-inch Wrought Iron Cage
Interior Space Size
There aren't as many differences between the cage we reviewed before and this one but there are some that make it worth having a place in this article. The first thing that comes to mind is its size. The usable interior space is a few inches taller with 35-in in height but what makes it stand out is that has a large ground square footage.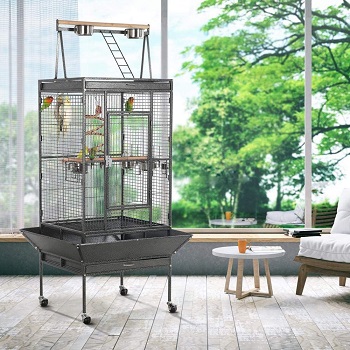 Length And Width
The top of this cheap parrot cage is 22-in long and 24-in wide. It's a large enough square footage for your parrot to play on top with the accessories that are provided there. Everything is placed on a metal frame that has a wooden perch, 2 bowls, and a ladder for playing.
Metal Bits And Finish
The coating finish of this wrought iron cage is made to protect the iron wire and other iron bits. The finish is waterproof and with it, rustproof. The finish in question is hammer paint so it also adds an interesting visual component to the cage as it is. The bar spacing of the cage is 0.6-in.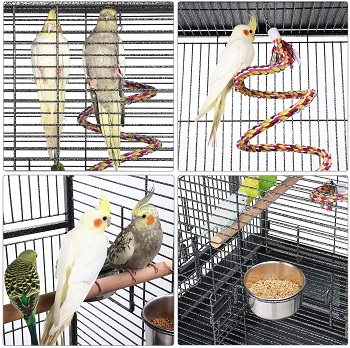 Cleaning And Details
Just like the cage before, this big bird cage for parakeets also has a seed guard and a top and bottom cleaning tray. We said parakeets because it's designed to house smaller parrots. The accessories it comes with for the inside are 2 stainless steel bowls that have their own feeding entrance, a wooden perch, and even a bungee play toy.
In Short:
Made with wrought iron
Has a bar spacing of 0.6-in
Can house smaller parrots
Features a playground on top
Has a seed guard and a top and bottom cleaning tray
Comes with 4 stainless steel bowls, 2 perches, a bungee toy, and a ladder
BEST ON WHEELS CHEAP PARROT CAGE
Vivohome 53-in Rolling Cage
Cage Height
When getting a bird cage, if it comes with a stand and you wish to have a large one, you'll have to take into account the height of the stand. Luckily, the stand of this cage is only 14.5-in tall so the rest is reserved for the cage that is 38-in tall. Altogether, it's a 53-in tall bird cage.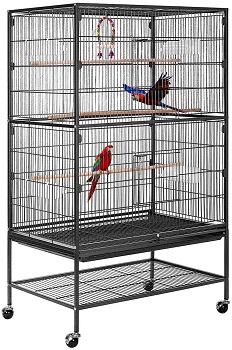 Actual Size And Bird Housing
Another thing to think about in terms of cage size is how big of a bird it can house. This is a large cage but it's designed to house small parrots so it's more of a small bird cage with stand. You'll get to house multiple small parrots or parrotlets inside it like cockatiels.
Metal Protection
Again, the cage is made out of wrought iron. Wrought iron is nothing more than low-carbon steel. It does rust quicker and the solution to the problem on this cheap parrot cage is the rust and waterproof finish. The final coating finish is hammered paint.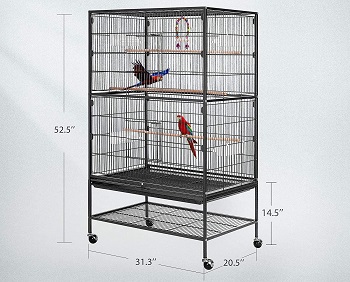 Double The Accessories
You have to take into account that this is a parakeet cage for two. Then it will make sense why it comes with so many accessories. You'll get 4 plastic cups that have a place for both food and water, 2 wooden perches, and even a swing that you can hang on top of it.
In Short:
Made out of wrought iron
Has a water and rustproof finish
Made to house multiple small parrots
Comes with 4 food and water cups, 2 perches, and a swing
Comes with stand on wheels
The stand is 14.5-in tall
BEST LARGE CHEAP PARROT CAGE
Topeakmart Extra Large Parrot Bird Cage
Bar Spacing
You'll definitely get a lot more options when it comes to what size of bird you can house in this cage. Since it has a 1-in wire spacing it's fit for housing large parrots. There are a lot of parrot breeds out there so make sure your bird is of similar size as an African grey or large cockatoo and macaw.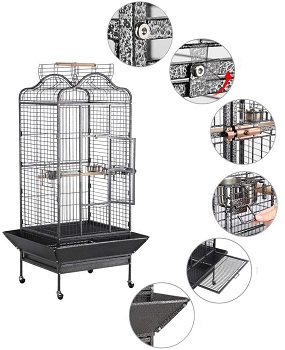 Strong Metal Importance
Larger parrots have stronger beaks and since they usually navigate through the cage using their beaks the cage you're looking at must have a durable wire. This cheap parrot cage definitely is one. All parts of it are welded, it has a hammer tone paint finish and it's resistant to water and rusting.
Seed Guard Location
Bird cage seed guards are usually unappealing to look at since they break the shape of the cage with angled panels. That's why this seed guard is placed right at the bottom where the cleaning tray is. Even the cleaning tray and the seed guard are made out of metal.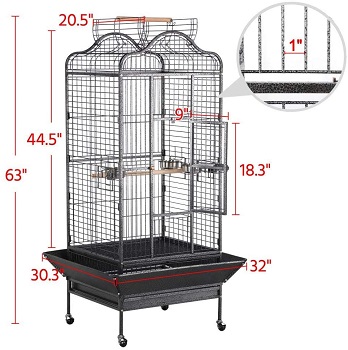 Top And Accessories
We can easily think of this cage as an antique bird cage with stand. This is due to its top that's curved in some places. The 2 stainless steel bowls that come with the cage can be attached to their own small feeding entrances and you'll also get 2 wooden perches. You can place one in between the two doors of the top entrance to keep it open.
In Short:
Has a welded construction
Features water and rust-resistant finish
The seed guard is located close to the cage bottom
Designed to house large parrots like Macaw and African Greys
Has a 1-in wire spacing
Features a 2-door entrance on the top
Comes with 2 stainless steel bowls and perches
BEST INDOOR CHEAP PARROT CAGE
Yinatech 53-in Bird Cage
Stand Information
Although this cage is 53-in tall, a lot of its height comes from the stand it sits on. If you don't particularly like the looks of it with the stand on, you can always detach the cage from it. The stand features 4 rolling wheels to move the cage easily and it even has an accessory storing grid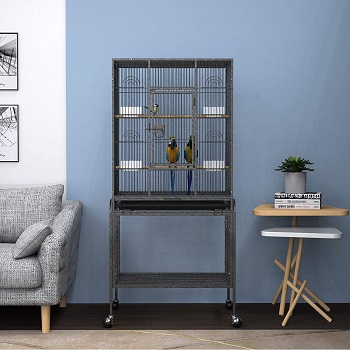 Metal Protection
The cage has a metal bar frame and steel wire sides. Each metal part that you see on this cheap parrot cage is wrought iron. Some parts of it are welded for even more durable construction. The finish is actually a spray paint finish that helps with protection from rust and corrosion.
Parrots It Can House
The wire spacing for each wire bit is 0.59-in. Thanks to this small wire spacing, the cage is suitable for housing small parrots. If not for the small wire spacing, your bird could easily pull its head through and hurt herself or even escape in some cases. If you get it for a larger bird make sure you house only one bird inside.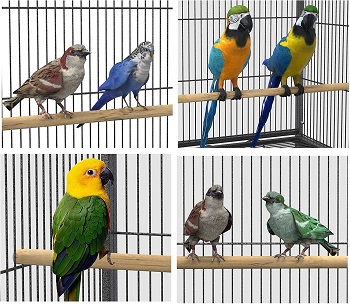 Cleaning And Additional Supplies
It doesn't have a seed guard but it does have a cleaning tray below the bottom wire grid. You can slide out this tray and easily clean it. You'll get 4 cups purposed for food and water that you can place on each corner in the front where there's a small door for it and it comes with 2 wooden perches.
In Short:
Has a wrought iron construction
The spray paint finish offer rust and corrosion resistance
Has a 0.59-in wire spacing
Can house multiple small parrots
Comes with 4 small entrances for the 4 feeding cups
You'll get two perches with the cage
BEST OUTDOOR CHEAP PARROT CAGE
Zeny 68 Bird Cage
Top Features
The top of this cage is interesting because your bird will get to rest and plays on its top. This is since it's actually a little playground. This playground has a metal frame structure and features 2 stainless steel bowls for food and water, a wooden perch, and even a ladder.
Cage Stand
This cheap parrot cage comes sitting on a stand that you can't really remove easily. The stand is here to make moving the cage a lot easier since it weighs around 50 lbs. Unfortunately, it doesn't feature a grid for storing bird-related accessories but it does have a seed guard for keeping the surrounding area clean.
Cleaning Options
The seed guard won't really disrupt the visual appeal of this large bird cage with stand because it's featured on the bottom where there's a cleaning tray. The top also features a slide-out cleaning tray so if your bird ever litter when on top, you won' have to clean anything except for that tray.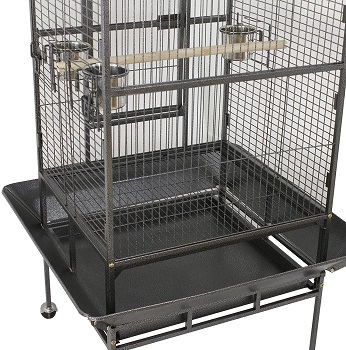 Lock And Wire Safety And Interior
The wire spacing goes over the 0.5-in mark.  Each spacing is 0.6-in wide so it still means that you'll get to house smaller birds inside. The lock on the large front door will keep your birds safely contained while the single wooden perch and additional 2 stainless steel bowls will keep the interior fun.
In Short:
Comes with a top playground
Features a single door with a secure lock
Has a 0.6-in wire spacing
Comes sitting on a stand with wheels
Features a seed guard
How To Pick A Cheap Parrot Cage
Getting a cheap parrot cage surely doesn't have to mean that you're getting a cage of poor quality but to get a quality one, you might want to get yourself familiar with what these cages have to offer, their differences, similarities, and many more things in this buying guide.
Required Cage Size – The size of cages for parrots varies largely since there are so many different breeds of parrot that differ largely in size. All of these cages are big but you should think about whether or not your parrot can be housed inside. To know this you'll usually have to check the wire spacing.
Wire Spacing Safety And Other Details – Like we said, to determine what size of parrot the cage you're looking at can house it's good to check the wire spacing. Small parrots will usually be safe in a cage of up to 0.6-in wire spacing, medium-sized birds can go above that to up to 0.7-in while large parrots thrive in 1-in wire spacing cages and larger.
Bird Metal Poisoning – Metal, in most cases, is poisonous for birds so it's really important to check the quality of a coating finish of the cheap parrot cage. What you want to be looking for is a rust and corrosion-resistant finish that is non-toxic to bird. These finishes are usually free of lead and zinc.
Price Range – Depending on the size of your parrot, the price of a cage will go up. For bigger parrots like African Greys and Cockatoos, you'll rarely, if ever, find a cage under a 100 dollar price range. The cheapest ones are going to cost between 100 and 160 dollars but these cages are no stranger to being 200 dollars.
To Sum Up
We feel like you'd find the best quality for the price you'll pay in the Super Deal Pro Large Bird Cage so we'd definitely recommend it as the best cheap parrot cage. It's made out of wrought iron, has a durable finish that protects it from premature rusting and the finish is also non-toxic to birds since it's lead-free. If you'd like to check out more cheap options for bird cages in general we'd advise you to read the article about cheap big bird cages or if you want to check out cages for smaller birds at an affordable price the article about cheap parakeet cages.