Want to provide your bird with a large bird cage with stand so that she or he can feel comfortable but want to make it easy for yourself to move it?
You can easily find the cage you're after in this article. You'll need to keep on reading if you want to go through our selection of the best cages that fit this description. We made sure to review not only the best, but a lot of different types of cages like a parrot, budgie, and even white cages.
The Summary
Best 6 Large Bird Cages With Stand
BEST OF BEST LARGE BIRD CAGE WITH STAND
Prevue Pet Products Stainless Steel Cage
Full Stainless Steel Build
Although a bit pricey, we didn't have to think long and hard to choose a cage that we'd review as the best when this cage is in the selection. Probably the most interesting and best thing about it is the fact that it's completely made out of stainless steel and when we say completely, that includes even its accessories.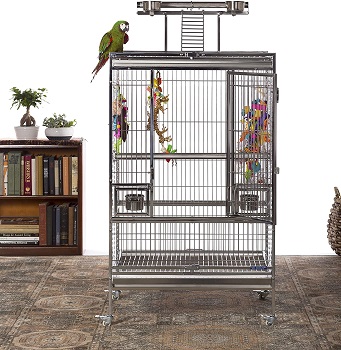 Why Go Stainless
Stainless steel is the best material of choice for a bird cage for multiple reasons. Stainless steel bird cages to clean which is important since birds like to have their living area kept clean, and it's outstandingly durable and safe for birds in terms of that your bird won't get metal poisoning by chewing excessively on the wire.
Top Fun
On top of this large bird cage with stand, you'll find a fun area where your bird will get to both rest and play when you let it out of the cage to fly around a bit. This playground has stainless steel construction and features 2 bowls, also made out of stainless steel, a perch, and even a ladder.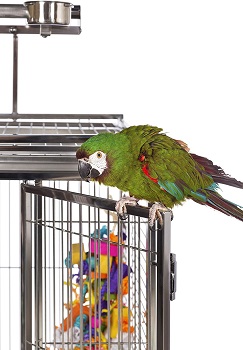 Stand And Birds To House
The stand of this cage can't be separated from the actual cage and it only features wheels so that you can easily move this 80 lbs cage. The wheels are also lockable so that it sits still when you're done moving it. The wire spacing of 7/8-in makes it good for use by larger parrots like African greys and Macaws.
In Short:
The wheels on the stand are lockable
Completely made out of stainless steel
The top features a perch, ladder, and two bowls
Has a 7/8-in wire spacing
Suitable for larger birds like Macaws
The cage is durable, safe, and easy to clean
BEST BUDGIE LARGE CAGE WITH STAND
Yaheetech Wrought Iron Bird Cage
Metal Price And Durability
After reviewing the stainless steel cage it's hard to come close to it even though wrought iron bird cages like this one are still an excellent choice for birds. This type of metal is durable because of its lower carbon content and what's great about them is that they're usually considered as cheap parrot cages.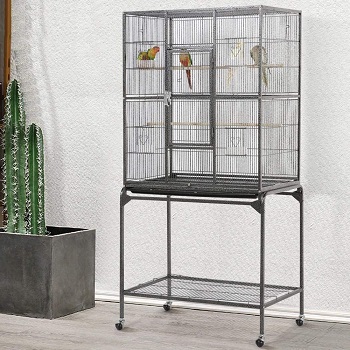 Finish Quality And Purpose
The only problem with wrought iron is that it rusts more easily. The solution to this problem is simple though, all you need to do is make sure the coating finish is durable and protects the cage well. The coating finish in the case of this large bird cage with stand is a hammertone finish.
Budgie Housing And Breeding
This is a large budgie cage with stand and we were able to conclude this by looking at the small wire spacing of 0.4-in. You'll even get to use it as a parakeet breeding cage since you can place a breeding box on the entrance designed for nesting boxes. This door can be found on top of one of the sides.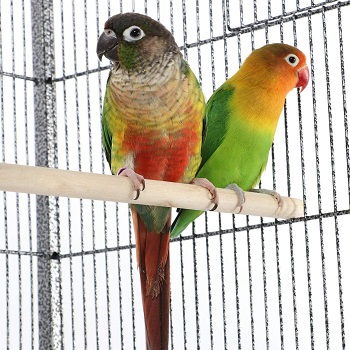 Stand Functions And Accessories
If you prefer your cages without a stand, you can easily remove this cage from it. This stand has 4 wheels for easier movement and even a storage grid for bird accessories and supplies. You will get some accessories with the cage as well and they include four plastic bowls for feeding and 2 wooden perches.
In Short:
Made out of wrought iron
Has a durable hammertone finish
Features a 0.4-in wire spacing
Can be used as a breeding cage
The stand can be detached from the cage
Comes with 4 feeding cups and 2 wooden perches
BEST COCKATIEL LARGE CAGE WITH STAND
Prevue Hendryx Pet Products Wrought Iron
Birds You're Allowed To House
Cockatiels, as a breed are larger than budgies but that's only true if you're bird is not an English budgie since they tend to be bigger. We're mentioning this because even though this is a large cockatiel cage, you can still use it as a big bird cage for parakeets because of the wire spacing of 0.5-in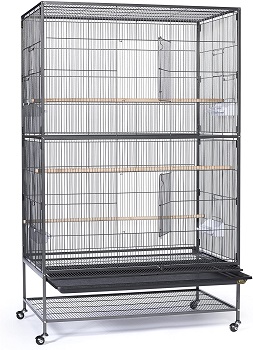 Flight Cage Explanation
It's easy to confuse a regular large bird cage with stand for a flight cage since they're both big. The difference is that flight cages are much wider and longer as they allow your bird to fly around a bit ad get the exercise they need. This large cockatiel cage with stand is a flight cage for sure.
Accessory Abundance
The stand of the Prevue Pet Products wrought iron flight cage doesn't take much away from the actual cage height but still features wheels and a storage grid for supplies. The accessories this cage has are somewhat abundant since you'll get 3 wooden perches and 4 cups for food and water that you can attach to their own feeding doors.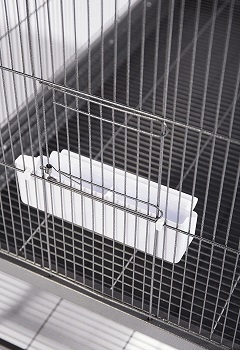 Metal Type
This is yet another wrought iron bird cage, we did say that they are very common in the bird cage industry since they offer a reliable durability and the metal flaws are easy to correct. The rusting metal on this cage is solved by offering a powder coating finish that's not toxic for birds.
In Short:
Has a wrought iron build
features a non-toxic powder coat
Can be used to house small birds like cockatiels
Features a 0.5-in wire spacing
The stand has wheels and a grid for storage
You'll get 3 perches and 4 food and water cups
BEST CANARY LARGE BIRD CAGE WITH STAND
Mcage Large Wrought Iron Flight Cage
Main Purpose
If you don't know already, flight cages are mostly long and wide and are intended to allow your bird or bird, depending on the birds' size, to safely fly around without risking being caught by predators or if you're using them as an indoor bird cage to leave your home damage-free. This is one of these cages.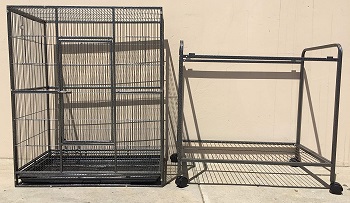 Safety In Terms Of Construction Material
Cage safety can be looked at from different angles. The first, and most important safety feature is definitely the material used to make a cage. The McCage large wrought iron flight canary parakeet cockatiel lovebird finch cage with removable stand is made out of wrought iron that's durable because it has a low carbon content.
Birds It Can House
Although it's made to house canaries, you really don't have to limit its use to just housing canaries. It has a small wire spacing of 0.5-in so it's safe for housing many small birds. These birds can be budgies, other parakeets, cockatiels, small conures, and many other similar-sized birds. You can even use it as a breeding cage because of the nesting box doors.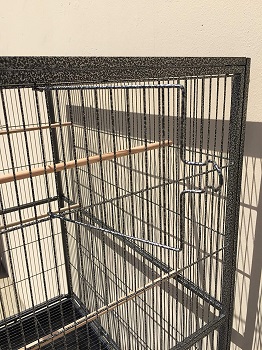 Stand Extras
We did already briefly mention that this large bird cage with stand can be removed from it. You'll also get to move it easily when it's on the stand because of the 4 wheels and you'll get to keep everything tidy since you'll get to store bird supplies and toys on the wire storage grid.
In Short:
Acts as a flight cage
Can house small birds, ranging from canaries to budgies
Has a 0.5-in wire spacing
Made out of wrought iron
The stand can be removed from the cage
Features breeding box doors
BEST WHITE LARGE BIRD CAGE WITH STAND
Yaheetech 61-inch Wrought Iron Cage
Cage Color
Since large cages tend to be quite the obstruction inside the home due to their size it's not that easy to find one that will blend better as an indoor parrot cage. This cage solves the cage eyesore issue only with its color since it isn't colored black but rather, it's colored white.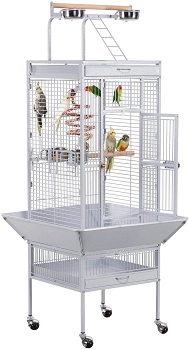 Making Exercise Fun
You should consider letting your bird out of the cage once a day so that they can fly around and get their daily exercise. This large bird cage with stand will make it easier and more fun because it's a play-top bird cage. There, you'll find a resting perch, two feeding bowls, and a ladder.
Keeping Your Home Clean
You won't even have problems with cleaning this large white bird cage with stand. It comes with 2 cleaning trays, one located on the top and one on the bottom but that's not all. The surrounding cage area can easily be kept clean because it comes with seed guards.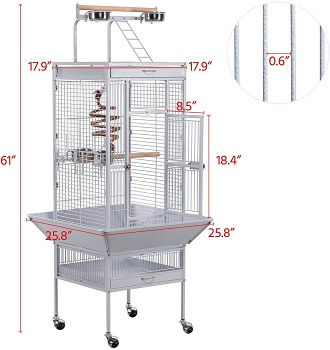 Interesting Interior
The Yaheetech parrot cage has a 0.6-in wire spacing so it isn't exactly suitable for smaller birds. You'll get to use it with smaller parrots like conures and other birds of similar size. On the inside, you'll get to place a single wooden perch, 2 stainless steel bowls for food and water, and also a hanging bungee toy.
In Short:
It's colored white
Comes with a seed guard
The top has a perch, bowls, and a ladder
The cleaning trays can be found on the top and the bottom
Has a 0.6-in wire spacing
BEST ON WHEELS LARGE BIRD CAGE WITH STAND
Super Deal Pro Large Bird Cage
Price Of The Cage
If you can't really afford any of these cages since they're not exactly cheap, you might want to take a closer look at what this cheap big bird cage has to offer in terms of safety, durability, and features. You won't be spending more than 160 dollars on it so it really is for everyone's budget.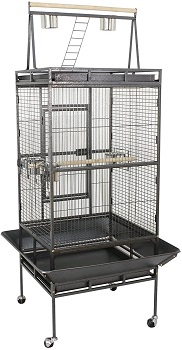 Common Metal Build
Like most of the cages we reviewed here, this one is also made out of wrought iron which is a bonus since it's affordable. The low carbon content metal wire will be protected from rusting prematurely with a powder coating finish that's safe for birds since it's lead-free and non-toxic.
Surprising Feature Quantity
You would think that this large bird cage with stand doesn't come equipped with a lot of things but it really does. It comes with a top play area, a seed guard, and a cleaning tray on top and the bottom. The interior features a single wooden perch and 3 stainless steel bowls that can be attached to the feeding entrances.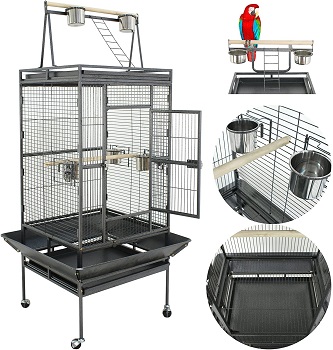 No Lead Or Zinc
You want to be careful with cheap cages for birds and pay close attention to the coating finish. Birds can suffer metal poisoning if the finish isn't all that good. This mainly happens due to lead or zinc but the finish of this cage is free of it. It has a 0.6-in wire spacing so it's safe for medium-sized birds.
In Short:
Made with wrought iron
Has a top playground area
Comes with a seed guard
Has a 0.6-in wire spacing
The finish is lead-free so it's safe for birds
Has a cleaning tray on top and the bottom
How To Pick A Large Bird Cage With Stand
These cages probably have the most variety between models and types so that's why it's important to know about these before choosing your large bird cage with stand. We'll go through these various differences and a lot more in this quick and easy buying guide.
Why You'd Want To Go Big – Unless you're getting a cage for a big bird like a large Macaw or a Cockatoo, you will get the option of getting a small cage like a small parakeet cage. In both cases, we'd advise you to go big if you can because there isn't a limit on how big of a cage for small birds should be and the large space will keep them happy because they'll get to fly around.
Big Cages For Small Birds – If the birds you're getting the large bird cage with stand for are small, you might have an issue picking out a safe cage for them. With bigger cages come bigger wire spacing and small birds need a small wire spacing of around 0.5-in to not be able to pull their head through the spacings.
Cage Safety Factors – Apart from the wire spacing, there are more safety factors to think about when getting a bird cage in general. You'll want to make sure that the metal of the cage is durable since that will determine whether or not your bird will get to bend the wire with its beak. A safe option is to go with wrought iron cages. you'll also need to make sure that the coating finish is safe for birds. You'll want to look for a powder coating finish, a hammer tone finish, or just a finish that has no lead or zinc.
Stand Types – You wouldn't believe the number of stand types out there. You can either choose a stand that is connected to the cage and isn't detachable or you can get the detachable option. Next, we have the stand contents. All stands come with wheels but not many come with lockable wheels. Another thing that you might want is a stand with a grid since it will allow you to store your birds' supplies and accessories there.
To Sum Up
If you can afford it, we definitely encourage you to get the Prevue Pet Products Stainless Steel Cage as that one large bird cage with stand that'll last you for years of use. It's completely made out of stainless steel and that includes its accessories, it has a playground top, and it's designed to house larger birds because of its 7/8-in wire spacing. If you want to add more gusto to how your cage with a stand looks we'd definitely advise you to check out the article about vintage bird cages with stand or the article about white bird cages with stand.