Want to break the monotony of your bird cage by getting a white bird cage with stand?
You can break it all you want if you continue reading this article where we reviewed nothing but the best that fit this category. We tried to not make it mundane so that's why you'll find round cages, antique cages, and even large and budgie cages. Whatever you want and need, it's probably here.
The Summary
Best 6 White Bird Cages With Stand
BEST OF BEST WHITE BIRD CAGE WITH STAND
McCage Large Wrought Iron Cage
Material Qualities
When looking at cages for large birds you always want to start by checking out the material used to make. This is a wrought iron bird cage and it's one of the most common materials used in makes these cages. It offers reliable durability because of its low carbon content but does rust easily just like a regular iron.
Metal Protection Through Finish
You should really care about whether or not the metal rusts easily because if your bird ends up ingesting the rusted parts of a cage, it's easy for the bird to then suffer metal poisoning. The way to remove this threat is to pay close attention to the finish. The finish coat on this white bird cage with stand is a powder coat that won't chip or crack so it is reliable in protecting it.
Keeping Things Clean
The large door in the front should be enough for you to access any and every part of this 36-in long and 26-in wide cage when you want to change things up or clean it. For extra cleanliness regarding its surrounding floor area, you'll get a bird cage seed guard while the slide-out cleaning tray will do a great job in containing litter where it needs to be.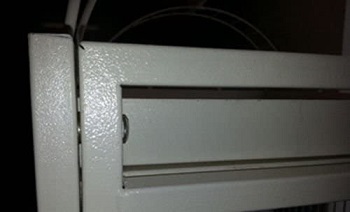 Big Bird Cage Features
The way we concluded that this is a big bird cage is by checking out the wire spacing. The spaces between the wires are 1-in apart which makes it a great option for larger parrots like macaws or cockatoos. One more thing you need to look out for with big birds is the wire gauge because they have strong beaks and can easily bend a weak wire. That won't happen in this case because the wire has a 7 and 9 gauge.
In Short:
Built out of wrought iron
Has a bird-safe powder coat finish
Comes with a bird cage seed guard
Has a 1-in wire spacing
The wire has a 7 and 9 gauge
BEST ROUND WHITE BIRD CAGE WITH STAND
Prevue Pet Products Dome Top Cage
What's Round
Many people will easily confuse this type of round cage for a full round cage. Although they're indeed both round, this type of round bird cage with stand is a lot safer for birds. You should never house a bird in a fully round cage because it's incredibly unhealthy for their physical and mental health.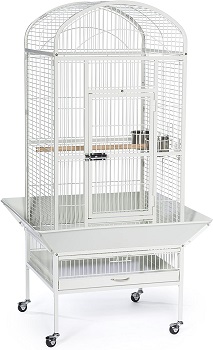 Stand Contents And Abilities
The only thing round on it is its dome top. These tops can easily be paired with antique bird cage stands but in this cage, the stand has straight legs, 4 wheels for easy movement, and you must know that it can't be detached from this 58 bs white bird cage with stand.
Interior Cage Area
It has a wrought iron construction just like the cage we reviewed before it Although it's somewhat smaller than that one. Most of what makes us consider it a large cage comes from its height of 59.5-in while it's only 24-in wide and 22-in long. This also means that it won't take away much of your floor space. you must know that it comes with a seed guard.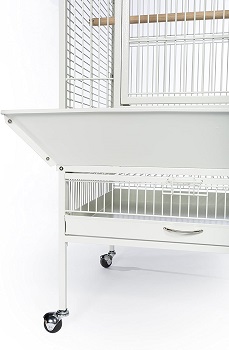 Birds You Can House With It
If you were to check out its wire spacing, you'd think that it can house birds that are similar in size to the ones you can house in the previous cage since it's 3/4-in. This is not true due to its smaller interior size so we'd recommend you get it for medium-sized birds like mini macaws.
In Short:
Has a wrought iron build
The stand is short and features only wheels
Can house medium birds
It's 22-in long, 24-in wide, and 59.5-in tall
Features a seed guard
Has a 3/4-in wire spacing
BEST ANTIQUE WHITE BIRD CAGE WITH STAND
McCage Antique White Cage
Top And Stand Combo
In the previous cage review, we mentioned that dome tops pair nicely with antique-looking stands and we're here to prove it by reviewing this cage next. The stand has curved legs instead of straight legs and it's also hollow. Other than that, it features the same things as any stand meaning wheels and a wire grid for storage.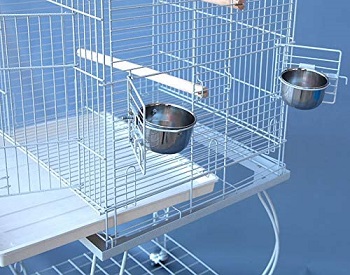 Build And Stand Detachment
It's always good to have more options and by options in this white bird cage with stand, we mean that you can remove the cage from the stand it sits on. We can't say for sure which material it's made out of but if you can't figure it out, you can always assume that it's made out of iron. The white finish is a powder coat and it's safe for birds to ingest.
Wire Spacing Information
Although we often pair large budgie cages with cages for cockatiels you can't always do it the other way around because cockatiels are a bit larger. They can thrive in a cage that has a 5/8-in wire spacing like this one while budgies would get hurt because it would be too wide for them.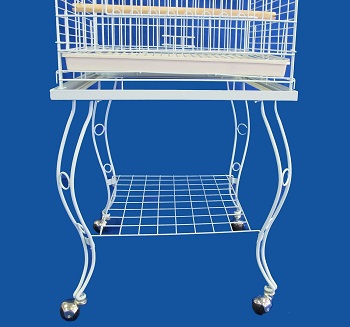 Types Of Doors
Now and then, you should let your bird out to fly around the house. When you do this, you can create a resting area for your bird on top of the cage. You can place one of the two perches in between the 2 doors to keep them open. The main entrance is large and can be found in the front.
In Short:
Has a dome top and an antique-looking stand
The finish is non-toxic to birds
HAs a 5/8-in wire spacing
Features a 2-door top rest entrance
Can be detached from its stand
BEST BUDGIE WHITE CAGE WITH STAND
PawHut Wrought Metal Bird Cage
Build And Roof
We did tell you that wrought iron cages are common so it's no surprise that this is already the third one we're reviewing. You can consider it to be a parakeet birdhouse because of the house rooftop made out of metal sheets. If you ever choose to place it indoors during sunny weather, this top will keep your birds in the shade.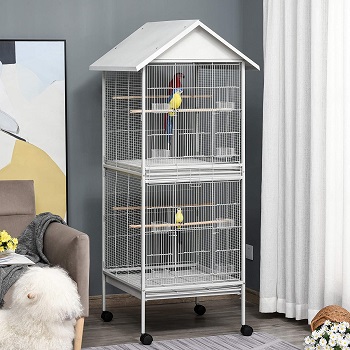 Housing Budgies Separately
The plural of bird we used a second ago was used for a good reason. You can safely house more than one budgie inside this white budgie cage with stand. What makes this fact even more unique is that you'll get to separately house them inside this cage. You'll achieve this by placing an additional wire grid and cleaning tray in the center inside.
Double Details
Since you can separately house 2 budgies inside the white bird cage with stand every addition is doubled. This includes the main entrances, feeding entrances, and the accessories it comes with. Each cage can be equipped with 2 wooden perches and 4 clear food and water cups
Free Flying
If you use it as a single cage for multiple parakeets, you can make it function as a flight cage or aviary even. This is due to its length and width of 28.25-in which means that your budgies won't have problems spreading their wings and flying inside this 0.5-in wire spacing cage.
In Short:
Made with wrought iron
Has a metal sheet house rooftop
Can house 2 budgies separately or together
Comes with 4 perches and 8 water and food cups
Each cage is 28.25-in long and wide
Has a 0.5-in wire spacing
BEST LARGE WHITE BIRD CAGE WITH STAND
Pawhut 44-in Hexagon Bird Cage
Visual Parts
Although all of the cages we reviewed looked amazing just based on the fact that they're white this one definitely takes the cake with its hexagon shape. Not only does it take it with that, but also with the amazing antique stand it sits and also a top metal sheet canopy.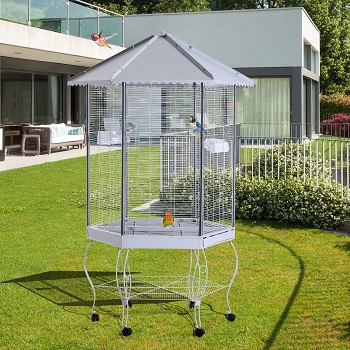 Spacious On The Inside
The hexagon shape alone is what makes it a large white bird cage with stand because it is far more spacious than any rectangular or square-shaped bird cage on stand. It's equally long and wide no matter how you measure it and to be specific, it's 44-in long and wide. That's a lot of room for multiple birds to fly around inside.
What It Can Be
The amount of space it gives your birds to fly around easily makes it a parakeet aviary. Aviaries are large enclosures that allow birds to get their exercise safely. They're different from fly cages in terms of proportions. Fight cages are usually only very wide while aviaries are both.
Canopy Use
The canopy isn't just there to make it look pretty. You can move the cage outdoors since the stand features 6 wheels and then the top will provide your birds with shade from the sun. We wouldn0t recommend you use it outdoors when it's raining though. The wire spacing is 0.5-in so it can house small birds like budgies, cockatiels, canaries, and even finches.
In Short:
Has a hexagon shape
Can function as an aviary
Has an antique stan with 6 wheels
It's 44-in long and wide
Can be used outdoors during sunny weather
Has a 0.5-in wire spacing.
BEST ON WHEELS WHITE BIRD CAGE WITH STAND
Prevue Pet Products F030 Aviary Flight Cage
Flight Cage Specifics
If the previous cage could function as an aviary, then this cage can act as a flight cage. Although they're very similar in function the difference lies in their length and width. Although aviaries don't always have to have the same length and width it's always bigger. This cage is 37-in long and 27-in wide.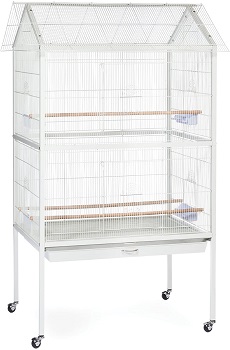 Bird Safety
Another difference between aviaries and flight cages is that can't replace your birds' need to fly around freely completely. You don't have to worry about it being too big for your small birds like budgies because bigger is always better and it does have a budgie and small bird-safe 3/8-in wire spacing.
Stand And Bottom Contents
The stand of this white bird cage with stand isn't all too complicated but it does take a bit more from the actual usable cage height. It sits on wheels so that you can easily move it from room to room when you need to. You'll also find a deep cleaning slide-out tray there that will collect bird litter until you're ready to clean it.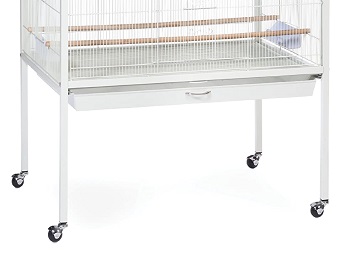 Entries And Accesosries
It features 2 entrances in the front that will allow your bird to access the inside. The side entrances are smaller and they serve the purpose of feeding entrances or you can convert them into breeding box entrances. You can place one cup on each entrance and it also comes with 2 wooden perches.
In Short:
Acts as a fight cage
The stand features wheels for easy moving
Has a 3/8-in wire spacing
It's 37-in long and 27-in wide
Has 2 main entrances
Has 4 feeding or nesting box entrances
Comes with 4 cups and 2 wooden perches
How To Pick A White Bird Cage With Stand
To pick out the best, you automatically need to pick out the safest and most durable white bird cage with stand for your specific type of bird. If you want to know what to look out for and pay close attention to when buying, make sure you continue reading this guide that'll help you pick out the best in the end.
Types Of Stands – There are two types of stands that you can get and it doesn't have anything to do with the contents of the stand. It has to do with the fact of whether or not you can detach the cage from it. It's easy to spot a stand that can't be. If that's important to you pay close attention to it.
Materials Most Commonly Used – All of these cages are made out of some type of metal. Most commonly, these metals are wrought iron and iron. Wrought iron is more durable than regular iron so if you're looking for a tougher cage, you should go with the wrought iron build.
Protecting The Metal – The metals we previously mentioned are durable but rust easily so it's important to protect them so that our birds don't suffer metal poisoning. The way to do it is to get a cage with a quality powder coating. If your birds have bigger and stronger beaks, you want to make sure of it even more.
Making Sure It's A Match With Your Bird – To make sure that you're looking at a cage that's the perfect fit for your bird you want to pay close attention to the wire spacing. You don't want it to be too wide as this can cause them to seriously injure themselves. Most small birds do fine in a cage with a 0.5-in wire spacing and are birds do great in cages with a 1-in wire spacing.
To Sum Up
We didn't review the McCage Large Wrought Iron Cage as the best of the best when it comes to a white bird cage with stand just because we felt like it. We took into consideration its wrought-iron build, bird-safe powder coating finish, and even the 7 and 9 gauge wire when we did. If you want to stick to these colors but check out only large cages we advise you to read the article about large white bird cages or if you want to change up the metal a bit we advise you to read the article about stainless steel bird cages.