Do you wish you could get a round bird cage with stand that's completely safe for your lovely bird or birds?
You can make your wishes and dreams a reality by continuing to read this article. You should do it because in it we reviewed our top picks for exactly those cages. We went a bit further than that though because we've even categorized them into categories like large, small, indoor, and even cheap with more to come.
The Summary
Best 6 Round Bird Cages With Stand
BEST OF BEST ROUND BIRD CAGE WITH STAND
Prevue Hendryx Signature Series Cage
What's Round
Before we start with this review we have to mention one thing. These are not fully round bird cages and if you're looking for one we'll convince you to choose otherwise for your birds' sake. This cage in particular is round because of its round top but the rest of it is just like a regular cage.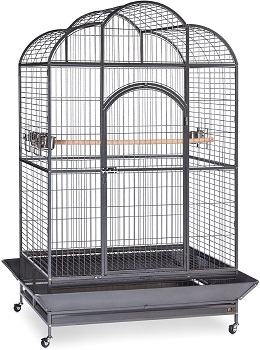 Top And Door Details
Usually, with these cages, you'll come across dome tops but this one is not that. It's an arched and half arched top so it adds pleasant visuals to this round bird cage with stand. Even the large entrance located in the front has rounded top edges for even more visual appeal.
Space And Safety For Birds
If you want a spacious cage, cages like this one are the ones to get. You should focus more on length and width than height. This cage is 45.5-in long and 35.5-in wide. With its dimension kept in mind and the wire spacing of 1-in, you can be sure that a large parrot can comfortably live inside it.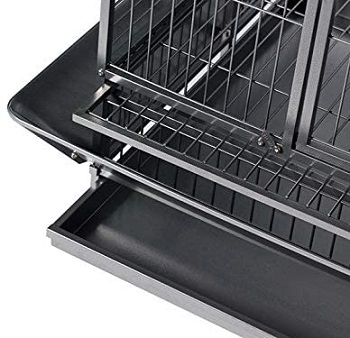 Interior Height And Bottom
Bird cage stands can easily take away a lot of the usable cage height but that's not the case with this large macaw cage. The actual usable height inside is 63-in. On the bottom, you'll find wheels so that you can move it more easily and you'll also get a seed guard to keep your floors as clean as possible.
In Short:
Has an arched rounded top
It has a 1-in wire spacing
It's 45.5-in long and 35.5-in wide
Can comfortably house large parrots
Sits on a short stand with wheels
Comes with a seed guard
BEST STEEL ROUND BIRD CAGE WITH STAND
Featherland Paradise Large Folding Cage
Material Safety
This cage is worth mentioning just based on the fact that it's made out of stainless steel. You seriously can't go wrong with it because it's safe for birds and incredibly durable in terms that it won't rust or corrode easily. Rust or corrosion can otherwise easily put your bird in danger of metal poisoning.
Hanging Toys Solution
Apart from being durable, this stainless steel bird cage also looks shiny and automatically nice. It has a very common among round cages, dome top It even features loops that are attached to the top bar with winged nuts that will allow you to hang some toys or accessories on top.
Storing It Away
Have you ever heard of a round bird cage with stand that can be folded? We haven't either up until this cage that folds with the stand as well. This will allow you to save some space when you decide that you want to store it away. You can even use this feature if you want to easily transport it.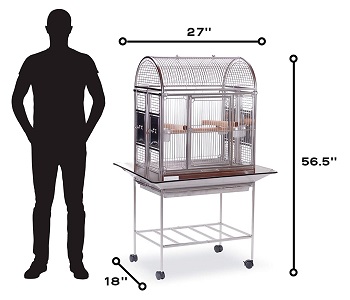 Entrances, Accessories, And Size
The feeding entrances and bowls that come with them are found on the sides while the main entrance is located in the front. The interior comes equipped with 3 perches and comes with a seed guard it's 18-in long and 27-in wide so that's why it's considered to be small. You can actually use it as a small parakeet cage because of its 0.5-in wire spacing.
In Short:
Made out of stainless steel
Both the stand and cage can be folded together
Has a 0.5-in wire spacing
It's 18-in long and 27-in
Has a dome top and comes with loops for toy hanging
Features a seed guard
BEST LARGE ROUND BIRD CAGE WITH STAND
McCage Extra Large Parrot Cage
Material Commonness
If the cage we previously reviewed was a rarity in terms of material commonness, then this one is the opposite. It's made out of wrought iron and along with regular iron, it's the most common material in making bird cages. it is durable but it doesn't rust a bit more easily than others.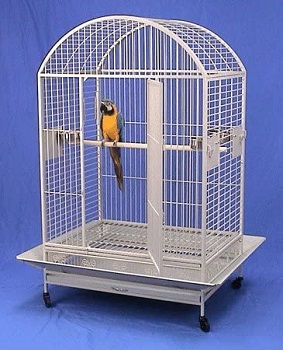 Wire Thickness
When looking at large cages and in this case, large round bird cages you have to take into account the thickness of the wire. Wrought iron is tough because of its low carbon content but it goes to fail if the wire is thin. This round bird cage with stand is made out of 7 and 9 gauge wire which means it is thick.
Finish Quality
The whole cage should be durable because it can house large parrots like macaws and cockatoos. These birds have stronger beaks so it's important to offer a certain level of quality. With this cage, even the coating finish, which might seem unimportant but is crucial to keep your bird healthy, is durable because it's a powder coat finish that's safe for birds.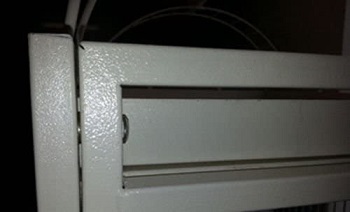 Dimensions And Other Details
The overall height of the cage, meaning it includes the stand, is 65-in. When you count the stan off, it's 53-in tall. It's also 36-in long and 26-in wide. It features a 1-in wire spacing so it's just another reason why you should use it to house larger birds like African grey or macaws. It features a dome top, a bird cage seed guard, and wheels for easy moving.
In Short:
Made out of wrought iron
The wire has a 7 and 9 gauge
Has a powder coating finish
Features a 1-in wire spacing
Comes with a seed guard and sits on wheels
BEST CHEAP ROUND BIRD CAGE WITH STAND
SuperDeal Rolling Bird Cage Large
Small Bird Cage
So far we reviewed a lot of big bird cages and it's time to make room for a product review of a cage designed for smaller birds like budgies or cockatiels. This is that exact cage. We concluded this easily by checking out the width between each wire and it's 0.6-in wide.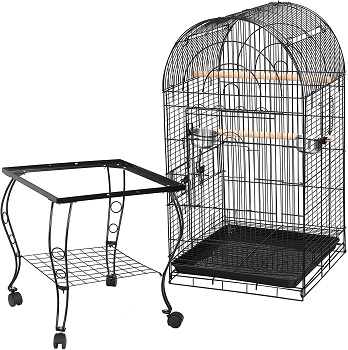 Stand Features And Design
Although many round bird cages can easily be considered vintage bird cages with stand, this one takes the win because its stand also looks antique. The way it looks is that it has curved legs that are also hollow. It even has wheels for easy movement and a wire grid for storing accessories.
What You Get For The Price
Surprisingly, this is a round bird cage with stand you can get for a low price but still manages to have a build that goes back to back with a more expensive cage. it's made out of wrought iron and we already mentioned its pros and cons and it has a quality finish with a polished surface to protect it from rusting.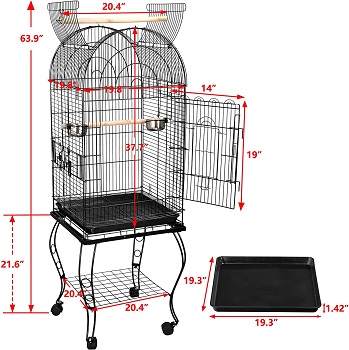 Accessories And Door Connection
The dome top isn't just here to make it look pretty. It also contains 2 doors that you can open to place one of the two perches in between them. This will create a fun resting area for your birds when it flies around in your house. The main entrance can be found in the front.
In Short:
Costs less than 100 dollars
Made with wrought iron
Has a polished finish that makes it fight rusting
The stand with wheels and a wire grid looks vintage
The dome top features a 2-door resting entrance
BEST INDOOR ROUND BIRD CAGE WITH STAND
Prevue Hendryx Corner Parrot Cage
Where To Place It
If you thought that these cages couldn't possibly blend well inside your home, you'll definitely change your mind after this one. It's shaped like 1/4 of a square which means that you can place it in a corner if you'd like. It's round because its front side is curved and round so that it blends seamlessly inside homes.
Play Area
The top on the previous round bird cage with stand was designed for resting while this one is designed for playing. It's a play-top bird cage that consists of a perch made out of wood, 2 stainless steel bowls, and even a ladder. This part becomes useful when you let your bird roam inside your home.
Bird Size Recommendation
It doesn't feature a full 1-in wire spacing. It's a bit below that with a wire spacing of 7/8-in. You can still use it to house larger parrots but due to its size of 45-in in length and 30-in in width, we'd recommend you use it to house medium birds like mini macaws that won't mind the smaller usable space.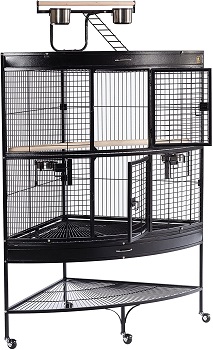 Cage Cleaning
You won't even notice the slide-out cleaning tray that can be found between the interior usable space of the cage and the stand that features wheels and a storage grid. You'll get to thoroughly clean the inside by accessing it through one of the two doors found in the front.
In Short:
Made to be placed in corners
Has a 3/4-in wire spacing
Able to house medium sized birds
The stand features wheels and a storage grid
Has a play top with a perch, bowls, and a ladder
BEST PARROT ROUND BIRD CAGE WITH STAND
Prevue Pet Products Dometop Cage
Shape And Color
If the limited amount of color variation with these cages was a bit frustrating because you couldn't make it work with your interior design, this cage might help. IT can help because it's a large white bird cage. To top it all off, it's narrow but tall so it won't take up much of the floor area in your home.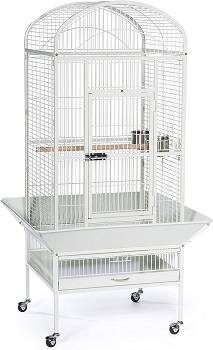 Size And Wire Spacing
The cage is similar to the previous one because it features a wire spacing smaller than 1-in but not small enough for you to house small birds inside. It 3/4-in wide and allows you to house medium birds inside. Another reason why it's good for medium birds is that it's 24-in wide and 22-in long.
Interior And Exterior Cleaning
If you have an indoor cage, you know how troubling it can be to clean the surrounding area. To get rid of this problem, the manufacturer of the cage decided to sell this cage with an included cage seed guard. It's located closer to the bottom where you'll find a slide-out cleaning tray.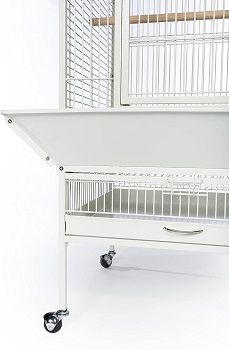 Simple Stand And Top
The bottom, of course, features a stand because it wouldn't be a round bird cage with stand without it. It is simplified though since it only features wheels. The top is what makes it round because it's a dome top. This is the most typical cage design for cages that fit the category.
In Short:
Has a white finish
It's 24-in wide and 22-in long
The spaces between the wire are 3/4-in wide
Comes with a seed guard
The stand features wheels
Has a dome top
How To Pick A Round Bird Cage With Stand
You can't just base your choice for a rounded cage with stand by making sure that it's round and comes with a stand. There are many things that you need to familiarize yourself with before choosing and we'll help you learn a bit more about them in this short and simple buying guide.
When Round Is Too Much – None of the cages we reviewed are hazardous for birds but that's because we already know that fully round bird cages are dangerous for birds. To keep it short, they are hard to maintain and birds love a clean living space and are confusing and detrimental to a birds' physical and mental health.
What Round Even Means – THe cages that are round but also safe for birds should have a round part on them and it's usually the top. You want to avoid cages that don't have corners. Corners are what make the cage make more sense to your birds so that they can easily navigate it.
Stand Features And Problems – If you want to keep your bird accessories organized in one place, you might want to consider getting a cage with a stan that has a storage wire grid. A problem that might occur with stands is that their wheels can't be locked to add to their stability when it's set into place.
Important Safet Measures – The first thing you want to make sure of if you want your bird to be safe inside a round bird cage with is that it has proper wire spacing. The spacing shouldn't be too big. Another thing to worry about is rusting. You'll make sure that it doesn't rust by checking out the quality of the finish.
To Sum Up
We feel like it doesn't get better than the McCage Extra Large Parrot Cage So it's quite easy to recommend it as the best round bird cage with stand. It's white, spacious, durable because it's made with wrought iron and 7 and 9 gauge wire, and a lot more than "just" that. If you want to focus your attention on cheaper cages we advise you to read the article about cheap parrot cages next or if you want a fully round cage that you read the article about antique decorative bird cages.