Do you find your current bird cage to be not as visually appealing as you'd like so you want to finally get a beautiful bird cage?
If you are, you will definitely benefit from continuing to read this article because, in it, we reviewed only the best ones we could find. We did not only review the best but the best looking that truly stand out with the visuals. You'll read about parrot cages, cockatiel cages, indoor cages, and even outdoor but that's not all.
The Summary
Best 6 Cute Bird Cages
BEST OF BEST PRETTY BIRD CAGE
Featherland Paradise Large Cage
Build Safety
We didn't want to give away some of the best features of this cage with the title but it's definitely important to mention them so we'll start now. It's a stainless steel bird cage which basically only means that it's amazingly safe for birds and you won't have to worry about metal poisoning.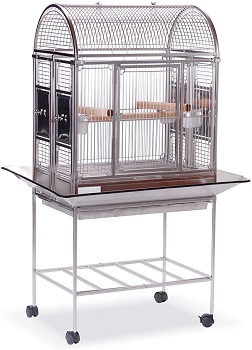 Color And Material Density
With cages made out of stainless steel, there's no need for a coating finish so the color is the typical silver and shiny color that stainless steel has. If you were to get the same cage but it's made out of iron, it wouldn't be as durable because of material density and other properties.
Wire Thickness And Spacing
You won't have to worry about ending up with bent wires because the wire has an 11 gauge. This means that the wire is 3mm thick. It has a 0.5-in wire spacing so it's safe for housing small birds like budgies and finches. Even though this beautiful bird cage is durable enough for large birds, it's too small for them.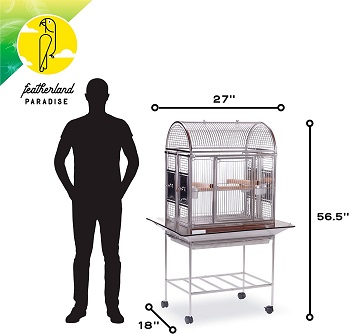 All Of The Dimensions
The length of this cage is the minimum requirement for some birds and that would be 18-in. It's also 9-in wide than the minimum recommended which goes to be 27-in. Overall, it's 56.5-in tall including the stand with wheels and the seed guard and without it, it's 33-in tall. What's also great is that it can be folded with the stand.
In Short:
Made with stainless steel
Has a 0.5-in wire spacing
Made with 11 gauge wire
Has a shiny silver color
Can be folded
Comes with seed guards
It's 18-in long, 27-in wide, and 33-in tall
Made to house small and medium-sized birds
BEST PARROT BEAUTIFUL BIRD CAGE
Mcage Store Extra Large Parrot
Parrots It's For
When we first think of parrots, the first association with them is the blue and gold macaw which is one of the largest parrot species. That's why we chose to review this cage that can actually house them. There are around 350 parrot species so we had to clear things up size-wise.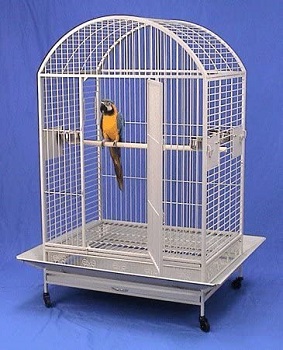 Shape And Top
Rectangular and square-shaped cages usually come with a flat top and that's definitely not something we'd consider pretty. This is a indoor parrot cage so it does truly look like a beautiful parrot cage. Apart from the dome top, it has a rectangular shape meaning that it's wider compared to the length.
Color And Size
Apart from being beautiful due to the dome top, it's also beautiful because of its white powder coat finish so it's sure to blend better inside homes. You have to take into account that it's 36-in wide, 26-in long, and 50-in tall so its sheer size, might disturb how it looks inside homes.
All Important Wire Info
It's made with 7 and 10 gauge wire and features a 1-in bar spacing. We talked about material durability before and although a wrought iron bird cage is going to be weaker than stainless steel. It's more durable than iron because of its low carbon content so it'll still do just fine for large parrots.
In Short:
Made with wrought iron
The wire has a 7 and 10 gauge
Features a 1-in bar spacing
Has a white powder coat finish and dome top
It's 36-in wide, 26-in long, and 50-in tall
Sits on wheels
BEST COCKATIEL CUTE BIRD CAGE
King's Cages Cockatiel Cage
Color Beauty
Sometimes a cage is made beautiful due to its shape, and sometimes it's made beautiful only because of its color. It's a brass bird cage but if you don't like the color though, you can choose to get it in 2 other colors which are black and white.
Simple Build
Other than the color that makes this cage one of the more pretty bird cages we've seen, it has a pretty standard build that we'd best describe as simple. It has a full wire body and the bottom is made out of plastic. The bottom is actually a deep plastic base With an inserted cleaning tray.
Top Cage Design
The top of the cage does make it somewhat of a play top bird cage too. It's not your typical play top with ladders, perches, and bowls but instead, it's a 2-door entrance that you can open. You can keep them open by placing a perch between them to create a lovely resting spot for your bird.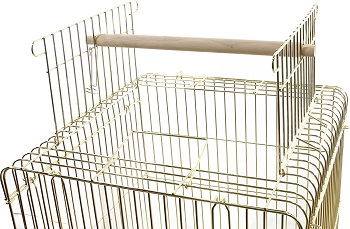 Suitable For Many Birds
It's also a cage that is suitable for many birds only because of its size. An 18-in long and wide cage is the minimum required for housing lovebirds, quaker parrots, budgies, and many more but it is more of a reference guide. With a 5/8-in wire spacing, it's suitable for housing medium birds like cockatiels.
In Short:
Has a brass coating finish
Features a rest play top area
Has a wire body and a plastic bottom base
Has a 5/8-in wire spacing
It's 18-in long and wide
Features a slide-out cleaning tray inside the base
BEST INDOOR PRETTY BIRD CAGE
PawHut 44 Hexagon Cage
Many components make this a visually pleasing cage to look at but the number one that starts it all is its shape. It has a hexagon shape which means that it's equally wide and long, more spacious on the inside, but still manages to be appropriately sized for an indoor bird cage.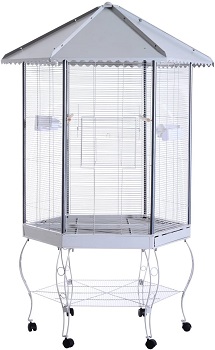 Top Roof Uses
Another component that makes it wonderful looking is the fact that it's a bird cage house due to the canopy it has on top. This canopy will help you keep your birds in the shade if you ever decide to use it outdoors. We'd advise you to avoid using this beautiful cage for birds outdoors during rainy weather.
Color And Stand
It even sits on a wonderful antique stand with 6 wheels. The legs of this stand are curved and hollowed out and in the center, you'll find a wire shelf for storage. The whole cage is colored with a light grey and white color. The white is only present on the wire parts while the rest is colored grey.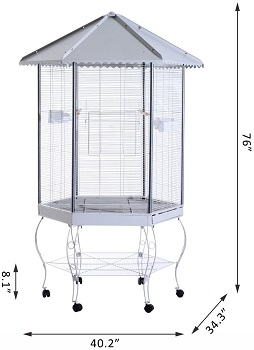 Bird Quantity And Wire Quality
The cage is made out of iron and the finish is a pet-safe one. The wire spacing between each wire is 0.5-in so you can use it to house smaller birds. You'll get to house multiple birds inside because it's 44-in long and wide and its interior is quite spacious. Overall, it's 76-in tall.
In Short:
Has a hexagon shape
It's 44-in long and wide
It's 76-in tall
Sits on an antique stand
Feature a top canopy
Has a 0.5-in wire spacing
BEST OUTDOOR BEAUTIFUL BIRD CAGE
PawHut 72 Aviary Bird Cage
Aviary Hybrid
With small bird aviaries, it's hard to determine whether or not they're really aviaries but you can think of them as hybrids between flight cages and aviaries. You will get to house multiple birds inside it and they will get to comfortably fly inside but they should still get some out-of-cage time indoors.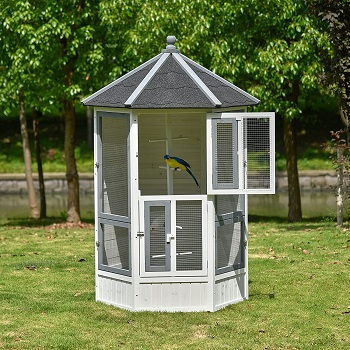 Subjectively Large
We mentioned indoor out of cage time because it's a large outdoor aviary. To say it's large is subjective though but since it's made to house small birds it is definitely large compared to them. It's 49.25-in long and wide, and 72-in tall. The actually usable interior is 53.75-in tall.
6 Sides Description
Since it has a hexagon shape, it has 6 sides in total. 3 of the sides in the back are made fully out of wood panels while the front is made out of wood and wire that has a 0.4-in wire spacing. The 3 front sides all feature doors and windows so that's a total of 7 doors and windows.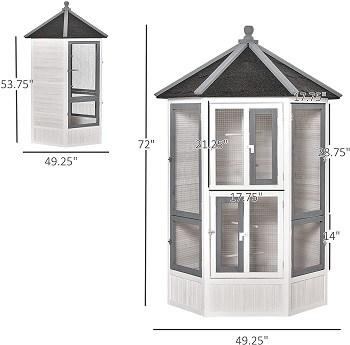 Roof And Interior Extras
This cute bird cage has a canopy that's considered to be an asphalt roof. This roof is waterproof so it'll protect your birds from direct rain and sun exposure. The interior features a pillar that falls from the top. It has multiple perches pulled through it to create a branch.
In Short:
Has a hexagon shape
Made to be used outdoors
Has a total of 7 doors and windows
The 3 back panels are made out of wood panels
Has a 0.4-in wire spacing
It's 49.25-in long and wide, and a 72-in overall height
Has a waterproof asphalt canopy roof
BEST HANGING CUTE BIRD CAGE
Prevue Hendryx Designer Cage
Outside Wire Details
The reason why we'd categorize this as a wire bird cage is because of the wonderful wire details it features that make it look even more interesting than it already is. These decorations are made by bending wire into the desired shape and placing it on the outside corners, edge of the top, and top.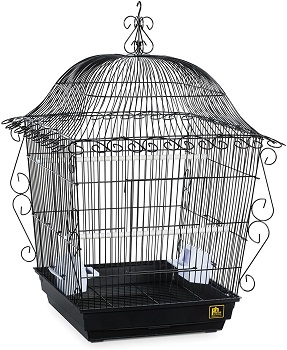 Cage Shape
Not only does it have interesting details but it also has an interesting shape. It has 4 sides that are angled so the cage gets wider the further you go up. The roof is also curved in an S shape all around. The wires meet at the highest point where you find a lovely decorated hook.
Size Information
This 18×18 bird cage can house many birds. The focus is on medium-sized birds like lovebirds and cockatiels. It's 25-in tall and has a 5/8-in wire spacing. While the top is fully made out of wire, its bottom is made out of plastic. It's a bottom base that has a slide-out cleaning tray as well.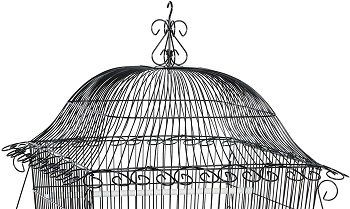 Indoor Placement
It's mean to be used as a hanging bird cage. Because of this, it's definitely to be considered a bird cage beautiful model. It can definitely look like a lantern in your home because you can hang it on a ceiling, or on a stand that you will have to buy separately though.
In Short:
Has a lot of outside wire details
Can be hung on a ceiling or stand
Has a wire body and a plastic base
Made with 5/8-in wire spacing
It's 18-in long, 18-in wide, and 25-in tall
Made for housing medium sized birds
How To Pick A Beautiful Bird Cage
It's really easy to spot pretty and cute bird cages, find the one you like visually and you're good to go but we're here to dissect them and tell you more about them. By talking about cage safety, what makes a cage beautiful generally, and a lot more than just that, we hope to make it easier for you to find the perfect cage for your bird.
What To Avoid – The most boring cages are always going to be rectangular and square-shaped cages that feature a flat top. Luckily, there's about an equal amount of these on the market and the ones that step out from this boring formula so you shouldn't have too many troubles finding one.
What's Considered Beautiful – You can approach cage beauty in two ways that we were able to determine. You can approach it looking at the shape of the cage, or you can approach it looking at the color. The shape is mostly going to be changed up at the top, but some cages do have unique shapes like hexagon-shaped cages
Beautiful Finishes – The most common cage finishes are black, dark grey, and hammertone finishes. You have to think about the quality of these cages if you're getting an iron or wrought iron cage because they are made to protect the metal from rusting. A typical finish that will do this well is a powder coat finish. Stainless steel and aluminum bird cages don't need a finish though since they are safe as they are.
Wire Width – The first thing to check out is wire width that will help you determine if the cage is made for your bird. With a 0.5-in wire spacing cage, you'll get to house small, anything between 0.5 and 1-in, is made for medium birds although you should always check while 1-in wire spacing cages are designed for housing large birds.
Wire Thickness – You won't have to worry about wire thickness if the cute bird cage is made to house small birds but if you have a bird with a strong beak, a thick wire cage is something you should be looking for. Thickness is usually described in mm but you can convert it to gauge. The lower the gauge, the thicker the wire is.
To Sum Up
Since there's more to beautiful bird cages than just their looks, we decided to recommend the Mcage Store Extra Large Parrot Cage. It's made with wrought iron so it is durable, is of an appropriate size to house large parrots and it features a wonderful dome top and a white color powder coat finish. If you're looking to check out fat top cages with a functional top, we'd advise you to read the article about parrot cages with play top or about, or if you're after a specific colored bird cage, check out the article about the best bird atrium models.