Have you been searching all over the internet for a brand new wire bird cage that will definitely last long?
If you're interested, you should keep on reading this article where we only reviewed the best ones we could find. Not only that, ut we made sure to include various products in our reviews such as chicken cages, small cages, large cages, and that's only the beginning.
The Summary
Best 6 Wire Bird Cages
BEST OF BEST WIRE BIRD CAGE
Yaheetech 52 Wrought Iron Cage
Frame And Sides
If you're buying a bird cage, it's almost always true that some parts will be made out of wire. Usually, the sides are the ones to be covered with it while the frame is made out of metal. This is the case with this cage that even has a center metal tube on the front and back panel so there are a lot more wire sides.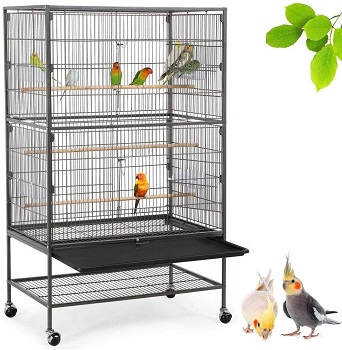 Wrought Iron Description
This model is similar to antique wrought iron bird cages and it is nothing but a more durable version of a regular iron. It's more durable because it has a lesser carbon content and it even has high tensile strength. It does rust just as easily as iron or steel do though so it will need some protection against it.
Finish And Stand
The perfect way to way to protect iron, wrought iron, and steel from rusting is to coat it with some sort of a finish. In this case, the finish is a grey powder coat finish that won't chip or crack. It sits on a stand that has 4 wheels and even a wire shelf for storing bird supplies.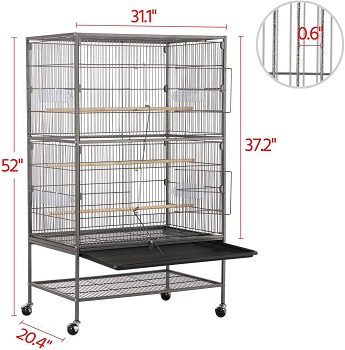 Big Proportions And Main Function
This wire bird cage definitely wider with its 31.1-in in width than it is long since it's 20.4-in long. It's also 52-in tall but the reason why it's wider and generally large is that it's a flight cage. You'll get to house multiple medium birds inside it since it's made with a 0.6-in wire spacing.
In Short:
Acts as a flight cage
Made with wrought iron
Has a grey powder coat finish
HAs a 0.6-in wire spacing
It's 31.1-in wide, 20.4-in long, and 52-in tall
Sits on a stand with a wire shelf and 4 wheels
BEST CHICKEN WIRE BIRD CAGE
PawHut Wooden Outdoor Cage
Left And Back
The primary build material of this cage is wood. To be specific, it's a firwood cage and the left and backside are made entirely of it because they are wooden boards. It's actually great that these are here because they will protect your bird from direct rain and direct sun exposure.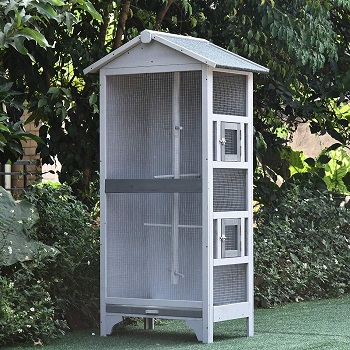 Weather Protected Wood And Top
It is to be used in outdoor applications since the fir wood that makes is a material that goes back to its original shape even when shrinking or expanding due to moisture. Another weather-protected bit is the asphalt roof on top that makes it a parakeet bird house. This rooftop is waterproof.
Things To Know About Chicken Wire
The front panel of this chicken wire cage is made almost entirely out of chicken wire. Chicken wire is a very thin wire that is most likely to be galvanized. Galvanization is the process o applying a thin layer of zinc to protect it from rust and corrosion. Due to the thin chicken wire, it's only made for calm and small birds.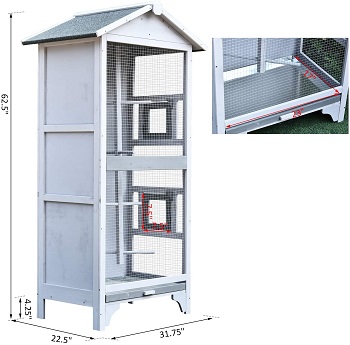 Entrances And Accessories
The entrances to the cage are located on the right side. They are quite small so you won't be able to fully access the interior of this cage once it's assembled. The interior features a central pillar that hangs from the top and has perches pulled through it to resemble a branch as much as possible.
In Short:
Made out of fir wood
Has a waterproof asphalt house roof
Features a wooden panel back and left side
Has 2 small entrances on the right side
HAs a central pillar with perches extra on the inside
Intended for housing small and calm birds
BEST LARGE WIRE BIRD CAGE
Prevue Pet Products Aviary/Flight Cage
Aviary/Flight Cage Hybrid
With outdoor aviaries, it's easy to realize that they are actually aviaries but since indoor aviaries are smaller, they can be considered a hybrid between flight cages and aviaries. This bird cage house is one of those. It's 37-in wide, 27-in long, and 68-in tall so it's quite spacious.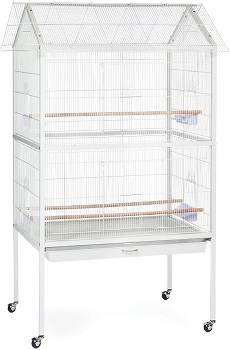 Mobility And Blending
The wire and everything else is coated with white color so it will be easier to blend inside homes. Not only will it blend well but it is highly mobile because it sits on a stand that features 4 wheels for easier movement. Another reason for these wheels is that it weighs around 65 lbs.
Top And Bottom
We categorized it as a cage house because of the house-shaped rooftop. This top is also made out of wire ad even though its sides are angled, you'll still get to hang your birds' toys from it. The bottom of this wire bird cage is equipped with a deep tray that will collect bird litter. You can later slide it out for cleaning.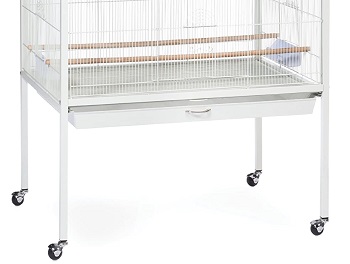 Specific Wire Spacing
Some small bird breeds need an even smaller wire than the standard 0.5-in which would make most of them the same so if you know that you have one such bird, you'll love that this cage has a 3/8-in wire spacing. It can house finches, parakeets, canaries, and a lot more small breeds.
In Short:
Has a white color
Features a 3/8-in wire spacing
Has a wire made house rooftop
It weighs around 65 lbs
It's 37-in wide, 27-in long, and 68-in tall
The height includes the stand with wheels
BEST SMALL WIRE BIRD CAGE
Prevue Hendryx Designer Cage
Wire Decor
This cage is definitely advanced in the wire departments because the wire is not only used to make it but also its various details on the outer edges and top of its hood. Even the hook is incredibly detailed using a bent wire. The bottom of the cage is a plastic base.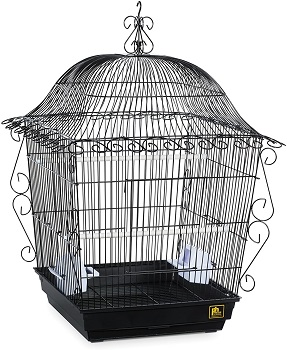 Cage Shape
It definitely has a weird shape to it. It has 4 sides but the sides are angled so that the interior of this small wire cage for birds gets bigger as you go up. This is all for a good reason because it's a vintage hanging bird cage. The top is also curved and the wires come together at the center of the top.
Versatile Cage Size
This is an 18×18 bird cage with a height of 25-in and what's great about this cage size is that it can house many small and even some medium breeds of birds because it's a minimum cage requirement for a lot of them. The birds included are lovebirds, quaker parrots, budgies, and many more.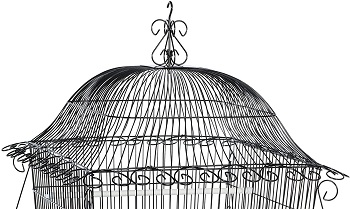 Hanging It And Wire Safety
We already mentioned that you can hang it someplace. The stand for hanging it doesn't come with it so you will have to buy it separately or you can hang it on a ceiling if you'd like. It has a 5/8-in wire spacing so even cockatiels can be housed inside but that eliminates the possibility of housing birds like budgies inside.
In Short:
Has a wire body ad plastic bottom
Features numerous bent wire details
Can be hung
it's 18-in long and wide and 25-in tall
Has a 5/8-in wire spacing
Can house many medium-sized birds
BEST VINTAGE WIRE BIRD CAGE
Zeny Lage Rolling Metal Cage
Looks And Shape
This is probably the most typical large antique bird cage you can find. What makes it have this distinctive look is the fact that it's a dome-top bird cage that sits on an antique bird cage stand. Taking away the dome top, the cage features a square shape.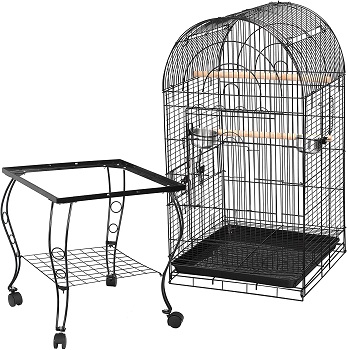 Dome Top Features
The dome top is not only there for decoration purposes. What it has is a 2-door entrance that you can easily open and keep open with one of the 2 perches that you'll get with it. This can create a nice little rest or play area for your bird when it's getting its daily out-of-cage time.
Cage And Stand Dimensions
We already mentioned that it has a square shape which means that it's equally wide and long. It's 19.7-in long and wide, and overall, it's 63.9-in tall but in reality, the actual cage is 37-in tall. The stand with curved and hollowed-out legs and wheels is 21.6-in tall and it features a 20.4×20.5 wire grid for storing supplies.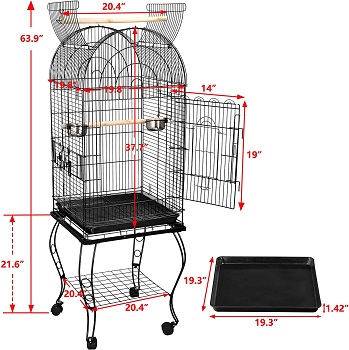 Wire And Weight
If you don't like the stand, you can actually take this wire bird cage off of it and use it like that. The whole cage weighs around lbs so if you take away the stand, it's even lighter and won't be that difficult to carry. It has a 0.7-in wire spacing so it's designed to house medium-sized birds like quaker parrots and African greys.
In Short:
Has a dome top
Sits on a removable antique stand
It's 19.8-in long and wide and 37-in tall
Overall, it's 63.9-in tall
Has a 0.7-in wire spacing
Made to house medium sized birds
Has a rest and play top area
BEST BREEDING WIRE BIRD CAGE
Mcage Combo Stack And Lock Cage
Breeding Cage Looks
This is the second, out of the two most common types of bird breeding cages out there. It's made simple so it's a lot cheaper as well. It has a full wire body and a plastic bottom base. The base is actually a deep cleaning tray that you can easily slide out when you want to discard bird litter.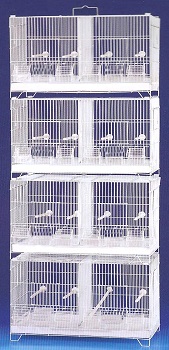 Common Feature
One of the more important things that a wire bird breeding cage should have is a wire grate that acts as a divider. This one has it and you can easily place it in the center or remove it when you want. With it, you'll create two separate cage areas for each of your single pair of birds.
Size, Wire, And Multiple Dividers
The cage is 23.5-in wide, 10.5-in long, and 15.5-in tall so it's designed for breeding the smallest of birds. Another thing that proves it is the fact that it has a 3/8-in wire spacing. We forgot to mention that in addition to the wire divider, you'll also get a divider that's made out of solid non-see-through material.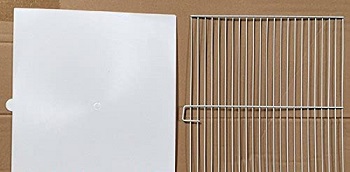 Pack Of Four
Now that we have almost everything down concerning the cage, it's time to tell you the best thing about it. It's a stackable cage and you'll actually get 4 cages in this package. The 4 cages will cost you around 140 dollars which really isn't a lot considering. each cage comes with 2 nesting box doors on its sides.
In Short:
You'll get 4 cages
Everything costs around 140 dollars
Comes with a solid and a wire removable divider
HAs a 3/8-in wire spacing
Each cage has 2 breeding box doors
It's 23.5-in wide, 10.5-in long, and 15.5-in tall
How To Pick A Wire Bird Cage
Since almost every single bird cage you see in some way is a wire bird cage it might be difficult to pick one out just because of the options available to you. We're here to clear up some confusion and to help you learn a bit about what your specific bird needs in a cage. Continue reading if you want to easily pick out your next bird cage.
Wire Types – We decided to categorize wire strength first. probably the weakest wire of them all is chicken wire. It's thin so that is its downfall. With a cage like this, you'll only get to house birds with a small beak and a calm nature. Next in line are iron and wrought iron wire cages. Wrought iron is more durable but that all depends on its thickness
Wire Thickness – Unless you have a bird with a strong beak and large size, you don't have to worry about wire thickness but in case you do. You'll want to check out the gauge of the wire. Wire gauge determines its thickness and the lower the gauge, the thicker the wire actually gets.
Wire Rust And Corrosion – This might be a problem with all iron, steel, and wrought iron bird cages since they are metals that rust pretty easily. If you want to avoid it you should think about getting a stainless steel or aluminum bird cage. If not, the way to minimize the risk is with coating finishes. Usually, a powder coat finish will do.
Bird Safety In Terms Of Wire – The width between each wire is an important factor that will help you determine whether or not your bird can be housed in a cage you're checking out. Small birds do fine in cages with a 0.5-in wire spacing. Medium birds can vary and go up to 1-in while large birds thrive in 1-in wire spacing cages.
To Sum Up
Out of all, a wrought-iron cage is definitely the most durable because of its low carbon content so we'd definitely recommend the Yaheetech 52 Wrought Iron Cage as the best wire bird cage out there. It's also a flight cage so you'll get to house multiple birds inside it. If you want to check out some more quality but also more expensive cages we advise you to definitely read the article about aluminum bird cages or about stainless steel bird cages.