If you want to check which are the best replacement parts for cat trees, you are at the right place.
We picked some of the accessories from the market that will for sure be useful for any type of cat tree. For more tips before buying, check our guide where you can find many helpful recommendations.
The Summary
Best 5 Cat Tree Accessories
BEST TOYS REPLACEMENT PARTS FOR CAT TREE
Amazon Basics Replacement Toys
Durable Materials
If you have active cats and you're trying to find the best interactive toys so your cat can be active during the day, you need to get these. Toys are made of high-quality materials for durability.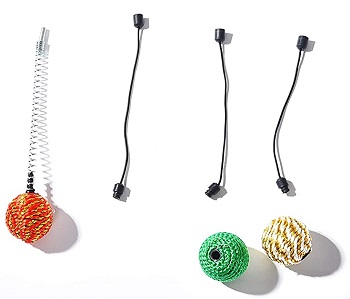 Different Colors
In the package, you will get 3 replacement pom toys for any type of indoor cat treehouse. They come in different colors and glitters, to catch your cat's attention.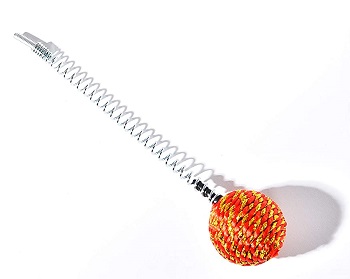 String Balls
These cat tower replacement parts are compatible with the easy kitty system. You can even place the string on the balls, depending on where you want to place these toys on the cat tree.
In Short
High-quality materials or durability
3 pom balls and strings
Colorful material with glitters
Perfect for active cats
BEST BASKET CAT TOWER REPLACEMENT PARTS
Hynsin Cat Tower Basket
Pink Color
If your simple cat tower doesn't have a basket where a cat can lay and observe around the house, you need to get this basket. It is made of durable material in pink color.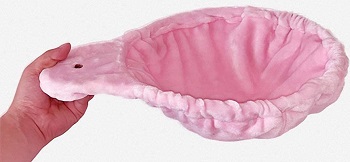 Soft Material
The basket is made of the softest material so your cat can have great comfort while laying inside. Because o the small dimension, you can easily place it on every post.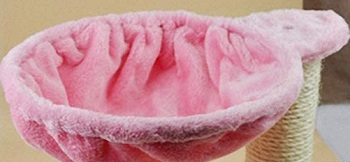 Smaller Cats
Cat tower replacement parts like this basket are easy for assembly, you will need only one minute. This basket is suitable for 2mall to medium size cats.
In Short
Basket made of durable materials
Modern pink color
Perfect for comfortable laying
Suitable for small and medium-size cats
BEST SCRATCHING POST CAT TREE ACCESSORIES
Catland Cat Scratching Post
Easy Matching
This replacement scratching post for cat trees is one of the best accessories that you can buy if you have multiple cats, so each of them can do their daily pet routine. A neutral color will easily match with the color of any cat tree or tower.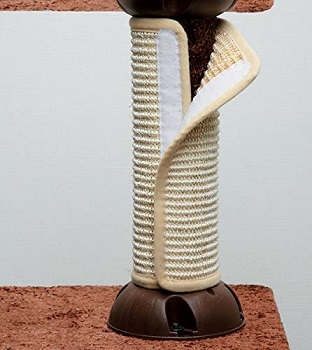 Easy To Wrap
Scratching post wrap is made of high-quality material so your cats can use it for a long time. With a measurement of 12.8 x 0.2 x 11 inches, you can easily wrap it around any post of your sturdy cat tower.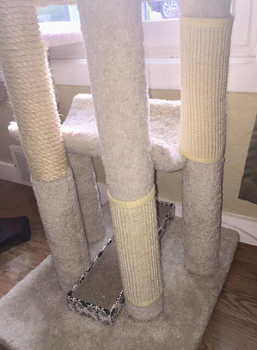 2 Sides
These cat tree accessories have 2 sides for scratching, so you can unwrap them anytime. Post wrap is covered with the material that cats will love to use for scratching. You can also buy a few of them, there are never enough posts for enjoyable scratching.
In Short
Neutral color for easy matching
Post wrap covered with durable material
Suitable for any posts
Easy to wrap and unwrap
BEST BED CAT TOWER REPLACEMENT PARTS
Kitty City Bed
Grey Color
If you need an additional feature for your cat where she can comfortably lay after playing and eating, this Kitty Bed is a great choice. It is made of durable material in grey color, so you can easily match it with the color of the tower.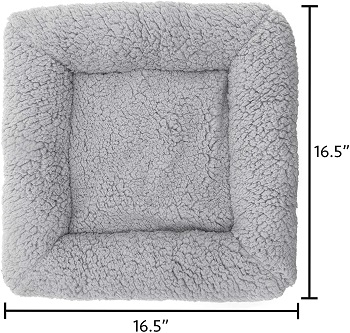 Soft Fleece
Bed measures 16. 5 x 16. 5 x 3 inches, and it can easily fit on the top of some large perches or cubes for cats. This cat tower replacement part is made of soft fleece and we are sure your cat will enjoy using it for long naps.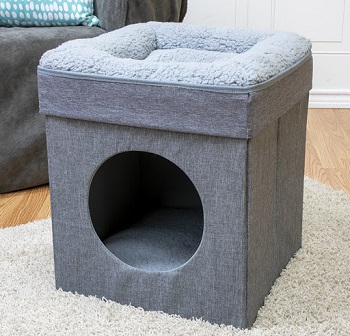 Easy Washing
This bed can be used inside a cool cat condo, and you can easily remove it when you need to clean it. It can be used in a washing machine. The bed cushion model is large enough for cats of all sizes and ages.
In Short
Grey color for matching
Made of soft fleece for comfort
Washable in the washing machine
Suitable for cats of all sizes
BEST BALLS CAT TREE ACCESSORIES
Made4pets Replacement Balls
Grey Pom Balls
This is a great choice if you have a home interactive tree and your cats love to play with pom balls all the time. Grey color will easily fit with any design for the tree or tower. They are made of durable materials.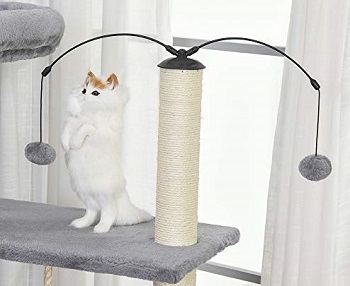 Multiple Toys
These cat tree accessories are compatible with Made4pets trees, but you can also use them on any cat tree grey. The package contains 6 balls so you can have them for a long time and place as many as you want on the cat tower.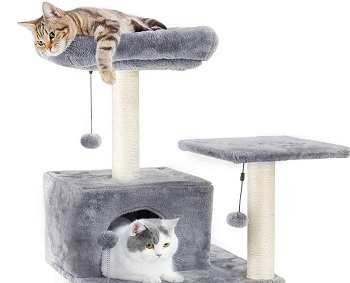 Plush Material
Balls are made of plush, one of the favorite materials for playing. Don't worry about assembly, you can easily attach them under perches or condos. Place the on higher areas so cats can fully stretch while playing with them.
In Short
Pam balls in grey color
6 in the package
Made of durable plush
Easy to attach under perches
How To Pick The Best Replacement Parts For Cat Tree?
If you're still not sure which accessories will be the best choice for buying, keep on reading. Our guide will help you with picking, so you can choose the best functional items for the cat trees.
Durable Material – No matter which cat tower accessories you're planning to buy, always make sure it is made of durable materials, even if it's replaceable. It is an important feature so you don't have to that often change it and replace it with a new one. Make sure it is sturdy for use, especially if you're picking posts, so your cat can use it safely.
Check Dimension – Always check the dimension of the items that you're buying, so you know they can fit on the tree or tower. If you're picking the wrap for a post, make sure it can easily fit depending on how wide is your post Also, if you're planning to buy a basket or bed for sleeping, make sure cats can easily fit inside, depending on their size.
Cat Preferences – Depending on the preferences of your cat, pick the accessories that she will use on a daily basis. If you have an active cat and she loves to play with toys, pick the replaceable balls for the cat activity tree. Also, if you have a wall tree or shelves, you must buy a post wrapped with scratching materials. A bed is always a great choice for comfortable laying.
Easy To Assembly – One of the also important features when picking the replacement parts for a cat tree is that can be easily installed and replaced when needed. If the post that you're picking is complicated to install, pick the one that can be wrapped around, they have 2 sides so it will last you longer. Most of the accessories don't required assembly, so your cat can immediately use them.