Are you looking for one of the colorful cat trees?
Read our article and learn more about the green, purple, red, blue, grey, white, and purple cat trees. Check out the guide that we wrote as well. It will surely help you bring the right decision and get the unit that will meet all of your cat's needs!
The Summary
Top 6 Colorful Cat Trees Reviewed
BEST OF BEST COLORFUL CAT TREE
Samanoya Green Cat Tree
2 in 1 Cat Tree
Samanoya's cat tree comes in blue, green, and pink colors. Choose the color that your like best. This cat tree is ideal for up to two adult indoor cats. It includes fun and interactive content. It will be a favorite comfortable and warm sleeping space too.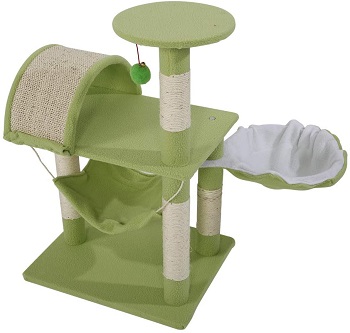 Fun Content
This colorful cat tree includes multiple scratching posts, a cat tunnel, an elevated perch, and an interactive toy. The scratching posts will help to keep your cat's nails strong and healthy. Cats that love to observe the surrounding will love to spend time on a perch and play with a dangling toy.
Cozy Sleeping Space
Cats are big sleepers. They spend most of their time resting, grooming, and sleeping. This green cat tree is cozy and comfortable. It includes a hanging hammock and a cat basket. Two cats cat sleep on this tree at the same time.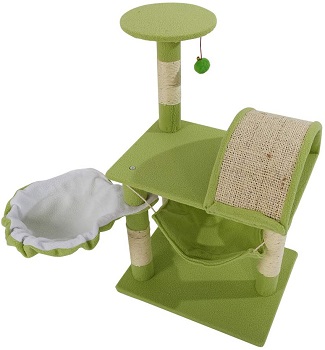 Stable And Durable
The wide and heavy baseboard will make sure this cat tower with a hammock is stable. It will prevent wobbling and overturning. This unit includes anti-toppling fittings as well. It is made of high-quality engineered wood. It is a unit that will last you a long time.
a cozy and fun cat tree in one
includes fun cat content
comes with a hammock and basket
stable and long-lasting construction
made of high-quality engineered wood
BEST PURPLE CAT TREE
S-Lifeeling Purple Cat Tree
Floor-To-Ceiling
A tall and narrow tree, such as the one from S-Lifeeling, is ideal to save space. Apart from that, it is incredibly stable and helps your climber cats to meet all of their needs. This unit can be attached to almost any ceiling. It comes in purple, black and beige colors.

The Natural Construction
This tree by S-Lifeeling is made of eco-friendly and pet-friendly material. It is constructed of a safe board and thick carpet cloth. The carpet will attract your cat's attention and make it want to scratch and maintain the claws strong and healthy.
Tall And Multi-Cat
This purple cat tree is tall and narrow. It will satisfy your cat's instincts to climb and perch in high places. The unit includes four levels and it will hold up to two or three cats of medium size with no problem.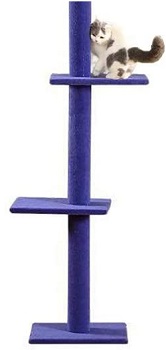 Easy To Clean And Set Up
You will get to set this colorful cat tree up in no time. The assembly and installation will take no more than half an hour. Since the unit is very tall, we suggest that another adult helps you out. When it comes to cleaning, this unit will be easy to vacuum.
In Short:
tall floor-to-ceiling cat tree design
multi-level and multi-cat cat tower
made of safe and pet-friendly material
it is fast and easy to put together
simple to maintain clean
BEST BLUE COLORFUL CAT TREE
Armarkat Blue Cat Tower
Amusing And Fun Tree
Armarkat's blue cat tree comes with all the content that will keep your cats satisfied and active. It comes with a large baseboard that allows the tree to be placed in a corner as well. This tree includes platforms, a condo, perches, and scratching posts.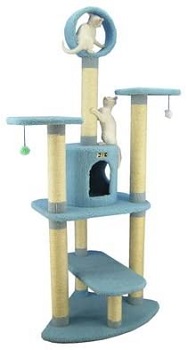 Natural Material
The unit is completely made of pressed wood. It is firm, stable, and hard to overturn. The unit is completely covered in pet-friendly material. The faux fleece covering makes your cats feel warm and cozy.
Size And Capacity
The overall measures of this colorful cat tree are 38L x 24W x 66H Inches. The maximum holding weight of this cat tree is up to 40 pounds. Place the unit next to a wall for extra stability. Allow this indoor cat playground to keep your cats active for hours.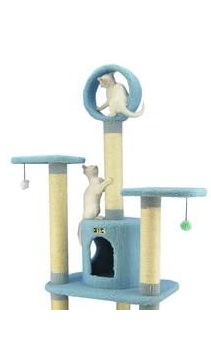 Encourages Healthy Life 
Indoor cats need to be as active as possible. Even though they are safer inside, they need to have their special place to climb, play, and scratch their claws. Such a unit will attract your cats' attention and satisfy all of their needs.
In Short:
fun and stable cat tree
multi-level and pet-friendly
covered in faux fleece material
satisfies all of the cats' needs
ideal for climbing and scratching
BEST GRAY COLORFUL CAT TREE
Pawz Cat Tower Gray
Firm Construction
The gray cat tree by Pawz is made of carb-certified natural particleboards. The unit is strengthened with battens at the bottom. This will help to keep the tree stable and prevent overturning. The unit includes a security strap that allows the tree to be anchored to the wall.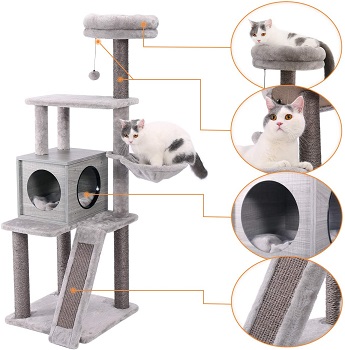 Two-Entrance Condo
This cat tree includes a spacious cat condo. It comes with two large entrances and allows cat of almost all sizes to enter the condo. This colorful cat tree includes cat cushions that can be placed inside of a condo and on the elevated perch.
Multiple Levels
The multiple levels allow your cats to climb, jump and explore. The unit comes with various columns that are wrapped with sisal rope. This attracts cats to scratch and to keep their nails and claws strong and healthy. At the same time, the columns keep the tree well-balanced.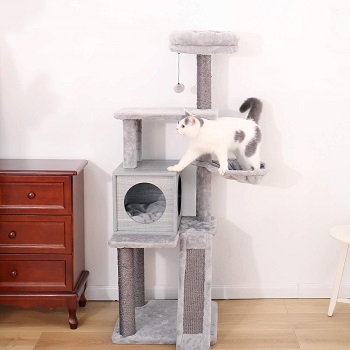 For Three Cats
This is one of the cat trees that has enough space for up to three adult cat trees. All the cats can stay on the tree at the same time with no problems. This adult cat tower tree will stay in one place even if two cats jump off of it at the same time.
In Short:
made of sturdy and firm material
includes two-entrance cat condo
comes with removable cushions
ideal for up to three cats
steady and stable unit
BEST WHITE COLORFUL CAT TREE
La La Pet White Cat Tree Modern
Wall Mounted Cat Tree
The La La Pet cat tree is a fun and amusing alternative to classic cat trees. This unit gets mounted on the wall and allows cats to climb, explore, and play for hours. The assembly is simple and fast. Detailed instructions are included within the package.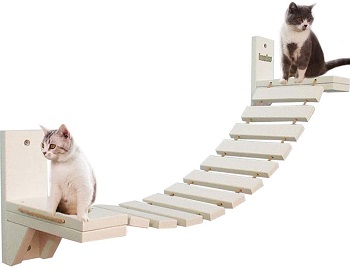 Space-Saving And Fun
If you have a small apartment, a lack of space, or simply want to try something unusual and new, then we are sure this unit will catch your eye immediately. This unit will meet the needs of every cat that loves to climb a lot.
Sturdy And Frim
This white colorful cat tree for wall mounting is made of ecological board. This cat tree is completely safe and pet-friendly. It is painted in non-toxic white color. It cannot harm your cat in any way. This unit is firm and sturdy and it lasts a long time.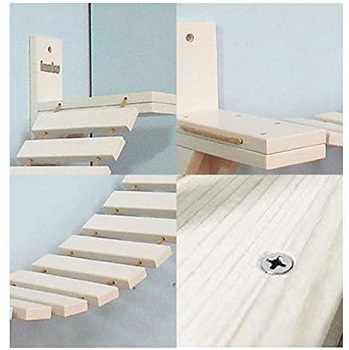 Overall Size
The measures of this modern cat tree are 39.37″ (length). The thickness of the board is 0.59″. The frame is connected with 304 stainless steel screws which ensure firmness and stability. Two adult cats can stay on this wall-mount tree at the same time.
In Short:
easy to mount to the wall
this modern wall tree saves space
meets climber cat's needs
sturdy and firm material
it will hold two cats at once
BEST RED COLORFUL CAT TREE
Vesper Cat Tree Red Condo
Clean And Smooth Design
Vesper's colorful cat tree comes in red and brown. It is a modern and stylish cat tree. The unit is made of strong and quality material. It is firm, stable, and includes a wide and heavy baseboard.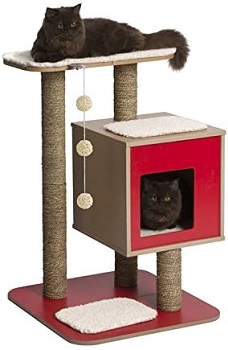 Roomy Condo
One cozy and spacious condo for cats is included. It has a large entrance that allows cats of any size to enter with no problems. The condo will keep your cats safe and allow them to rest in a private environment. This tree is ideal for cats that love to groom and lounge.
Scratching Posts And Toy
There is one hanging and dangling cat toy included. It hangs from the perch and attracts your cat's attention. It will keep your lovely fur friend occupied. There are multiple scratching pillars included too. They allow cats to scratch and prevent them to damage your furniture.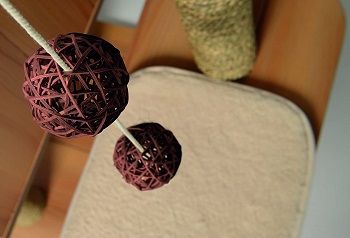 Good To Know
The size of this cat tree by Vesper is 21.9 x 22.1 inches. This unit is 32.1 inches tall. This red cat tree is made of pet-friendly materials. It is safe for the environment. The unit comes with removable carpets and cushions.
In Short:
elegant and smooth red cat tree
room and spacious cat condo included
the unit comes with removable cushions
it is made of eco-friendly material
comes with many scratching pillars
How To Pick: Colorful Cat Trees
Choose the color that you like most and make sure your new colorful cat tree is appropriate for your fur friend. Read on and learn how to pick the tree of the right size and quality. Be sure you know how much weight your new tree can bear. Decide between an elaborate, tall, and fun tree or a short cozy unit with a cat condo.
The Ideal Color – Cat trees come in various colors. Choose a color that you like most and that best looks with your home decor. Make sure your new unit is pleasing to the eye. However, do also think about your cat's needs and make sure to buy a product of the right size and good quality.
Short Vs. Tall Trees – Smaller-sized cat trees are ideal for calm cats and cats that prefer spending time resting and grooming. On the other hand, social cats that love to climb, jump, and play will appreciate a tall or spacious cat tree. Know your cat's personality and its needs and buy accordingly.
The Unit's Quality – If you have multiple cats that love to explore, climb, and scratch a lot, then we suggest you buy a natural wood cat tree. Such trees are most stable, they last the longest and are hard to break or overturn. However, the price may not be affordable for everyone's budget. Units made of particleboard, veneer, MDF, and other material are fine as well. Just be sure to check the tree's carrying capacity.
Tree's Stability –  Most stable cat trees are those that come with a wide and heavy baseboard that prevents the unit from overturning. Also, those trees that include multiple columns will keep the unit well-balanced. Some units can be attached to the ceiling or to a wall. For extra stability, we always suggest that you place the tree next to a wall.
Coziness And Fun – There are many models of colorful cat trees that are covered in soft and warm plush. Such a fluffy material is cats' favorite. They love it because it reminds them of their mother's fur. Plush provides cats with a safe and comfortable environment. Apart from being an ideal cozy sleeping space, cat trees are also fun and include platforms, scratching posts, interactive toys, perches, platforms, and many more.
To Sum Up
One of the best colorful cat trees on this list is the Vesper Cat Tree Red Condo. We liked the unit because it includes all the content that makes cats feel cozy, warm, happy, and occupied. It is a nice cat tree with an elegant and stylish design. This modern wood cat tree will look nice with any home decor.