Having trouble finding the best purple cat tree or tower for your fur friend?
Don't worry, because you are in the right place. You probably know that getting a nice-looking cat tree is not enough. This is why we have gathered the six best models that will both look nice in your home and be perfectly safe for cats. Learn all about best of best, small, tall, carpeted, and other purple trees and don't miss reading our buying guide as well.
The Summary
Best 6 Purple Cat Trees & Towers
BEST OF BEST PURPLE CAT TREE
S-Lifeeling Climbing Multilayer Cat Furniture
Tall And High Tree
This tree is one of the tallest and narrowest purple cat trees on the market. Most cats like to climb high places and keep an eye on their surroundings. It makes them feel confident and safe. The S-Lifeeling tree will make your cats active and keep them occupied.

Eco-Friendly Material
This cat tower is made of environmentally safe board material. It is perfectly safe for your cats and allows them to play as much as they want. The tree is sturdy and heavy-based. It is stable, but if you want to feel more relaxed about your fur friends' safety, install it next to a wall.
Multiple Levels
S-Lifeeling tall skinny cat tree has many levels that your cats are going to love climbing. This tree is perfect for playful and active cats. We suggest you get this unit if your cats love to climb your furniture and you want to avoid damages. This tree is probably not the best solution for calmer or older cats.

Easy To Clean
Every cat owner knows that falling cat fur and hair is difficult to get rid of. However, this is a carpeted tree and it is simple to maintain clean. Vacuum this tower or clean and dry the carpet easily.
In Short:
this tree is perfect for climber cats
there are multiple levels included
the tree is stable and heavy-based
it is a fully-carpeted purple tower for cats
you can clean and vacuum the carpet
BEST SMALL PURPLE CAT TREE
Penn-Plax Activity Center For Cats
Interactive Tree
We recommend you get the Penn-Plax tree if you have kittens at home or smaller-sized cats that like to play with interactive toys and balls. This small cat tree will keep your cats occupied and satisfy their playing needs when you are not at home.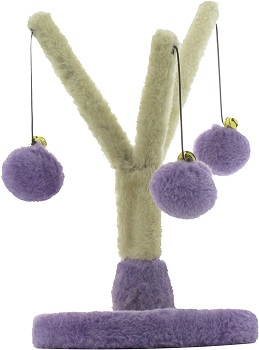 Promotes Health
Cats need to stay active and occupied. It is important for their mental and physical health. Kitties who love to play a lot will adore this small tree. It encourages cats to climb, play, and scratch which is their natural instinct that they need to satisfy.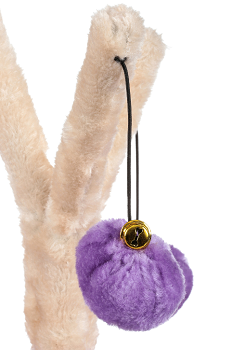 Sturdy And Long-Lasting
We are sure this small purple cat tree will last you a long time. It is made of durable material and it is covered in soft plush. This tree is cozy and warm and some cats might love relaxing on the tree's comfortable base. Up to 2 cats can play with this small and space-saving cat tree.
In Short:
small and stable kitty tree
perfect for up to 2 small cats
it encourages kitties to play
keeps your cats active and occupied
safe, stable, warm, and comfortable
includes interactive hanging toys
BEST TALL PURPLE CAT TREE
Pet Supplies Cat Deluxe Purple Tree
Modern And Elegant
This tree by Pet Supplies is a perfect tree for adult cats that love climbing and jumping around your home. It will satisfy your cats' natural needs. This is a nice-looking cat tree that includes perches, condos, platforms, toys, and scratching posts.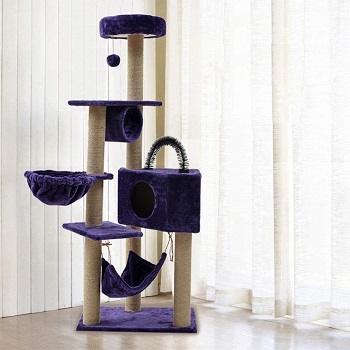 Large And Tall
The dimensions of the Pet Supplies purple cat tree are approximately 18 X 13 X 23 inches. The tree is made of chipboard and flannelette carpet. It has a wide base, many levels, and a lot of space for up to 2-3 active adult cats.
Stable With Wide Base
Pet Supplies' cat tree is a heavy-duty cat tower and it is extremely stable. It will keep your cats safe. The tree won't tip over as long as you use it properly. It is not recommendable to get this tree if you have more than 2 very large cats. If you want the tree to be extra-stable, place it near a wall.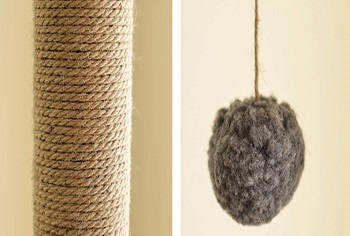 The Material And Setup
All of the material that was used for the construction is pet-friendly and perfectly safe for all cats. It is non-toxic. The tree is soft and warm and your cats will love to spend time on it. The installation is easy. All the necessary screws are included and the assembly is quick.
In Short:
soft, warm, large, and tall
modern and wide purple tree
includes perches, platforms, condos
there are scratching posts included
cats love spending time on this tree
safe, non-toxic, and pet-friendly
BEST CARPETED PURPLE CAT TREE
IQQI Scratching Cat Furniture
Comfortable And Warm
IQQI small purple cat tree is covered in soft flannel. Cats love spending time on this tree. It makes them feel warm and comfortable. This is an ideal resting place for cats. It includes a small, but spacious private cat condo.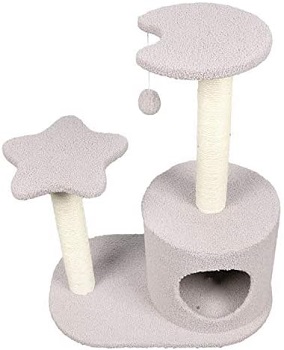 Interesting And Fun
This small purple cat tower includes two raised perches. One of them is shaped like a flower. Both perches are supported by scratching pillars made of natural sisal. One of the perches includes an interactive cat ball that will keep cats occupied and happy.
Premium Quality
The material used is natural sisal scraper and warm plush fabric that cats adore. This tree is ideal for scratchers. It keeps your furniture safe and prevents cats from scratching sofas and couches. This tree is stable and sturdy, but not suitable for large or overweight cats.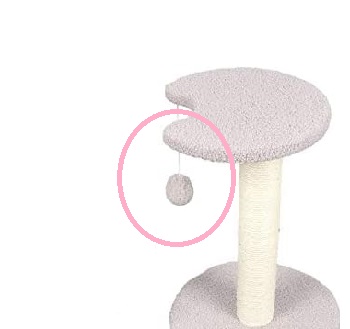 Size And Capacity
IQQI flower cat tree measures 21 X 28 inches. It weighs approximately 11 pounds. The capacity is up to 2 adult cats of medium size. Each cat shouldn't weigh more than 10 pounds. If used properly, the tree will surely last you a long time.
In Short:
this is a cozy and warm cat tree
it has 1 cat condo and 2 perches
one perch includes a hanging toy
there are 2 scratching pillars
ideal for 2 cats of no more than 10 pounds
BEST MODERN PURPLE CAT TREE CAD
Pet Cat Tree Playground
Luxury Castle Tree
CAD tree for cats will look lovely inside of any elegant and modern household. It is a beautiful beige-purple cat tower that cats love. It is shaped like a small castle and provides enough space for all the cats' everyday activities.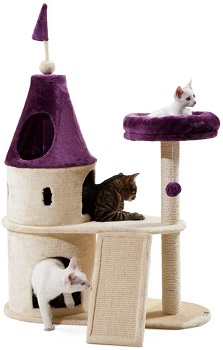 Made For Play
Cats love playing on this tree. There is a wide base that keeps the tree stable. Cats can jump or climb to the first floor or the raised perch. A cat toy ball hangs from the top perch and allows your cat to play and stay occupied. There are scratching posts included that keep your cat's nails healthy.
Perfect For Sleeping
Apart from playing, your cats will get to sleep and rest on this purple cat tree by CAD. There is one large and spacious cat condo included that is shaped like a castle tower. It has three entrances, each on one floor. Also, a small window is included so your cat can keep an eye on its surrounding.
For Medium-Sized Cats
The CAD luxury cat tower is perfect for cats of medium size. Up to three cats will fit this tower. The material used for the design is particleboard, soft plush, and high-quality sisal. The material is eco-friendly and perfectly safe for pets.
In Short:
this is a modern and unique cat tree
made of high-quality and safe materials
the tree is safe, warm, and cozy
it includes one large and spacious condo
there is fun content that comes with the tree
this is a multi-level cat tree
BEST FOR KITTENS PURPLE CAT TREE
Cat Scratching Post Purple Tree
Lovely And Small
If you have a kitten or one small cat at home that loves to play and scratch, this unit might be the right one for your fur friend. It comes with a soft and wide base that makes the tree stable. there is one raised perch that is supported by a scratching column. There are two interactive balls included.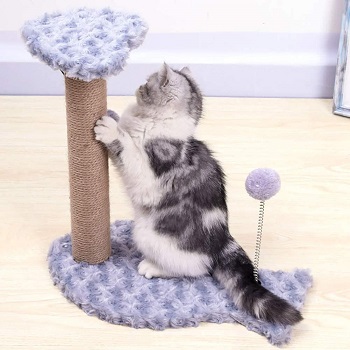 Natural Material
The material that the manufacturer used for designing this small purple cat tower is natural sisal and soft plush which cats adore. Your kitten or small cat will probably spend a lot of time on this purple cat tree. The warm plush makes cats feel cozy and safe, and the sisal post will help to maintain your cat's nails strong and healthy.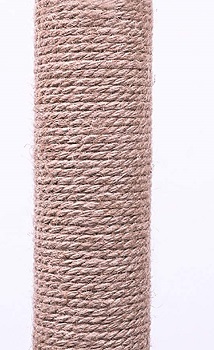 Easy To Assemble
The setup is required. It is easy to assemble this unit and to disassemble it if necessary. Save space if you need to store this unit or go traveling. This small simple cat tower is easily-portable as well. The size of this unit is 16″L×6″ W×16.1″H.
In Short:
simple and small purple design
it has a wide base to keep it stable
suitable for one kitten or small cat
includes two interactive toys
there is a scratching pillar included
How To Pick: Purple Cat Trees & Towers
Having a cat tree in one shade of purple color might fit nicely into your home decor. However, don't forget to look for other features in a cat tower. Not all nice cat trees are functional and safe enough for cats. This is why we have numbered several features that you should have in mind before you decide to buy a purple cat tower.
Look For The Ideal Size – Indoor cat owners with cuddly cats will be satisfied with a small or medium-sized unit. The same is for households with one cat. On the other hand, if you have more than one active cat, we suggest you get a tall tree with extra content and interactive cat toys.
Make Sure The Material Is Safe – If you are buying a tree for one cat, getting a unit that is made of plastic, PVC, or particleboard should meet your needs. One cat won't be able to overturn the unit, especially if we are talking about a cat that is not of very large size. But if you have two or more cats, then be sure to get a sturdier tree such as one made of wood or metal.
Check The Carrying Capacity – Not every cat tree will hold more than one or two cats without overturning or collapsing. It is our advice to always check the number of cats that the unit you want to buy can carry. And if you are not sure about the carrying capacity, get a tree that clearly states the maximum holding weight.
Know The Benefits Of Owning A Cat Tree – Cats are active animals that like to play, climb, run, and jump around. If you have indoor cats and don't own a cat tower, they will easily find an alternative. Cats will often scratch and climb your furniture. Getting your cats a tree will help to keep your pets occupied, active, and entertained. It will also save your sofas, couches, bookshelves, and other furniture from being damaged.
Buy Cat Tree Online – We suggest that you get purple cat trees and towers online. Buying from a manufacturer and online webshop you trust is the best you can do. You will be able to read customer reviews, get special discounts, or get in touch with customer support easily. And remember, the cheap price shouldn't be the main thing to consider before buying. Spend a little more, buy a quality product, and you will have a unit that will last you a long time.
To Sum Up
Before you decide which purple cat tree to buy, don't forget that you check the tree's size, capacity, and safety features. If you are not sure which unit is safe enough for your cat or more cats, we suggest you get a large and spacious cat tree such as the Pet Supplies Cat Deluxe Purple Tree. We liked this sturdy cat tower because it makes the cat owners feel relaxed about their cats' safety. Also, it is a multi-cat tree and ideal for owners who are thinking about getting another pet cat.