Having trouble finding the best deluxe cat trees and towers?
Look no more! We have made a top list of the 6 best models that we could find on the online market. Read more about each model and make sure you buy the unit that will suit all of your cat's needs.
The Summary
Best 6 Mega Deluxe Cat Trees Reviews
BEST OF BEST DELUXE CAT TREE
New Cat Condos Deluxe Cat Tower
Four Perches
This 4-perch cat tree is ideal for households with cats that love to rest and lounge. It is a cozy tree with elevated perches and a scratching post. It is ideal both for senior and young and active cats. The senior cats will prefer resting on a ground floor perch.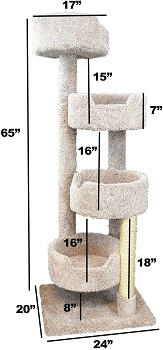 Made Of Solid Wood
This tree is made of natural solid wood. It is stable and sturdy and keeps your cats safe. Such units are hard to overturn. They do not wobble when cats jump off of it. Natural cat trees may be pricier, but they definitely last a very long time.
The Scratching Post
There is one large scratching pillar included. It is wrapped in natural sisal. Such material is durable and rough. It attracts cats and makes them want to scratch and sharpen their nails. The New Cat Condos mega deluxe cat tree will prevent your cats from scratching the furniture.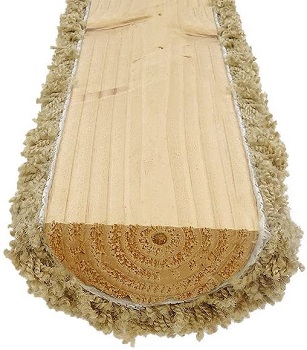 Carpeted And Cozy
This unit is almost entirely carpeted with household carpeting. It keeps cats warm and cozy. Your fur friends will love to spend time on this tree. The carpet is easy to clean. Vacuum the unit when necessary and get rid of cat hair easily.
In Short:
this is a 4-perch cat tree
it is made of natural solid wood
the unit is entirely carpeted
a sisal scratching post is included
long-lasting and sturdy construction
BEST CONDO MEGA DELUXE CAT TREE
Aspca Deluxe Cat Condo
Small And Cute Design
Aspca's small and short cat tree is perfect for households with one or two cats of medium size. This small deluxe cat tree is cute and warm. It includes a cat condo with a large entrance and an elevated perch that is supported by a column.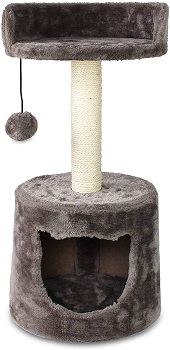 Scratching Post
This simple and minimalist cat tree comes with a scratching pillar. It is wrapped in skin-friendly sisal material. Its rough texture will help your cats to sharpen their claws or stretch after waking up from a long nap.
Private Condo
The cat condo that is included will accommodate one adult cat of medium size. Its large entrance is shaped like a cat head. This cat tree condo will make your cats feel safe. It provides cats with a private space for naps.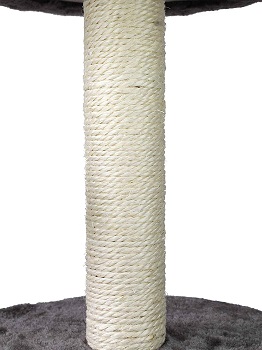 Easy To Set Up
You will have no trouble setting up this unit. It will take less than a minute to put the pieces together. You don't even need to check the instructions. The assembled size of the Aspca deluxe tree for cats is 25x14x14″.
In Short:
a short and small cat tree
includes a condo, a post, and a perch
the pillar is wrapped in natural sisal
easy to put the pieces together
the tree holds up to 2 adult cats
BEST MODERN DELUXE CAT TREE
Good Life Modern Cat Tree
Cat House Tree
The Good Life tree for cats is a modern and stylish unit. This is an unusual cat tree that looks like a small house. It has a wide base, four columns to keep it stable, and a room under the roof. It is a unit that will attract households with children for sure.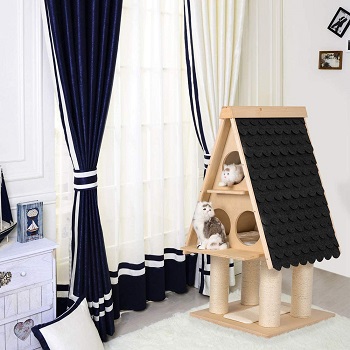 Cozy And Fun
The unit includes cushions that you can insert into the cat room. The cushions make cats feel cozy and warm. This tree house is going to be a perfect private space for your cats. Apart from that, your cats will get to play hide and seek and scratch as well.
For Scratcher Cats
The four pillars are covered in natural sisal material. This material is the best for cats. It is safe and skin-friendly. Its rough texture attracts cats and acts as a deterrent. Your cats will forget about damaging your furniture, sofas, and couches.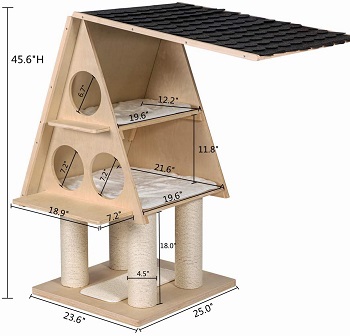 Easy To Clean
You can open the roof in order to clean the inside of the cat room. Apart from that, the mats are removable and machine-washable. Be sure you clean this mega deluxe cat tree regularly. Cats love sleeping in a clean environment. This luxury cat tree condo house is made of the quality and durable materials.
In Short:
cat condo tree house design
includes a private multi-cat room
the roof is simple to open when cleaning
made of long-lasting material
sturdy construction and natural sisal posts
BEST JUNGLE GYM MEGA DELUXE CAT TREE
Kitty Mansions Paris Cat Tree
Multiple Levels
The Kitty Mansions' cat tree is tall, spacious, and includes multiple platforms. The tree is well-proportioned and heavy-base. It is advisable to place it against the wall. This is a multi-cat tree and placing the unit next to a wall will prevent overturning.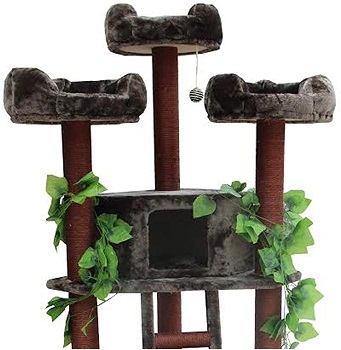 Fun Content For Cats
The tree includes elevated perches. They are supported by scratching pillars. Apart from that, the unit comes with a teasing cat ball that hangs from the top. This mega deluxe cat tree may keep your cats active and occupied for hours.
Cozy Cat Condo
There is one spacious cat condo included. It will hold up to two cats of smaller sizes at the same time. The unit is covered in soft material. It will keep your fur friends warm, comfortable, and safe. Such a soft material reminds cats of their mother's fur.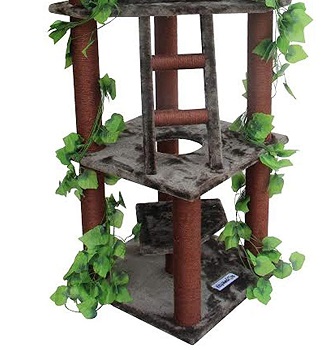 Long Lifespan
This unit by Kitty Mansions is made of high-quality material. It comes with a sturdy and firm construction. The tree includes artificial leaves that make this unit look like a forest cat tree. This tree measures 23-inch l x 23-inch w x 75-inch h.
In Short:
the unit is tall and multi-level
it accommodates multiple cats
the tree is fun and interactive
one spacious condo is included
there are artificial leaves attached
BEST TALL DELUXE CAT TREE
You & Me Deluxe Clubhouse 7 Level Cat Tree
Tall Cat Tree Design
The You & Me cat tree is tall and space-saving. It is ideal for households with a lack of space. It doesn't occupy too much space. Its overall size is 74.5″ H, 31.5 inches. The unit has 7 levels. This deluxe cat tree will probably fit into any unoccupied corner.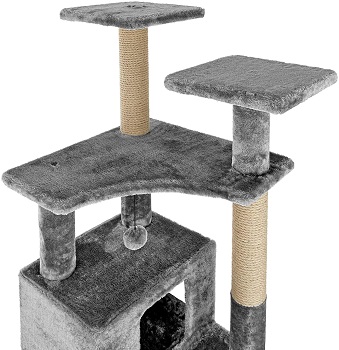 Stable Base
Thanks to the heavy and stable base, this tree won't overturn or collapse easily. The multiple pillars help to keep the unit firm and make it well-proportioned. This tree can hold up to three or four adult cats of medium size.
For All Cat Sizes
This indoor cat playground will keep your cats active. They can jump between the levels, play with hanging toys, and scratch on the scratching pillars. The unit can accommodate cats of all ages, sizes, and breeds.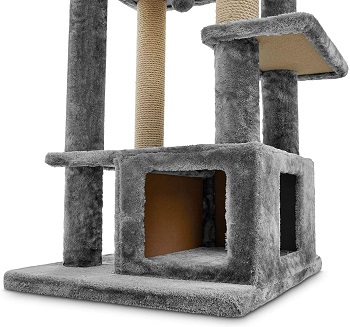 Skin-Friendly Material
This tree is made of strong material. The construction is sturdy and firm. The unit is almost entirely covered in pet-friendly soft and warm plus. This material keeps cats relaxed and safe. The jute posts will satisfy your cat's scratching needs.
In Short:
tall and multi-level cat tree
accommodates cats of all sizes
includes two spacious cat condos
covered in pet-friendly material
two hanging balls are included
BEST SMALL MEGA DELUXE CAT TREE
PetPals Cat Tree Deluxe With Tunnel
Stylish Design
The PetPals is an attractive and deluxe cat tree that comes with a modern design. It includes a ground floor cat tunnel, two scratching pillars, two perches, and a top platform. The unit comes in gray, beige, and brown colors. It fits most home decors.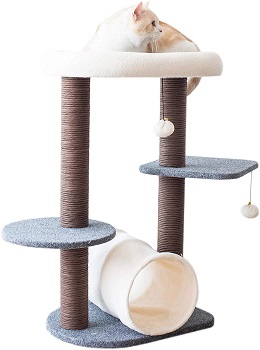 High-Quality Material
The material used for building the PetPals medium cat tree is of top quality. It ensures the tree's stability and sturdiness. The unit will hold up to two adult cats with no collapsing. The scratching pillars are to keep the cats' claws healthy.
For All Cats
The PetPals tree of medium size is suitable for cats of all ages, sizes, and breeds. It will hold one large cat, two medium-sized cats, or up to three small cats or kittens at the same time. For extra stability, you can place the unit next to a wall.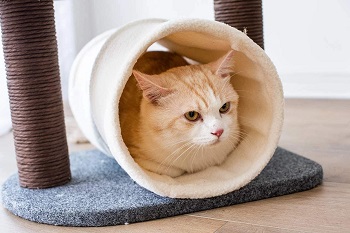 No-Hassle Cleaning
The cleaning will not be a problem. This aesthetic cat tree can be cleaned either with a lint roller or vacuum. Get rid of cat hair in no time. Make sure you clean the tree regularly. Hygiene is cats' priority. It is also very important for their health.
In Short:
this unit is modern and elegant
the tree includes a tunnel and posts
there are two perches and a platform
leaning is simple and so is the setup
suitable for all cats
How To Pick: Deluxe Cat Trees And Towers
If you want to get an interesting cat tree with an unusual or unique design, go for a deluxe cat tree. Oftentimes, they are stylish, their quality is high, and there are different models to choose from. Before buying, read our guide. Find out more about the content that cat trees include and why they are so important for your cats' health.
Uncommon Design – The Deluxe cat products are most often unusual, interesting, stylish, and elegant. Sometimes they offer something that no other unit does. They are also made of quality materials. Deluxe trees and towers for cats are long-lasting, sturdy, and nice-looking.
Variety Of Models – You can choose between tall, large, spacious, and wide units. There are also short or narrow versions available. The first thing you should consider before buying is how much space you have at home. After that, think about your cat's nature: do your cats prefer climbing and playing or resting and sleeping?
Perches And Condos – Cat trees with multiple cat condos, baskets, perches, and hammocks are ideal for senior, calm, or shy cats. Oftentimes, trees with such content include removable cushions or are entirely carpeted. Even active cats will love to spend time resting in a soft, warm, and quiet place.
Posts And Toys – Scratching posts are incredibly important. Cats scratch for different reasons. It is not only to keep their claws healthy and strong but also to stretch after waking up from a nap. Another reason is to mark their territory by leaving their scent or visual mark. Interactive cat toys are as important as posts. They keep cats active and occupied.
Quality And Price – The best deluxe cat tree that you can buy for your lovely fur friends should be made of the quality and strong material. Units made of natural and solid material will last the longest. When it comes to price, most often, you will pay less for a short cat tree and more for a larger-sized unit. Our advice is that you shouldn't be afraid to spend more than a penny on a durable unit that will keep your cats safe.