If you have active cats and you're looking for a 7-foot cat tree, you are at the right place.
We found some of the best models and reviewed them so you can choose the best one from each category. If you need more helpful tips before buying, check our guide at the end of this post.
The Summary
5 Top 7-foot Cat Trees
BEST OF BEST 7 FT CAT TREE
Lanfeier Cat Tree
Brown And White
The brown and white color combination always looks very modern and fits well with the rest of the furniture, so if you need a model for indoor use, this Lanfeier one has great features.
Stable Base
The sturdy 7 ft cat tree has a stable bottom base, but we always recommend placing the tower next to the wall. It is fully covered with soft material that will provide great comfort.
2 Cats
This cat tree for multiple cats is suitable for 2 active cats in medium sizes. Multiple levels are great for playing and climbing so your cat stays healthy and happy. There are also interactive toys for playing.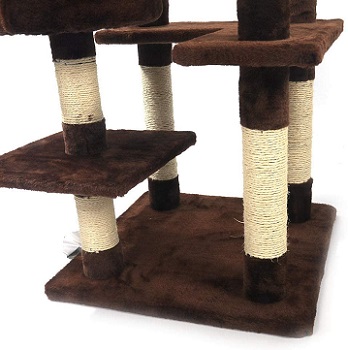 Enjoyable Scratching
Sisal posts are one of the favorite materials for scratching and your cats will enjoy using them. In the middle of this 80-inch cat tree are 2 condos so each cat can have enough privacy when sleeping.
In Short
Brown and white color combination
Softcover for comfortable walking
Toys for playing
Suitable for 2 medium size cats
Sisal posts for scratching
BEST FOR LARGE CATS 7 FT TREE
Armarkat Cat Tower
Neutral Tones
For adult cats that are still very active, this Armarkat model is a great choice. Because of neutral tones, this model can be easily fitted in every corner of your home.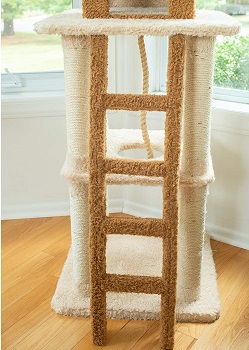 Stable Bottom Base
Thick pressed wood at the bottom will provide stability of the construction, so your cats can use it safely. This 7-foot cat tree is fully covered with comfortable material for coziness.
Ladders For Climbing
For easier climbing, there are large ladders that also have softcover. Large platforms will provide comfortable laying while cats are looking around the house.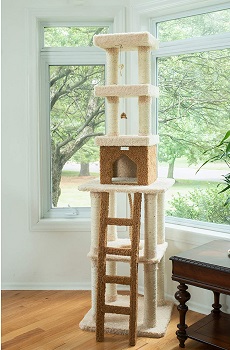 Toys For Playing
Hanging toys will entertain cats for hours. This giant cat tower has multiple posts for scratching that are wrapped with sisal. In the middle of the tree is a condo with 2 doors for easier access.
In Short
Neutral tones for fitting
Base made of pressed wood for stability
Ladders for easier climbing
Softcover for comfort
Interactive toys for playing
BEST MODERN 7 FOOT CAT TREE
Benjamas Cat Tower
Cute Print
If you want a model that will catch your cat's attention, this Benjamas tree is a perfect choice. Neutral color with cute paws on the material will look very cute in your home.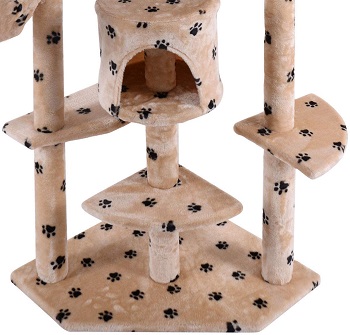 Corner Fit
The construction of this model is made to fit in corners. The baseboard is sturdy enough to prevent any wobbling. This 7ft cat tree can be easily assembled with included instructions.
Perches For Observing
The fun cat tree has a soft cover for comfortable walking, climbing, and laying. It has large platforms and 3 top perches for better observing. This model is ideal for larger active cats.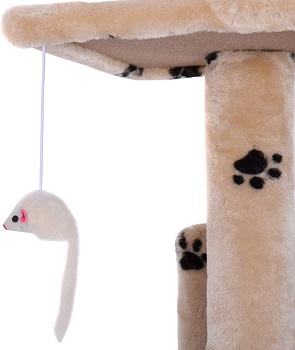 Large Post
On the backside of this 7-foot cat tower is a large post for scratching that is wrapped with sisal, so cats can easily stretch. 2 condos will be perfect areas for sleeping.
In Short
Neutral color with cute print
Sturdy construction covered with soft material
Large platforms and perches
Post wrapped with sisal rope
2 condos for sleeping
BEST CORNER 7 FT CAT TREE
Lovepet Cat Tree
Space-saving Design
If you're looking for a model that will not take much space in your home and which you can put in every corner, this Lovepet one has great features.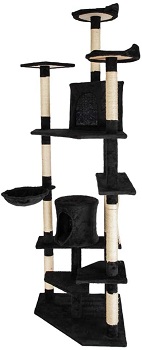 Dark Color
The sturdy and stable construction of this 7 ft cat tree can be easily assembled with included instructions. Darker colors easily fit any interior and this softcover will provide great comfort.
For Active Cats
A multi-level design is a perfect choice for active cats. Large platforms and perches are great for playing and observing. Perches at the top will provide a better look around the house.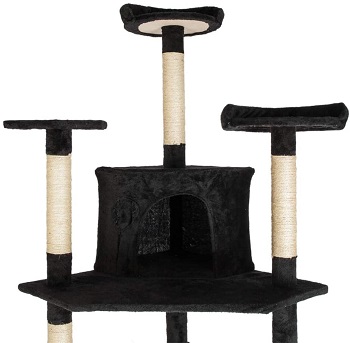 Basket For Sleeping
Each level of this cat tower has sisal posts for easy scratching and stretching. When is time for sleeping there are a basket and 2 spacious condos. This cat tree basket is suitable for 2 cats.
In Short
Stable and sturdy construction
Softcover in a dark color
Multiple posts wrapped with sisal
Spacious areas for sleeping
Suitable for 2 cats
BEST CHEAP 7 FOOT CAT TREE
Go Pet Club Cat Tree
Beige Color
Affordable models can be functional and look modern as well, so if you're trying to find a cat tree for better value this is the one. The beige color perfectly matches any home decor.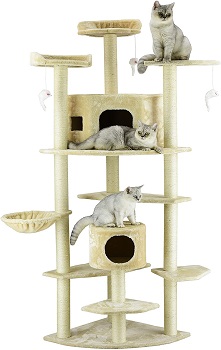 Stable For Use
The baseboard at the bottom will make sure that the cat tree is stable for use. The shape is perfect for stability so even larger cats can climb on this 7 ft cat tree.
Comfortable Perches
This simple cat tree has multiple platforms for climbing and 2 comfortable perches at the top, for comfortable observing. Hanging toys and a rope will keep your cats entertained.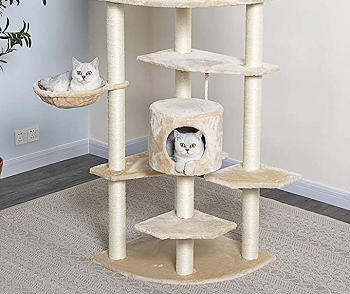 Sisal Rope
All posts are wrapped with sisal rope so cats can anytime do their daily routines such as stretching and scratching. Large condos with a smaller one at the bottom will be favorite areas for sleeping.
In Short
Simple design in beige color
Sturdy and durable construction
Multiple platforms for playing and climbing
Toys and rope for playing
All posts rapped with sisal
How To Pick The Best 7 Foot Cat Tree?
If you check our reviews and you're still not sure about some features, keep on reading. Our guide will, for sure, help you with buying. Read about how sturdy and stable your cat tree should be as well as about the size, material and colors.
Sturdy And Stable – Because you're planning to buy a taller model, make sure you check that it is made of sturdy materials. The bottom base needs to be made of pressed wood and be wide enough to provide stability. Always use a cat tree in the corner or next to the wall for maximum safety.
Right Size – Always check the dimensions of the tree before buying so you know it will fit in your home. Also, make sure your cat is suitable for the type that you're picking, areas for laying and sleeping needs to be large enough for easy fitting. If you have 2 cats, make sure there are at least 2 condos or perches.
Pick the Material And Color – Make sure you pick a 7 ft cat tree that will easily fit with the rest of your furniture. Neutral colors like beige, grey, or black are always a good choice. If you want a model that will catch everyone's attention, pick the artistic cat tree. You can choose wood or some softcover like wool or plush.
Additional Features – Besides construction, size, and type of the material, it is important that the model that you're picking is functional for your cats. Make sure that the platforms are large enough for climbing and observing. Posts need to be large for easy stretching. For active cats pick the model with interactive toys.