If you are in search of a cat tracker chip, make sure you learn everything about these products.
Our article is here to help you choose between the six best models that you will find online. We have reviewed the best of best, pack, safe, and more models. Also, we have made a small guide that is going to help you know more about cat microchip trackers before buying them.
The Summary
Best 6 Cat Tracker Chips & Microchips
BEST OF BEST CAT MICROCHIP TRACKER
HomeAgain Microchip Implant Kit
About The HomeAgain Kit
This HomeAgain kit consists of two cat microchip implants. It can be used for dogs and cats. A veterinarian should do the process. The microchip is simply injected under your cat's skin. The chip is the size of a grain of rice.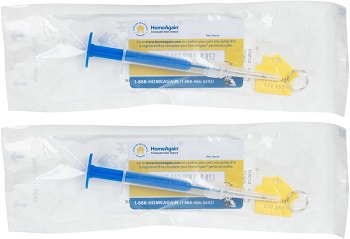 The Process
The implantation of the chip is fast and almost painless. It takes only a few seconds. No anesthetic is required. This is a permanent chip that doesn't harm your cat in any way. This chip features a Bio-Bond feature that ensures the chip stays in one place.
How To Scan The Chip
In case your cat gets lost and someone takes it to the veterinarian, the microchip will get scanned and the vet will see your unique ID code. The scanner will easily identify the cat's owner.

Product Overview
This microchip kit is safe and easy to use. Its price is affordable. The dimensions are9 x 6 x 1 inches. The identification code can be registered with the American Kennel Club for quick recovery. The registration is 20$.
In Short:
simply injected under your cat's skin
painless and safe
the process is best performed by a vet
affordable price
register for 20$
BEST PACK CAT TRACKER CHIP
Smoostart 20 Pack Cat Microchip
Readable And Writable
The Smootstart microchip for cats is easily readable and re-writable. This means that it is possible to change the data through the reader. It comes with ICAR certification (International Animal Coding Committee). It is safe to use.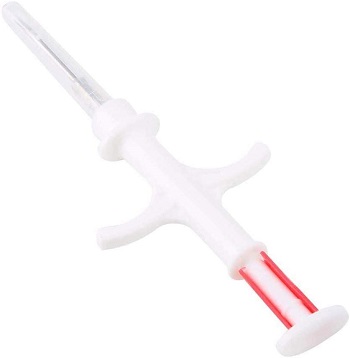 Protection Design
This cat tracker chip implant comes with a safety protection design. That means this is an anti-drop device. It won't fall off and it prevents dissociation under your cat's skin.
The Format
This chip for cats is in the 134.2K/125K FDX-B format and with a 15-bit encoding universal chip. It can be scanned by all animal scanners. Any vet will be able to find the cat's owner.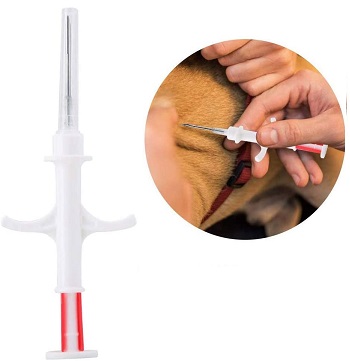 Suitable For Pets
You can use the same microchip to implant it under your cat's, dog's, and other pet's skin. For example, it is suitable also for fish and wild animals. It is safe and almost painless. Register for free at the foundanimals.org website.
In Short:
it is possible to change the data
it is an anti-drop device
it can be scanned by every animal scanner
safe and painless
suitable for other animals too
BEST SAFE MICROCHIP FOR CATS
Ecare Cat Tracker Chip
Travel Abroad With Your Cat
If you want to or need to travel abroad with your cat, you will need to get it chipped. The Ecare implant microchip is here to make crossing the border with your little fur friend possible. The unique ICAR code supports tracking management.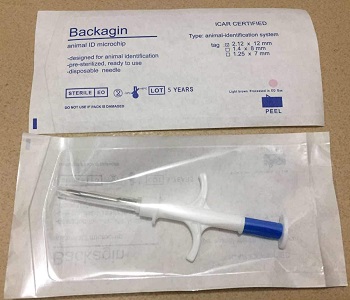 Safe To Use
The Ecare microchip is very simple to implant. The process is quick and safe. The microchip has no internal energy source and it doesn't do any harm to your cat. It has an RFID technology that makes the chip work all the time.
Easy To Read
This chip comes with ISO11784/11785 FDX-B standard. It is easily read by all scanners. This means that every vet will be able to check the owner's data.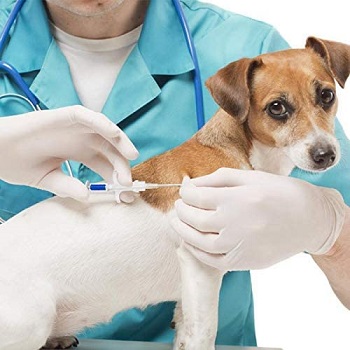 More Product's Details
You can register for free at their website found.org. The size of this cat tracker chip is very small and can't be noticed under the skin. Once activated, it works for 20 years. It is advised for a professional to inject the microchip.
In Short:
free registration
allows you to travel abroad
read by all vet's scanners
works for 20 years
small and unnoticeable
BEST MINI CAT MICROCHIP TRACKER
Petkey Mini Chip For Tracking Cats
General Overview
The Petkey mini microchip implant for cats is injected with a disposable and single-use syringe. The chip is already inside the syringe. A professional should inject the chip under your cat's skin. The material used is plastic and high-quality steel.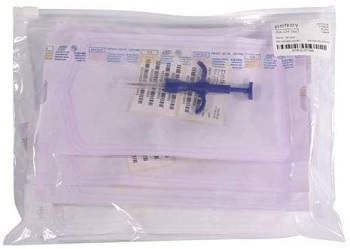 ISO Compliant And APHIS Recognized
This cat microchip's syringe has already been sterilized. It has an anti-drop system that makes sure the chip stays inside the needle until it is implanted. The chip is ISO compliant and recognized by the Animal and Plant Health Inspection Service.
Suitable For Pets
The Petkey microchip is not only here for your cat. You can use it for other pets such as dogs, and any other small home animal. It is a safe chip made of high quality and it doesn't harm your cat (or other pet) in any way.
Safe And Small
This chip is made of BIO glass. It is coated with biocompatible parylene. This chip will stay in the same place for all your cat's life. The size of the chip is very small and can't be noticed. The sharp and small steel needle will make the process quick.
In Short:
biocompatible microchip for cats
can be used on other home animals
harmless and safe
the injection is simple and quick
the syringe comes already sterilized
BEST ADVANCED CAT TRACKER CHIP
Dog Supplies Pro Microchip
Mini And Unnoticeable
This mini cat chip is the size of the grain of rice. It is injected under the cat's skin easily. It should be put as close to the skin's surface as possible so that the scanner reads it with easy. The size is so small that your cat won't even notice it.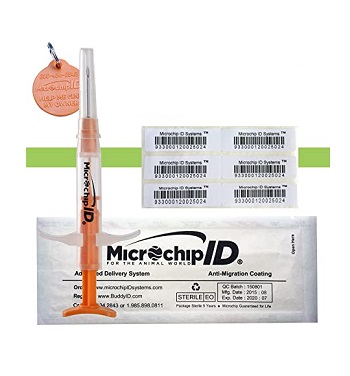 Advanced Technology
The new safety technology that this cat microchip implant uses is here to provide you with a reliable, proven, and long-lasting service. The chip will last for many years. It is made of high-quality materials.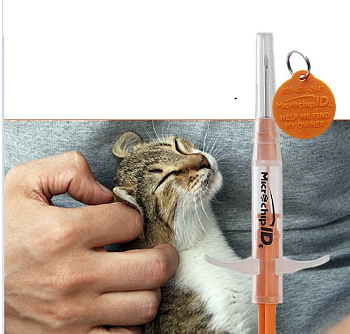 The Design
The implant microchip is injected with a syringe. It has a small stainless needle on top, a lock guard, a plunger rod, a comfortable grip, and a thumbpad.
In Short:
mini and safe
uses the new advanced technology
made out of safe and high-quality material
injects with a syringe
comes with a small stainless needle
lasts about 20 years
BEST CHEAP CAT MICROCHIP TRACKER
Manruta Microchip For Cats
Tips On Using
The Manruta chip for cats is safe to use. However, before buying, choose the suitable size for your cat. If you are going to use it for your cat or a small puppy, use the smallest one. Don't get a too big chip. Those are made for bigger domestic animals.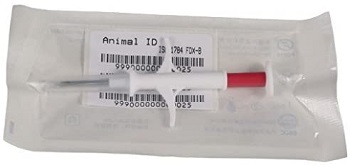 Long-Lasting
The Manruta microchips for cats are here to provide you durable service. These chips will last your cat's whole life. This is why it is important to buy from a reliable manufacturer. The Manruta products are made in Germany and come with high quality.
The ID Code
Each Manruta chip comes with its unique ID code. All of the chips can be read by the vet's scanners. The chip comes with 6 barcode stickers for an ID number. It has compliance with international ISO standard (ISO11784/11785 FDX-B).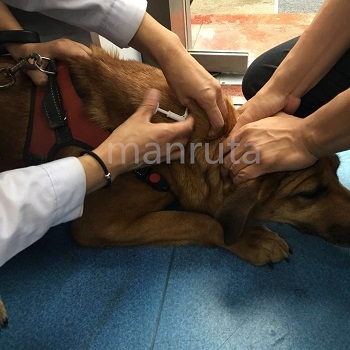 Online Registration
Go online and register at the free pet chip registry website. The registration is free. You can add as many animals as you have. Stay safe and worry less about your cat when it is away from home.
In Short:
make sure you buy the right size
durable chip
comes with a unique ID code
read by vet's reader scanners
How To Pick: Cat Microchip Tracker
Before buying a cat tracker chip, we suggest you read more about these cat's small tracker devices. This guide will help you learn several important information about these products such as what is a cat locator chip, how it works, and what are the benefits of implanting your cat a microchip.
What Is A Cat Microchip? – The chips and microchips for cats are small identification devices that must be implanted under your cat's skin. The chip contains a unique ID code of the cat's owner. If your cat gets lost and someone finds it, the vet will be able to scan the chip and identify you as a cat owner.
Benefits Of Microchipping Your Cat – If you have an outside cat, it is recommended that you implant it a microchip. Your cat can get lost or get stolen. This is one of the safety precautions that you can easily take. Microchipping your cat will help you take your cat abroad if necessary.
Difference Between A Microchip And GPS Locator – The microchips don't use the GPS locators. You cannot locate your cat if you are actively searching for it. The GPS locators are small devices that are not implanted under the skin but are put on your cat's collars. They help you locate your cat. They don't provide the unique ID code.
Where To Get Such Devices – Any veterinarian will provide a microchipping service. Still, you can get your microchip and take it to the vet so he/she can do the process. The above-listed chips to track your cat are all available online. The chips come with instructions on how to properly implant a microchip under your cat's skin.
To Sum Up
In the end, we would like to say that we consider the Petkey Mini Chip the best and safest. It is made of biocompatible material and it is harmless for your cat. Make sure it is injected by a professional. To make sure your cat is fine at all times, consider getting it a cat locator collar or a small GPS tracker.