Looking for an outdoor cat jungle gym that you can place in your backyard, terrace, or balcony?
Then we invite you to read our article. We have gathered the six different jungle gym models that can be installed outside of your home. Learn more about the models that we find the best of best, best for large cats, wall-mounted, and three others. Also, check out the buying guide that we wrote to help you choose the right model for you and your cats.
The Summary
Top 6 Outdoor Cat Jungle Gym Models
BEST OF BEST OUTDOOR CAT JUNGLE GYM
Lukovee Cat Tunnel Jungle Gym House
Product Overview
The Lukovee tunnel cat jungle gym is an attractive and exciting cat toy. It can easily be assembled and placed in your backyard or garden. Cats will love to play, hide, and chase each other inside of this outdoor cat jungle gym. It includes hanging toys, a ball toys, a mouse toy, and a feather toy.
Easy To Attach And Detach
The package includes one large cube and two cylinder tunnels. It is incredibly easy to set this toy up. It is simple to attach and detach it. This is a DIY unit. You can customize it and combine it into different shapes.
Water-Resistant And Strong
Install the Lukovee's cat jungle gym outdoors without being afraid that it will break. The material used is extra-strong and tear-resistant Polyester. The frame is made of sturdy steel. This sturdy cat tower jungle gym house is stable and when necessary, it can easily be folded and stored.
Lightweight And Portable
The weight of the unit is approximately 17.6 oz. This jungle gym is lightweight and it is not difficult to carry it. It is not recommendable to leave this jungle gym outdoors during a storm or very bad weather. The size of the cube is 17.7 x 17.7 x 17.7 inches and tunnels measure 11.8 x 19.6 inches each.
In Short:
fun, spacious, and attractive cat toy
simple to set up and detach
lightweight and easy to carry
water and tear-resistant material
the frame is made of strong steel
BEST FOR LARGE CATS OUTDOOR CAT JUNGLE GYM
LBLA Cat Jungle Removable Pads
Suitable For Outdoor Use
The LBLA jungle gym can be used wherever you want – inside of your living, on your balcony, or backyard. All the pads can be removed so they won't get wet if you place the unit outdoors and it starts raining. We suggest that you leave this unit in a covered outdoor area.
The Content Is Easy To Clean
This indoor-outdoor cat jungle gym comes with a climbing frame, scratching posts, a nest bed, and a cat condo. There are hanging toys included too. All of the pads and extras can be removed, cleaned, and washed. This easily-washable cat tree gym is simple to maintain.
Stable And Firm
LABLA cat gym is a stable and durable unit. The frame is made of high-quality PVC pipes. It is wrapped with natural and rough sisal that will help to maintain your cats' nails healthy. The premium carpet fabric is used to cover the unit.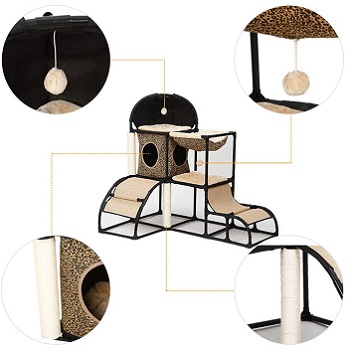 Useful To Know
Cat trees and jungle gyms help relieving cat's anxiety and depression. These units keep cats occupied and active. The unit we are talking about is suitable for cats of all sizes and ages. Dimensions of LABLA jungle gym is 47.2 × 31.5 × 42.1 inches. It is simple to put it together. The cost is affordable.
In Short:
made for indoor and outdoor use
it can carry large cats
includes removable pads and toys
pads are simple to wash and clean
made of PVC pipes and carpet fabric
sets up in no time
BEST WALL OUTDOOR CAT JUNGLE GYM
Plafueto Wall Mounted Cat Gym Jungle
Fun Wall-Mounted Bridge
This is a slightly different version of a jungle gym. It gets installed onto a wall. It comes in yellow. This outdoor cat jungle gym bridge is made of high-quality wood. It will evoke the cat's natural instincts of climbing and exploring.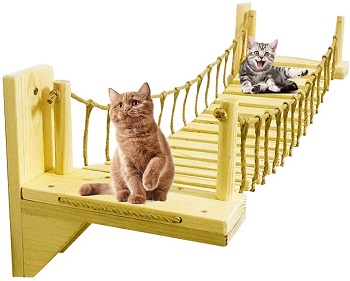 Space-Saving Outdoor Wall Gym
If you are in need of and cat jungle gym for outdoor use, but you don't have a lot of outdoor space, we highly suggest you get Plafueto natural wood cat tree gym bridge. It is space-saving and it will look nice on your terrace or balcony. You can get more than one bridge and create a large unit.
Get The Right Size
There are three sizes that you can choose from – small, medium, and large. The small bridge measures (fixed mount) 39.37 X 10.04 inches. The medium one's size is 47.24 X 10.04 inches, and the large bridge dimensions are 55.12 X 10.04 inches.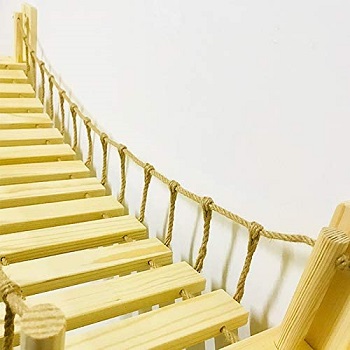 The Easy Installation
The package includes a bridge, the fixed brackets, and all the screws that you will need for the installation. It is simple to attach this unit to a wall. The bridge and the fixing frame are connected with stainless steel screws which make this unit sturdy and long-lasting.
In Short:
mount this bridge to the wall
this unit is made of natural wood
it comes in three different sizes
choose between small, medium, and large
the installation is simple and quick
this is a space-saving solution
BEST LARGE OUTDOOR CAT JUNGLE GYM
Kitty City Outdoor Indoor Mega Jungle Gym
Fun Playground Gym
Kitty City playground is another outdoor jungle gym cat toy that comes as a large and spacious unit. It is perfect for homes with a lot of outdoor space. It helps keeping your cats active and occupied and provides them with a lot of entertaining possibilities.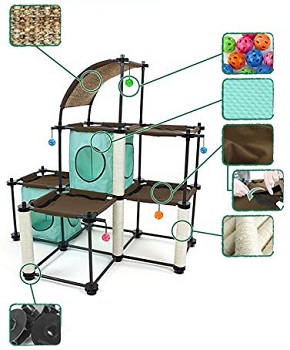 The Content Included
There is a lot of fun content that is included within Kitty City outdoor cat jungle gym. Apart from the hanging cat toys, your cats will get to jump and climb multiple platforms and scratch the sisal posts and pillars. Also, there are two large condos. Cats like to rest inside of such condos.
No-Hassle Assembly
Just like the previous models, you are going to need to assemble this unit. This unit does not weigh much and it is not a difficult job to put it together. The assembly takes about 20 minutes and one or two adults are recommendable to do the job. This unit can easily be folded and stored.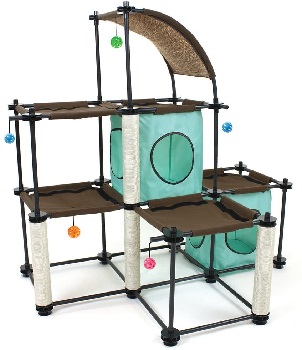 DIY Jungle Gym
There are different ways to install this modular jungle gym playground. Also, you can easily expand it by getting two or more packages of the same unit. Personalize the gym easily and adjust it to your cat's preferences. Store this folding cat tree and save space when you are not using it.
In Short:
fun and colorful outdoor-indoor cat gym
includes many fun cat content
assembly is simple and quick
the unit can be folded when stored
expandable, customizable, and adjustable
BEST WITHOUT CARPET OUTDOOR CAT JUNGLE GYM
CatastrophiCreations Wall Jungle Bridge
Three Color Option
This model of a wall-mounted bridge comes in three colors. Choose the color that you like most – the natural wood, Onyx stain, or English Chesnut stain. This wall-mounted nice cat tree bridge will look pretty wherever you decide to install it.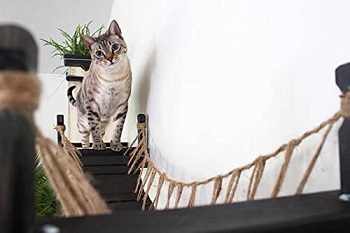 Carrying Capacity
This is a sturdy and space-saving outdoor cat jungle gym bridge that will last you a long time. It is made of wood and metal. This unit can hold up to 85 lbs. Feel free to get two or more units and connect them in order to provide your cat with even more fun space.
The Hidden Brackets
The installation is quick and not difficult. The package includes all the installation hardware that you will need. The hidden brackets give this unit a floating look. This unit is elegant. It looks nice on your wall, makes your cat occupied, and keeps it safe.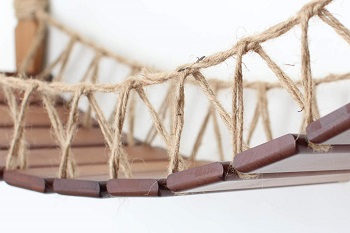 Strong And High-Quality Product
This is a firm and sturdy bridge for cats. It is strong and versatile. The tops are sanded with a rough finish. The look is clean and elegant. The material used for the construction (wood and metal) is of premium quality. The quality of this product is high, and so is the price.
In Short:
choose between 3 different colors
the product is made of metal and wood
this is a high-quality wall jungle bridge
the bridge holds up to 85 lbs
ideal for outdoor use
water and weather-resistant
BEST MODERN OUTDOOR CAT JUNGLE GYM
Penn-Plax Bridge Cat Jungle Gym Outdoor
Two Setup Options
This unit by Penn-Plax can be used as set up as freestading or wall/door-mounted. If you go with the freestanding option, there are legs included to keep it stable. On the other hand, this unit can be hung over any door or installed to a wall.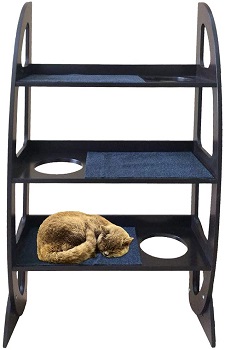 Three Levels
Cats like to explore and climb. It is their natural instinct. The Penn-Plax outdoor cat jungle gym has three levels. Cats that love heights will most definitely choose the highest levels to play and rest on. Each level is carpeted and anti-slip.
Indoor And Outdoor Use
This is a multi-purpose and multi-functional unit. Install it wherever you want – outdoors as a freestanding unit or onto your entrance or balcony door. Also, you can put the unit inside and use it as a bookshelf. However, no one will guarantee that your cat isn't going to knock your books from the shelves!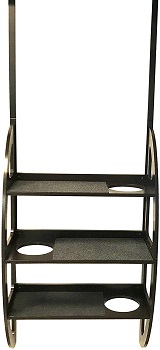 Strong Material
This space-saving cat tree jungle gym is made of strong and quality metal. It is covered in a polished espresso finish which makes the unit elegant. It is water-resistant and durable. It looks nice in any household or on any terrace or balcony.
In Short:
both for indoor and outdoor use
it has multiple purposes
this gym has three levels
each shelf is carpeted
this gym is made of quality metal
How To Pick: Outdoor Cat Jungle Gym
Purchasing an outdoor jungle gym for your cat is not an easy job. Many products are not completely weatherproof and it is best to keep them in an outdoor covered area. From our reviews, you have noticed there are many different models and types of jungle gyms. If you are wondering which ones are the best and how to choose the right one, keep on reading our guide. Hopefully, it will help you bring the right decision.
Choose The Right Model – Getting the right jungle gym for the outdoors primarily depends on the outdoor space that you have. If you have a garden or a spacious backyard, there are no limits. The big and wide tunnels and jungle gyms will fit and they will keep your cats occupied and active. On the other hand, if you have a small terrace or a balcony, we suggest you get a wall-mounted jungle gym or a jungle bridge.
The Right Material – Always be sure that the unit you are about to buy is weatherproof. Jungle gyms are made of all sorts of material – wood, particleboard, plastic, metal, and more. However, not all of them are covered in a water-resistant finish. The manufacturers of weatherproof cat trees and jungle gyms will state that their units are suitable for the outdoors.
Removable Pads And Cushions – There are some models that are made both for indoor and outdoor use. This is why you will often find there is a possibility of removing the cushions and fluffy pads. You can easily put them back on when the weather allows or if you decide to change your mind and place the gym indoors.
Toys And Other Extras – If you want to make sure that your cats will be satisfied with the jungle gym, get them a unit that includes hanging and interactive toys such as ropes and mice. Also, you will often find jungle gyms that come with scratching pillars and posts, cat condos, and many other fun cat content that can withstand all temperatures and weather.
Stability And Durability – Get an outdoor cat jungle gym that is guaranteed to be solid and firm. Your cats will play on this unit on a daily basis and you will want to feel relaxed about their safety. If you have more than one playful cat, a metal or wooden unit is the right one for you. These types of units are stable, sturdy, and durable. On the other hand, if you have only one cat, then a plastic jungle gym should be just fine.
To Sum Up
Outdoor cat jungle gyms are great units for your cats. They keep cats happy and entertained which is extremely important for their health. There are many models and types that you can choose from – the space-saving ones or the large ones. Most of these gyms can be used indoors as well. Models like Kitty City outdoor gym ones are our favorites because you can remove the pads during bad weather or when cleaning the unit. If you liked this model as well, we invite you to check out our best jungle cat tree or unusual cat tree articles.