Are you in search of a cat tree with branches and leaves?
Such interesting cat trees are not easy to find. In our article, we have listed six models that we find safe, quality, and pet-friendly. We invite you to keep on reading our reviews and learn more from our buying guide.
The Summary
Top 6 Tree Branch Cat Trees
BEST OF BEST TREE BRANCH CAT TREE
Kitty Mansions Tree
Fun And Tall Tree
This tall and spacious cat tree by Kitty Mansions comes with multiple levels and platforms. Just like many other high-quality units, this tree includes a heavy and wide base. If you have big cats, we advise you to place the tree against the wall. This can prevent the tree from overturning.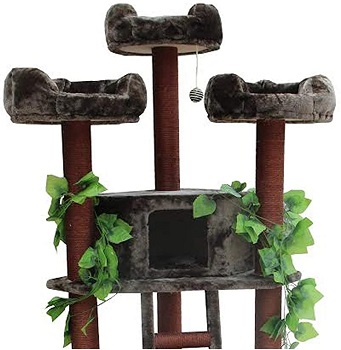 Ideal For Play
This cat tree includes elevated perches. Thanks to the scratching pillars included, the tree will stay stable. Besides that, this unit includes an interactive toy. It hangs from the top perch and attracts your cat's attention.
Comfortable And Warm
Kitty Mansion's tree is fun and cozy at the same time. It is different from most simple cat trees because of its cool tree branch cat tree design. The soft and warm plush cover invites cats to sleep and relax. It keeps cats safe and makes them feel relaxed too.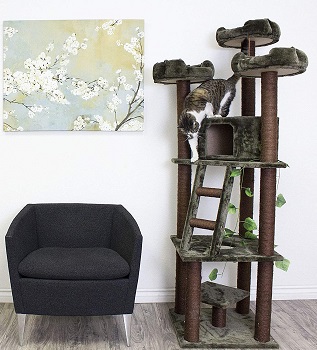 Long-Lasting Construction
The overall quality of this unit is pretty good. The sturdy construction makes sure the tree stays in one place. The measures of this unit are 23-inch l x 23-inch w x 75-inch h. This jungle cat tree is very easy to put together.
In Short:
fun, tall, yet comfortable and cozy
includes soft and warm plush cover
perfect for long nappings
sturdy construction keeps it stable
accommodates multiple cats
BEST HOUSE CAT TREE WITH BRANCHES
Anbull Branch Cat Tree
Attractive Design
In case you are looking for an unusual cat tree, Anbull's unit looks like a cat tree made from tree limbs. Unlike other models on this top list, this is not a regular cat tree with branches. It includes a wide base, a ramp, a perh, and a cat condo supported by tree limbs.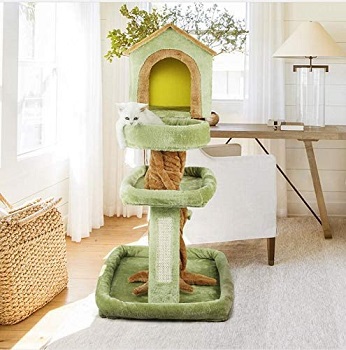 Size And Capacity
When it comes to size, the Anbull cat tower measures 40.5H×24.8L×20.4″W. It is a medium cat tree. It will surely fit almost anywhere in your home. This unit will withstand a weight of up to 13.2 pounds with no overturning or wobbling.
Multiple Functions
This is not only a cozy and soft sleeping space for cats but also a fun activity center. This tree is perfect for cats that love to observe the area around them. Besides that, it allows cats to play, climb, and jump for hours if they want to.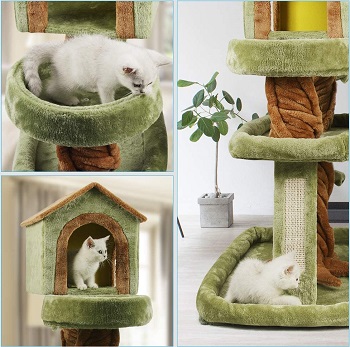 Safe And Stable
The easy and well-proportioned structure of this unit keeps your cats safe and secure. There is no need to worry since the Anbull's cat tower is made of sturdy and firm particleboard. This tree is ideal both for your cats' play and sleep.
In Short:
attractive, modern, and unusual design
accommodates up to 13.2 at the same time
perfect for climbing and playing
includes a perch and a house condo
sturdy thanks to particleboard construction
BEST MODERN TREE BRANCH CAT TREE
On2Pets Cat Tree
Fun And Unique Design
The On2Pets tree looks like a natural branch cat tree. First of all, it is beautifully designed. Households with children especially like this model. Thanks to its interesting fall design, this cat tree will surely catch the eye of every visitor.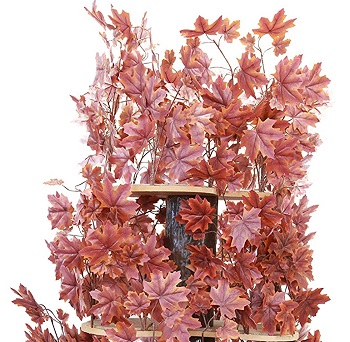 Sturdy Material
This tree branch cat tree is certainly one of the sturdiest. The material that the unit is made of is pressed wood, skin-safe carpet, and plastic artificial leaves. Although it may seem, this nice cat tree is made for indoor use. Simple and fast assembly is required.
Dimensions And Capacity
In order to see if this tree fits well enough in your household, you should check its dimensions. The overall measures are 24 x 24 x 60 inches. Also, the tree will accommodate up to 32 pounds at the same time. It is a perfectly safe and pet-friendly unit.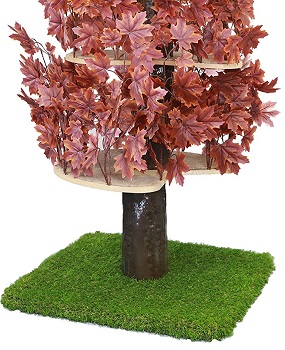 For Active Cats
We consider this cat tree perfect both for households with playful and cuddly cats. The On2Pets unit will keep your cats safe and active. It includes carpeted perches. They are ideal for climbing, jumping, and relaxing.
In Short:
a unique, fun, and different design
includes real-looking leaves
comes with carpeted perches
it accommodates up to 32 pounds
ideal for indoor use
BEST BIG TREE BRANCH CAT TREE
Go Pet Club Branch Cat Tree
Product Overview
Go Pet Club's cat tree with branches and leaves is another interesting and safe unit for cat owners and their fur friends. This is a multi-level cat tree. It is a fun and cozy unit that cats simply love. The levels, as well as perches, are carpeted with skin-friendly faux fur material.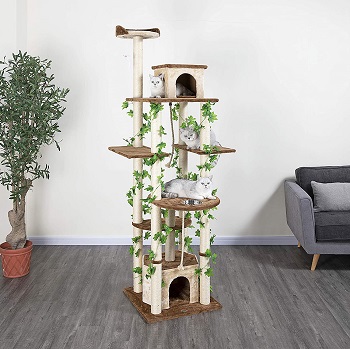 Beautiful Design
This cat tower with artificial leaves comes in beige and brown. It includes a spacious ground-floor cat condo. Multiple scratching pillars support the levels and perches. The overall size of the unit is  28″W x 23.5″L x61″H. This is another multi-cat tree.
Quality Material
When it comes to stability and durability, you can feel safe. The tree does not wobble nor shake when cats jump off of it. The unit is made of pressed wood and skin-friendly carpeting. It is a truly quality tree for your lovely pets.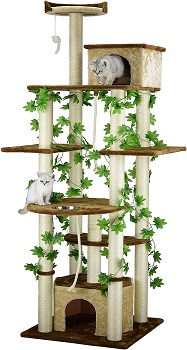 Simple To Put Up
Just like other cat trees on this list, you will need to put the unit together. But don't worry because the assembly process is simple and pretty quick. The instructions are included. They are easy to follow and help you put the tree up in no time.
In Short:
beautiful beige and brown design
includes multiple levels and perches
comes with a skin-friendly covering
it is easy to put the tree up
stable, durable, and long-lasting
BEST TALL CAT TREE WITH BRANCHES
Downtown Branch Cat Tree
Perfect For Climbers
Downtown's tall tree is slightly different from other models on this list. First of all, it has a floor-to-ceiling design and keeps active cats satisfied. Moreover, it is durable and sturdy from the inside and cozy and soft from the outside.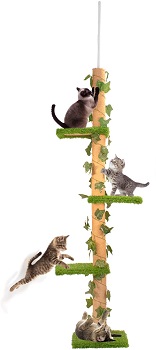 Space-Saving Tree
Households with a lack of space or playful cats will love this cat tree. Its tall design allows you to save space. At the same time, it provides your cats with a lot of vertical space ideal for climbing and scratching. This space-saving cat tree is multi-functional, tall, and narrow.
Secure And Safe
Thanks to its special design, you can attach the tree to the ceiling. This will add extra stability. Moreover, it will make you feel safe as well because Downtown's tree branch cat tree is stable and hard to overturn. You should also know that the tree will hold up to three cats.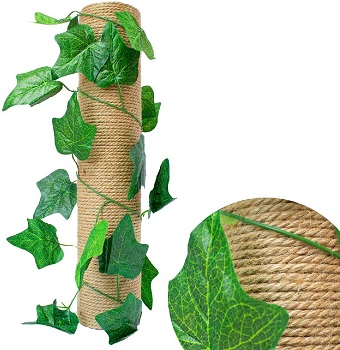 Affordable Price
This tree is great for many reasons and one of them is surely the affordable price. If you have a limited budget but really need a quality and durable tree, you should consider getting this unit. Check this tree out for more details and read customer reviews.
In Short:
a great tree for climbers
a perfect unit for scratchers
interesting tall and narrow design
multi-functional and space-saving
attach it to the ceiling for stability
BEST LARGE TREE BRANCH CAT TREE
Cozy Furniture Cat Tree
Forest Design
The Cozy Cat Furniture tree is another interesting unit that reminds us of a jungle or forest cat tree. It comes in green and brown and includes artificial leaves too. It can be a nice addition to households with enough space. The overall dimensions are 75" H x 23" W x 23" D.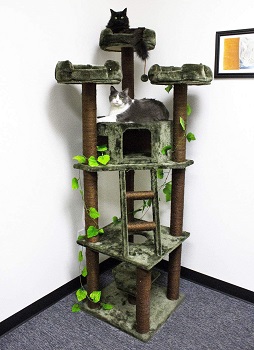 For All Cats
If you live in a household with more than two cats, then this tree may be good for you. It is ideal for multiple cats and it provides them with enough space for all of their activities. Whether you have playful or cuddly cats, this unit will make sure your fur friends feel satisfied.
Three Elevated Perches
Most cats love to climb to high places and observe the area around them. Cozy Furniture's cat tree with branches is one of those models that allow cats to lounge on elevated perches and look around. Besides that, there are multiple scratching posts included. They help cats to climb.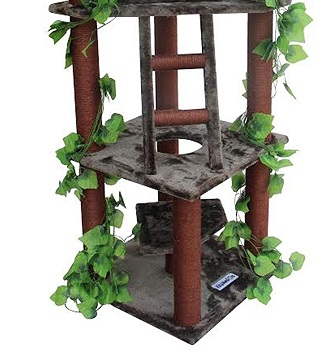 Warm And Soft
This is not only a well-balanced and sturdy cat tree for cat's activities but it is also cozy relaxing space. The soft and warm plush material makes cats feel comfortable. You probably know that cats love such a material. It is because it reminds them of their mother's fur.
In Short:
large and sturdy cat tree
includes all fun and cozy content
covered in soft plush material
keeps cats active and cozy
includes three elevated perches
How To Pick: Cat Tree With Branches
Tree branch cat trees are fun and unusual. They are different from other cat trees. As a result, they are adored by children and look nice in creative households. Some units look like cat trees made with real branches so it may feel like you have a real wood cat tree at home. However, apart from the cool and amusing design, you should look for a tree that will meet all of your cats' needs. In the following paragraphs, you will learn how to buy the most appropriate cat tree for your lovely fur friends.
Cool And Unique Design – Cat trees with leaves and branches are amusing, fun, and attractive for households with kids. They look slightly different than other cat tree models. If you like a forest theme, then getting a jungle gym for cats will make you happy. Also, cats love to hide behind artificial leaves and branches too.
Fun And Amusing Play Area – Branch cat trees are here to keep your indoor cats entertained. There isn't a large variety of such units available on the online market. The models that we have reviewed in our article include posts, perches, condos, interactive toys, and more. For this reason, your cats will get to play, stay active, and healthy.
Ideal For Long Nappings – Most of the cat trees include some of the following: cozy perches, cat condos, hammocks, baskets, or the combination of all the listed. Cats are big sleepers. They spend most of the time napping and relaxing. This is why it is important to get a unit that will keep your cats safe, warm, cozy, and well-rested.
Buy An Appropriate Unit – If you have one cat at home, then a small or medium cat tree will be fine. It will satisfy your cat's sleeping and scratching needs. If your cat is active, consider getting a taller-version. On the other hand, if you have more than two indoor cats, keep them active and get them a multi-level cat tree with an elaborate design. It will help to reduce fine conflicts as well.
Extras Cat Tree Features – Some units will include more than one condo, perches, platforms, etc. Be sure to get a tree branch cat tree with scratching posts because they will keep your cat's claws healthy and sharp. Other than that, interactive toys are a big plus as well. They may keep your cat occupied for hours. Also, they can help to meet your cat's daily exercise needs.
To Sum Up
All things considered, there is one cat tree with branches that we liked most. It is the On2Pets Cat Tree. The reason why we think you should get it is its overall quality and durability. It is an indoor cat tree that can accommodate multiple cats. Its interesting and attractive design makes it seem like an artistic cat tree. Households with children will particularly enjoy having this unit at home.