Have you been searching for a dog crate divider with door but can't seem to find or decide on one?
Do you want to learn more about dividers and these crates in general?
We will help you do both if you continue reading this article where we reviewed our top picks for dog crates that fit this exact description. While reading, you'll stumble upon many different crates that differ in size like medium and extra-large ones and the way you'll get acquainted with these crates is by reading the useful buying guide at the end of this article.
The Summary
Best 6 Dog Crates Divider With Door
BEST OF BEST DOG CRATE DIVIDER WITH DOOR
Homey Pet Stackable Heavy Duty Cage
Divider Function
Throughout this article, you'll find that dividers can take on many different functions depending on how they're made and how they function alongside a crate. The divider panel on this crate is used to divide the crate in half so that you can use it as a multi-dog crate.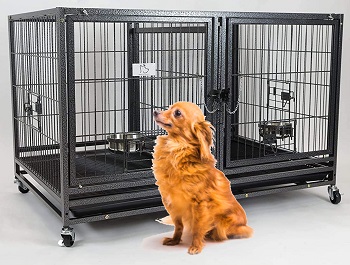 Door Position And Type
It's not that you'll get to use it to house 2 dogs just because of the divider. This is also true because of the number of doors the crate has and their position. The lengthier side of the crate features two doors that will allow access to each split part of this 3 door dog crate with divider. There's also a top door to access both parts of the crate at the same time and each crate also comes with 2 feeding doors.
How It's Constructed
It features a heavy-duty design because it's made with metal bars and steel tubes. As a whole, this crate is covered with a hammer spray finish that makes this dog crate divider with door anti-rusting. This includes the divider as well that can't be adjusted. You can only place it in one place or remove it.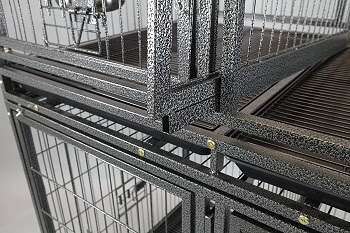 Important Bottom Supplies
Since it's a heavy-duty crate, it is to be expected that it's heavy. It weighs almost 60 lbs and would be hard to move if the manufacturer didn't include caster wheels with it for easier movement that can be locked as well. Another feature of the bottom is the two ABS plastic trays that will collect dirt that falls through the floor of the crate.
Stacking Feature And Dog Housing
You can remove the divider and use it to house a single large dog. If you choose to house 2 dogs, You might get away with housing a large dog inside but to be on the safe side, you should get to house two medium dogs inside. You can even choose to stack multiple crates on top as well.
In Short:
Made with heavy-duty steel
Coated with a hammer spray finish
The crate is anti-rusting
Can be used to house 2 dogs or 1 dog
Features 2 front access doors, a top door, and 4 feeding doors
You can stack multiple crates on top
Sits on lockable wheels for easy movement
There are 2 ABS cleaning tray below the bottom
The divider is removable but not adjustable
BEST DOUBLE DOG CRATE DIVIDER WITH DOOR
Lucky Dog Giant Dog Crate
Primary Divider Function
Although this crate is intended to house giant dog breeds like mastiffs you can definitely use it as more than just a giant dog crate and it's the divider that we can thank for that. Primarily, it's made to shrink the crate so that it fits a giant dog breed puppy as he grows that will help you potty train him.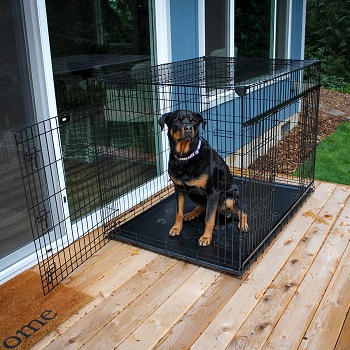 Secondary Divider Function
Thanks to its size and door number, type, and positioning you can use the crate to house two dogs instead of just one. This is not a common feature for this double door dog crate with divider type but since it features a double sliding door if you were to place the divider panel right in the middle, 2 dogs could access a different part of the crate. This is a 3 door dog crate with divider since there is a regular swing-through door in the front as well.
Quiet Operation
If you owned a wire dog crate before, you'll know that often they'll produce rattling noises. This crate avoids that almost entirely because it has corner stabilizers that easily snap on. They will also make sure the crate is stable since it's so large it needs support. The crate's sliding door will also reduce the rattling noise.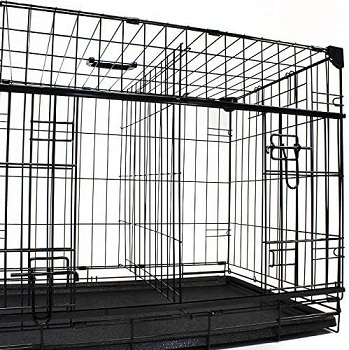 Indoor Crate Explanation
We didn't review it as an indoor dog crate divider with door just because it features the space-saving sliding door but also because it's made to keep the floors inside your home clean and safe. The rubber feet that you can attach to the bottom will prevent scratching on the floor while the slide-out cleaning pan will minimize the possibility of dog urine and other excrements from getting into contact with it.
In Short:
Made to house giant dog breeds
Can house puppies because of the divider
Features a double sliding door and a single regular door
The divider can split the crate in half for housing 2 dogs
Rubber feet for the bottom will protect your floors
Cleaning it is easy because of the bottom plastic cleaning tray
Has minimized rattling noise because of the corner stabilizers
BEST MEDIUM CRATE DIVIDER PANEL WITH DOOR
Petmate Navigator Pet Carrier
Third Door Placement
It's not all that common to find a medium wire crate or even a wire crate in general that features a top access door. Top access doors usually help you interact with your dog without you risking the possibility of him getting out. Alongside the top door, you'll also get a front and side access door. Each door locks with a single sliding bolt lock but also from 4 other points.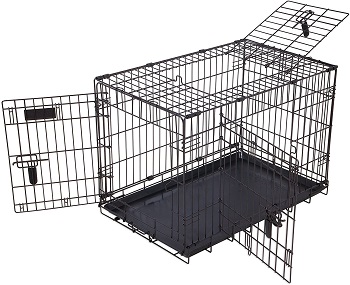 Materials Used, Coating, And Build
It features a heavy gauge wire build which means that it's more durable and to ensure that it doesn't rust, it's coated with a black epoxy finish that makes it rust-resistant but not proof. On the inside, you'll find that the corners are rounded. This is intentional since sharp corners might put your dog in danger.
Divider Use Explanation
This is the first dog crate divider with door we're reviewing whose divider can only be used to house puppies. The panel can be placed anywhere inside the crate so that its size can adjust to your puppy's size. Make sure you get the crate in a size that matches the approximate adult size of your puppy.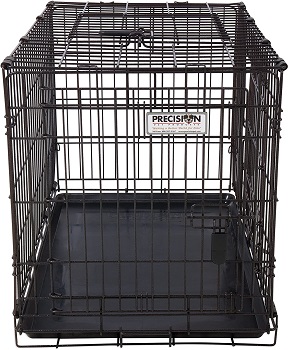 Things Found On The Bottom And Size
The rubber feet you can attach to the bottom wire of the crate are non-slip and prevent the crate from scratching your floors while the polypropylene cleaning pan will help you clean the crate with ease. As already mentioned, this is a medium-sized crate that can house medium dogs up to 40 lbs.
In Short:
Made with heavy gauge steel wire
Has a black epoxy coat that makes it rust-resistant
Has a top, front, and side door
All doors lock from 5 different points
Built to house medium dogs
Comes with an adjustable divider for housing puppies
The non-slip rubber feet will protect your floors
The cleaning pan is made out of Polypropylene
BEST LARGE DOG CRATE DIVIDER WITH DOOR
Life Stages Double Door Folding Crate
Indoor And Travel Crate
You can either choose to use this crate as an indoor one or you can travel with it. It's fit for most vehicles but it might be the best as an SUV dog crate. You can fold it down and carry it like a briefcase because of the handle. For indoor use, you'll get roller feet located on the bottom so your floors don't suffer any damage and the plastic pan for cleaning will minimize the risk of dog dirt and urine getting into contact with your floor.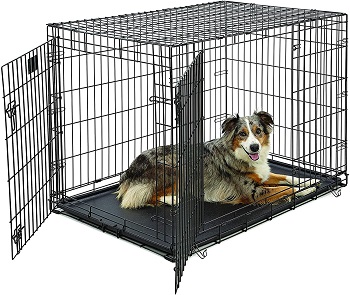 Safe Construction
It's made out of steel wire and has a black satin finish that's an electro coat. The electro coat makes it resistant to rust. Each wire panel has rounded corners so that the inside corners are rounded as well. This is a safety feature of many wire crates that will prevent your dog from hurting himself.
Potty Training Divider
The divider panel of this crate is there solely for the purpose of potty training a puppy. The way it does that is by adjusting to the size of a puppy since puppies or dogs, in general, don't like to sleep where they soil. This will help them control their bladder but in the beginning, you'll definitely see some accidents happen inside this 2 door dog crate with divider.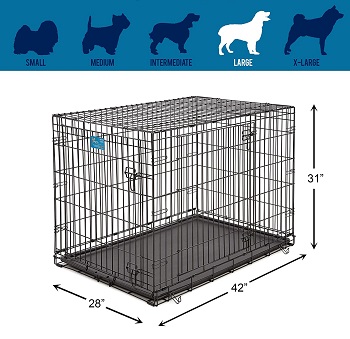 Sizing Through Length
tHIS dog crate divider with door has 2 doors. One is located in the fron while the other door can be found on the side of the crate. you can lock both doors with 2 sliding bolt locks per door. It is a crate that's 42-in long which means that it's fit for housing large dogs that weigh up to 90 lbs.
In Short:
Made with steel wire
Has an electro coat finish
Can be used for SUV travels
Features rounded corners
Can be folded down
Comes with a divider for potty training puppies
Can house large dogs up to 90 lbs
Has a front and side access door
The door lock with 2 sliding bolt locks each
Has roller feet for floor protection
Comes with a cleaning pan
BEST EXTRA LARGE DOG CRATE DIVIDER WITH DOOR
BestPet 48-in Wire Dog Crate
High Tensile Wire Build
Instead of having a heavy gauge wire build that most more durable wire dog crates feature, this crate is made with steel wire that's high tensile. What this means is that it has a higher carbon content. Typically, the rule is that the higher the carbon content is, the stronger the wire.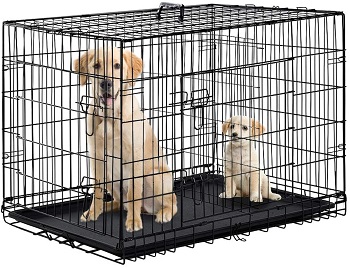 What The Finish Brings
Not only this dog crate divider with door is made of wire, but it's also coated with an epoxy finish. The whole 2 door dog crate with divider is corrosion, rust, and even fade resistant because of the finish coating. It will definitely look as good as new for years to come.
Regular Wire Doors
The doors are located in typical places, in the front, and on the side. They can be locked securely with heavy-duty sliding bolt locks. Both doors swing open like regular doors so if you leave it open for your dog to enter and exit freely, you might suffer some shin injuries.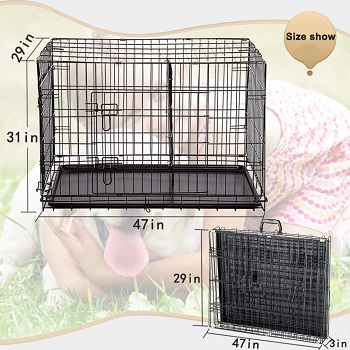 Size, Cleaning, And Safety
This is an XL wire dog crate that can house extra large dogs and extra large dog breed puppies. The puppy bit is true because it comes with an adjustable divider for potty training your puppy. What also might help with potty training at least when it comes to cleaning is the plastic cleaning tray on the bottom. Each panel of the crate also has rounded corners for extra safety.
In Short:
Made with high-tensile wire
Has an epoxy finish
It is rust, corrosion, and fade resistant
Has a puppy divider and a cleaning pan as a bonus
Has rounded corners
Can house extra large dogs
BEST FOR PUPPIES DOG CRATE DIVIDER WITH DOOR
Diggs Revol Dog Crate
Harm Free Puppies
Although most dividers are used for potty training puppies so this categorization might not make a lot of sense, it will when you find out that it is completely built around puppy safety since it's made with baby industry standards. Your dog will be completely harm free in this medium plastic dog crate.
Plastic And Wire Construction
Although it's made out of plastic, you can be sure that it's strong since it's a reinforced plastic and it's only found on the crate's frame. The sides are made with aluminum steel wire that is high grade. It's designed so that you can easily collapse it for storage or traveling.
Traveling Benefits
Apart from the fact that you can collapse it for transport, it also comes with built-in wheels on the bottom and a handle on top for even easier transport. The wheels will definitely be useful if you have a problem carrying heavy things even though the crate isn't even that heavy with the weight of around 31 lbs.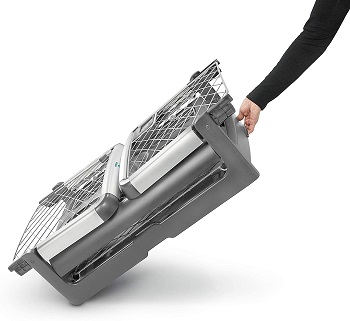 Door Number And Crate Size
With this dog crate divider with door, you'll get a top, front, and side access door. The side door can be opened upwards so it doesn't get in your way when you leave the crate open indoors. It's made for housing puppies that are going to grow up to be medium-sized grown-up dogs.
In Short:
Has a reinforced plastic frame
Features aluminum steel wire sides
Has three access doors
Can be collapsed for storage and travel
Has built-in wheels and a handle
Fit for housing medium dogs and medium dog breed puppies
Completely safe for puppies to be in
How To Pick A Dog Crate Divider With Door
To pick and choose the right dog crate with divider door you first have to learn a little bit about dividers and their functions. Other things that we will talk about in this guide are the seemingly small differences between these crates like their size, durability and more.
1st Divider Type Use – The first and most common use for dividers is that they can adjust the size of the crate to your growing puppy. They help potty train young dogs. The simple explanation on how they do it is that dogs don't usually like to leave excrements in places where they sleep so by shrinking the crate you take away that extra space that the dog would use. They are most typically found on wire dog crates.
2nd Divider Type Use – The second divider type is a non-adjustable divider. You'll typically find a divider like this on heavy-duty large dog crates. They come with 2 doors located o the same side of the crate because the purpose of the divider is to divide the crate into two so that 2 dogs can be housed.
Rare Divider Use – On some rare occasions, you can use a puppy crate divider to separate a crate into two but there are some things that the crate needs to have in order for the divider to work like that. Firstly, you'll need to have a double door on the lengthy side of the crate, typically it'll be a barn door, and it needs to be large enough. We're talking giant here.
Sizing The Crate Right – If you're getting a dog crate divider with door for puppies, make sure that you get the size that fits the approximate adult size of your puppy. You'll want to take the approximate height and length of your dog and add at least 4 inches to those proportions and look for a crate with those dimensions
Durability – Each and every one of these crates is a durable one but they are made for different things. Heavy-duty crates are made to house aggressive dogs and dogs ridden with anxiety while wire crates are amazing training cages for dogs.
To Sum Up
We'd definitely recommend the Petmate Navigator Pet Carrier as the best dog crate divider with door. It has all the standard features of wire crate and the divider's purpose is to adjust its size to your puppy as he grows. It even has a third, top access door that's not something you see a lot on these crates. If you're looking for crates specifically made for housing puppies you might want to check out the article about puppy crates with dividers and if you can afford to get a crate that has a furniture function because your dog is already crate trained check out the article about indoor dog crate furniture.