Do you need a dog crate for 2 large dogs because you just don't want to splurge out and get two crates?
We will help you find and pick one so keep reading.
All that's left for you to do since you're already here is to continue reading this article where we reviewed our top picks for these crates. We even made the article so that there are a lot of different crates like an indoor and heavy-duty crate.
The Summary
BEST OF BEST DOG CRATE FOR 2 LARGE DOGS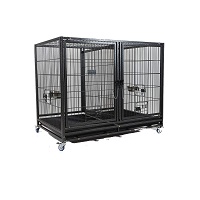 Homey Pet-43 Heavy Duty Cage
The homey pet cage can actually be stacked so if you want to house multiple dogs in their own separate cages, you can buy another model and stack it to do it.
Jump To Review
BEST FOR TRAVEL DOG CRATE FOR 2 LARGE DOGS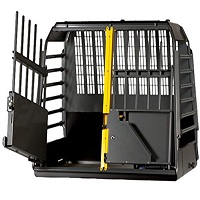 North America MIM Safe VarioCage
To ensure your dog's safety during traveling you'll want to get this crate that has been crash-tested to front, rear, and rollover crashes.
Jump To Review
BEST INDOOR DOUBLE DOG CRATE FOR 2 LARGE DOGS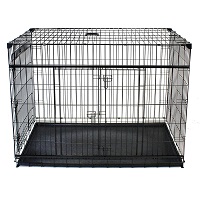 Lucky Dog Giant Dog Crate
This is actually a crate intended to house giant dog breeds. With the help of the divider and a double sliding door, it easily turns into a crate that fits the theme of this article.
Jump To Review
Best 3 Dog Crates For 2 Large Dogs
BEST OF BEST DOG CRATE FOR 2 LARGE DOGS
Homey Pet-43 Heavy Duty Cage
Multiple Solutions For Multiple Dogs
We're not to say that every dog will be able to reside in this crate, but some large dogs will. each separate crate is 28-in long, around 21-in wide, and 26-in tall. Dogs lie boxers could definitely fit inside. If your dog is too large, you can always stack another crate on top and use each crate to house 1 dog.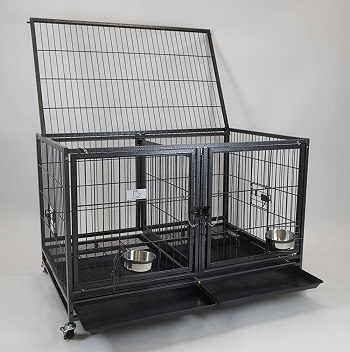 Construction Durability
The way the dog crate for 2 large dogs splits into two is through a divider that's nonadjustable. The whole crate is made out of heavy-duty steel tubes and bars that will easily endure abuse coming from even the most aggressive of dogs. It has a hammer spray finish that makes it resistant to rust.
Door Number And Types
It has plenty of doors for each crate. You'll get one large front door per crate and 2 feeding doors per crate as well. To put the feeding doors to good use, you'll even get food and water bowls that you can attach to the doors. There's a top access door as well that lets you access both dogs at the same time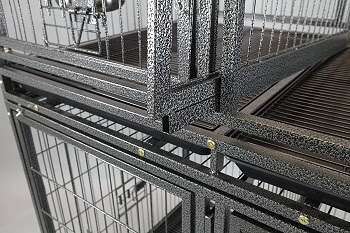 Cleaning Process
You will get two ABs plastic trays with the crate that you'll be able to slide below the floor of the crate that's gridded. Through that floor, dog dirt will fall onto the trays so that you can then easily slide out and clean. You'll get lockable caster wheels for the bottom as well that will help you move the crate with much more ease.
In Short:
Made with heavy-duty steel tubes and bars
Covered with anti-rust hammer spray finish
You can stack multiple crates on top
Has an openable top
Features 4 feeding door and 2 front access doors
The crates are divided with a non-adjustable divider
Comes with lockable wheels for easy movement
BEST FOR TRAVEL DOG CRATE FOR 2 LARGE DOGS
North America MIM Safe VarioCage
Safe Traveling
If you perhaps want to travel with your dog this crate might be the answer that makes your traveling experience as safe as possible since this is one of the safest dog crates for cars. This doesn't go without an explanation. The crate is crash tested to various different crash scenarios like roll over, frontal, and rear-end collision.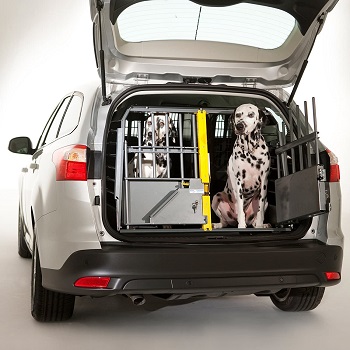 How It Works
There's nothing simple about the way it works although when explaining it looks like it. It's designed to mimic a car's crumple zones. Crumple zones are the ones that will crumple first in the event of a car crash to save you. this makes the back of a car quite unsafe for your dog. The adjustable metal sides will absorb the shock and energy from a car crash because they'll shrink back and with it, keep your dog safe.
Adjustable Crate Length
This crate wouldn't be here if it wasn't a double-dog crate for 2 large dogs. It's split into two with a metal panel and since it has adjustable metal bars on the sides, you won' really have to worry about your dog's length since it can be adjusted to fit the length of most large dog breeds.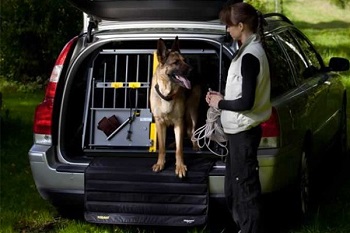 Front And Back Door
It features three doors. The first two are located in the front and they are there for each dog to access his own part of the crate and there's a door in the back. it's a trap door that can be opened with an escape hatch in case of a car crash. The front doors lock with a key
In Short:
It is crash tested to rear, front, and rollover crashes
Has a back escape door
Has an adjustable length
Mimics cars' crumple zones in the event of a crash
The door lock with a key
The back door has an escape hatch that opens easily
BEST INDOOR DOUBLE DOG CRATE FOR 2 LARGE DOGS
Lucky Dog Giant Dog Crate
Crate Length
You'd normally get this crate for a giant dog breed. It's a dog crate for mastiffs and similar-sized dogs. these are giant dog breeds and they need a crate that's 54-in long at least. With the addition of a divider that this crate comes with you can use it to house either a giant dog breed puppy or 2 dogs.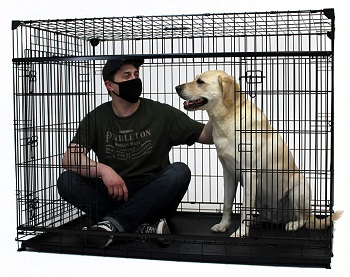 Divider Functions
Another reason why you can actually house two dogs inside this crate is that it features a double door that slides open so if you were to place the divider right in the middle of this sliding door dog crate each of your two dogs would get to access his own part of the crate through one of the doors. There's another door located in the front. All doors lock with 3 sliding bolt locks.
Stable Construction And Low Rattle
Since it's such a dog crate for 2 large dogs, it features corner stabilizers that you can easily snap on. This will help the crate hold its shape well and it will even reduce the rattling noise that typically comes from a wire dog crate. The sliding door will also help reduce that noise.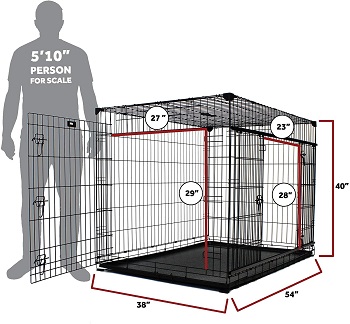 Floor Protecting Features
Like all wire crates, this one comes with its own plastic pan that you'll put on the bottom to collect dog dirt. Another bottom feature that will protect your floor is the rubber feet that will prevent the crate from scratching your floor. You can even carry it with the provided handle on top for things like travel.
In Short:
Made out of steel wire
You can use a divider to house a puppy or 2 dogs
It features a sliding double door in the front
Has a side door
Each door locks with 3 sliding bolt locks
Comes with floor-protecting rubber feet
Has a plastic cleaning pan on the bottom
Comes with a carrying handle on top
Has corner stabilizers that reduce rattling
How To Pick A Dog Crate For 2 Large Dogs
Picking out a dog crate for 2 large dogs is tough work. You have to switch up the dimensions, figure out whether or not your dogs will be able to enter the crate, if they aren't well behaved what sort of crate should you get. These are common questions that we will provide an answer to.
Sizing Difference – When you're picking out these crates, you want to make sure that the width becomes the length of the crate because its actual length will be split into two. This is only true depending on where the entrances are. If the entrance is typically found on the lengthier side of the crate, you'll have to make the width of the crate the length
Importance Of Knowing Crate Proportions – You should know how long and tall each part of the crate is. You'll have to divide the actual length into two to get the width. A crate should typically be 3-4 inches longer and taller than the dog you're housing so keep that in mind.
Crate According to Behavior – If your dogs are aggressive and rowdy, we don't recommend you house them in the same crate. What might help in that case are stacking dog crates. Generally, if a dog is aggressive you should try and get a heavy-duty large dog crate. If not, you can opt for wire dog crates.
Divided Space – Usually, a double dog crate for 2 large dogs is divided into two using a divider. Now all that's left for it to have is actual access to each part of the crate. You can check that out by looking at the positioning of doors. You'll want to look for a crate that has two doors on the same side of the crate.
To Sum Up
The dog crate for 2 large dogs that we'd recommend you get is definitely the Lucky Dog Giant Dog Crate. It can definitely house 2 large dogs because it's 54-i long and 38-in wide and you won't get that rattling noise that wire crates typically produce because of the corner stabilizers and sliding doors. If you're looking to house a single large dogs check out the article about large wire dog crates and if you're interested in housing 2 small dogs inside a crate check out the article about multi-dog crates.