Have you been searching for a dog crate for Mastiff but don't know what size of crate to get or even what type?
You just might find this article to be of service if that's true. Even if you do know, you should continue reading this article because we made a list of our top picks for mastiff dog crates and reviewed them so you'd know what you're buying. We've tried to review a lot of different crate types like indoor and heavy-duty ones so there's something for everyone's taste.
The Summary
BEST OF BEST DOG CRATE FOR MASTIFF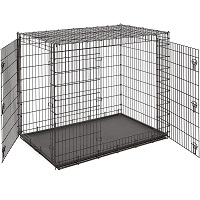 Midwest Ginormus Dog Crate
The crate is so large that you'll need to people to assemble it, For increased stability, you'll get L-shaped hooks and drop pins for corners.
Jump To Review
BEST INDOOR DOG CRATE FOR MASTIFF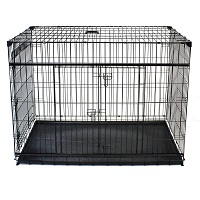 Lucky Dog Giant Dog Crate
If the crate is already taking too much space inside your home, you might want to get this crate that will save you some space with the sliding door it has.
Jump To Review
BEST HEAVY DUTY DOG CRATE FOR MASTIFF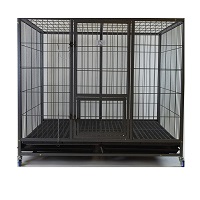 Homey Pet Heavy Duty Dog Cage
If you have an aggressive dog that needs a sturdy crate this is the one to get because it's heavy-duty. You can also stack multiple crates on top of it.
Jump To Review
Best 3 Dog Crates For Mastiff
BEST OF BEST DOG CRATE FOR MASTIFF
Midwest Ginormus Dog Crate
Ensuring A Firm Build
This is a crate that's so large that you'll need the help of a mother person to assemble it. Since it's so big, 54-in long to be precise, some measures were taken to make it stay balanced and firm. Each corner has a drop pin so that the crate is more stable and there are L bars all over the sides to prevent the side panels from bending inwards.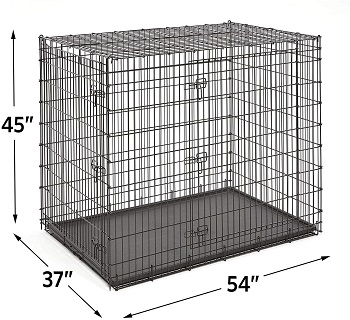 Different Wire Gauge Construction
It's made out of steel wire that's coated with a black e-coat that will help prevent rusting although not completely. It makes it more resistant to it but not proof. The steel wire is a heavy gauge one, but each part of the crate holds a different wire gauge so the ones that you'll be getting are twelve, nine, seven, six, five, and three.
Positioning Help With Doors
There are two doors on the dog crate for mastiff that will allow you to place it inside your home with more versatility. Each door can be locked using three slide bolt locks. The locks are also heavy-duty and secure so that there's less of a chance that your go will break through it.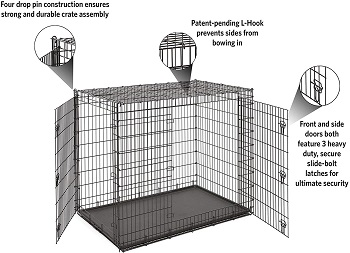 Features Sold Separately
If you have a mastiff puppy that you need to house, you can use a puppy crate divider that will help you with potty training. You will have to buy the divider panel separately though. On the bottom, you'll find a large and leakproof cleaning tray that you can easily slide out for cleaning.
In Short:
Made with steel wire that has 6 different gauges
Features an e-coat that makes it rust-resistant
Requires two people for assembly
Corners feature drop pins for more stability
Has L hooks to prevent the sides from bending inward
The bottom holds a leakproof plastic cleaning pan
Has 2 doors that lock with 3 locks
BEST INDOOR CRATE FOR MASTIFF
Lucky Dog Giant Dog Crate
Creative Solution For Stability
Wire dog crates of this size must have creative solutions so that the crate remains stable and durable. On this crate, this is achieved through the corner stabilizers that you can easily snap on. They will also help with reducing crate noises like rattling.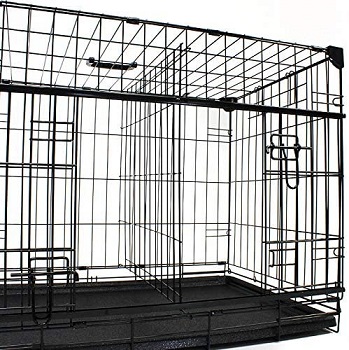 Noise-reducing, Space-Saving Door
Another noise-reducing feature of the crate is its doors. Instead of featuring a typical swing door the doors on the side slide open while the front door is a regular swing. The benefit of having a sliding door dog crate like this one is that you'll be saving some space around the crate if you choose to leave it open.
Multiple Dog Housing
We wouldn't go as far as to say that this crate can house multiple dogs although it might be true since the sliding door is a double door and each dog will get to go to his area of the crate. Just make sure that your dogs are small enough otherwise it won't work. The main purpose of this divider is that you can potty train mastiff puppies with it.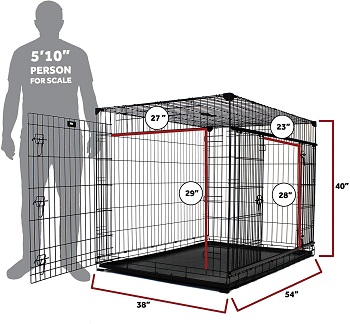 Important Durability Features
The wire on this crate is rust-resistant and it is coated with a double coating of tiger drylac for even more durability. you'll definitely need every bit of durability you can get since it's a dog crate for mastiff. Cleaning it will be easy as well by you only having to clean the cleaning slide-out pan on the bottom.
In Short:
Made with rust-resistant steel wire
Has a double tiger drylac coating
Comes with an adjustable divider panel
Features stabilizers for corners
Has a double sliding door and a single swing door
The cleaning pan on the bottom is made out of plastic
BEST HEAVY DUTY CRATE FOR MASTIFF
Homey Pet Heavy Duty Dog Cage
Smaller Than The Rest
Like with any dog breed, each dog can vary greatly in size even though they are the same dog breed so even though the recommended size of crate for mastiffs is a 54-in long dog crate. We've decided we should review a slightly smaller crate as well to make sure mastiff owner can get the perfect size of crate. This crate is 49-in long for that reason.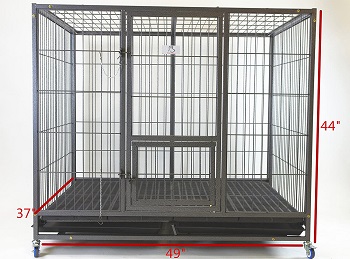 Metal Parts
Every part of this dog crate for mastiff, with the exception of the floor and cleaning tray below it, is made out of heavy-duty metal. The frame is made out of steel tubes while the rest features metal bars that have a spacing of around 1.44-in between each one. It's even coated with a hammer spray finish that makes it anti-rusting.
Plastic Parts
The only two plastic parts on this crate for mastiff are the gridded floor and the slide-out cleaning tray below it. It is a gridded floor because, through it, dog excrements and dirt will fall onto the cleaning tray. You won't have to let your dog out of the crate to clean it which is a big bonus when it comes to housing aggressive dogs.

Extreme Weight Solution
This is probably the heaviest crate we are reviewing. It weighs 107 lbs alone so you'll be thankful to be getting lockable caster wheels with it to move it more easily. if you're a dog care professionals or have the space for housing multiple dog, you'll probably put the fact that this is a stacking dog crate to good use.
In Short:
Made with heavy-duty metal bars and steel tubes
Has a hammer spray finish
The crate is rust-resistant
The gridded floor and cleaning tray are plastic
Weighs 107 lbs
You can stack multiple crates on top
Has lockable wheels for easier movement
It's 49-in long
How To Pick A Dog Crate For Mastiff
Finding a dog crate for mastiff that's big enough might be hard work but there are some things you can learn about to make it a bit easier. You'll want to start by choosing the right crate type and then choosing the right size. We'll here to talk about these things and more so keep reading if you want to get the right crate from your first purchase.
Mastiff Crate Size – Typically, you'll need to get a 54-in log dog crate to house a mastiff. This is, of course, prone to changes depending on how long and tall your dog actually is. Sometimes, you can get away with buying a smaller crate but to be sure, a 54-in long crate is the way to go since they can be anywhere from 44 to 53-in long and 35 to 42-in tall. That's why all of the rates we reviewed are somewhere between 49-in long to 54-in long.
How to Figure Out A Crate Size – We thought we'd give you the general sizing tips for dog crateS for mastiff so you can be sure you're getting the correct size. You'll want to make sure that the crate is at the very least 4 i longer and taller than your dog for him to feel comfortable inside a crate. you'll measure the dog's length by measuring from tip of the nose to his rear and height by measuring from his toes to the top of his head.
Crate Type To Get – You'll have to decide on a crate type according to your dog's behavior. If the dog is anxious and aggressive, we advise you get a heavy-duty metal dog crate and if your dog is calmer, you can opt for an XL wire dog crate. other crate types might no endure the weight of a mastiff or his behavior nor are they big enough to house one.
Mastiff Puppy Housing – If you have a puppy that you need to house you might want to get a training cage for dogs with an adjustable divider for potty training. Dog training cages are typically made out of steel wire and are the perfect starting point for crate training. Just make sure you buy the crate according to the approximate size of your mastiff puppy.
To Sum Up
We'd recommend the Lucky Dog Giant Dog Crate as the best dog crate for Mastiffs for a very simple reason. It's because it's large enough to house any mastiff, it features a sliding door that will save you some already pretty used up space since it's a giant crate and you'll get to house a mastiff puppy inside because of the divider panel it comes with. If you're looking for a smaller crate for a dog like a golden retriever you might want to check out the article about dog crates for golden retrievers and if your dog is slightly bigger than that, there's always the option of reading the article about our top picks for dog crates for rottweilers.