Have you been looking for an ideal GPS pet tag or pet locator tag?
Then great, because we have reviewed the six best models that are most searched for on the entire online market. Read our reviews and get to know important details about the best of best, Bluetooth, cheap, and more. Get to know how to pick the best model by reading our buying guide.
The Summary
6 Best GPS Pet Tags
BEST OF BEST GPS PET TAG
Pawscout GPS Pet Tag
Use It As A Virtual Leash
Let your pet wear the Pawscout pet tracker chip tag every day. Use it to make you feel safer and let it be your virtual leash. How? Simply connect the Pawscout with your smartphone via Bluetooth and use the app that will alert you if your pet is out of range (300 ft).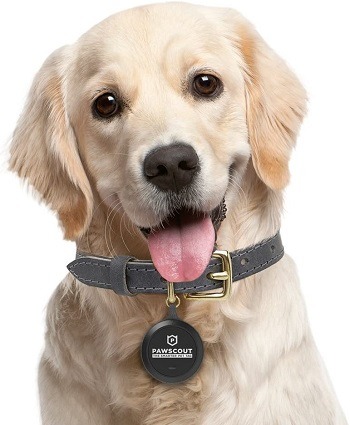 Pawscout Community
Once you get this pet locator tag, you enter the Pawscout community via the app. You are one of the users. This helps a lot if your pet gets lost because you will be able to let know other users from your zone that your pet is missing.
What Can It Do?
Download the app to your smartphone and create your pet's profile. Add photos and vet's records. Include important details such as medical issues, allergies, etc. Enter your contact. If someone finds your pet before you do, they will call you and bring your pet back.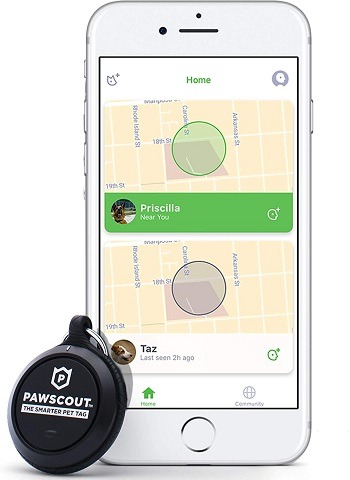 Important To Know
You should know that this pet locator tag cannot provide you with a 100% accurate location. But it will let you know the last know approximate location of your pet. This tag is primarily here to be your virtual leash, which means that it will work best within 300 ft.
In Short:
safe to use every day
it works as a virtual leash
works best within 300 ft.
pairs with your smartphone via Bluetooth
register and create the digital profile
enter the Pawscout community
BEST BLUETOOTH PET LOCATOR TAG
Mocoe GPS Collar Tag
Easy To Use And Locate
If you have already experienced your pet going missing, or you are simply afraid this would happen, why not getting it a small and lightweight GPS pet tag? The Mocoe collar tag is here for your pet to wear it all the time. It will make you feel relaxed.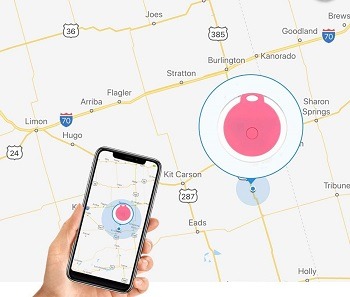 How To Locate It
In case you cannot find your pet, you can locate it via GPS. Also, you can enable it to ring until you find it. Still, be careful. We don't advise you to do that because of the loud noise it makes. Read how to use and make sure this device is used properly and that it does not harm your pet's hearing.
The Long Battery Life
Unlike many other pet locator tags, this 4-pack includes an easily replaceable CR2032 battery. The manufacturer guarantees that each battery will work for about one year. You can easily replace the battery yourself. It takes only a minute to do that.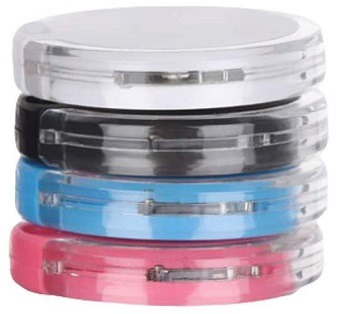 Get The App
You can download the iSearching app to your smartphone and start using it immediately. Connect the smartphone and the device via Bluetooth too. This is how you will operate this Bluetooth tracker and find its location. Learn more about this product by clicking on the button that you will find below.
In Short:
download the free app
connect the tag and smartphone via Bluetooth
locate your tag tracker easily
its battery will last up to 1 year
there are 4 devices included in the package
the price is very affordable
BEST CHEAP GPS PET TAG
Animal Rescue Pet Tag GPS Tracker
The Affordable Price
The price of the Animal Rescue tag for your pet's collar is budget-friendly. It is made of good quality material and we are that anyone can afford it. It is here primarily to help you with not losing your pet ever and to make you feel relaxed if it is outside.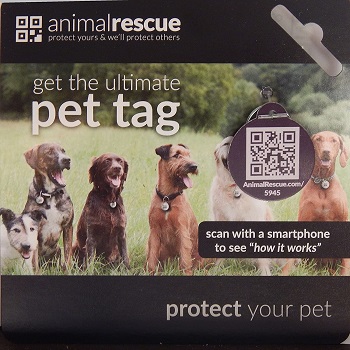 Pet Collar GPS Tracker
This tag locator contains the QR code and you can easily track it via GPS. Go to AnimalRescue.com and create your pet's digital profile. Enter all the important details such as your contact and pet's name, age, breed, etc. If someone scans the QR code it will be able to find you.
Provides Your With Accurate Position
This tag functions in the following way: once someone scans the QR code, you will get an alert of the last known GPS location of your pet. The location is accurate so we may say that this tag is reliable. It is durable and made of water-resistant material.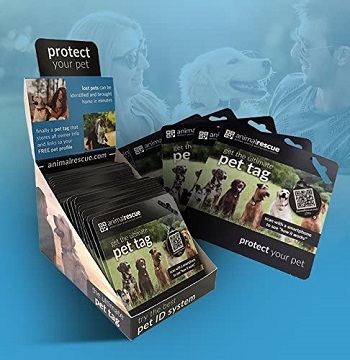 The Dimensions
The Animal Rescue GPS pet tag is very small. In addition to that, it is lightweight as well. It measures 1.2 x 0.1 x 1.3 inches and weighs about 0.32 ounces. This means that both your very small or very large pets can wear it all of the time.
In Short:
budget-friendly tag price
it is small and lightweight
can be worn by all the pets
comes with a QR code
provides an accurate GPS location
BEST PUPPY PET LOCATOR TAG
Deklerk Pet Tag Tracker
Easily Attachable
Get the Deklerk pet locator tag and attach it to your pet's collar. It fits any collar. The tag is very small (measures 4.57 x 2.6 x 0.59 ")  and lightweight (0.32 oz). The device comes with a water-resistant feature and it is very durable and sturdy.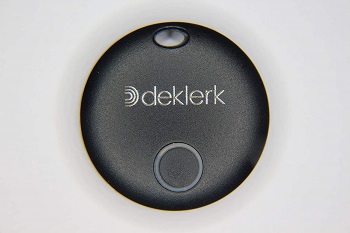 Get The App
You will need to get the app and install it n your iOS or Android. Then, pair the device and the smartphone via Bluetooth. When your pet is not in Bluetooth range, the tag will ring and the app will send you instant alerts. Find the device easily via the app.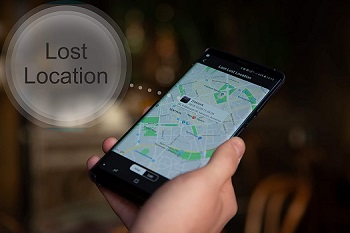 The GPS Feature
In case your pet gets away and you cannot see it in your vicinity, use the app and locate it via GPS network. See what is the last known GPS location of your pet. The range is 50m in open space. Have in mind that there might be some obstacles (trees, cars, buildings, etc).
In Short:
attaches to any pet collar
small and lightweight tag
works with GPS network
locates your pet via the app
pair it with your smartphone via Bluetooth
BEST 4G PET LOCATOR TAG
Haoaiwo Collar Tag
Works Nationwide
The Haoaiwo GPS pet tag works within the US, Canada, and Mexico borders. It uses the 4G LTE +3G WCDMA+2G GSM to track your pet. It requires you to subscribe quarterly. The fees are affordable and the device will then work perfectly.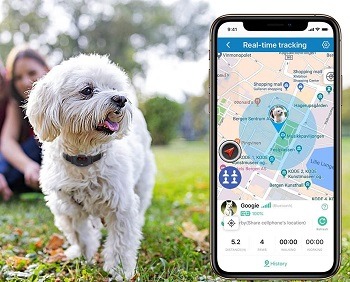 The Historical Data
This small pet GPS locator will keep your 90-days historical data so you can check every location that your pet has been to. The accuracy is up to 5m which is great. If you need to locate your pet immediately, turn on the urgent searching mode.
The Single-Way Communication
This pet locator tag includes a one-way communication feature. This means that the tracker will call you when you hold the remote monitoring button. There is a microphone included so that you can listen to your pet's surroundings.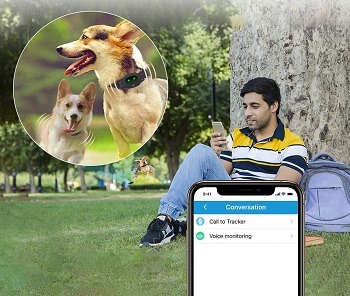 The Size And Price
This is a very small tag so it is ideal for small pets. It weighs only 1.23 oz and it is easy to carry. The package dimensions are only 3.23 x 3.23 x 1.81 inches. The price is medium and the tag is of good quality and long-lasting.
In Short:
use it in the US, Canada, and Mexico
requires you to subscribe
provides a 99% accurate location
it is ideal for small pets
comes at a medium price
BEST COLLAR PET LOCATOR TAG
Loc8tor RF Tracker Tag
What Is A Loc8tor?
This is a pet locator collar tag that gets attached to your pet's collar. It uses radiofrequency and it is very accurate. In some cases, it is more accurate than any other pet tag GPS tracker. It can locate your pet even in some hard-to-reach areas.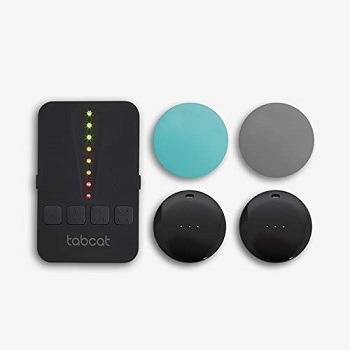 Made Of Quality Material
The Loc8tor is small and lightweight, but sturdy and durable. It is splash-free and dust-free. It will resist hot and cold temperatures. It is made of high-quality material and features a built-in battery that is durable and lasts long. It measures 7.87 x 1.97 x 7.87 inches
Track Your Pet's Activity
Your pet can wear this pet tag tracker every day. It is completely safe and doesn't harm your pet in any way. You will be able to use the handset to show you your pet's location. It also works as a pet activity tracker and helps you monitor your pet's health and happiness.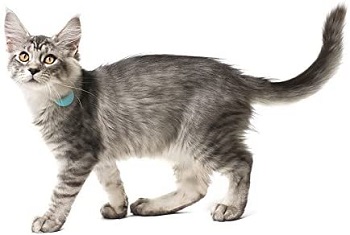 No Monthly Fees
Unlike many other GPS collar tags, the Loc8tor RF tag tracker for pets does not require you to pay for monthly fees. Moreover, the price of the unit is medium. We would say that for a device, it is worth spending money. And there are no additional costs.
In Short:
no-monthly-fee collar tag
uses radiofrequency to locate your pet
small, durable, accurate
the price is medium
there are no extra fees
How To Pick: Pet Locator Tag
Before buying, make sure you get the quality locator tag or your pet. But, how to know which model is the right one for you? Apart from it being made of a high-quality, durable, and water-resistant material, it should come with the features you prefer most. Read on to see more about those features.
The Accuracy – The better the quality, the higher the accuracy. The pet locator tag that you need to get should be reliable and let you know the exact location of your pet. Avoid buying any cheap device. A good locator tag needs to make you feel relaxed and safe all the time.
The Durability And Battery – Another plus is if the tag that your pet is going to wear is made of water-resistant and high-quality. This means that the battery is also protected and the product is durable. The battery should last long enough for you to locate your pet.
The Smart App– Most of the pet locator tags pair with the smart app. You will need to download the app to your iOS or Android in order to locate the tag. Some tags require monthly fees, others don't. Check them out to see which ones have the features you like most.
Extra Features – Some of the extra features, apart from the app, are the following: you can join the pet community of the manufacturer so that other locals with the device will get an alert if your pet is missing. Moreover, there are tags with one or two-way remote communication, and many more.
Where Can I Buy? – You can go to the nearest Pet shop that you can find. There you will surely find great GPS pet tags. If you prefer online shopping, we advise you to check the reliable retailer's websites. For example, the listed products are available to buy on Amazon webshop.
To Sum Up
If we must choose one locator tag for our pet that we find the best, it would be the Deklerk Pet Tag Tracker. We liked it most simply because it is small and lightweight and any pet can wear it comfortably. Moreover, it is accurate and durable. All of the listed locator tags get easily attached to your GPS pet collar. If your pet is not going far away from your home often, then a Bluetooth pet tracker may help you because it functions as a virtual leash and makes you feel safe as well.