Are you looking for a rat travel cage?
Check out our article and find out more about the six rat carry cages that we consider the best. Read all about the best of best, fancy, cool, and more models. Our buying guide that you will find at the end of this post will help you get the right cage for your little fur buddy.
The Summary
Six Best Travel Carrier For Rats
BEST OF BEST RAT TRAVEL CAGE
IRIS Carrier Cage
The IRIS Products
Generally, the IRIS designers and manufacturers provide everyday solutions. Their products are easy to use, clean, and are made of good quality. This IRIS small animal travel cage will be perfect for your little pet rat. It easy to carry and store.
Dimensions And Weight
It is important for a rat travel cage not to weigh too much. Also, there is no need in getting a large travel cage. After all, you are probably going to use it only from time to time and for several hours. IRIS cage measures 12.64″L x 18.90″W x 11.81″H and weighs 4 pounds.
The Design And Ventilation
The IRIS's travel rat cage is designed very simply and smoothly. You can choose between brown or white color. It is made of plastics. It is not too big, but provides enough space for a rat. This item is well-ventilated and easy to carry with one large handle.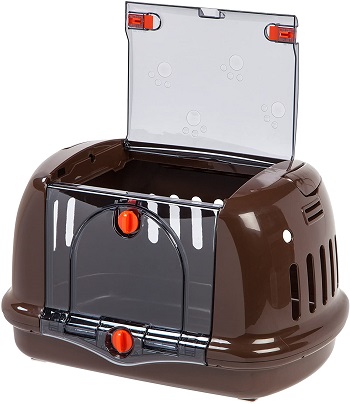 The Access Doors
This small rat cage comes with two doors. One of them is the top-opening door that helps you reach for your pet easily or put it inside of the cage. The top opening makes you feel safer about opening the cage. The cage is easy to maintain.
In Short:
the cage is made of plastics
the plastics is non-toxic
it comes with smooth surfaces
the IRIS cage has no sharp edges
there are two access doors
it is lightweight and easy to carry
BEST FANCY RAT TRAVEL CAGE
Frieq Travel Rat Cage
The Interesting Design
This rat cage for traveling is made of high-quality, waterproof, smooth, and soft material. The Frieq is a foldable travel rat cage. It is convenient to store and easy to maintain. It is very lightweight and you can carry it easily as much as you need.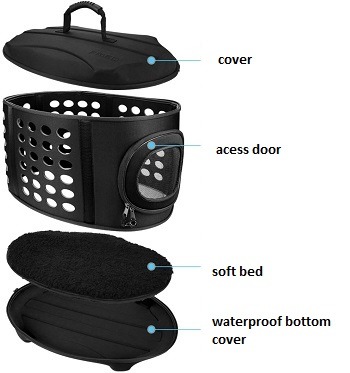 The Size And Space
The overall dimensions of the Frieq are 23 x 16 x 15". This portable rat carrier has enough space for one or two rats. The Frieq cage for 2 rats includes a zip that will hold together the bottom and top. When you need to store it, simply unzip it and put it in the closet.
Safe And Cozy Rat Carrier
This is not another sturdy and sharp carrier. It is made of soft material and provides your rat with comfort. Also, it is completely safe for rats that are of medium to large sizes. It has a lot of vent-holes so it is better not to be used for baby rats.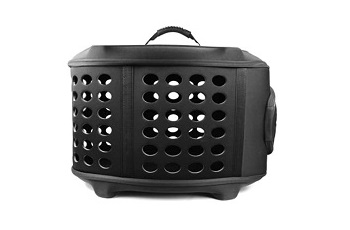 Waterproof Bottom
The Frieq carrier's bottom is completely waterproof, so you can take your rat to the vet or travel during a rainy day too. You won't have to worry that your rat is going to get wet. The carrier is easy to clean in case an accidental mess happens.
In Short:
fancy and cool rat travel cage
the carrier is made of soft material
it is comfortable and cozy
comes with a waterproof bottom
it is completely foldable
convenient to store
BEST COOL RAT TRAVEL CAGE
Marshall Travel Cage
Backpack Design
Marshall carrier for rats comes as a convenient and cool cage in the shape of a backpack. Just like the previous model, the Marshall one is foldable and simple to store. This backpack carrier comes with vent openings and a bottom pocket that you can use for storing food or toys.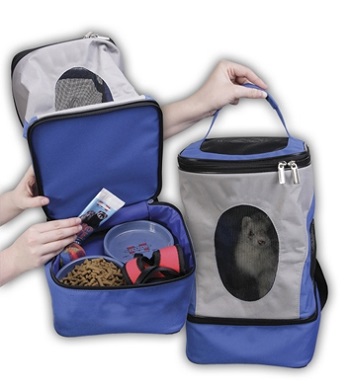 The Vent Holes
Always make sure your travel cage includes openings that allow the fresh air to enter. The four vents of the Marshall rat carry cage will make your rat feel better. Not only will it let the air come in, but it will provide your rat with a view of the area that surrounds you.
The Panoramic View
Why is important for your rat to look around? Your pet will know that something unusual is going on and it may only feel stressed if it doesn't see what is happening. However, if your pet rat is a shy one, then this model of a rat travel cage may not be the best idea.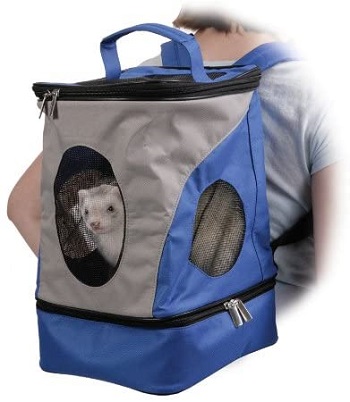 Makes You Feel Safe
You don't have to worry that your pet rat is going to leave this carrier. It is made of a non-chew material and it is safe completely. You will zip this backpack up and it will open only when you want. Your rat will have enough space in this carrier.
In Short:
convenient and easy to carry
comes as a backpack rat carrier
includes four openings
provides a view of the surrounding area
there is enough space for your rat
the backpack is cozy and comfy
BEST WIRE RAT TRAVEL CAGE
Prevue Small Animal Travel Cage
For Small Animals
The Prevue is one of the best travel carrier for rats. It is made for all small animals and birds. It is ideal for small rats. This is a wire rat cage that can be securely locked and make you feel safe when taking your pet rat to the vet or traveling.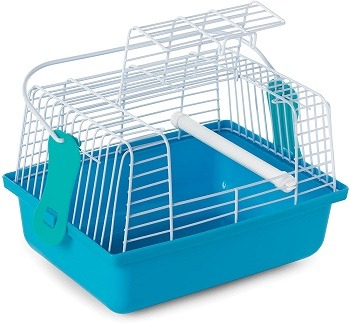 General Characteristics
This is a small and compact rat carry cage. It has a large door that easily opens along the top and the front of the cage. It makes the loading and cleaning easy and fast. It is best to use it for brief distances. Bar spacing is 3/8″.
The Prevue Cage Dimensions
This small rat travel cage comes with the following dimensions: 9″ long, 5 5/8″ wide, 6 1/8″ high. The cage weighs only 1 pound. This means that it is lightweight and small. It will be easy for you to carry it when necessary.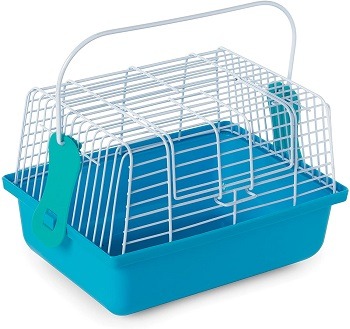 The Material
This small Prevue animal cage is made of wire and plastics. It is completely waterproof and made of anti-rust material. The wires are chew-proof. Also, the metal that is made of is non-toxic so your rat will be safe in it.
In Short:
for all small animals
ideal for rats of all sizes
compact and convenient to have
lightweight and easy to carry
perfect for brief distances
made of wire and plastics
BEST CHEAP RAT TRAVEL CAGE
Kaytee Small Rat Cage
The Budget-Friendly Price
One of the most affordable rat travel cages is the one made by Kaytee manufacturers. Although the price is cheap, don't think this cage is not of good quality. In fact, we consider it a sturdy and durable cage that is ideal for your rat's travels to the vet.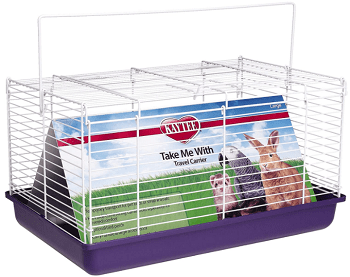 The High-Quality Material
Kaytee's brand is very famous and we consider this manufacturer reliable. General customer satisfaction is pretty high. The cages they provide for small animals are all made of quality plastics and wire. This is an anti-rust, waterproof, and chew-proof cage.
Easy To Carry
This cage comes with one large top handle and it is convenient to carry. It is easy to load and clean. There is one large access door. The cage weighs no more than 2.5 pounds and it is small enough – 16.5 x 10.25 x 4 inches – but provides enough space.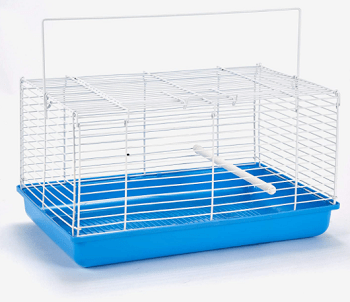 Small But Spacious
Even though this cage is a small rat enclosure and best to be used only for a several hours and from time to time, it still has enough space for a food and water bowl. The cage is simple to maintain clean, to open, and securely close.
In Short:
the price of this cage is affordable
it is made of wire and plastics
the cage is safe and waterproof
it is chew-proof and anti-rust
easy to clean, open, and close
BEST SMALL RAT TRAVEL CAGE
Kintor Travel Rat Cage
The Broad View
Your all pet rat will have the possibility for a broad view. It will know what is going on around it. It will get to see you and enjoy the outside scenery. Make sure your rat likes such travel cages because there are shy rats that are afraid so this carrier may not always be the best.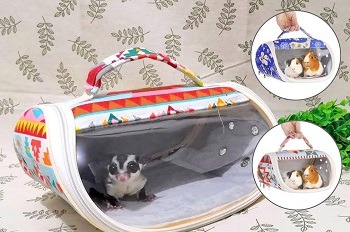 The Safe And Cool Design
You can feel completely safe about your rat. This rat travel cage is made of canvas material with a safe sewing design. The material allows the fresh air to come in and your rat to breathe. It is comfy and cozy and we are sure both your and your rat will enjoy it.
Easy To Wash And Clean
There are two pieces of removable pads. One of them is the summer mat, and the other one is the warm-fleece mat. Your rat will feel safe and cozy in this carry cage. You will get to easily clean, wash, and dry this carrier.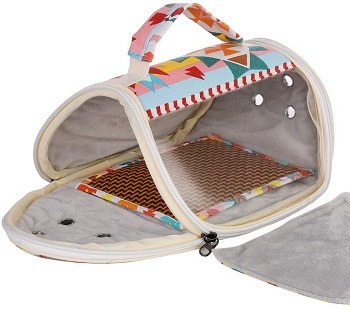 The Size Of This Handbag Carrier
This is a carrier that comes in the shape of a handle. It has a large handle that helps you carry the bag easily. It has eight vent-holes. The overall size is 10 x 8.8 x 1.9 inches. Although it does not fit rat cage decorations, it makes sure your little rat has enough space.
In Short:
provides a broad view
made of canvas material
safe double sewing design
comes with 8 vent holes
easy to clean and dry
How To Pick: Rat Travel Cage
When in need of a rat travel cage or carrier, you have to make sure it is made of safe and quality material. The carrier doesn't have to provide too much space, after all, you will use it only permanently. Still, make sure it has enough space and it is easy to carry. Read on to find out more.
The Size And Material – Your new travel cage or carrier for rats doesn't necessarily need to be very large. It should actually be small so that it is easier to carry. Still, the quality must be very good because you will want your little pet to feel as comfortable as possible.
Safety Features – If you are getting a wire rat cage for traveling, make sure the cage is chew-free and non-toxic. It should be made of safe wires and metals. In case you are getting a carrier that is made of other materials, let it be soft, comfortable, with ventilation openings, and easy to zip.
Space And Portability – Although a rat travel cage shouldn't have too much space because you will only use it when traveling, moving, or visit the vet, make sure your pet rat still has enough space to feel less stressful. The cage must be lightweight, small, and easily portable.
The Maintenance – Don't get just any travel cage for rats. Let it be easy to clean and maintain. Also, it is a big plus if your carrier is foldable and easy to store. Since you are not going to need it all of the time, you will want to store it and keep it in an unnoticeable place.
The Openings And Handles – Apart from the rat carry cage being small and lightweight, it needs to be easy to carry. Get the carrier with sturdy handles. Also, make sure to get a travel cage with openings so that the fresh air enters the cage for your rat to feel to fine.
To Sum Up
We consider the Marshall Travel Cage the best travel carrier for rats. We like rat travel cage because of its convenient backpack design. Also, it provides your rat with a view and it is very affordable. For more similar models, check out our article about the cool rat cages or cheap rat cages.