Are you going on a trip with your rat and you don't know which model to pick?
You're not sure which feaures to look for in cage?
In our article you will find all the necessary information not only for a buying guide, but also the best recommendation depending on expert researches. We selected 6 rat travel cages from the market and rated them according to specifications. Keep reading and choose the model you like.
The Summary
Ferplast Atlas Carrier Cage
OVERALL RATING: ★★★★★
This travel cage for small animals is ideal for rats. It has two access doors. It is lightweight and made of quality plastics.
Jump To Review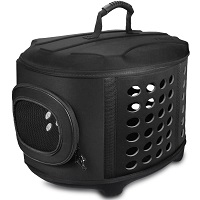 Frieq Travel Rat Cage
OVERALL RATING: ★★★★☆
The Frieq's design allows you to conveniently fold the carrier and store it wherever you want. It has waterproof bottom and vent-holes.
Jump To Review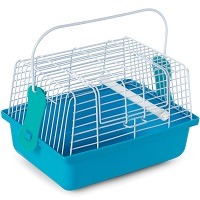 Prevue Small Animal Travel Cage
OVERALL RATING: ★★★★☆
This rat carry cage is made of metal and plastics. It is small, waterproof, convenient, and great for brief distances.
Jump To Review
What Is Rat Travel Cage Used For?
It is actually a portable type of cage which allows rat owners to take it to different locations. This multifunctional model can be used for indoor uses as well as for traveling.
Is It Stressful For Rats To Travel?
Travelling can be stressful for rats as they are not used to be in small areas, as well they can be stressed out from the vehicle sound such as the air conditioner. However, it is important to prepare ahead and plan everything so you can have a good travel experience with them. It is recommended to obtain a suitable cage for traveling and test it first before trip.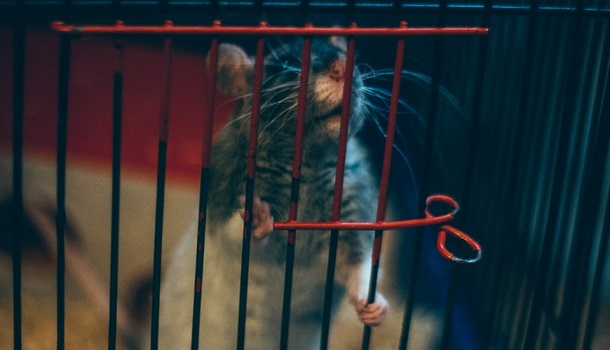 What Makes Travel Cage Different From Basic Cage?
Travel cages are much smaller than basic indoor or outdoor cages. They have handles for easier holding and don't have multi-level options. Also, most of the travel cages have a cover at the top to protect rats from bad weather.
Pick Between All Rat Cage Models – Which One Do You Need?
Wire cage – Type of cage which can be used inside or outside the house. It has a wire construction with a plastic bottom. This model is lightweight and very compact for traveling.
Plastic cage – Plastic models are lightweight and easy to carry wherever you're traveling with your pet. They are the perfect choice if you're looking for a model with low maintenance.
Travel Backpack – This is the most practical type of model for carrying your rat. Your hands will be free for other actions. This convenient model is the best choice if you're going for a long walk with your rat, for example.
Which Models Of Cages Are Not a Good Choice For Traveling?
Don't choose models with multilevel design, because it can be dangerous if the vehicle brake hard at the moment. Also, don't choose cages with sharp edges which can hurt the rat when he's moving inside it. Cages with wide space between wires or with large vent holes are not the best choice because rats can easily stuck in between. Also, cages without lids are not suitable for traveling because the rat can easily escape.
Different Purposes Of Having Rat Cage – Our Top Picks
If you're not sure whether you need to buy a travel cage for your rat or not, check for which purposes this model can be very beneficial.
Take Your Rat Anywhere With You
Do you want to take him anywhere with you whether it is a pet-friendly store or a trip? Then you need one of the travel cage models.
Use It For A Vet Appointment
So your rat won't escape while you're going to the vet appointment, it is recommended to have a travel cage. This can be also useful when he is injured so you won't hurt him while holding him in your hands.
Help With Separation Anxiety
You're having a special bond with your rat and he seems extremely upset when is alone at home? Having a travel cage can help him relieve the stress while you're going anywhere with him.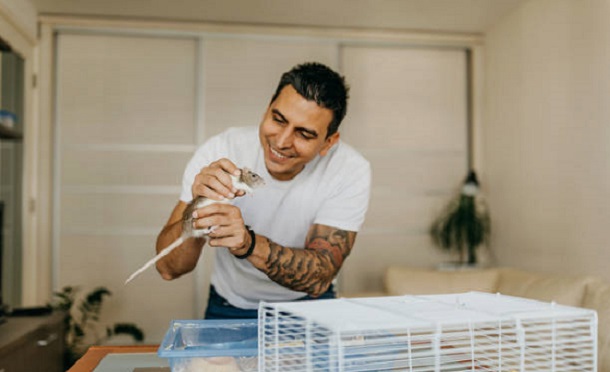 Prevent Escape
You're afraid your rat will escape while you're going to trip with him or if you leave him in the house alone? Having a travel cage will keep him safe and you won't worry anymore.
Guide For Best Travel Model
By checking all the features that we listed you can easily pick the best model for your needs.
Size And Weight Of Cage
It is important to pick a model that is large enough so your rat can comfortably move inside. Also, pick a cage that is not heavy so you can easily carry it in hand. Cages that have approximately 12 x 20 x 10 inches are a good choice for a single rat. Also, most of them weigh around 4 pounds.
High-quality Model
The traveling cage that you pick needs to be made of sturdy materials to last you for a long time. If it's made of wires, make sure they're rustproof and chew-proof. Make sure the model is made of non-toxic material to be sure your rat is safe in it.
Type Of Material
There are different types of materials for travel cages but most of the models are made of wires, plastic, and cloth.
Functional For Use
Choose a model which will be functional for your needs. This means you can easily place the rat inside by using openings, unzipping the backpack, and quickly setting it up for traveling.
Handle Characteristics
Check the quality of the handles so you can be sure they are strong enough for use. Also, make sure they're wide enough to provide comfort when you holding the cage for a longer time. Wire handles are not as comfortable as those made of fabric on backpacks.
Air Circulation
So your rat can have enough oxygen while being in a cage, choose a model with multiple vents so he won't stress out, especially if it's hot outside. Some models have holes and others use mesh for air circulation.
Easy Maintenance
Pick a model that can be easily cleaned like those that have a plastic bottom or choose a model with a waterproof surface.
Additional Features
Most of the models have a foldable option which allows you easier storing and won't take much space anywhere you place it. Backpack models can have an additional storing area at the bottom where you can place food and water for your rat.
6 Best Rat Travel Cages
Ferplast Atlas Carrier Cage
SPECIFICATION:
Material: Wire/Plastic
Color: White/Purple
Size: 18.75L x 13W x 11.75H inches

Weight: 3.1 Pounds
Wire Spacing: 0.6"

Color Combination
If you're looking for a good-looking and durable cage for your rat this is one of the best on the market. It comes in a purple white color combination. It has a built-in carry handle so you can easily take it and move it to the vehicle.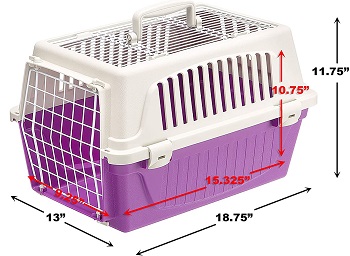 Dimensions And Weight
The outer dimension of the cage is 18.75L x 13W x 11.75H inches, which will provide enough space for your single rat. Also, the cage is not heavy, it has only 3.1 pounds so you can easily hold it with one hand.
The Design And Ventilation
This model is made of non-toxic plastic and it has wires at the front and the top. Wires are rustproof and chew-proof for maximum safety and durability. By having wires at the front and top of the cage your rat will have great air circulation.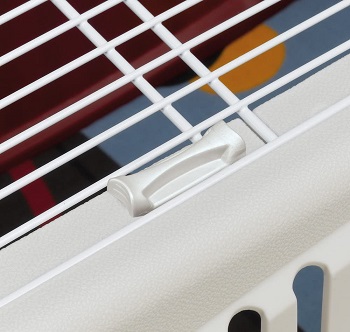 Additional Features
This small rat cage has a 2 doors for access. You can use the front one to feed the pet and the top one when you're placing the rat inside so he won't escape. Maintenance is simple and easy. This model doesn't require tools for setup.
Overall:
Safety:
Maintenance:
Quality
Design:
Funcionality:
AVERAGE PRICE
WHY TO BUY
Small and compact for traveling
No tools needed for assemble
Great air ventilation and easy maintenance
WHY TO AVOID
No mates for comfortable laying
Frieq Travel Rat Cage
SPECIFICATION:
Material: Plastic
Color: Black

Size: 23x16x15 Inches
Weight: 4.45 Pounds
Additional Features
This rat cage for traveling is made of high-quality, waterproof, smooth, and soft material. The Frieq is a foldable travel rat cage. It is convenient to store and easy to maintain. It is very lightweight and you can carry it easily as much as you need.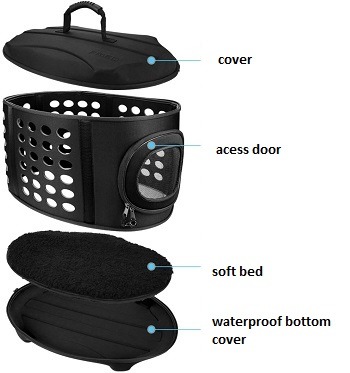 The Size And Space
The overall dimensions of the Frieq are 23 x 16 x 15". This portable rat carrier has enough space for one or two rats. The Frieq cage for 2 rats includes a zip that will hold together the bottom and top. When you need to store it, simply unzip it and put it in the closet.
Safe And Cozy Rat Carrier
This is not another sturdy and sharp carrier. It is made of soft material and provides your rat with comfort. Also, it is completely safe for rats that are of medium to large sizes. It has a lot of vent-holes so it is better not to be used for baby rats.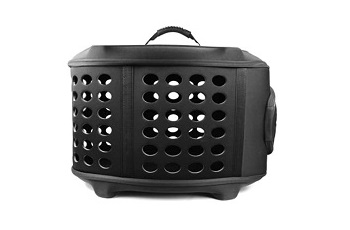 Waterproof Bottom
The Frieq carrier's bottom is completely waterproof, so you can take your rat to the vet or travel during a rainy day too. You won't have to worry that your rat is going to get wet. The carrier is easy to clean in case an accidental mess happens.
Overall:
Safety:
Maintenance:
Quality
Design:
Funcionality:
AVERAGE PRICE
$48 – $63 varies from webshop to webshop: Amazon, Walmart, eBay
WHY TO BUY
Sturdy and high quality design
Foldable design
Waterproof lid cover
Soft bed for comfort
WHY TO AVOID
Takes a lot of space
Mesh doors can be easily ripped off
Prevue Small Animal Travel Cage
SPECIFICATION:
Material: Metal/Plastic
Color: Blue/White
Size: 9 x 5.63 x 6.13 inches
Weight: 1 Pounds

Design: Detachable model
Wire space: 3/8″ diameter
Wire Cage
The Prevue is one of the best travel carrier for rats. It is made for all small animals and birds. It is ideal for small rats. This is a wire rat cage that can be securely locked and make you feel safe when taking your pet rat to the vet or traveling.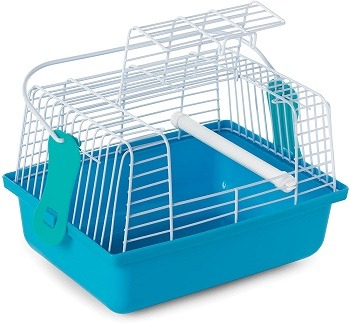 General Characteristics
This is a small and compact rat carry cage. It has a large door that easily opens along the top and the front of the cage. It makes the loading and cleaning easy and fast. It is best to use it for brief distances. Bar spacing is 3/8″.
The Prevue Cage Dimensions
This small cage comes with the following dimensions: 9″ long, 5 5/8″ wide, 6 1/8″ high. The cage weighs only 1 pound. This means that it is lightweight and small. It will be easy for you to carry it when necessary.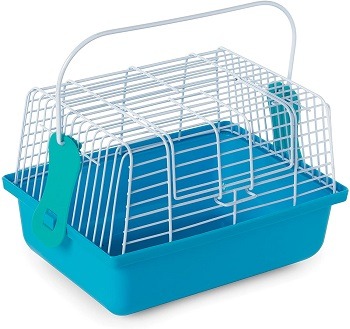 The Material
This small Prevue animal cage is made of wire and plastics. It is completely waterproof and made of anti-rust material. The wires are chew-proof. Also, the metal that is made of is non-toxic so your rat will be safe in it.
Overall:
Safety:
Maintenance:
Quality
Design:
Funcionality:
AVERAGE PRICE
$23 – $33 varies from webshop to webshop: Amazon, Walmart, eBay
WHY TO BUY
Small and compact for traveling
Detachable design
Plastic bottom for easy maintenance
Affordable price
WHY TO AVOID
Not suitable for raining
Without mate for comfort
Marshall Pet Pack-N-Go Cage
SPECIFICATION:
Material: Fabric
Color: Blue/Grey

Size: 11 x 10.5 x 3.5 inches
Weight: 1.1 Pounds
Bacpack Carrier
Marshall carrier for rats comes as a convenient and cool cage in the shape of a backpack. Just like the previous model, the Marshall one is foldable and simple to store. This backpack carrier comes with vent openings and a bottom pocket that you can use for storing food or toys.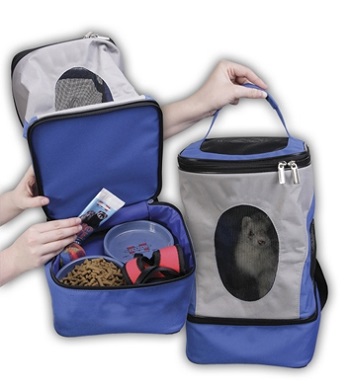 Air Circulation
Always make sure your travel cage includes openings that allow the fresh air to enter. The four vents of the Marshall rat carry cage will make your rat feel better. Not only will it let the air come in, but it will provide your rat with a view of the area that surrounds you.
Transparent Front
Why is important for your rat to look around? Your pet will know that something unusual is going on and it may only feel stressed if it doesn't see what is happening. However, if your pet rat is a shy one, then this model may not be the best idea.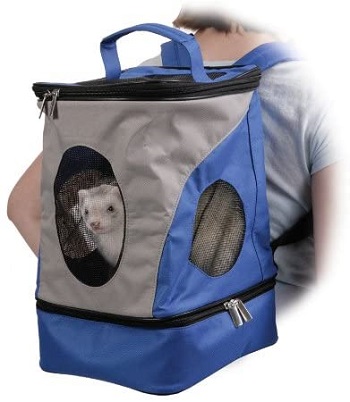 Chew-proof Material
You don't have to worry that your pet rat is going to leave this carrier. It is made of a non-chew material and it is safe completely. You will zip this backpack up and it will open only when you want. Your rat will have enough space in this carrier.
Overall:
Safety:
Maintenance:
Quality
Design:
Funcionality:
AVERAGE PRICE
$17 – $40 varies from webshop to webshop: Amazon, Walmart, eBay
WHY TO BUY
Lightweight fo carrying
Bottom pocket for treats and water
4 vents for air circulation
WHY TO AVOID
Fabric is not waterproof
Suitable only for one rat
Kaytee Small Rat Cage
SPECIFICATION:
Material: Plastic/Metal
Color: Blue/White

Size: 16.5 x 10.2 x 9.25 inches
Weight: 1.1 Pounds
Durable Cage
One of the most affordable rat cages for travel is the one made by Kaytee manufacturers. Although the price is cheap, don't think this cage is not of good quality. In fact, we consider it a sturdy and durable cage that is ideal for your rat's travels to the vet.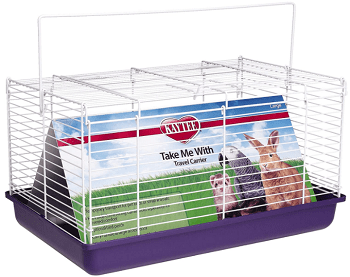 Durability Of Model
Kaytee's brand is very famous and we consider this manufacturer reliable. General customer satisfaction is pretty high. The cages they provide for small animals are all made of quality plastics and wire. This is an anti-rust, waterproof, and chew-proof cage.
Lightweight Model
This cage comes with one large top handle and it is convenient to carry. It is easy to load and clean. There is one large access door. The cage weighs no more than 2.5 pounds and it is small enough – 16.5 x 10.25 x 4 inches – but provides enough space.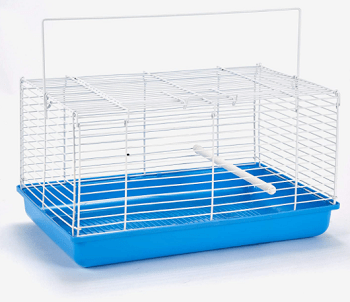 Easy Maintenance
Even though this cage is a small rat enclosure and best to be used only for a several hours and from time to time, it still has enough space for a food and water bowl. The cage is simple to maintain clean, to open, and securely close.
Overall:
Safety:
Maintenance:
Quality
Design:
Funcionality:
AVERAGE PRICE
$19 – $33 varies from webshop to webshop: Amazon, Walmart, eBay
WHY TO BUY
Durable model with wires
Stain resistant bottom base
Comes in different shades
WHY TO AVOID
Not that comfortable for laying
Wire handle
Kintor Travel Rat Cage
SPECIFICATION:
Material: Plastic/Canvas
Color: Colorful pattern

Size: 9.92 x 9.69 x 1.89 inches
Weight: 0.7 Pounds
Broad View
Your all pet rat will have the possibility for a broad view. It will know what is going on around it. It will get to see you and enjoy the outside scenery. Make sure your rat likes such travel cages because there are shy rats that are afraid so this carrier may not always be the best.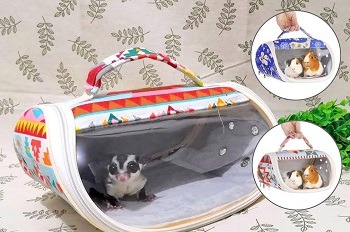 Canvas Material
You can feel completely safe about your rat. This cage is made of canvas material with a safe sewing design. The material allows the fresh air to come in and your rat to breathe. It is comfy and cozy and we are sure both your and your rat will enjoy it.
Removable Pads
There are two pieces of removable pads. One of them is the summer mat, and the other one is the warm-fleece mat. Your rat will feel safe and cozy in this carry cage. You will get to easily clean, wash, and dry this carrier.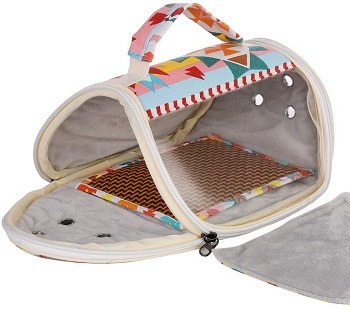 Large Handle
This is a carrier that comes in the shape of a handle. It has a large handle that helps you carry the bag easily. It has eight vent-holes. The overall size is 10 x 8.8 x 1.9 inches. Although it does not fit rat cage decorations, it makes sure your little rat has enough space.
Overall:
Safety:
Maintenance:
Quality
Design:
Funcionality:
AVERAGE PRICE
$17 – $20 varies from webshop to webshop: Amazon,Walmart,eBay
WHY TO BUY
Modern and unique design
Affordable price
Lighweight for carrying
Removable mats for easy cleaning
WHY TO AVOID
Easily get stains
Small holes for air circulation
How To Set Up And Use The Travel Cage
You will need only 5 minutes for the whole setup. Follow our steps and the instructions from the box and you won't have any trouble.
Connect All Parts
If your model requires assembly, follow the instructions so you can connect the top and base as well as other parts of the cage such as the top lid and access door. Most of the plastic or wire models can be set up in 5 minutes.
Check The Safety
Make sure to lock the doors or zip all the openings in the cage so you can be sure your rat won't escape while traveling.
Tips For Traveling With Rat
If this is your first time traveling with the rat and using a travel cage, make sure to follow our tips for safe and less stressful traveling.
Secure And Protect The Cage
Make sure to secure the travel cage in a vehicle from vibrations and moving, which can be very uncomfortable for rats and stress them out. We recommend securing it with a belt or placing it below the front passenger seat. Also, make sure to protect him from the noises like air conditioners, as well as light from the sun. Cover the tp but make sure they have enough air for breathing.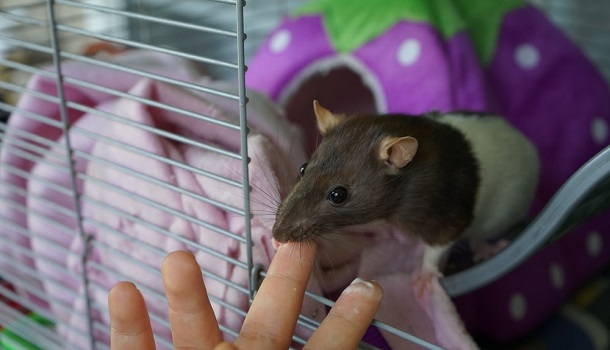 Use Mat For Comfort
So your rat can have enough comfort while traveling, use one of his mates from the house cage and place it inside. It will help to reduce the stress of traveling.
Avoid Placing Water And Food Inside
It is not recommended to place the water inside the cage or attached it to the wires because it can easily spill around while the vehicle is moving. Also, the water can easily heat up and rats won't drink it. Placing food inside can easily make a mess around the cage and extend the cleaning time. Rather make sure you have water and food in the vehicle so you can give him when needed.
Can Rats Go On Long Car Rides?
Yes, but it is not recommended to have a long ride the first time you're going with your rat. Star off by going on short trips, then you can gradually longer trips so the rat gets used to it.
Do Rats Get Car Sick?
They can get car sick which might be a big problem because they cannot vomit which can lead to other health issues.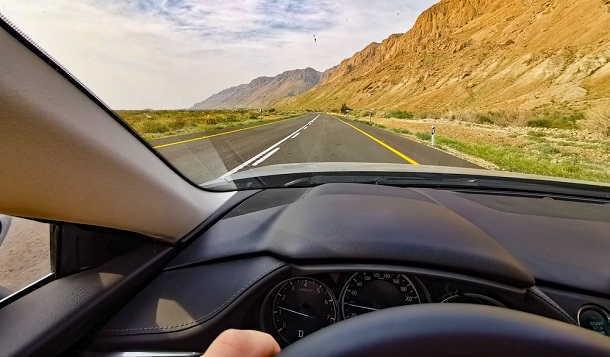 Are Rats Good Travel Companions?
Definitely yes. They are wonderful road-trip companions and you will enjoy traveling with them.
What Calms a Rat Down?
If you notice your rat being stressed out while traveling, you can easily calm him down with physical comfort which includes cuddling and tickling. Also, placing his favorite blanket or toy in a cage will definitely calm him down. We recommend covering the top of the cage if you notice the light is bothering him. Also, make sure that the music is not too loud.
Can You Take Rat On a Plane?
Yes, but unfortunately you will have difficulty because most airlines don't accept pet rats in cabins. If the airline takes rats, they will be probably accepted as baggage or cargo.
To Sum Up
We consider the Ferplast Atlas Carrier Cage the best travel carrier for rats. We like its simple and functional design. Also, it provides your rat with a view and it is very affordable. A cage is just one part of traveling with a rat. Other things you need to check are comfort, food and water. Rats can be a good company on travel if they are satisfied.