Have you been searching for cool rat cages?
Then great because we have them!
We have explored the online market and found out six rat cages that we find the coolest. Read more about the best of best, wooden, small, and three other models. Also, make sure to read our buying guide and get not only a cool but functional, quality, and safe rat cage.
The Summary
Best 6 Cool Rat Cages
BEST OF BEST COOL RAT CAGE
Prevue Interesting Rat Cage
Cage For Two Rats
The Prevue multi-level rat cage is a perfect rat cage for two rats. It provides your rat or more rats with a lot of vertical space. They will be able to jump, run, and play up and down the cage.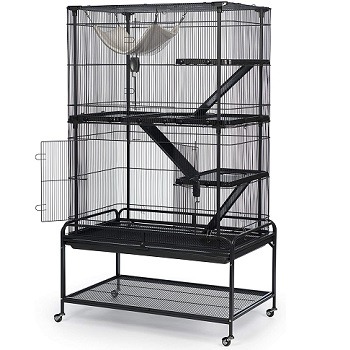 Platforms, Ramps, And More
This cool rat cage comes with five shelves that serve as platforms, three ramps, and a hanging hammock for your rat to rest in. Customize this cage and make your rat or more rats even happier. There is a large storage shelf underneath the cage for convenience.
The Tall And Convenient Design
This great Prevue cage with multiple levels measures 37'' L x 23 1/8'' W x 63 3/8" H. The space between the bars is 7/16''. The cage stands on four rolling casters. It is very simple to move it. The casters can be securely locked. Move the cage whenever it is necessary.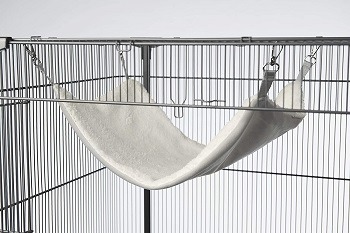 Sturdy And Quiet
You can feel completely safe about your little rats staying in this Prevue rat cage. The cage is made of sturdy and non-toxic wires. The wires are chew-proof and sturdy which makes this cage long-lasting. The cage is quiet and durable.
In Short:
made of high-quality metal and iron
the wires are chew-free
safe and sturdy cage for 2+ rats
comes with multiple levels
customize the cage and add more toys
includes shelves, ramps, and a hammock
BEST WOODEN COOL RAT CAGE
Aleko Solid Firm Rat Cage
The Wooden Habitat
The Aleko rat enclosure is ideal for one small-sized rat. It is made out of wood and provides your rat with the most natural wooden habitat. It is here to make your pet happier and stay more active. It measures 44 x 24 x 23" and it is space-saving.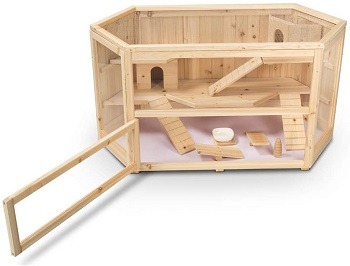 The Quality Material
The material that is used to make this cool rat cage is fir wood, acrylic, and mesh. This material is safe for your rat and it is not toxic. This cage needs to be used indoor. It is easy to clean and fits a food bowl and a water bottle.
The Included Accessories
What comes included in the Aleko wooden rat cage are the two hideous, three levels, and the ramps. There are areas that your little rat can use for eating or as a restroom. You can add a few more rat toys to this cage and make your rat even happier.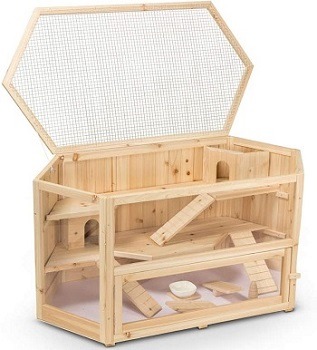 The Easy Maintenance
Make sure to maintain the cage clean every day. Luckily, this cage features an acrylic panel that easily opens. It provides easy access to the cage. You will get to feed your pet with no hassle. Also, the cleaning and maintenance will be no problem.
In Short:
made out of wooden material
quality fir wood used for construction
this cage is for indoor use only
made for one small pet rat
easy to clean the cage daily
BEST SMALL COOL RAT CAGE
Kaytee Rat Enclosure For Small Rats
Small And Colorful
Getting your rat a cool and fun enclosure will only make its life happier. Your little rat will get to stay active as much as it wants inside of this Kaytee small cage. The cage includes a lot of rat cage decorations and activity toys. It is perfect for small and dwarf rats.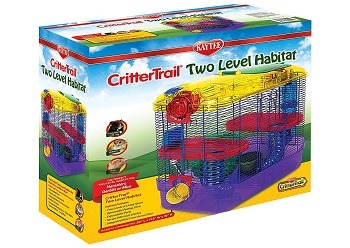 The Fun Accessories
Kaytee's cool cage for small pets includes an exercise wheel and exterior wheel. There is a look-out tower as well, and a petting zone. The package comes with a water bottle and a food bowl to help you start right away. Use this cool rat cage as a starter rat cage.
Add More Decorations And Accessories 
The Kaytee small rat cage allows you to add extra rat toys and accessories. You can make this small cage a large and fun rat habitat. Get more tubes and wheels and expand this cage as much as you want. Use your creativity and let you and your rat have a lot of fun.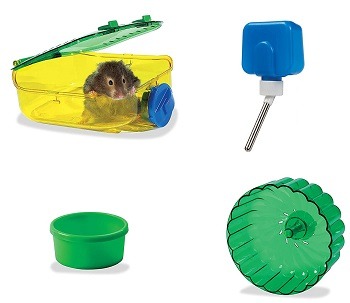 Why Buy Kaytee's Cool Cage?
You can get this cage if you have a very small rat or if you are a first-time owner. The cage includes all the necessary accessories that your pet is going to need. Moreover, the price of this cage is affordable. Lastly, it is easy to maintain it clean and it is completely safe for your rat.
In Short:
get this cage if you have a small rat
price of the cage is very affordable
includes all the important accessories
allows you to expand it
makes your small pet rat active
BEST FANCY COOL RAT CAGE
Little Friends Small Animals Cage
The Cool And Fancy Design
The design of the Little Friends fancy cage allows your small pet rat to feel happy and active. It comes with almost everything that makes a pet rat happy. The cage is made of high-quality materials. This is a good rat cage for your little rat.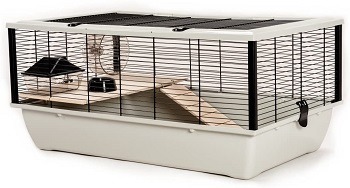 The Dimensions Of The Cage
This is a small cool rat cage and fits one small rat. It measures 30.31 x 18.5 x 14.17". It comes with narrow space between the bars (0.5") and it is very safe for your rat's little paws. The cage is space-saving and can also serve as your rat travel cage.
What Comes With This Cage?
There is a small hideout house for your rat that will serve is as a rest zone as well. There is a cool exercise wheel so your little friend can stay active. One ramp is there that leads to a platform where you can put your rat's food bowl (included too).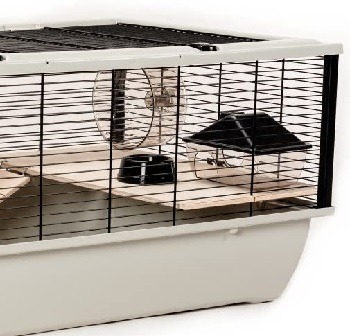 Simple To Clean
When it comes to maintaining the fancy rat cage clean, your rat enclosure needs to have good access doors. The Little Friends cage includes a large access door that opens up from the top of the cage. This will make it easier for you to clean the inside.
In Short:
small dimensions and space-saving
ideal for one pet rat to live in
allows your rat to stay active
provides fun rat accessories
top-door allows you to access the cage
use it as a travel cage as well
BEST WITH EQUIPMENT COOL RAT CAGE
Mcage Cool Cage For Rats
The Fun Design
This Mcage comes as a colorful and interesting design. It is perfect for small rats and baby rats. It has got everything a first-time pet rat owner needs. It includes the tunnel and tube, a small hideout rat house, a 5" running wheel, a shelf, a ladder, and a food bowl.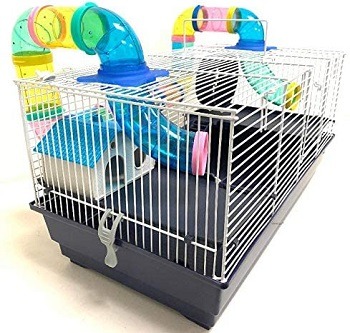 The Material And Safety
The material that this cage is made of is leak-proof plastic for the bottom, and the non-chew wires. This wire rat cage is completely safe and made of a non-toxic material. The surfaces are smooth and there are no sharp edges that would harm your pet.
The Assembly And Price
This small rat cage is ready to install and set up. Follow the instructions and you will get to assemble it in no time. When it comes to price, this cage is very affordable. We consider it one of the most budget-friendly cool rat cages there is on the market.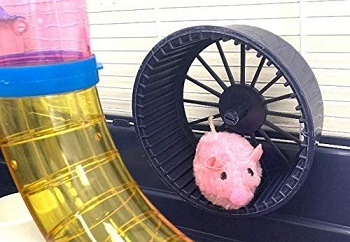 Why Get This Cage?
You should get this cage if you have a baby rat or a dwarf rat. This cage is definitely not for larger rats. In case this cheap rat cage suits you, your rat will love it. It is ideal to be used as a starter kit because it provides your rat with everything it needs. It measures 22″(W) x 12″(D) x 11″(H).
In Short:
fun and interesting design
great to use as a rat starter kit
comes at an affordable price
it is a small rat cage
made of non-toxic and chew-free material
BEST CHEAP COOL RAT CAGE
Habitrail Rat Enclosure
Lightweight And Portable
The Habitrail enclosure for rats and other smaller-sized animals is very small and lightweight. When it comes to rats, we suggest using this cage for your dwarf rats, smaller-sized ones, or the baby rats. The cage can easily be used as a rat travel cage.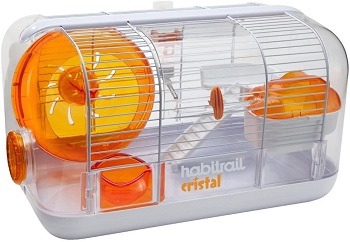 Cool And Fun Design
Your small pet rat will get to have a lot of fun within this cool rat cage. There is an exercise wheel, a ladder, a small platform, and a hideout. This cage is either to be used as a travel cage, a temporary one, or as a connected cage with other Habitrail habitats.
The Size And Material Of The Cage
The dimension of the Habitrail cage for small rats is 16 L x 10 W x 9.5 H. The space between the bars is narrow which makes your rat's little paws very safe. The cage is transparent and made of high-quality plastics. The cage is leak-free and water-resistant.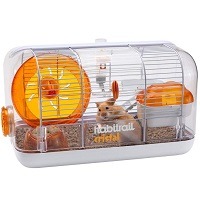 The Cleaning And Price
Clean the rat's cage daily. Thanks to the transparency of the cage, you will get to see when to clean the cage. It is simple to open its large plastic door and to maintain the cage, refill water bottle, or food dish. The price is cheap and the cage is budget-friendly.
In Short:
you can use it as a travel cage
connect it to other Habitrail habitats
expandable, fun, and cool design
it is small and lightweight
made of transparent plastics
leak-free and easy to clean
the price of the cage is cheap
How To Pick: Cool Rat Cage
When searching for cool rat cages, don't forget that you must get a functional and quality one as well. Luckily, all of the reviewed models are of good quality and safe. Besides that, have that in mind that your rat needs to stay active and be entertained. Make your little fur friend happy. Keep on reading to find out what every rat needs to have in its rat enclosure.
The Functionality – The cage that you are about to buy must not only seem cool and fun, but it must be safe and functional. This means that it has to allow enough space for your little rat and it has to be made of good quality. It needs to contain or have space for the rat cage accessories.
The Quality And Safety – A perfect rat cage should be made out of non-toxic metal, iron, or plastics. It is a big plus if the cage is leak-proof. Don't forget to get a cage that comes with chew-proof wires. Your rat enclosure must also be with no sharp edges and securely locked.
The Included Rat Accessories – Many rat enclosures already include the fun rat cage decorations and activity accessories. Some of them are exercise wheels, platforms, ladders, ramps, and hanging hammocks. Many models allow for customization and some of them can be expanded too.
Enough Activity Space – If you buy a small rat cage, it must have only a temporary purpose. For example, if your rat is still a baby, or you need it for traveling. Still, if you own a baby rat or a dwarf cage, a small cage may be enough. The important thing is that your rat has enough space for all of the important activities.
The Easy Maintenance – It is of utmost importance to clean the cage on a daily basis. This is why we suggest you check the cages that include the large access doors. The easier for you is to access the inside of the cage, the better it is for your rat.
To Sum Up
One of the best cool rat cages that we have reviewed is the Prevue Rat Cage. We liked it because it is a cool and tall rat cage that provides enough space for two or more pet rats. Also, it is made of iron and metal wires. The Prevue wire rat cage is sturdy, long-lasting, and completely safe for your pet rats.