Are you are in search of a tall rat cage for your little fur friend?
Then you may stop looking because we have prepared an article that will help you find the best rat enclosure. Read on to find out all you need to know about the six best rat cages: the best of best, multi-level, small, fancy, wire, and for 2. Check out our buying guide as well.
The Summary
BEST OF BEST TALL RAT CAGE
Little Friends Spacious Rat Cage
Affordable Price
The Little Friends cage for rats can be a home for one or two rats.  ideal for one pet rat. It comes with rat cage decorations and includes three platforms and more accessories. The price of this tall rat cage is budget-friendly and we think it is affordable for anyone.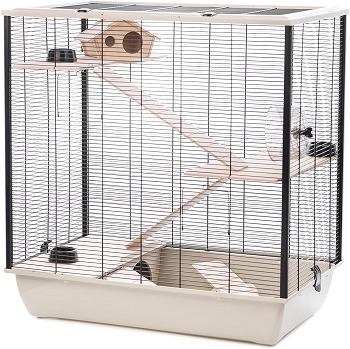 The Accessories Included
This tall rat cage has been put on our list because we find it a high-quality, affordable, and safe rat cage. A great plus is that it comes with the accessories for your rat. The cage includes a small wood house, one when, a hideaway, three bowls, and a wood see-saw.
The Dimensions And Bar Spacing
This cage by Little Friends measures 30.71 x 18.9 x 31.5 inches. It fits one or two pet rats and provides them with enough space for comfortable living. The cage is safe for baby rats as well because it comes with narrow bar-spacing which is less than 0.40".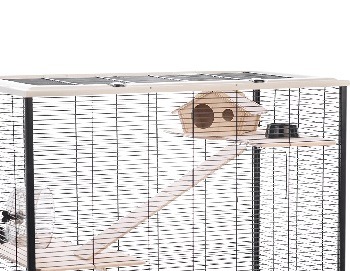 The Access Doors
There are two access doors at the front. The doors are not very large, but they help you maintain the cage. Also, they allow you to reach out for your rat and refill the food bowls or water bottles. Check out this rat enclosure's customer reviews as well.
In Short:
ideal for one or two rats
super-narrow bar spacing
comes with two access doors
includes all the rat decorations
the price is very affordable
made of non-chew material
BEST MULTI-LEVEL TALL RAT CAGE
Topeakmart Tall And High Rat Cage
Use It Indoors And Outdoors
The Topeakmart cage for rats and other small animals is made of sturdy and durable material. It is safe to use it inside or outside your home. It stands on four rolling casters so it is easy to move it around. The material is anti-rust and chew-free.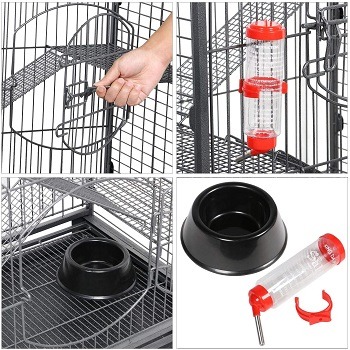 How To Clean
The Topeakmart cage is very simple to maintain. It is a multi-level cage that comes with two front access doors. It allows you to easily clean the inside of the cage. Moreover, the rolling casters will help you move the cage and clean the area around the cage.
Safe And Durable
We have already said that the cage is made of high-quality material. The metal and the coating that is used for construction are non-toxic. The doors can be securely locked, just as the rolling wheels. Your rat will feel comfortable and safe inside of this cage.
Extra-Spacious
This rat enclosure fits two or even three rats. It comes with three platforms and three ramps that lead to them. It provides a lot of fun space for your pets. The cage includes a water bottle. You can add additional accessories to allow your rats to play and stay active.
In Short:
for indoor and outdoor use
made of non-toxic and anti-rust material
multi-level with extra space
comes with 3 platforms and 3 ramps
includes a water bottle
BEST WIRE TALL RAT CAGE
PawHut Cage For Rats Strong Construction
Multiple Doors
The PawHut cage for rats is a tall rat cage, but of slightly smaller dimensions. It is space-saving and will fit into any corner of your home. It comes with multiple doors that allow you to easily access the cage when clean the littler or refilling water or food bowls.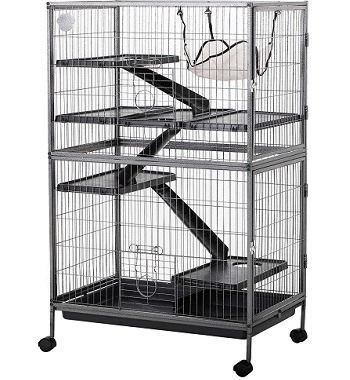 Sturdy Construction
The cage is made of good quality. It is constructed out of metal square tubes and wires. This wire rat cage is painted with a hammertone pattern finish. The cage is water-resistant and anti-rust. It can be used outdoors and indoors as well.
Easy To Transport
The PawHut tall rat cage stands on four rolling wheels. This will help you in case you need to move the cage to another part of the room. It is easy to roll it anywhere. Also, when you need to clean the area around the cage, simply roll it away.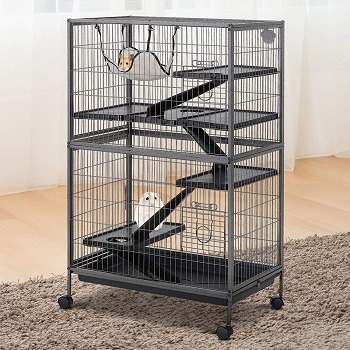 What It Includes?
This cage for rats includes a 4-tier play platform. There are ramps that allow you rats to easily go up and down. Also, there is a hanging hammock included for your rats to rest in. There is enough space for your rat and more rats. You can add extra accessories as well.
In Short:
includes multiple doors for easy access
stands of four rolling casters
easy to clean and move
there are ramps and platforms included
the cage comes with a hanging hammock
BEST FANCY TALL RAT CAGE
Prevue Hendryx Rat Enclosure
The Size Of Prevue Hendryx
This tall multi-level rat cage measures 31″ L x 20″ W x 54″ H. The bar spacing is 7/8 inch so make sure you use this cage only for larger-sized rats. Do not use it for small or baby rats because they will be able to escape through the bars.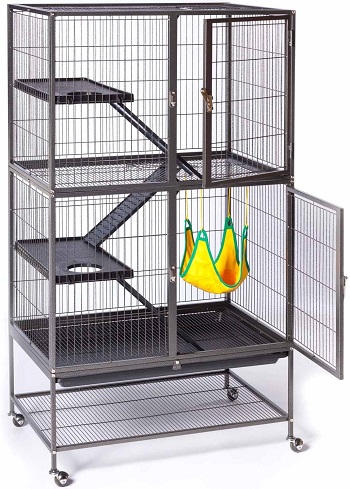 The Construction
This rat closure is constructed out of anti-rust, non-toxic, and chew-free material. It is coated with a safe powder. Under the cage, there is one storage shelf that will serve for storing food, treats, toys, and others. This tall rat cage can be securely locked.
The Included Accessories
In this cage, you will get to install the hammock, plastic ramps, and platforms. They come included in the package. Also, a slide-out pan is located on the bottom. It is easy to clean and maintain. You can access the cage through the access doors and easily refill the food dish or water bowl.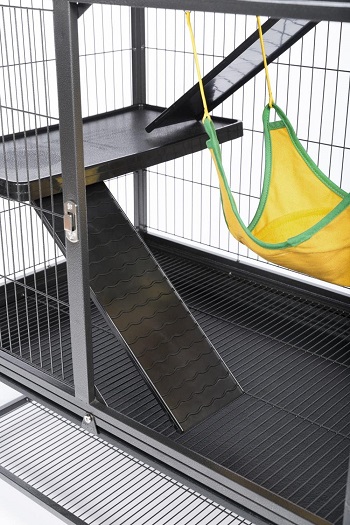 Ideal For Small Animals
In case you have other small animals, such as ferrets or chinchillas, you can use this cage as well. Make sure the animals you have are not too small for such a cage. However, we suggest you use the Prevue Hendryx for your larger-sized rats.
In Short:
made for larger-sized rats
the space between the bars is 7/8 inch
includes a hammock, ramps, and platforms
provides enough space for more accessories
this is a multi-level cage
made of non-chew material
BEST STURDY TALL RAT CAGE
Midwest Critter Cage Chew-Proof
Pet-Friendly Enclosure
This cage is perfect for rats, but for other small pet animals as well. It is made of safety wires. It is smooth and comes with no sharp edges. The cage is pet-friendly and provides a lot of space. The dimensions are 36″L x 24″W x 63″H and 1/2″ horizontal wire spacing.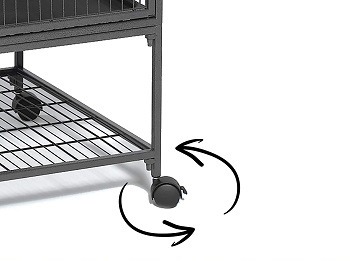 The Tall Design
The MidWest cage for rats is a tall, durable, and sturdy rat enclosure. The cage comes with four rolling casters and allows you to easily move it to another corner. The casters can be securely-locked. There are double doors for easier access.
The Maintenance
Remember that it is very important to clean the cage and the litter every day. The access doors will help you maintain the cage without too much hassle. Also, you will get to simply roll the cage and clean the area around it whenever it is necessary.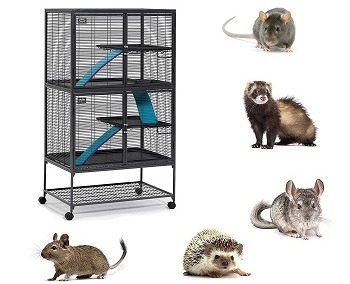 Safety Features
This cool rat cage doesn't have sharp edges. Only smooth surfaces. The access doors can be securely locked, just like the rolling casters. The narrow space between the bars will make you feel safe about your rats. They won't have the chance to escape the cage.
In Short:
pet-friendly and safe
easy to maintain and clean
comes with smooth surfaces
doors and casters can be securely locked
tall, sturdy, and durable cage
BEST FOR TWO TALL RAT CAGE
Homey Enclosure For 2 Rats
General Overview
The Homey cage for rats measures L37″xW22″xH59″. The bar spacing is about one inch which makes this cage safe for baby rats as well. The cage is tall and provides a lot of space. This model has 2 single tiers. It comes with 2 trays as 2-floor grids.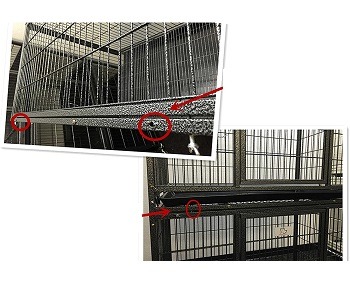 Safe With Casters
There are 4 rollable and lockable casters. You will get to roll the cage to the other side if needed. It is convenient and safe for rats. The floor grids keep your rat clean and dry all the time. This cage is stackable up to 3 tiers or individual use.
Strong And Sturdy Material
The Homey tall rat cage is made of strong material that is perfectly safe for your rats. It includes the ultra-strong pull-out tray that allows you to easily clean. The cage is safe on the pet's feet. It is chew-free and non-toxic as well.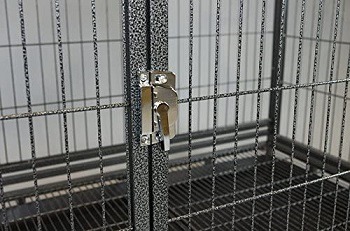 Fits 2 Rats
Each single cage provides enough space for 2 rats. Especially if you have small or baby rats. The cage doesn't include any accessories, but it has enough space for you to add any rat decorations, food bowls, and water bottles. This is a very good rat cage for two rats.
In Short:
bar spacing is about 1"
safe and pet-friendly cage
made of chew-free and non-toxic wire
provides a lot of space
fit 2 or more rats
How To Pick: Tall Rat Cage
When searching for an ideal tall rat cage, make sure to buy an enclosure that makes you and your rat 100% safe. The cage needs to be of good dimensions, made of non-toxic material, comfortable, and have all a pet rat needs. See which other features should be key factors when deciding on buying the right cage.
The Dimensions And Levels – The tall cages are space-saving. They are ideal for small homes. They provide more vertical than horizontal space. Some of them come with more levels, which your rat will love. The rats love to jump and run up and down.
The Space Between The Bars – If you have smaller rats, get them a tall but small rat cage. Make sure the space between the bars is not large than 1/2 inch. Otherwise, your rats might escape. On the other hand, if you have medium to larger-sized rats, get them a larger-sized tall rat cage and provide them with enough space.
The Cage Material – Always get a rat cage that is made of safe materials. Your pet rats will probably try to chew on the iron, so it is very important that the cage you are getting is not only chew-proof but non-toxic as well. Depending on the usage, buy an outdoor (anti-rust) or indoor rat cage.
Safety Features – If your rat cage stands on four casters, make sure they are properly locked. Also, the access doors should be securely locked to prevent your rats from escaping. Your cats must come with no sharp edges and smooth surfaces.
Where To Get? – You can get these products in your nearest pet shop or online. The rat closures that you can find in our post are all available on Amazon.com. We find Amazon one of the most reliable online retailers and always advise our readers to check the product on their website.
To Sum Up
One of the best tall rat cages that we have reviewed in this post is the Homey Enclosure For Rats. It provides enough space for more than one rat and it is safe and made of good quality. In case you also liked this model, but want to see more similar cages, read our article about rat cages for 2 rats or fancy rat cages.