Are you in search of a wooden rat cage?
If you would like your little rat to live in a wooden and natural habitat, then check out our article. You will find all of the important details about the six wood rat cages. Read on and find everything you need to know about the best of best, tall, for 2, and three more models. Don't forget to read our guide too.
The Summary
Best 6 Wooden Rat Cages
BEST OF BEST WOODEN RAT CAGE
U-Max Wooden Cage
The Design And Space
The U-Max cage is made of wood. It is small but spacious enough for two rats. The cage comes with a hideout, a platform, and a ramp. This wooden rat cage is pet-friendly and safe for your pet rats. The size of it is 35.4″L x 20.9″W x 20.9″L.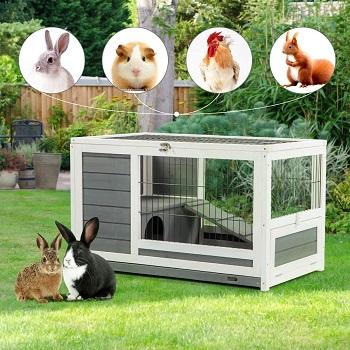 The U-Max Cleaning
This cage for rats is very simple to clean. It opens easily and you can maintain it without hassle. There is one removable tray that you can easily pull-out to clean. It can be washed in the dishwasher as well. The cage is leak-free, anti-rust, and it doesn't go moldy.
The Quality Of This Cage
This rat wooden enclosure is made of fir wood. The wood is coated in eco-friendly varnish. This cage is waterproof and can withstand high and low temperatures. The material used is non-toxic, and the wires of the cage are completely chew-proof.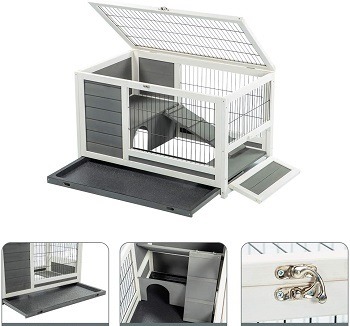 The Affordable Price
The U-Max wooden rat enclosure is a pretty affordable and natural habitat for your pet rats.  The quality is good and the cage is long-lasting. We find it very convenient and completely safe for your little fur buddies.
In Short:
small and spacious enough
can be used as a habitat for 2 rats
made of non-toxic and chew-free material
the quality of the cage is high
the cage is waterproof
the price is quite affordable
BEST TALL WOODEN RAT CAGE
Aivituvin Cage For Rats
The Tall Design
The Aivituvin enclosure for small animals can fit more than two rats. It comes with two levels, and a ramp. The cage is constructed of natural wood and non-toxic and chew-proof metal. The cage has four rolling casters that allow you to move it easily.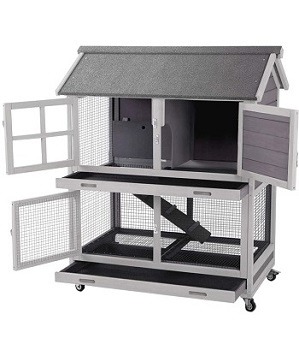 The Plastic Trays
Some models or rat wooden cages include plywood trays that go moldy after some time. In addition to that, they are not leak-free. This certain rat cage includes plastic trays. They can be removed easily in order to clean them properly.
Provides A Lot Of Fun Space
Your rats will surely want to interact, run, jump, play, and stay active every day. They deserve to have a lot of space for their everyday activities. This wooden rat cage will be perfect for your rats. They can run up and down the levels. Add extra accessories and let them enjoy their new habitat.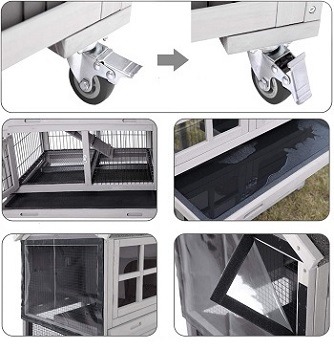 Useful Cage Characteristics
The dimensions of the Aivituvin wooden rat enclosure is 38.6" L x 25.6" W x 44.1" H. The multi-level rat cage includes three doors for easier access. There is one large ramp. The price is medium and the general quality is pretty high.
In Short:
ideal for more than 2 rats
includes non-leak plastic trays
easy to clean the cage
provides a lot of fun space
fits many rat cage decorations
comes at a medium price
BEST FOR 2 WOODEN RAT CAGE
Rockever Small Animals Cage
Great For All Small Animals
The Rockever wooden cage is perfect for almost all small animals under 7 lbs. This doesn't only include the rats, but rabbits, hedgehogs, ferrets, and other animals. We find this cage perfect for 2 rats. They will have a lot of space for many fun activities.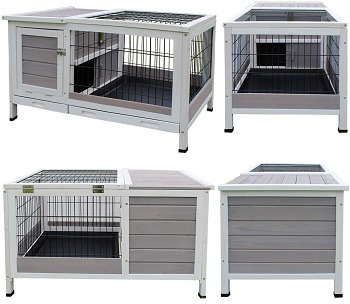 How To Set Up?
The cage's package includes all the necessary parts for the assembly. The user manual with the instructions is included as well. You will only need a Phillip's screwdriver. The assembly is quick and easy. The structure is long-lasting.
The Easy Maintenance
Every good rat owner knows how important it is for a cage to be cleaned regularly. The Rockever wooden rat cage comes with side doors and the top wire. It is incredibly easy to clean. Also, there is a pull-out tray that can be cleaned daily.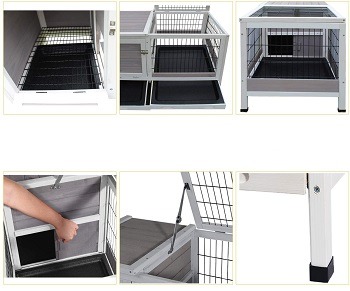 Indoor Use
Although the material that is used for designing this rat cage is of high-quality, it is recommendable to use it indoors. You can use it as a rat breeding cage. In case you want to use it outside, put it in a sheltered place, or cover the top of the cage.
In Short:
for all small animals under 7 lbs
the package includes the assembly instructions
made of high-quality materials
recommended for indoor use
it is simple to maintain clean
BEST SMALL WOODEN RAT CAGE
Aleko Wooden Enclosure
The Deluxe Design
The Aleko small rat enclosure is perfect for baby rats or very small-sized rats. It provides a lot of fun, hidden, and open space for your rats. It uses a 3-tier design and allows them to explore and roam around as much as they want. The size is 44 x 24 x 23 inches.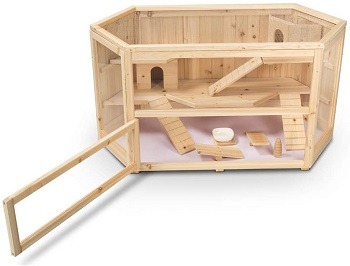 The Material Used
The cage is made of anti-rust and rot-resistant fir wood, mesh, and acrylic. The material is completely safe and non-toxic for your small pets. This cage is for indoor use. It is not recommendable to use it outdoors. It will fit into every home.
What Is Included?
This cage includes ramps to other levels, 2 hideouts, and three levels. It comes with areas for eating and restroom activities. There is enough space for you to add more fun rat toys, a water bottle, or other fun and small rat cage accessories.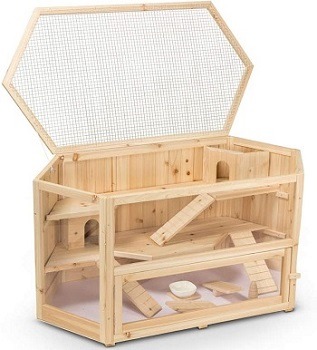 The Openings
This cool rat cage comes with the acrylic window that surrounds this wooden rat habitat. The bottom acrylic panel opens outwards and it allows you to easily feed your rats. You can also take them out of the cage and pet them and play with them easily.
In Short:
ideal for very small rats
wooden rat cage made for indoor use
constructed out of safe and material
provides enough fun space
includes a food dish
the cage is well ventilated
BEST COOL WOODEN RAT CAGE
Petsfit Cage For Rats
The Freestanding Design
The Petsfit rat enclosure is a large and tall rat cage. It has a lot of open space and a large hideout space. The cage stands on four legs. This cage comes without rolling casters. It is a stable and durable cage that is made of solid wood and non-chew wire.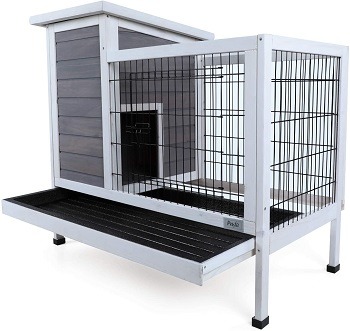 Deep And Removable Trays
The Petsfit wooden rat cage includes an even deeper leak-free tray. The tray is easily removable. You can simply pull it out to clean and wash it. Maintain the cage and the tray clean.
Important To Know
This cage can fit 2 or more large pet rats. It is not made for small rats. It can be used for other small animals as well. The size of the cage is 38.2″ x 19.6″ x 33.8″. It has a waterproof roof. However, it is not recommendable to use it outdoors.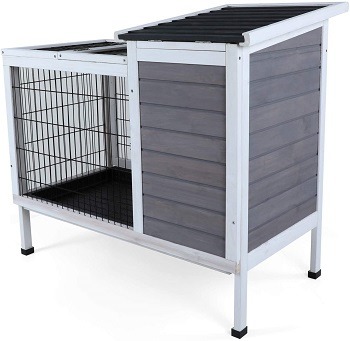 The Assembly
It is very simple and quick to assemble this rat wooden cage. There are the pre-drilled holes that will help you with the setup. The instructions are provided within this rat cage and you'll need almost no additional tools.
In Short:
easy to assemble and set up
comes with pre-drilled holes
perfect for small animals
fits 2 or more large pet rats
includes a very deep pull-out tray
easy to clean and maintain
BEST FANCY WOODEN RAT CAGE
Ferplast Rat Cage For Pet Rats
The Small And Natural Cage
The Ferplast cage is a wooden rat enclosure that is made of wood and a robust wire net. It is chew-proof and can be securely locked. It is completely safe for your pet. Although small, it provides enough fun space for your little pet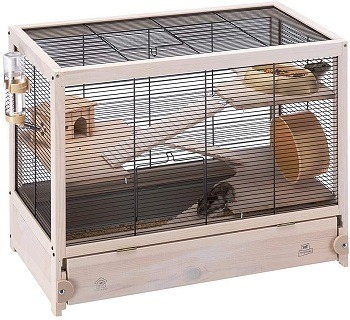 Comes With Rat Accessories
This wooden rat cage includes an activity rat wheel, a food dish, and a plastic water bottle. There is a small hide-out to be used as a resting area. Also, there are three platforms and ladders. It is a very good rat cage to be used as a starter kit.
Simple To Clean
This cage contains comfortable rat bedding. The bedding can be removed and the litter can be changed easily. Clean the inside of the cage with a clean and humid cloth. Don't forget to refill the water bottle and food dish whenever is necessary.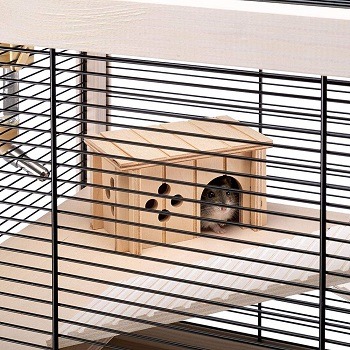 The Two Doors
The Ferplast fancy wood rat cage includes two doors for easier access. One door is at the front, and the other door is on the top. If you want to access the cage from the top, simply lift it up. This will allow you to easily clean the cage.
In Short:
the cage is made of robust wire and wood
includes a lot of fun rat accessories
made for smaller-sized rats
includes two access doors – front and top
easy to clean and access the cage
How To Pick: Wooden Rat Cage
If you are still not convinced and don't know whether you should buy a wooden rat cage, check out our buying guide. See what are the perks of owning a rate cage made of wood. See which other features you should look for when buying such a rat enclosure.
The Benefits Of Owning A Wood Rat Cage – The cages made of wood are the closest to the natural habitat. Your pet rats will love such a cage even more than a wire rat cage. If will feel the natural wood smell, and feel comfortable and cozy.
The Material And Safety Features – The best material is, obviously, the natural wood. Make sure that you get a cage that is not made of other materials similar to wood. Also, it has to be coated and with smooth surfaces. The cage needs to be securely locked easily and have a narrow space between the bars.
The Extra Rat Decorations – Some of the wooden cages for rats already include rat decorations and accessories. For example, you will often find cages that come with ramps, platforms, and hideouts. In case your cage comes empty, you will get to customize it on your own.
The Space And Maintenance – Rats love to have a lot of space. You need to get them a spacious vertical or horizontal cage. Allow your pet rat to play and stay as active as it wants and needs. Before buying, make sure the cage is simple to maintain and that it comes with large doors.
The Access To The Wooden Cage – Getting a wood rat cage with a top opening is a big plus. Also, your cage needs to have large access doors so that it is easier for you to reach out to your rat, maintain the cage, or refill the water bottler or food dish.