If you are looking for the best pet rat enclosure, make sure you read our article.
We have gathered the six best domestic rat cages and divided them into different categories. You will get to read all about the best of best, cheap, small, and three more models. We have also prepared a small buying guide that you are going to find at the end of this article.
The Summary
6 Best Rat Enclosures
BEST OF BEST RAT ENCLOSURE
Mcage Enclosure For Rats
About Mcage Rat Cage
This rat cage measures 24″L x 16″W x 24″H. It is spacious enough for one or two pet rats. The cage is constructed of safe and quality material. It is non-toxic and the surfaces are smooth so this cage is going to be a safe habitat for your little fur friend.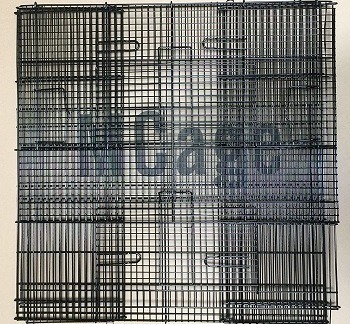 How To Setup?
The setup is very simple and quick. It requires a maximum of 10 minutes. In the package, you will get all you need. You will need no extra tools for installing this cage. Also, the Mcage is easy to fold. This helps with storing it or taking it with you on travels.
For One Or Two Rats
The Mcage enclosure is a cage for 2 rats. They will have the space to eat, sleep, run, and play. This cage is also suitable for ferrets, hamsters, and chinchillas. It is easily portable. It comes with handles and you can carry it.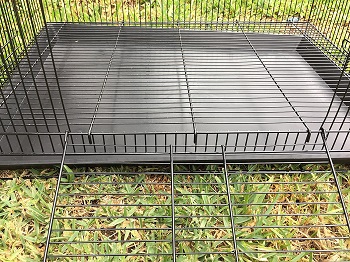 The Price Vs Quality
This cage is budget-friendly and easily affordable for many people. Its quality is good and we consider it long-lasting. Check it out online to see more about the cage and customer satisfaction with it.
In Short:
for one or two pet rats
spacious enough and safe for rats
budget-friendly price and good quality
comes with handles for carrying
sets up easily
BEST CHEAP RAT ENCLOSURE
Zeny Pet Rat Cage
Safe For Rats
The Zeny cage is absolutely safe for rats. It is made of non-chew and anti-rust material. It doesn't come with sharp corners, which is very important. This is a safe and fun cage at the same time. It provides a lot of space and includes bottles for water, food dish, and ramps.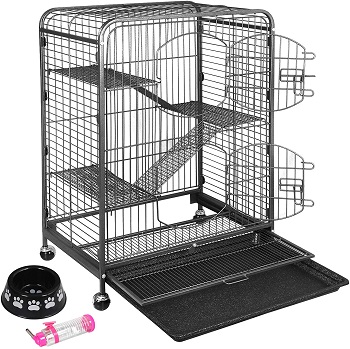 Stands On Wheels
This rat enclosure is easily portable and moveable. It stands on four rolling casters so you can easily roll it from one to the other side of the room. Moreover, it can be folded and transported or stored very easily. The setup is quick and the instructions are provided by the manufacturer.
How To Clean? 
It is very simple to clean the Zeny cage. This is why make sure you do it every day. There is a bottom tray that gets pulled out so you can clean it with no problems. Also, there are two doors (each on one level of the cage) that allow you to easily enter the cage while cleaning.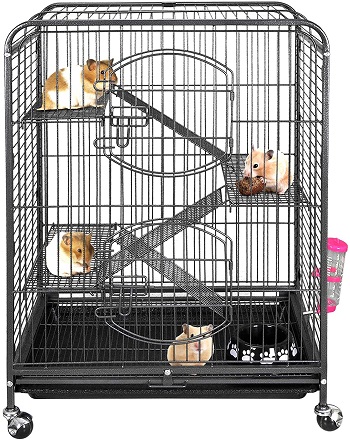 The Good Price
This rat enclosure comes at a very affordable price. This is actually a pretty cheap rat cage. This doesn't mean that it is made of low quality. In fact, we consider that it is very safe. It can be used indoor and outdoor. We are sure your little pet rats will enjoy living inside of the Zeny enclosure.
In Short:
safe and non-chew cage
anti-rust and quality material
it is a multi-level cage
fits one or two rats
provides enough space for play
comes at a great price
BEST SMALL RAT ENCLOSURE
Prevue Pet Rat Enclosure
Use It Outside And Inside
This Prevue rat enclosure can be used outdoors and indoors. It is made of anti-rust material and can withstand different temperatures. The cage is sturdy and there is no fear that your rat will get to leave it. The bar spacing is small enough.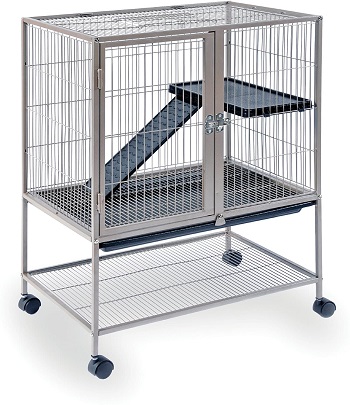 Roll It Easily
There are four rolling casters that the Preve cage stands on. This helps you with maintenance and in general to roll it to another side of your room. Also, you can take your rats out to the yard and to the fresh air.
What Does The Cage Include?
The cage will include a ladder and one plastic ramp. There is one large access door in the front. Also, the cage includes a shelf for storing your rat's food or toys. The assembly is easy and fast and the manual with instructions will guide you.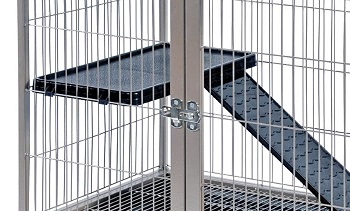 Small Size
This Prevue cage measures 25 x 17 1/8 x 32". It is not very large and it is ideal for your baby rat or one small to medium-sized older rat. The cage is completely safe and the price of it is medium.
In Short:
use it inside or outside
small and ideal for one rat
comes at a medium price
there is a storage shelf under the cage
includes a plastic ramp
safe and made of quality material
BEST COOL RAT ENCLOSURE
Midwest Deluxe Critter Nation Cage
What It Contains?
The Midwest best cool rat enclosure features one plastic ramp, an adjustable shelf, and one pan. It is a cage that is great for one rat. The cage stands on four wheels. It is easy to roll it and to maintain. The assembly is easy to do and doesn't take long.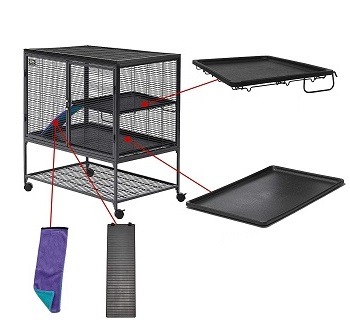 The Assembly
The package includes the instructions on how to setup. Read them before starting with the assembly. The cage is easily attached and de-attached. You will need no extra tools for the setup.
Easy To Maintain Clean
This MidWest cage for rats features a large access door that will make you maintain the cage easily. Clean the cage daily. The door is here to help you reach for you rat with no problems.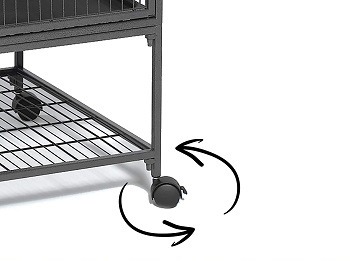 The Design
The overall dimensions of the Midwest cool rat cage are 36″ L x 24″ W x 39″ H. The cage will be a comfortable habitat for your pet rat. It is going to have a lot of space for it to live in, run, play, or sleep. The cage includes a storage shelf and is made of safe materials.
In Short:
comes with a plastic ramp and a shelf
includes a storage shelf
stands on four casters
it is ideal for one pet rat
easy to enter the cage while cleaning
BEST FOR 2 RATS ENCLOSURE
Yaheetech Cage For Rats
The Yaheetech Design
This cage's overall dimensions are 37 x 17 x 25 ''. The bar spacing is 0.9" bar spacing. You can feel safe about your rat. It won't get to escape this enclosure. The cage comes in hammertone black. It has a removable tray. It stands on four wheels.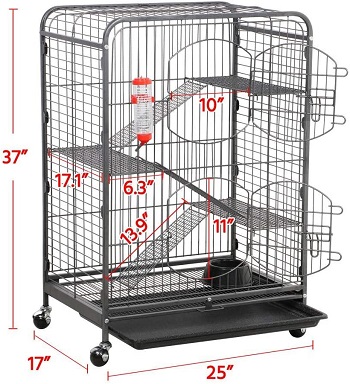 Portable And Easy To Clean
The four rolling casters are here to help you move this fancy rat cage easily. This helps when you want to clean the area around the cage. Moreover, there are two access doors, each on one level. You will get to clean the cage every day.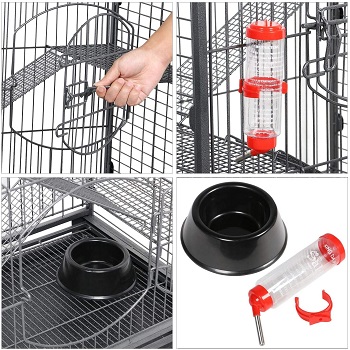 The Extras
As already noted, there is a slide-out tray that is easy to maintain clean. Also, this rat enclosure includes a bottle for the water, a food box, and fun ramps for your rat to play on. There is the instruction manual included as well to help you assemble the cage quickly.
In Short:
0.9" bar spacing make it safe
stand on four rolling casters
easy to clean and to move around
this is a multi-level rat cage
includes a water bottle and food dish
BEST MULTI-LEVEL RAT ENCLOSURE
You & Me Rat Cage
Made Of Safe Material
The You & Me pet rat enclosure is made of easily-washable and study wire. This means that it is chew-proof and coated in stain-resistant powder finish. The multi-level rat cage comes with a metal base. It is leak-free and lasts a very long time.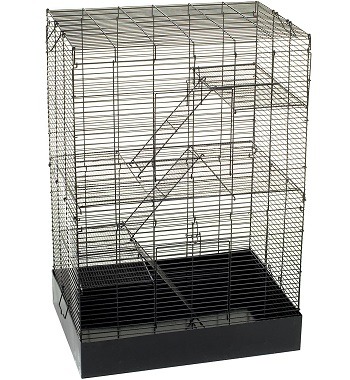 Multi-Level And Spacious
There are multiple levels inside of this cage. The cage is spacious and large. It provides a lot of space for your pet rat to play in. If your rat is curious and active, it will love this cage. You can add the extra toys, ramps, or wheels so it can play even more.
For More Rats
In case you have two rats, they will get to live inside of this enclosure comfortably together. Add hammock, ramps, and slides and watch them enjoy the fun activities. Attach hammocks or add tunnels that will allow your rats to play, hang out, and sleep.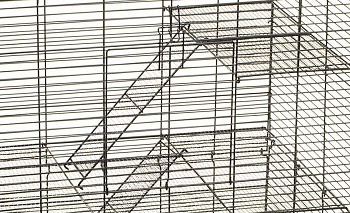 The Size And Design
This You & Me cage for rats measures 16.5 x 22.5 x 32 inches and it weighs 16.5 pounds. It comes in black color. It is freestanding and it doesn't come with rolling wheels. This cage comes with one smaller-sized access doors which makes it a bit harder to clean.
In Short:
spacious and multi-level rat cage
this cage fits more rats
add extra rat toys easily
it is safe and chew-free
the cage is leak-free
How To Pick: Rat Enclosures
Every pet rat owner needs to provide its little fur buddy a safe habitat with all the necessary conditions. The most important factors that make a good rat enclosures are the size and quality of the cage, the easy maintenance, security, and a few more. Read on to find out which cage to look for.
The Cage Material – Your pet rat cage should be made of a quality material that is safe for your pet in every way. Your wire rat cage should be constructed of a chew-proof and non-toxic material. The cage must not wear out too soon and needs to be leak-free.
The Bar Spacing – Rats are known to be curious and active animals. They love to explore, run, and play. This is the main reason for which you need to get the cage with a half-inch or less bar spacing for baby rat, and more than 1" is okay if you have an older or larger rat.
The Doors And Spaciousness – The larger the cage, the better for your rat. If your rat has a spacious cage, it will have more to explore. Add it pet rat toys and make it play as much as it wants. Make sure your cage comes with large doors so that it is easier to maintain and clean.
Cage Portability – Your rat enclosure doesn't necessarily have to be portable, but this is a big plus. First of all, you never know if you are going to have to move it for some reason. Also, you will want to clean around the cage as well, so if your enclosure is easily-portable, it will make the cleaning easier.
To Sum Up
Out of these six models, we prefer the Yaheetech Cage For Rats because it is spacious enough and multi-level. In case you have small rats or baby rats, read our article about the small rat cages. If you own more rat cases that live together and are active a lot, don't miss on our post about the tall rat cages.