If you are looking for a multi-level rat cage, then you have come to the right place.
In our article, you will get to read the six reviews. We have listed all the most important details about the best of best, tall, for 2, wire, cheap, and cool rat cages. Find out which features you must look for when buying such a cage. You will find it out in our buying guide.
The Summary
Top 6 Multi-Level Rat Cages
BEST OF BEST MULTI-LEVEL RAT CAGE
VivoHome Outdoor Indoor Cage
General Characteristics
The VivoHome cage for rats is made of anti-rust material. It can be used outdoors and indoors. This cage is ideal for all small animals. It provides a lot of vertical space. The cage measures 24 x 17 x 37″.  The space between the bars is 1″.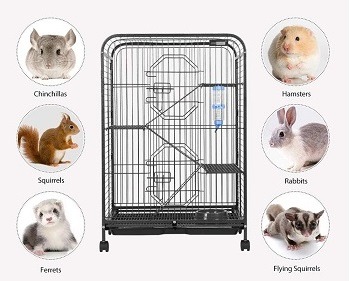 Sturdy And Long-Lasting
This rat enclosure is made of sturdy and durable low-carbon steel. It is coated in non-toxic powder that is completely safe for your pet rats. The bars are chew-proof and space between them allows your medium to larger-sized rats to live safely in this cage.
The Cage Accessories
The package includes the cage that stays on four rolling casters. The accessories included are the four tiers, three ramps, a food dish, and water bottle. There are two removable trays that are easy to pull out and clean.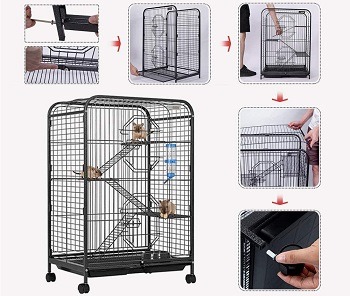 Safe For Rats
When buying a large multi-level rat cage, you must make sure it comes with smooth surfaces. The VivoHome cage has no sharp edges and your little rat will live there happily, comfortably, and safely.
In Short:
anti-rust, outdoor, and indoor
stands on four rolling wheels
safe with no sharp edges
includes two removable trays
comes with a food dish and water bottle
BEST TALL MULTI-LEVEL RAT CAGE
Mcage Rat Cage Multi-Level
Large And Tall Design
The Mcage multi-level rat cage is tall and provides a lot of vertical space for your little pets. The cage measures 30″W x 18″L x 55″H. It is spacious, safe, and allows two or more rats to live in it. The bar spacing is 3/8 inch and the cage fits from small to large rats.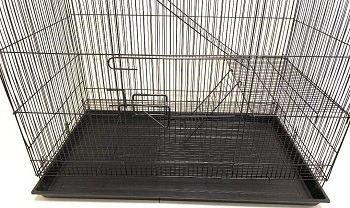 Fits Two Rats
If you have more pet rats, they can all live together in this tall rat cage. There is enough space for them to interact, jump, play, run up and down the cage. Also, they will have room for resting. This multi-level cage allows you to customize it whichever way you want.
The Access Doors
There are three front access doors. The size of the doors is 10" x 10.5". The doors can be securely locked and are chew-free. They allow you to easily access the cage, refill the water bottle and food dish, reach out for your pet, and clean the inside regularity.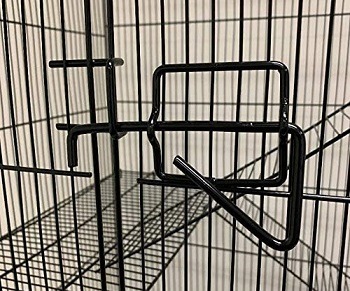 What Is Included
This cage includes four platforms and four ramps. You can expand the levels by adding extra shelves and ladders. This cage is spacious and provides room for your little active pet rats. Add more rat toys and other cage decorations.
In Short:
this cage fits 2 or more rats
it comes with 4 platforms and 4 ramps
allows you to add more cage accessories
comes with three access doors
easy to maintain clean
safe for your little pet rats
BEST FOR 2 MULTI-LEVEL RAT CAGE
Prevue Rat Cage For Pet Rats
About Prevue Rat Cage
This cage by Prevue is tall, multi-level, and it stands on four rolling casters. It is easily portable. Simply unlock the casters and roll the cage to another corner. There is a storage shelf underneath the cage. It helps you store the food and rat toys.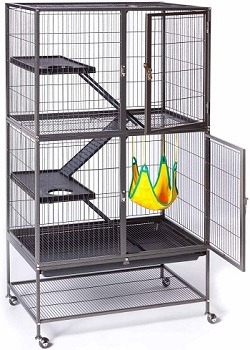 For Small Animals
The Prevue multi-level rat cage is perfect for all small animals. So, if you have more small pets, this cage will be convenient for you. It can easily fit two or more rats. They will have enough space for all of their everyday activities and rest.
What Comes Included
This cage comes with two ledges and three plastic ramps. This is a three-level floor. It also includes a hanging hammock for your rat to rest in. There is a slide-out pan at the bottom of this cage. Generally, this cage is pretty quiet and completely safe.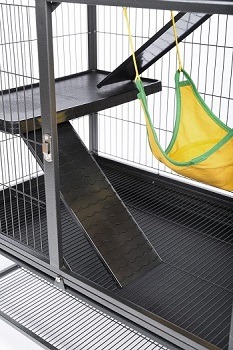 Tall And Long-Lasting
The overall dimensions of this multi-level rat enclosure is 31″ L x 20″ W x 54″ H. The space between the bars is 7/8". The cage is made of non-toxic material and it comes with chew-free wires. This wire rat cage is of ideal height both for you and your rat.
In Short:
comes with platforms and ramps
a hanging hammock is included
tall and made for 2 or more rats
comes with chew-proof wires
safe and easy to clean
stands on 4 rolling wheels
BEST WIRE MULTI-LEVEL RAT CAGE
Super Deal Wire Rat Cage
Safe For Your Rats
The Super Deal rat cage is another multi-level enclosure. It will make your rat happy and safe. The cage has undergone the testings that confirm this cage is safe. It has no sharp edges and it can be securely locked. It is non-toxic.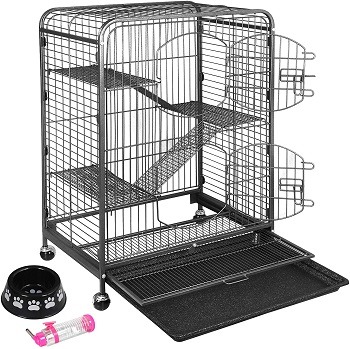 Large And Spacious
This cage by Super Deal measures 25 x 17 x 35". The spacing between the bars is 0.47". This makes it safe for your baby rat pets as well. It is safe for tiny paws. It prevents the rats' heads getting caught in. There is enough space for adding extra rat toys and accessories.
Easily Portable
The Super Deal cool rat cage stands on four lockable wheels which makes it easy to move. If you need to clean the area around the cage, simply unlock the rolling casters and move the cage to another side of the room. It can be used in a humid environment as well.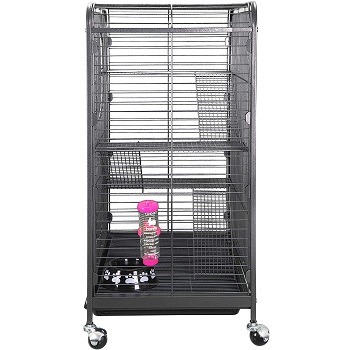 The Folding Design
You can easily fold this multi-level rat cage and store it. It is also very convenient for traveling. If folded, it doesn't occupy too much space. When it comes to design, make sure the cage is suitable for your rat before you buy it.
In Short:
convenient to store and foldable
easily portable thanks to the rolling wheels
safe and has no sharp edges
made of high-quality metal and iron
has narrow space between the bars
BEST CHEAP MULTI-LEVEL RAT CAGE
Ware Cheap Multi-Level Enclosure
The Ware Design
The Ware multi-level enclosure comes with a chew-proof design. It is made of non-toxic design. It comes in purple and white. It has three levels and can be used as a rat breeding cage too. It provides a lot of fun space for your rat to roam. The cage measures 12-3/4 L, 17 inches W 24 inches H.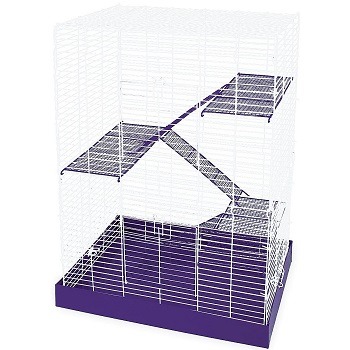 The Doors And Ventilation
There are two front door openings. The doors come with a safety lock and cannot be unlocked by your rat. You can feel safe about it staying in this cage. Ware multi-level rat cage is well-ventilated. Make sure your rat is of ideal size so your rat's paws don't get caught between the bars.
The Included Accessories
This cheap rat cage includes three platforms and three ramps. It has a leak-free bottom. The access doors allow you to easily refill the water bottle and the food dish. There is enough space for you to add more rat decorations and toys for your little pets.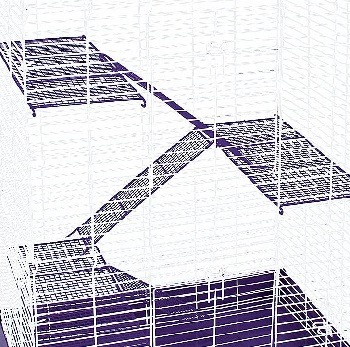 The Assembly And Price
The cage is ready to assemble. The set up is easy and fast. In the package, you will get the instructions and the user manual. It requires no additional tools. You can add more accessories and customize the cage easily. The price of this rat cage is very affordable.
In Short:
comes at a budget-friendly price
includes the 3 platforms and 3 ramps
well-ventilated and safe
allows enough space for activities
measures 12-3/4 " L X 17 " W 24 " H
BEST COOL MULTI-LEVEL RAT CAGE
Kaytee Enclosure For Pet Rats
The Cool Design
The Kaytee rat cage is perfect for small rats and other such small animals. It comes in different colors and features many rat cage accessories and decorations. The cage is fun and has multiple levels. It is ideal for dwarf hamsters, small rats and gerbils, mice, hamsters, etc.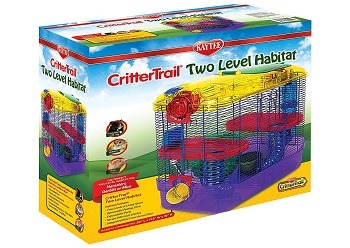 What Does Kaytee Cage Include?
This multi-level rat cage comes with so many fun toys and accessories that will make your rat happy and stay active. There is a petting zone, exterior wheel, a look-out tower, and an exercise wheel. The food dish and water bottle are included as well.
Great As A Starter Kit
If you own a small rat for the first time, this fancy rat cage by Kaytee could be your ideal starter kit. It has got everything a pet rat needs. Keep in mind that this cage is not great for larger-sized rats, so before you buy, make sure this cage is suitable.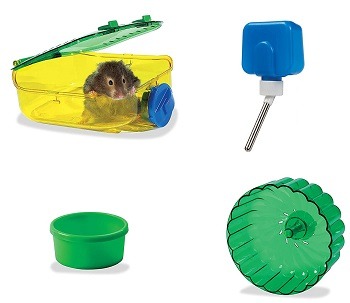 Expandable And Creative
Use your imagination and be creative with this cage. You can purchase more tubes, tunnels, and other rat toys, accessories, and decorations. Feel free to add as many tubes and levels as you want. Make sure your rat is safe and active at all times.
In Short:
cool, fun, and fancy rat cage
expandable to even more levels
comes with all accessories as rat needs
ideal for very small-sized rats
the price of the cage is very affordable
How To Pick: Multi-Level Rat Cage
Before buying a multi-level cage for rats, you must know which features a good rat cage must come with. It is not enough to know its price, but you must also consider the quality, space, maintenance, and safety features. Read on to find out more.
The Quality Of The Cage – What do we mean when we say the cage is of good quality? Well, it needs to be made of safe and sturdy material that is no coated in toxic finish. Moreover, your new rat cage definitely needs to be chew-free and leak-proof.
Dimensions And Bar Spacing – Depending on your rat's size, you need a smaller or larger cage. However, the more space the better. The tall, multi-level rat cages are the best ones you can get for your fur buddy. The bar spacing would be as narrow as possible.
Safety Features – Some safety features that a rat enclosure must come with are the doors that can be securely locked. Also, if your cage stands on the casters, they should be able to lock as well. The inside of the cage must be smooth and with zero sharp edges.
How To Clean And Maintain – When it comes to clean, a large front or top door is a must. The larger the opening, the easier will be for you to clean the cage. Not only that, but you will get to refill the water bottle or simply reach for your rat without hassle.
The Portability Of Large Cages – All of the large and tall cages are heavy. It is almost impossible to lift them up alone if you want to move them. This is why, if you know you will need to move the cage, you should get the multi-level rat enclosure that stands on rollable and lockable casters. But, for trips, consider a travel rat cage.