If you are in search of a fancy rat cage for your little fur pet buddies, make sure to read our article.
We have reviewed the best fancy models of the online market and divided them into six categories – best of best, for 2, multi-level, cool, wire, and travel. Check them all our and don't forget to read our buying guide.
The Summary
Best 6 Fancy Rat Cages Reviews
BEST OF BEST FANCY RAT CAGE
Pawhut Cage For Rats
Small But Spacious
The Pawhut is a multi-level rat enclosure. It easily fits two small to medium-sized pet rats. The cage provides your rats with a lot of vertical space. It is made of sturdy wires and non-toxic plastics. The cage is leak-free and comes with two large access doors.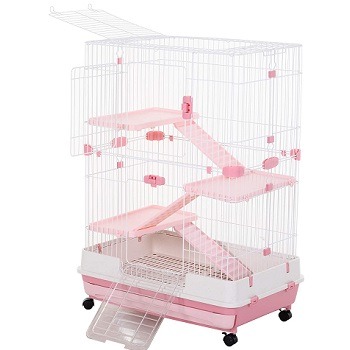 Pet-Friendly And Safe
This cage by PawHut is safe and can be securely locked. It has no sharp edges and comes with smooth surfaces. It features a non-slip ramp. The cage is chew-proof and made of sturdy wires. This plastic and wire rat cage comes with a narrow space between the bars.
Easy To Clean And Roll
The PawHut cage stand on four wheels. You can easily move it and roll it to another corner of your room. This helps you clean the area around the cage more easily. Also, there is a removable tray that allows for quick cleaning of your rat's environment.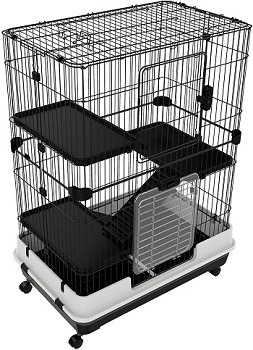 Why Get The PawHut?
We consider this fancy rat cage one of the best that you can have if you own two rats. It provides them with enough space for all of their daily activities. It is made of high-quality and sturdy material. Get it in black or pink color.
In Short:
ideal for two pet rats
provides a lot of vertical space
this is a multi-level rat cage
stands on four rolling wheels
it is made of high-quality plastics and wire
has narrow space between the bars
BEST SMALL FANCY RAT CAGE
Ferplast Small Pet Rat Cage
The Wooden Design
This fancy rat enclosure is a small cage made out of natural wood and robust wire. The provides your rat with a most natural environment. It is well ventilated, chew-proof, and safe for your pet rat. This cage fits one smaller-sized pet rat.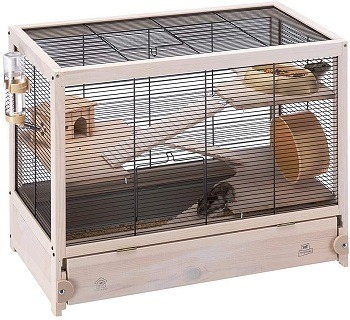 The Rat Accessories Included
To make your rat feel happier, the manufacturers of this wooden rat cage included the exercise wheel, a hideout house, platforms, and small rat ladders. There is a small food dish and a water bottle included too. You won't need to buy those separately.
The Easy Cage Maintenance
This fancy rat cage is leak-proof and comes with a plastic bottom. It includes the bedding that is easily removed when you need to change the inside of the cage and the litter. Open the cage, use the humid cloth, and clean it with warm water.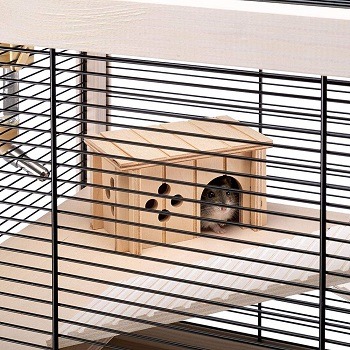 Front And Top Access
Simply access this cage through the top or front door. The good access doors are important not only for maintenance, but also to reach out for your baby or to refill the water bottle or food dish. Clean this cage with no hassle.
In Short:
made of wood and non-chew wire
includes all fun rat accessories
provides your rat with a natural environment
allows you to clean it without hassle
the cage has a leak-proof bottom
BEST MULTI-LEVEL FANCY RAT CAGE
QCM Sturdy Rat Enclosure
The Multiple Levels
The QCM rat cage is another perfect cage for two pet rats. It comes with three levels and four ramps. The cage is ideal for one or two medium-sized rats. The cage dimensions are 14 x 14 x 36 inches. This cage is expandable and you can get more cages to build a larger-sized rat enclosure.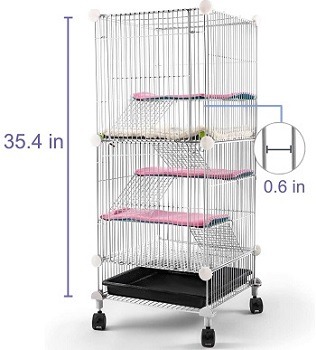 The Access To The Cage
There are two large front access to this cage for 2 rats. They help you feed your pets, maintain the cage and clean the inside. The cage comes with a removable plastic tray which makes it leak-free and saves your floor from ruining. The tray is easy to clean.
Spacious And Sturdy
This cage provides a lot of space for your rat's activities. They will be able to jump, play, and run around. They will get to climb the platforms. Add them more fun rat cage decorations and make them even happier. The cage is not very loud.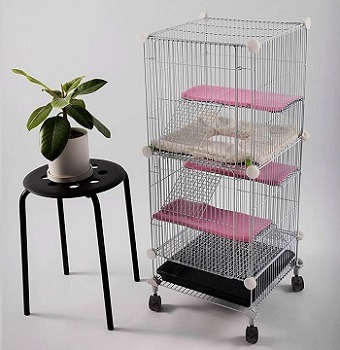 What Is Included
Apart from the ramps and platforms, this fancy rat cage comes with four soft and comfortable cushions that will make your rat feel cozy. The water bottle and the food dish are not included in the package. You will get the instructions for the easier setup.
In Short:
the cage comes with multiple levels
this is a great cage for two rats
the platforms have soft cushions
the cage is sturdy and safe
provides a lot of space
you can expand the cage easily
BEST COOL FANCY RAT CAGE
Kaytee 2×2 Rat Cage
Colorful And Fun Design
Kaytee's 2×2 fancy rat cage comes in different colors. It is a fun rat's enclosure that includes all the activity accessories one pet rat needs to be happy. The cage comes with three platforms, slides, tubes, and ramps. It also includes a resting hanging hammock.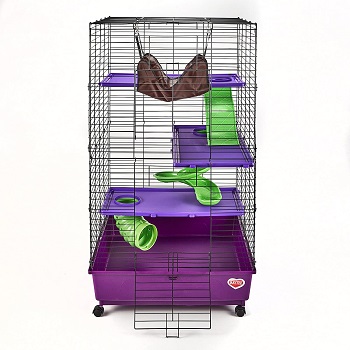 Multi-Level And For Two
This cage can be a home for one or two pet rats. It is constructed out of non-toxic plastic and sturdy wires. It is ventilated and has a narrow space between the bars. The material used for making this cage is stan-resistant. The cage dimensions are 24 x 24 x 41.5".
The Casters
This is another cage that stands on rolling casters. We like this feature because you never know if you are going to move the cage to another corner for some reason. This also helps with maintaining the area around the cage clean without lifting the cage up.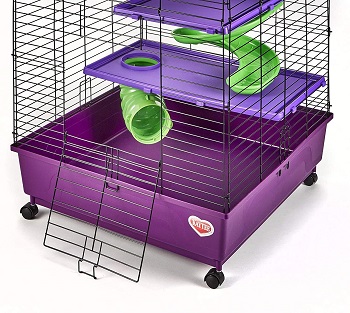 The Cleaning And Access
The Kaytee multi-level rat cage comes with a large front access door. Access the cage with no hassle and clean the inside or add more water and food to your little pet. Clean the litter daily and pet your best fur buddy.
In Short:
fun and entertaining rat cage
includes platforms, slides, tubes, and a hammock
ideal for one or two rats
easy to roll thanks to the casters
safe, leak-free, and chew-free
BEST WIRE FANCY RAT CAGE
You And Me Rat High Rise
How To Use? 
The You And Me wire rat cage is designed to be used as an aquarium high rise for smaller-sized rats and mice. The dimensions of this wire high-rise are 19.25″ L X 9.75″ W X 11.5″ H, 19.25". The aquarium is not included in the package. Use it at home or as a rat breeding cage.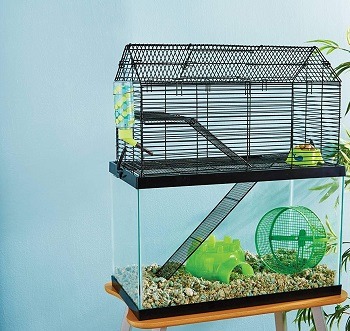 Sturdy And Safe
This fancy rat cage is made of sturdy and strong material. The cage is quiet and durable. It will last you a long time. It comes with two long rat ladders and two platforms. Your little rat will get to choose the hanging zone. Customize its new habitat and add more accessories.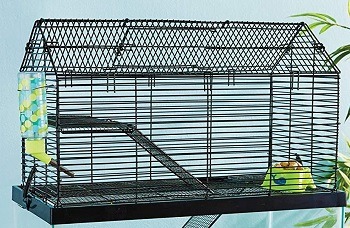 The Assembly And Access
You are going to need no more than 5 minutes to install the cage onto the aquarium. The cage comes fully-assembled and it requires no tools to assemble it. There is a top access on this wire high-rise cage that allows you to easily access the inside.
In Short:
use it as an aquarium high-rise
easy to set up and access the cage
comes fully assembled
made of safe wires and it is quiet
comes with two large ladders
BEST TRAVEL FANCY RAT CAGE
Petzilla Small Pet Cage
Lightweight And Easy To Carry
Use the Petzilla fancy rat cage if you have a small rat or if you need to as a rat travel cage. The cage measures 10.6 x 8.2 x 17.7 " (LxWxH). It is made of high-quality plastics. The cage comes with a handle, it is lightweight and very easy to carry.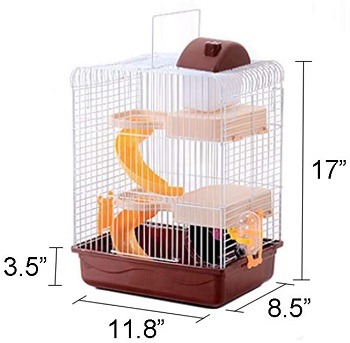 Comes With 3-Tiers
The Petzilla plastic rat travel enclosure has three tiers and two spiral slides. It provides a lot of fun for your rat. It is perfect for one small rat. It includes a water bottle and a food bowl. This cage may serve you as a first-time cage as well.
No-Tool Assembly
You will get to set up this cage in no time. The assembly requires no tools. The instructions for the assembly are included. This cage comes with the front and top opening for easier access to the inside. Clean it with no hassle.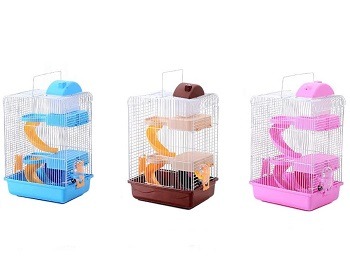 Cheap Price
Since this cage is only made of plastics and is small and lightweight there is no reason for it to be expensive. The cage is a small and quality rat enclosure that will serve you for temporary use. The price is very affordable.
In Short:
small, lightweight, and easy to carry
ideal for temporary use
use it for your baby rat or when traveling
perfect for a very small pet rat
the price is budget-friendly
How To Pick: Fancy Rat Cage
Getting your rat a fancy rat cage will make it happy only if it comes with other important features. If you still don't know how to choose the best rat enclosure for your little buddy, make sure to read our buying guide. Look for a cage that is completely safe and secure for your pet rat. Moreover, it should be spacious enough and possibly include fun activity rat cage decorations or accessories.
Get a Safe Cage – Your new rat cage must be safe and made of non-toxic material. If you have a small-sized rat, make sure the bar spacing is narrow. Also, a cage that can be securely locked and comes with non-chew wires is the best and safest enclosure for your little fur buddy.
The High-Quality Material Is A Must – The rat enclosure must be made of sturdy, strong, and long-lasting material. If you want to use your cage outdoors, make sure it is coated in an anti-rust finish. A good cage quality is a very important feature to consider.
Make Sure Your Rat Has Space – If you have only one pet rat, you won't need to buy a very large or tall rat cage. However, your pet must still have enough space for all of its daily activities such as playing, running, or jumping. On the other hand, if you have two rats, you are definitely going to need a large, multi-level cage that fits two (or more) pet rats.
How To Entertain Your Rat? – Many fancy cages for rats already include platforms, ramps, tubes, or tunnels. In case you liked the cage that doesn't come with the listed accessories, don't worry. Every rat cage can be customized. Get your rat an exercise wheel, rat toys, and a hanging hammock or hideout.
Customize Your Rat Enclosure – Almost every rat cage that has some additional space can be customized. Most of the cages will fit additional rat decorations and toys. So, make sure you get all your pet rat needs. Let it stay active. This is very important for its physical and mental health.
To Sum Up
We will conclude by saying that, among these six fancy rat cages, we have found the one that we consider the best. It is the Kaytee 2×2 Rat Cage. We think this rat habitat is a very good rat cage not only because of its cool rat cage design, but also because it is sturdy, quiet, leak-free, and easily portable. But, if you are looking for something space-saving, check out our post about small rat cages.