Have you been looking for a rat breeding cage?
Check out this article to find out all about the best rat breeding cages for sale. We have divided these models into six categories – best of best, lab, tall, travel, for 2, and cheap. Our buying guide is here to help you choose the best model. Keep on reading to learn all you need to know before buying.
The Summary
Top 6 Rat Breeding Cages
BEST OF BEST RAT BREEDING CAGE
Mcage Breeding Cage For Small Animals
Two-Level Cage
The Mcage rat breeding cage comes with two levels. This is a fun cage that can be used at home or in the lab. It comes with an acrylic clear base and black wire boy. It is perfect for small animals such as rats and mice.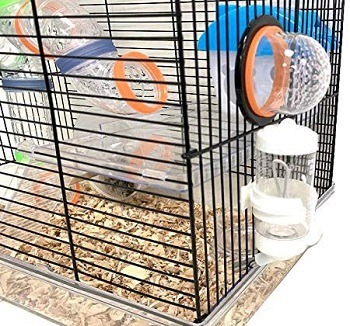 The Size And What Includes
This cage measures 19 x 12 x 15″. It is small and lightweight. It comes as a safe environment for the rats. It features tubes and tunnels. There is a small hide house included too. It can be expanded with other accessories.
The Tray And Cleaning
This cool rat cage is very simple to clean. It comes with a transparent deep tray. It allows you to see the inside of the cage and all of the rat's activities. Make sure to maintain the cage clean.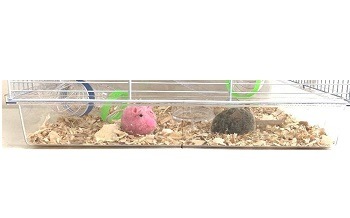 Useful Details
This small cage can be used for breeding rats or pet rats. You can have it at home as well. It comes with the front access door (5.5 x 5.5"). There are horizontal and vertical bars for rat's exercise. The space between the bars is 3/8.
In Short:
small and lightweight cage
can be used for home and lab rats
it is a safe environment
includes tubes and tunnels
it is a fun and cool rat cage
BEST LAB RAT BREEDING CAGE
Rodent Lab Rat Breeding Cage
Large Research Cage
The Rodent lab rat cage is here for the breeding rats. The package includes one cage. This is an ideal cage for 2 rats. It is transparent and made of safe and unbreakable Polycarbonate.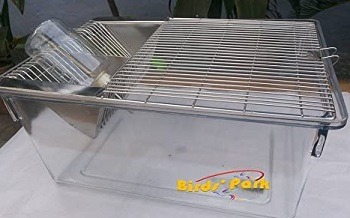 For Small Rats
This cage can be used for small rats or mice. It is a great breeding cage that is easy to maintain clean. You can easily access the cage to refill the water bottle or food dish. Make sure your rats feel safe in this cage.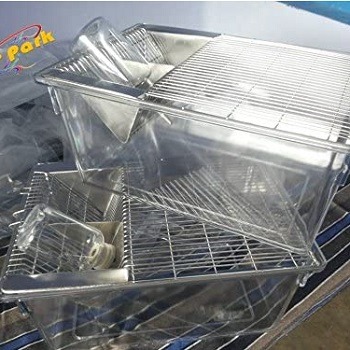 The Size And Material
Apart from the Polycarbonat, stainless steel is used for the grills. This rat breeding cage measures 421 L x 290 W x 190 H mm. The cage is safe, non-toxic, and the grills are chew-free.
In Short:
made for rats and mice
ideal for smaller-sized rats
it is transparent and unbreakable
it is made of stainless steel and Polycarbonate
the cage is easy to clean
BEST TALL RAT BREEDING CAGE
YML Tall Cage For Breeding
The Package
The YML tall breeding rat cages are here to make your breeding easier. They are made for birds but can fit mice, rats, ferrets, etc. The YML package consists of three YML cages of X-Large size.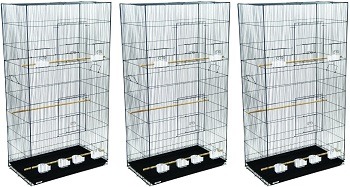 The YML Tall Design
These tall cages measure 30 x 18 x 55 inches each and weigh 21.5 pounds. The space between the bars is half an inch which makes them great for small rats as well. There are 2 front access doors for easy cleaning or feeding.
How To Maintain This Cage?
Apart from the 2 large access front doors that allow you to access the cage with ease, there is a plastic pull-out tray included as well. It allows you to clean the litter whenever it is necessary.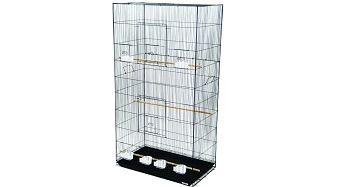 Add Rat Accessories
These rat enclosures include perches for the birds. However, if you are using this cage for your rats, you can simply add rat cage decorations such as wheels, tubes, tunnels, or attach the hanging hammocks to the perches. There is enough space for rats to stay active.
In Short:
the package includes three cages
the cages are of X-Large size
provides a lot of vertical space
comes with narrow bar spacing
sturdy and durable rat breeding cage
BEST TRAVEL RAT BREEDING CAGE
Prevue Breeder Rat Cage Easy To Carry
Compact And Perfect For Traveling
This rat breeding cage is ideal to use for transportation. It fits small animals such as rats, mice, or small birds. It can also be used for aero-travels. It is a sturdy and durable cage that is completely chew-proof and made of non-toxic material.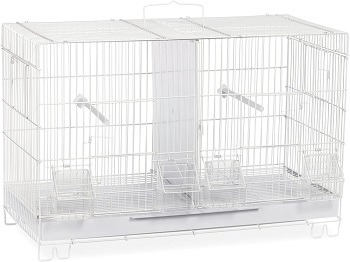 Stack More Cages
This Prevue rat travel cage is stackable. There are unique feet included in each cage that allow you to stack up to 4 units. Each Prevue cage fits 2 or more small rats. It can be securely locked.
What Does Prevue Cage Include?
Since this Prevue cage can be used for birds and small animals in general, there is a plastic perch included on each side of the cage. Moreover, there are two plastic feeder cups included as well. Add the water bottle.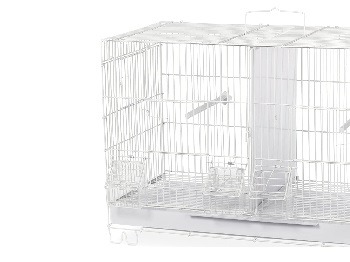 The Dimensions And Price
This cage is 23-1/4-inch long, 10-1/2-inch wide,  and 14-inch high. It comes with 1/2-inch wire spacing which allows you to put small rats inside of the cage. The price is pretty affordable for anyone.
In Short:
use the Prevue as a rat travel cage
stack up to 4 cages
this cage is compact and small
the price of this cage is affordable
it is sturdy and long-lasting
BEST FOR TWO RAT BREEDING CAGE
Yaheetech Rat Cage Breeding
The Divided Design
The Yaheetech rat breeding cage is another cage that is primarily made for birds, although it can be used for other small animals. The grate divides this into two individual cages. Each side of the cage fits 2 or more rats.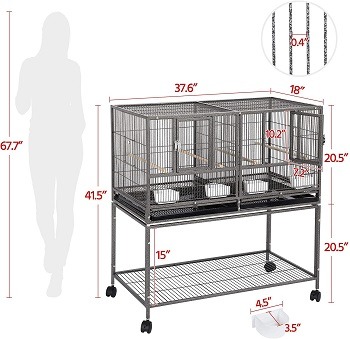 What Does Yaheetech Come With?
This cage includes 2 perches, 2 feeders, a pull-out tray for easier cleaning, a grate, and a lockable front door. It provides enough space for you to add more rat accessories. There is a storage shelf under the cage.
Sturdy And Non-Toxic
The cage is made of sturdy and durable metal. It is completely chew-proof. The iron used for construction is non-toxic. This wire rat cage comes with narrow bar spacing and is ideal for medium to larger-sized rats.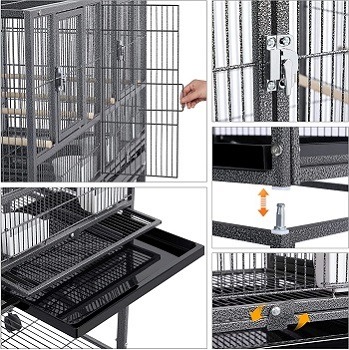 Waterproof And Easy To Clean
This Yaheetech cage is finished with a waterproof metal coat. It can be used in a humid environment as well. To clean it, pull out the tray and clean it. Also, pull the grat out at the bottom and prevent your rats to escape.
In Short:
this cage comes with a divided design
each side of the cage fits 2 rats
it is made of sturdy metal and iron
the cage is waterproof and chew-proof
it can be securely locked
BEST CHEAP RAT BREEDING CAGE
You & Me Breeding Cage
Breeding And Flight Cage
This cage by You & Me is designed to be a small rats breeding cage. Also, it is perfect for transportation and travel. Moreover, the cage can be used for other small animals such as smaller-sized birds, mice, or ferrets.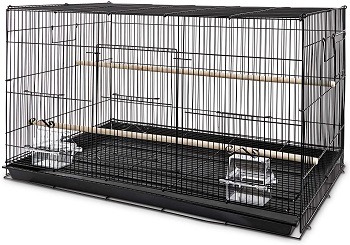 The Price And Dimensions
The price of this cage is very affordable. It is an ideal cage if your budget is limited. The reason for that is its small size. This small rat cage for breeding measures 30 x 18 x 18 inches. The cage weighs 11.4 pounds.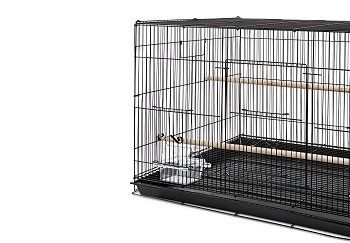 How To Clean This Cage?
Simply open the access doors and clean this rat breeding cage with a humid cloth, or warm water. It is very easy to maintain and to refill the water bottle and the food dish. Your rat will feel safe and comfortable in this cage.
In Short:
made for small animals' transport
ideal for breeding rats
the price of this unit is cheap
the cage is small and compact
clean it with a humid cloth
use warm water to maintain the cage clean
How To Pick: Rat Breeding Cage
If you are looking for a rat breeding cage, but still don't know which one you should buy, then hopefully our small guide will help. First of all, think about how much you are going to need such a cage and buy accordingly. Your cage must be made of sturdy material, it should be waterproof, and must provide enough space for your rat. Read more about these features.
The Sturdy Iron And Metal – To be sure your little rat is safe, get it a rat cage for breeding that is made of sturdy and long-lasting material. An iron or metal cage is perfect. Make sure it is non-toxic and chew-free and you are good to go.
Resistant To Water– In our opinion, waterproof or water-resistant cages are more durable. They are anti-rust and will last you longer. Don't miss on this feature if you plan on positioning your cage in a humid environment or outdoors.
Easy To Access – The more access doors the better. Also, it is great if your door is large. It will make the access easier and you will get to clean the inside of the cage without hassle. Moreover, it will be easy to refill bottles or add more food.
Spacious And Safe – Rats are active animals. They like to climb, run, and jump. A spacious cage is a must. Even if you think about buying a small rat cage, you must make sure your rat has at least some space for activities. Otherwise, we suggest buying a tall rat cage.
Where To Buy? – Check out the rat breeding cages for sale online. Make sure to buy such items from a reliable manufacturer. See the availability of the listed breeding cages on the Amazon website. We find Amazon the most trustworthy online retailer.
To Sum Up
To conclude, we would like to say that, in our opinion, the Mcage Rat Cage is a very good rat cage. We liked the fact that the rat breeding cage is divided and has a lot of space. Also, it is safe and sturdy. For more similar models, we suggest you check our article about the multi-level rat cages. But, if you want someting different, check out our post about wooden rat cages!