Do you have a pet rat that you want to get the best possible pet rat cage but can't seem to find or decide on one?
We'll make sure you check out all of the possible types and decide on one on your own if keep on reading this article. What we did was chose one cage from each category and reviewed them. We did that plenty of times so there's a large variety of cages to choose from like wire, wooden, and plenty of others.
The Summary
How To Define Rat Cage?
A cage for rats is a type of cage that has all the necessary characteristics that allow rats to be kept as pets in the house. Cages are made as functional habitats in which rat will spend their lifetime.
What Is The Difference Between Cage And Enclosure
There is actually no big difference. Both cage and enclosure are types of models used for a short or a long period of time. They're are fully closed on all sides which provides safety. Mostly you will find the term cage for small house pets and enclosure for large animals that live outside.
Are All Cages Suitable For Rats?
No, there is a big difference between cages for rats and other similar pets. The main difference is definitely the size of the cage. For example, you can't place the rats in the hamster cage. Rats grom much larger than hamsters and need more space for moving. Also, rats can't fit in wheels, hideouts, and other accessories for hamsters. Rats can easily climb on the wires so the cages with open tops are not a good choice.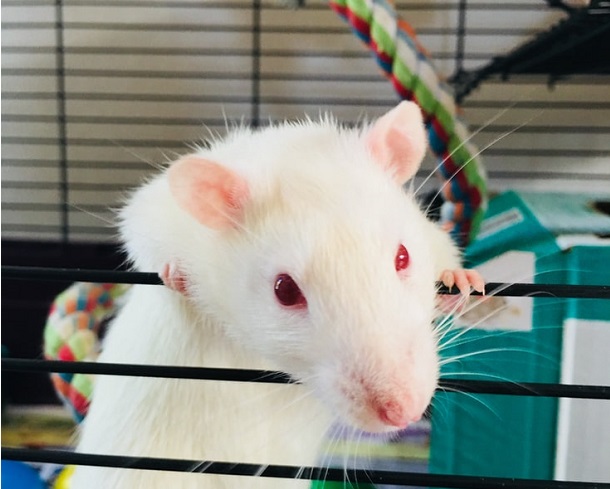 Types Of Cages For Rats
On the market, you can find different types of cages for rats. We listed the most popular ones down below.
Metal Cage
This cage has a metal construction with a wire mesh system and it is one of the most popular models for rats because of its durability and functionality.
Plastic Cage
If you're looking for a cheap cage for rats, pick a plastic model. They're very easy to maintain. Plastic models usually come in a combination with wires.

Wooden Cage
If you love natural material, you can choose a wooden cage with wires for your rat. Wooden cages easily match with the furniture in the room.
Cage With Wheels
If you need a portable model, you can pick any type of cage with rolling wheels. Wheels allow you easily move the cage from side to side when you need to clean the bottom surface.
One Level Cage
It includes all the cages that don't have shelves with ramps. One-level cages can have a wide surface for different activities.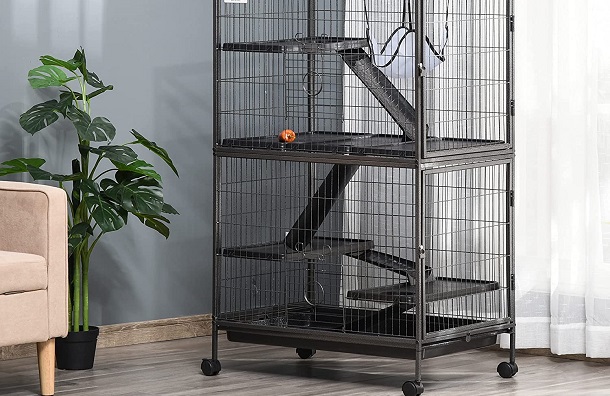 Multilevel Cage
Multilevel cages include all cages with 2 or more levels. They can go from 2 to 6 levels depending on how tall the cage is. Multilevel cages are a perfect choice if you're planning to have more than 2 rats.
Top Benefits Having Cage For Rats
You're not sure why you need to buy a cage for your rats? Do you think they're not that useful? Read how beneficial having a cage can be.
Safe Habitat
You're having a cat, dog, or other home pet roaming freely around the house? To avoid any possible accidents and fights, palace the rats in the cage. The rats will be safe in their habitat while you're not at home.
Keep Rat Active
Do you want to keep your rat active but they can't stay long outside of the cage? There is a solution for that. Buy a large cage with a multilevel design so the rats can go upside down and have fun in their new habitat. Also, add some activity toys like wheels and ropes which your rat love to use every day.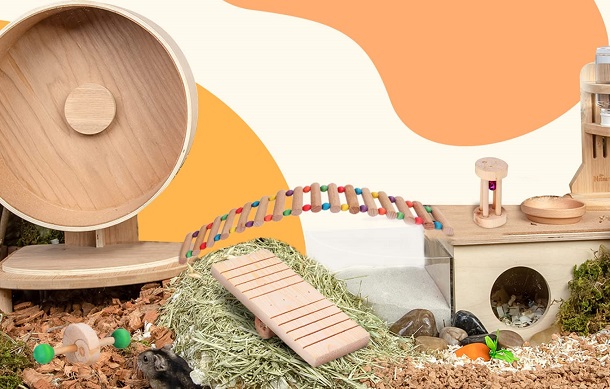 Customize Rat's Habitat
Do you know you can make a cage look like their natural habitat and customize it which will positively affect their mental and psychical health? So how can you do it? By customizing their habitat Add different types of accessories like hammocks, tubes, hideouts, shelves, and platforms which will keep them active and entertained. Also, so they can have a more natural habitat, add bedding made of natural materials which they can use for exploring, hiding and nesting.
Shorter Cleaning Time
You're tired of constantly cleaning the mess from uneaten food? Is your rat constantly pooping and peeing everywhere? Having a cage with a leakproof bottom will save you time with cleaning. You can also teach your rat to use litter that can be easily cleaned every day. Not that only the house will be cleaner, there won't be bad odors around.
Easy Traveling
Do you want to take a rat with you when you're going on a trip? Or place him somewhere when you're visiting a veterinarian? By having a portable or travel you can be sure your rat is safe when traveling with you.
Use It For Breeding
If you decide you want to have more rats, you can use a cage for breeding to place the female and male rats together for 7 to 10 days. After the newborn rats are born, they need to have a quiet place for privacy.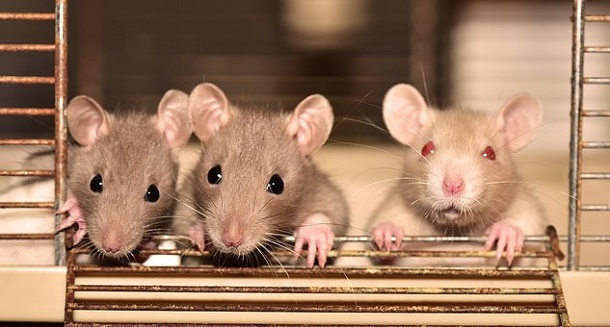 Buyer Guide: How To Pick Best Pet Rat Cage?
Before choosing which type of model you want to have for your rats, we recommend reading all the features and specifications that we listed down below. This list will help you find out the differences between each model on the market.
Type Of Material
Which type of materials you'll pick depends on the shape and size of the cage as well as your preferences. Most of the models combine wire meshes with metal, plastic, or wood. Only portable models can be made of canvas material.
Size Of Cage
The size of the cage for rats depends on how many rats you have and how big is the space you're planning to place. Approximately, one rat needs around 2 cubic feet for moving, so we recommend buying a cage that is not smaller than 15 inches, except if you're buying a travel cage. Before buying a cage read the measurement in additional information.
Purpose Of The Cage
When choosing a cage for a rat you need to know for which purpose you need to buy it. If you need an indoor model you can pick a static or portable cage with one or more levels. If you're looking for a cage that can be easily held when traveling, buy a travel cage. Also, if you need a cage for litter, you will pick a breeding cage.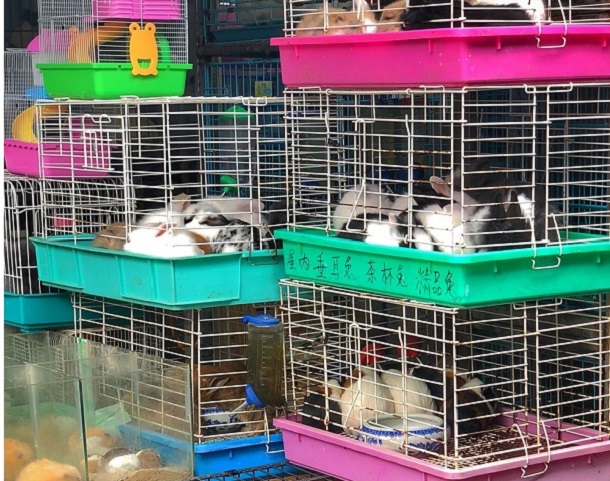 Great Air Ventilation
The cage that you're picking needs to have great air ventilation so your rat's body temperature doesn't go high, especially during summertime. We recommend choosing a model with wires on all sides. If you're buying a travel cage, make sure there are few vent holes on opposite sides for circulation.
Shape And Color
Most of the cages come in a square or rectangle shape. Some of them, like corner models, can have a rounded front side. There are a variety of color combinations on the market, you can pick, a white or black one if you're like something simple, or 2 color combinations, like pink and white, purple and green, red and black. Also, traveling cages have different colorful patterns.
Easy Access
Having easy access to the cage allows you to easily take your rat, play with him, reach every corner to clean the dust, and do the maintenance much quicker. Smaller cages usually have one opening on the side or top. If you're buying a bigger cage, there need to be at least 2 door openings, preferably with full-width doors.
How To Set The Rat Cage In Few Steps
Setting the cage for rats is not hard, but you'll need to follow the instructions which come in the box. Instructions are detailed and include pictures that you cal easily follow. The approximate time for setup is from 15 to 30 depending on the size of the cage and included parts.
Which Models Require Tools?
Only cages that have parts that need to be screwed such as metal and wooden cages require tools. Also, models with metal locks need to be secure with screws. Other cages, like wire models, have a detachable system. You'll only need to connect the sides, including decoration and accessories and the bottom. Portable models with zippers don't require tools.
Which Tools You'll Need?
If the cage requires to assemble, you'll need a screwdriver or for a quicker job, use a power drill. Other tools are not required.
Steps For Setup
By following these steps you can quickly set a cage for your rat:
Place all parts on the floor and check if everything cam in the box
Start with a frame and sides of the cage
Secure sides and palace top and bottom, use tools if needed
Check if the frame is stable when you place it on legs or wheels
Add accessories that go inside the cage, attack shelves, and ramps
Place hammock on the top, feeding set on the side, and litter at the bottom
Test door opening and closing and stability of all the accessories
Place the cage next to the wall for maximum safety
Best 12 Rat Cages
Ferplast 2 Story Cage
The recommended size of cage for two rats is 28-in in length, 14-in width, and 17-in in height. It doesn't hurt to go bigger either so this cage is perfect for them since it's 29.5-in long, 31.5-in wide, and 63.4-in tall. Keep in mind that it also has a second level so its space is efficiently used.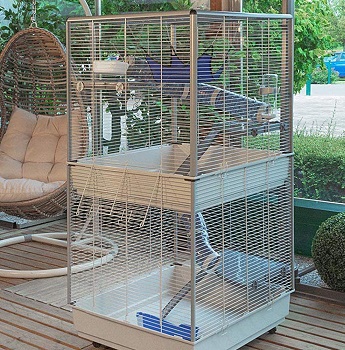 The two levels both have deep plastic bases. Other than that, it's made with metal tubes and wire with a spacing of around 1/2-3/4-in which is safe for rats. it comes with 3 elevated areas, 2 ramps, a tube, a water bottle, and even a hammock for resting.
Ware Manufacturing Chew Proof
Rats are known to chew on things so it's great that this cage is made fully out of wire except for its metal sheet base at the bottom. The wire is white powder coated and has 2 ramps and 3 additional elevated areas so it uses its height of 24-in much more efficiently.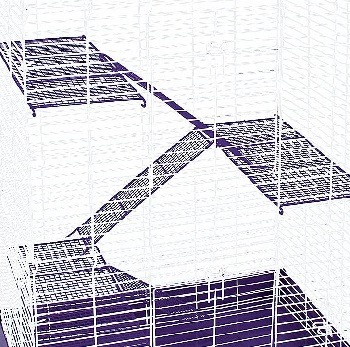 It's 12.75-in long and 17-in wide which makes it great for housing one rat only. It's fully chew-proof and features 2 doors with safety locks. The price ranges but starts from around 35 dollars.
Aleko Deluxe Fir Wood Cage
The materials used to make the cage are wood, acrylic material, and mesh. The acrylic material is used for the windows while wood is used to make the rest of the cage. it has a hexagonal shape with the back and front side being a lot longer. It features 3 levels, 3 hiding spots, and 3 access ramps.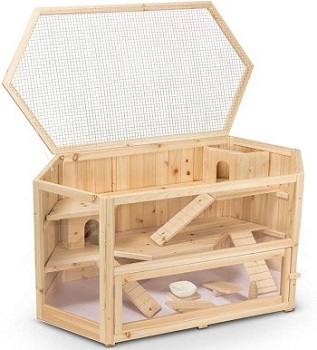 It's 44-in long, 24-in wide, and 23-in tall, making it suitable for housing two rats. The top is where your rats will get ventilation inside the cage since it's made out of mesh. The wood used to make it is fir wood.
Petco Brand You&Me Cage
The product features an elevated area and comes equipped with a water bottle and a food bowl made out of plastic. The cage is 19-in long, 9.5-in wide, and 11-in tall at its highest point and fits on 20 x 10 tanks.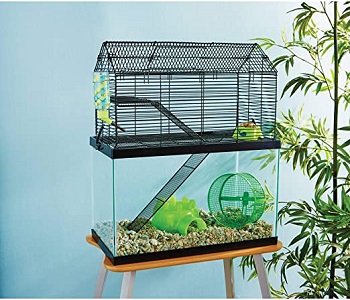 The cage acts as a topper for a tank that has a 10-gallon capacity. The top is made out of wire and has a house rooftop shape. This is also where the entrance to the cage is found. It has a wire bottom floor so make sure you get some bedding for the bottom.
Vivohome 37 Inch Small Animal Cage
The metal used to make it is low carbon steel which makes it more durable but prone to rusting. The easy fix to that solution is the black powder coat finish that protects it from rust and corrosion. It's 24-in long, 16.5-in wide, and 36.6-in tall. this suggests that it can house two rats. What also suggests it is that it has 4 tiers.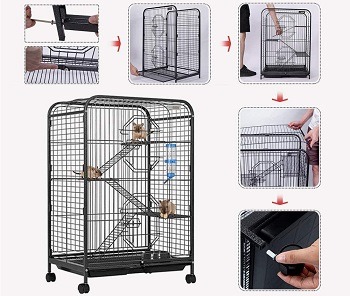 the 4 tiers are accessible through 3 wire ramps that come with it. The wire spacing isn't specified but it's too big for small or medium rats so a fully grown male rat will do just fine inside it.
Mcage Rat Habitat Cage
For rat breeding, all you need to have is a big enough cage to house two rats. This cage is 23-in long, 12-in wide, and 16-in tall which means that it's, give or take, of the right size for housing 2 rats.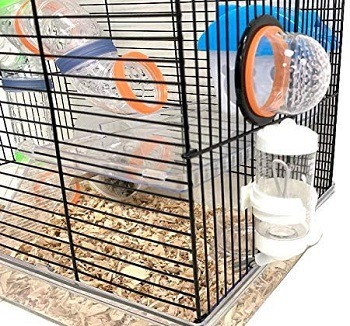 It has a clear acrylic base so you can check up on your rats at all times and has a wire top with a 3/8-in wire spacing which makes it suitable for smaller rats as well. It has a large tube tunnel, a running wheel, and a clear second level and ramp. The tube tunnel is 2.36-in wide.
Midwest Deluxe Critter Nation
Since rats have small and sensitive feet, it's recommended that the flooring of the cage isn't made out of wire. The bottom of this cage is covered with a plastic cleaning tray and the second level is also made out of plastic as well as the ramp to access it.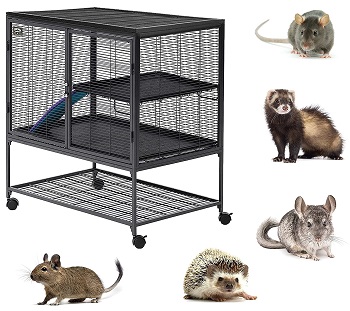 The rest of the cage is made out of metal tubes and wire and coated with a hammertone finish that makes it rust and corrosion-resistant. It sits on a stand with wheels and a storage wire grid and features a double entrance so you can easily clean it easily.
Kaytee Take Me Travel Carrier
You want to make sure that there's enough air coming through into the cage and this is achieved by this cage's wire top. It's small-sized which is optimal for 1-2 rats. Its advantage is that is lighweight so it's functional for travel.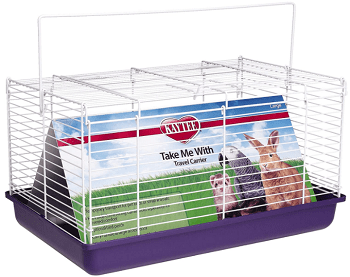 It has a small plastic base that's colored purple and the wire spacing is 0.5-in which makes it safe for smaller and bigger rats. It comes with a wire handle so you can easily carry it around and it's 16.5-in long, 10.2-in wide, and 9.25-in tall, perfect for short trips.
Ferplast Rat Habitat Cage
What's interesting about this cage is the fact that it features a wooden frame, and accessories like a hideout, 3 levels, and 3 ramps. It also comes with a plastic bowl and a water bottle but the sides are made out of wire. It features a plastic bottom on the inside but on the outside, it's wooden as well.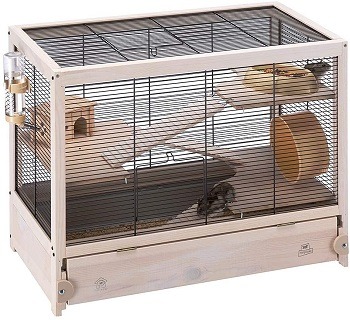 it's 23.6-in long 13.4-in wide, and 19.3-in tall which would make it suitable for two rats but it's always best to get a bigger cage for one rat. The plastic base is removable from the front and it features 2 cage entrances.
Little Friends Plaza Tall Cage
With rats, it's always best to go wide and tall. This cage for rats is around 31-in tall and 31-in wide. It's also 19-in long. Although it saves space by being tall, it might take away since it's equally wide.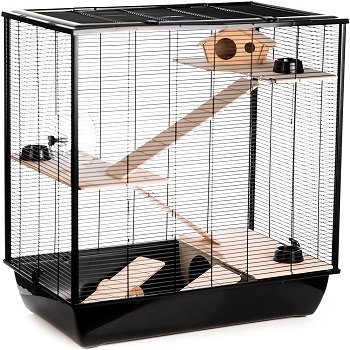 It comes with a hideout and an elevated area for that hideout, another hideout, 2 more levels, and the ramps to access them all made out of wood. It has a plastic base bottom, and the rest is wire. it also comes with 3 plastic bowls and t can easily house 2 rats comfortably.
Mcage 3 Level Cage
The cage is fully made out of wire and that includes the 2 ramps that lead to the two additional levels. Below the wire bottom, you'll find a plastic cleaning slide-out tray. It has 2 entrances in the front and at the top, you'll find a wire hook on the left and right sides for ease of transport.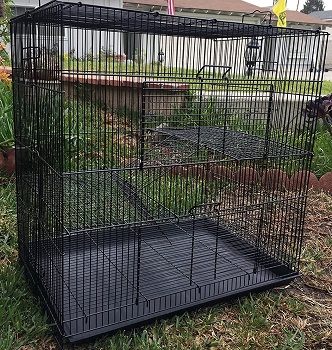 It has a 3/8-in wire spacing which makes it suitable for housing smaller rats. it's 30-in wide, 18-in long, and 24-in tall so it can house two mating rats.
U-Max Indoor Outdoor Hutch
There's plenty of space in this cage for your rats to get their daily exercise since the bottom part is a run area and it has a covered 2nd level that's accessible through a ramp. It has an asphalt roof which makes it suitable for outdoor use.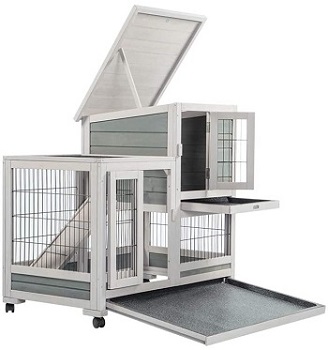 The bottom of the cage is covered with a plastic liner which is great since it will behave better when it gets into contact with rat litter. It's made with pine wood primarily and has some wire bits. It's around 37-in wide, 24-in long, and 33.5-in tall.
Prevue Pet Rat Enclosure
Use It Outside And Inside
It is made of anti-rust material and can withstand different temperatures. The cage is sturdy and there is no fear that your rat will get to leave it. The bar spacing is small enough. The wheels are inlcuded which ensures mobility.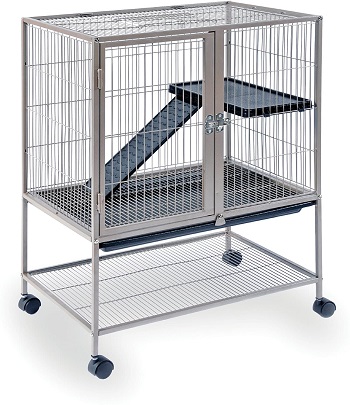 What Does The Cage Include?
The cage will include a ladder and one plastic ramp. There is one large access door in the front. Also, the cage includes a shelf for storing your rat's food or toys. The assembly is easy and fast and the manual with instructions will guide you.
You & Me Cage
Made Of Safe Material
The You & Me pet rat enclosure is made of easily-washable and study wire. This means that it is chew-proof and coated in stain-resistant powder finish. The multi-level design comes with a metal base. It is leak-free and lasts a very long time.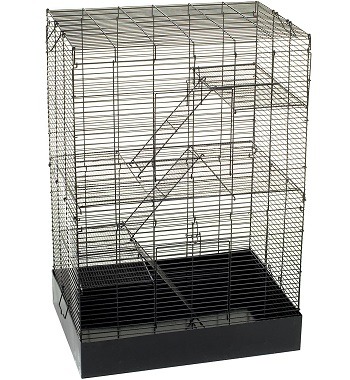 Multi-Level And Spacious
There are multiple levels inside of this cage. The cage is spacious and large. It provides a lot of space for your pet rat to play in. If your rat is curious and active, it will love this cage. You can add the extra toys, ramps, or wheels so it can play even more.
Safety Features To Consider When Buying Cage
Not all cages are the best choice for rats. Before buying a model make sure to read which are the most important features to check before picking a cage.
Sturdy Model
The cage needs to have a sturdy construction and anti-rust protection if it's made of iron. Included accessories like shelves and ramps need to be stable and sturdy so you can be sure your rat won't fall off because they break into 2 pieces.
Non-Toxic Label
Plastic cages need to have a label BPA-free so you can be sure it is not toxic for rats. Also, if you're buying a cage that is painted, you need to choose one that has a label it's painted with special paint without chemicals.
Lock System
If the cage is portable wheels need to be sturdy and have a lock system to prevent any wobbling or moving which can be very dangerous and the cage can easily fall down on the ground. Doors need to have a security lock which is made of plastic or metal, so the rats can't easily open them.
Space Bar
The wire space bar needs to be up to 0.3 inches for young rats and 0.5 inches for adult rats. Why is it important? If the space between wires is too wide can easily be stuck in between and injured themself. Or even worse, they can escape out of the cage.
Anti Slip Surface
No matter which type of cage you're buying all the surfaces including the bottom, tray, shelves, and ramps need to be made of anti-slip material. If the surface is slippery, some cages come with covers or you can buy them from the manufacturer.
Smooth Edges
Don't use a cage that has a sharp edge on which rats can easily get stuck and injured themselves. Edges need to be smooth and preferably rounded for maximum safety.
Toys Safe For Use
Not all the toys are suitable for rats, only those from reliable brands like Pawchie, Lixit, Savic, Kaytee, etc. Toys need to be made of sturdy material so the rat can't chew it and swallow it. We recommend choosing only toys made of natural materials like aspen or pine wood.
How Do You Make A Cage Completely Escape-Proof?
Firstly, you need to make sure there are no gaps from where the rat can escape. If there are gaps more than 1 inch, rats can easily go out of the cage. To prevent that, you can use a hardware cloth and secure all the gaps for safety. Don't forget the gaps between the bottom tray and wire mesh net which usually have a lot of space to escape.
Doors need to have metal locks that rats can't chew and easily open. Also, don't forget to keep them close all day. Check if the wires are not damaged somewhere because rats will easily find gaps to escape.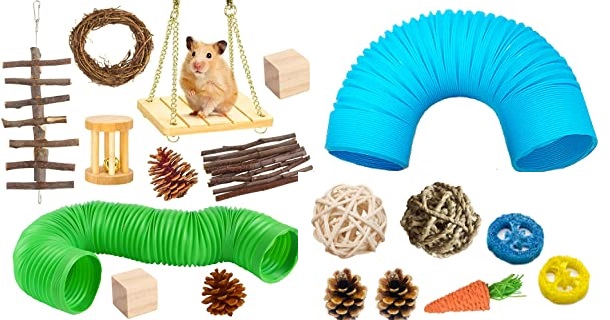 Which Basic Accessories Rat Need In His New Habitat?
Do you know which accessories are necessary to have inside the rat's cage and which ones are recommended but rats can live without them? Check all of them down below.
Necessary Accessories For Cage
We recommend adding some shelter or hiding place such as a hideout. Make sure rats have a feeding bowl and water bottle so they don't stay hungry or thirsty while you're away. Also, place the litter box for easier maintenance and cleaning.
Additional Accessories For Cage
If the cage doesn't have enough platforms, you can buy more of them separately and customize the enclosure. You can add covers on platforms and ramps for more comfort while rats are walking or sleeping. You can add some toys for playing with such as balls, ropes, hammocks, tubes, and slides. Those accessories will keep rat active and entertain during the day and night. So your rat can hide and have privacy, you can add a hideout or small house.
Do Rats Need Wheels?
Wheels are not necessary but it is one of the best accessories if you're looking for something that will keep your rat active. Wheels are one of my favorite toys for running. Keep in mind that some wheels can be loud which can disturb you at night.
Do Pet Rats Need Bedding?
If you want to have odor control, and your rat doesn't use a litter box for the toilet, you can buy bedding for a cage. Bedding with great absorption has odor control and can be easily cleaned. Also, rats can use bedding for playing, rowing and nesting.
How To Maintenance The Cage For Rats?
To keep the cage clean and without any bad odors around the house, it is important to choose a cage that can be easily cleaned. What does it mean? You need to be able to reach every corner of the cage to move uneaten food, dust, and poop. Also, choose a model that has an easy washing surface to save yourself time with maintenance.
What To Use For Cleaning?
Models with plastic shelves and trays can be clean with a damp cloth. If there are more stains use soap and water, and make sure you move all the soap from it. For wooden surfaces you need to avoid using a damp cloth, only dry one to not damage the wood. Also, you can use a fluffy brush to move the dust. Pads and bedding can be clan by hands or placed in the washing machine at 30 Celcius degrees.
Which Models Clean Easier Than Other Ones?
Cages that have plastic or metal surfaces clean much easier than other ones. Why? Most metal and plastic surfaces are stain resistant which means you'll easily remove all of them. Wooden cages are hard to clean, and it won't be possible to remove the stain from the urine or poop if the rat didn't use the litter. Luckily, most of the wooden cages have a large metal tray. Also, wire models with wire mesh bottom can sometimes be hard to clean, because food or poop can stuck between and you'll need to remove the whole bottom to clean it.
How Often You Need To Clean The Cage?
It is recommended to clean the cage at least once a week, especially if you don't have bedding for odor control. If you're having multiple rats we recommend cleaning it 2 a week.
Additional Maintenance Tips
Most of the cages have a leakproof bottom tray that can be pulled out. This will definitely save you time with cleaning. For easier maintenance, we recommend buying bedding that has odor control and can be quickly cleaned when you notice wet spots.
Besides cleaning, certain cages for rats require maintenance such as painting and greasing for durability and ease of use. It is recommended to paint the wires and metal frame every 2-3 years if the cage is indoor. Also, we recommend using the protective wood paint to keep it intact for longer, recommended every 2 years or sooner if you notice some parts have been damaged.
If you notice that some parts are creaking such as access doors, they need to be greased once in a while. If the wheels get stuck and do not want to turn around, they need to be cleaned. Usually, they get tangled due to hair which can be easily removed by the hand.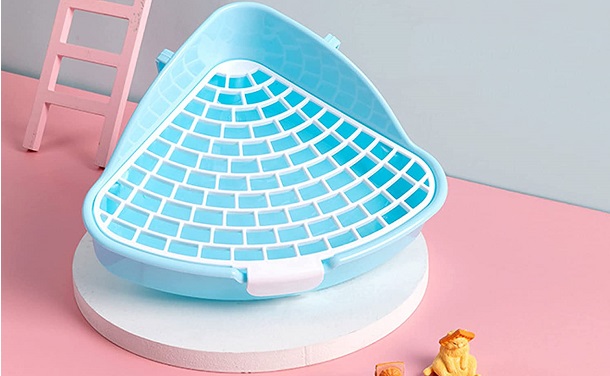 How To Prevent It From Smelling?
So your rat can always have a clean and fresh cage and there won't be a bad odor in the house, we recommend using these tips:
Use bedding with a great absorption feature.
Clean the cage more often.
Check the nesting boxes which can easily get stinky.
Spot-clean daily to remove bad odor.
Minimize the amount of cardboard, paper, and paper towels which are great for shredding but are not absorbent and the cage can quickly become smelly.
If the cage has a plastic tray at the bottom, you need to clean it more often than wire cages.
Make sure to remove uneaten food every day as well as droppings.
Remove rat bedding, dishes toys, and water bottles once a week and take the cage outside. Rinse the cage and spray it with chlorine dioxide, wait to soak for 15 minutes.
Clean water bottle and food dish every day with soapy water, once a week you can use the dishwasher for disinfection.
Keep the cage ventilated to decrease odors from feces and urine.
Check the temperature and humidity level of the room, the temperature needs to be from 64 to 79 degrees and humidity at least 30 percent.
Don't place the cage where the sun hit directly through the window, this can increase temperature and humidity which will affect odor.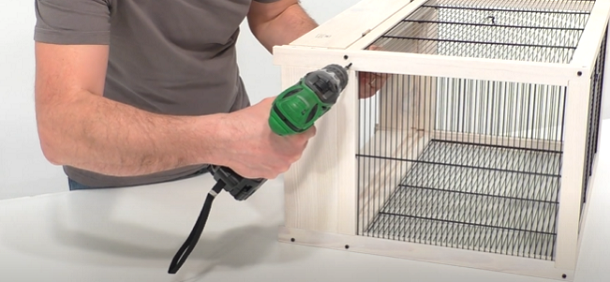 DIY Cage For Rats
Believe it or not, it is possible to make a cage on your own. This option is great if you can't find a suitable cage for your rat or you can't afford it. We're giving you instructions on how to make a cage with a few dollars.
How To Make Cheap Cage
Do you decide you want to make a cheap cage for your single rat? Great, here is how can you do it.
Step 1. Use a closet rack, plastic container, or basket that can be found in the nearest store for a few dollars, or use an old one from your home.
Step 2. So the rat can have great air ventilation you will need a wire mesh. Use the chicken wire with a small space bar which can be found in the nearest store.
Step 3. Cut the piece of plastic on all sides and make windows. Place the wire mesh inside and glue it or use screws. Check if there are no gaps otherwise rats will easily escape
Why DIY Cages Is a Good Option?
The main reason why DIY cages for rats can be a great option is to save money. Some of the cages can be really expensive, so making a cage on your own can be a great temporary solution. Also, you can use some of the materials from your home which you'll probably throw in the bin.
Can You Use Bin Cage For Rats?
Bin cages are a great way to use them for a DIY cage for rats. They are easy to clean, customize, and lightweight for moving. Bins are not expensive so if you don't have another option to make the cage, bins will work perfectly.
Can You Keep A Rat In an Aquarium?
It is not recommended to keep rats in aquariums for different reasons. Aquariums are made of glass which is not suitable for rats cause they can easily get hurt if the glass break. Aquariums don't have great ventilation, they provide air only from the top which is not enough for optimal rat temperature and odor control. Aquariums are not easy to clean because of access and don't allow to place additional accessories inside which can be attached.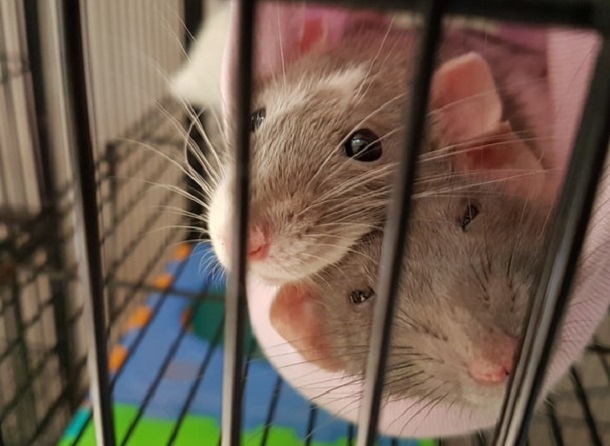 FAQ For New Rat Owners
You can find all frequently asked questions and answers for rat owners down below.
Can Rats Live Alone?
Even some small animals successfully live alone in their cage, rats are not one of them. They are extremely social rodents and feel best when they are around fellow rats. If your rat lives alone for a long time it can be very stressful for them.
What Animals Can Rats Live With?
It is not recommended to mix the rats with other animals in a cage. They can only live with other rats because they can easily kill and eat other rodents like mice.
Is It Recommended To Leave The Rat Out Of The Cage?
Definitely yes. Rats are very social with their owners and other people as well with other rats. To keep them physically fit and mentally stimulated we recommend allowing them to be at least 1-2 hours out of the cage. They will explore around the house and you can use this time for playing and cuddling.
Are Rats Loud At Night?
Since rats are night animals, you can expect to hear them at night when they're active. Rats are fastly moving and you may hear noises while you're sleeping. We recommend not sleeping in the same room where the cage with the rat is.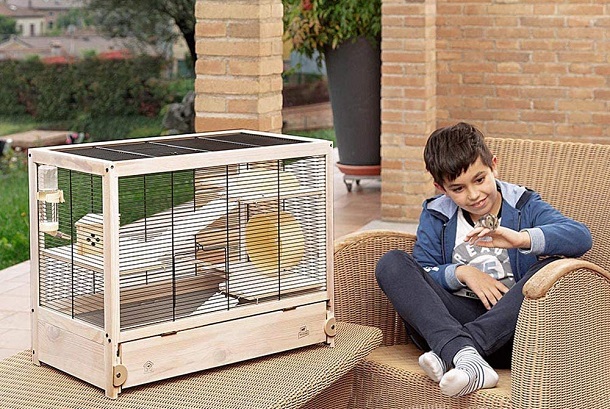 Where To Place A Cage?
Because the rats tend to be loud at night we recommend placing them in the living room if you want to monitor them all the time while you're at home. Some rat owners have a separate room for the rats if they don't like showing their pet to the visitor in their house.
Should The Cage Be Covered During Night?
There is no need to cover the cage during the night because rats are nocturnal and active when everyone's sleeping. You can cover the top of the cage only if you're using the room that needs to have a light on.
Are Ferret Cages Good Choice For Rats?
Yes, most of the ferret cages can be used for rats. Rats are a little bit smaller than ferrets and you can use any ferret cage bigger than 20 inches.
Can Rats Live Alone?
Rats won't die if they don't live in pairs, however they are very friendly and social so we recommend having 2 rats, especially if you can't spend much time with them.
Can Rats Easily Get Bored?
Because they're active creatures, they can easily get bored if they don't do anything. It is important to always keep them entertained. How can you do it? By customizing their enclosure with active and playful accessories as well as toys.