Are you in search of the best GPS pet collar?
In our article, we have prepared the six best reviews about the best of best, puppy, Bluetooth, and three other pet collar GPS trackers. Have a look at this post and find out if any of these models could be the right for you and your pet. Let our small guide help you with buying the best device.
The Summary
6 Best Pet GPS Collars And Attachments
BEST OF BEST GPS PET COLLAR
Tractive Trackable Pet Collar
Download The App
Before starting using this collar, download the app to your phone. It is supported by Android and iPhone smartphones. The app is here to help you track your pet's location. Moreover, this little device will help you understand your pet's feelings.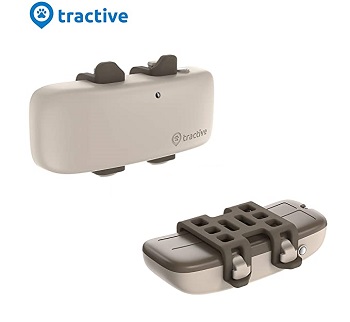 Geo-Fence Feature
This is one of the safety features that comes included within the device. It allows you to set the safe area through the app (an area that you find safe for your pet to move around). If your pet leaves the set zone, the app will alert you.
Works Worldwide
The Tractive GPS pet collar works both inside and outside the USA. So, if you need to go abroad, you can still take this GPS tracking collar with you to make you feel safe. Remember that not every device works outside the US borders.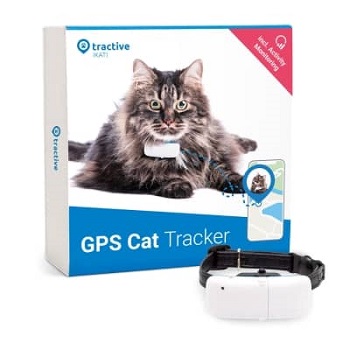 The General Overview
We can say that the Tractive collar is a 2 in 1 pet GPS chip. It will show you the exact location of your pet at any time and track its activity. It will make your pet healthier and happier and help you understand its behavior.
In Short:
a 2 in 1 pet tracker
pet collar GPS and activity monitor
download the Tractive app
use the app to set the Geo-fence
works outside the USA as well
helps your pet stay more active
BEST PUPPY PET COLLAR GPS TRACKER
Whistle 3 Collar For Pets
Small And Lightweight
The Whistle 3 tracking device attaches to the Whistle collar. It is very small and ideal for puppies or kittens. Your small pet will get to wear it comfortably. Whistle 3 is here to track your pet's everyday routine such as location or activity.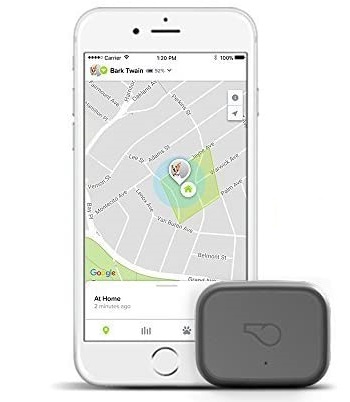 The Location Tracking Feature
Let your pet wear the Whistle 3 tracker all the time. It will make you feel safer and more relaxed. If your pet gets out of your sight, you will be able to track it down via the Whistle app. This pet tracking collar provides you with the accurate location of your little fur friend.
The Activity Monitoring
This device will track your pet's everyday movements, activity, and health status. You will know understand better your pet's needs and its behavior. You will know when it feels bad, sad, or unhappy. The Whistle 3 will help you change that.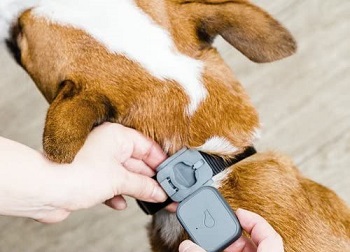 Long-Lasting And Affordable
When comparing this tracker's quality and price, we would say that it is pretty affordable and reliable. It features a durable battery. It is water-resistant so your pet can wear it outside as well. The device won't break or stop working easily.
In Short:
ideal for small pets
it tracks the location accurately
helps you track your pet's activity
comes with a durable battery
it is water-resistant
the price of the unit is affordable
BEST BLUETOOTH GPS TRACKING COLLAR
Link AKC GPS Collar
About Link AKC Collar
This Bluetooth pet tracker allows you to feel more relaxed about your pets. The collar connects with Bluetooth, WiFi, or GPS to track your pet in case it gets lost. It can be worn by small or large pets. The collar is adjustable. It pairs with the app.
The Link App
This smart dog collar GPS pairs with your smartphone through the Link app. You will need to subscribe and pay monthly fees for the collar to work and track properly. The app will locate your pet, help you log the vet's records, and many more.
Nationwide Use
Link AKC collar works as a GPS pet collar only within the USA. However, it is very accurate and it will help you locate your pet inside the USA very easily. If you need to go abroad, we suggest you microchip your pet with a pet tracker microchip.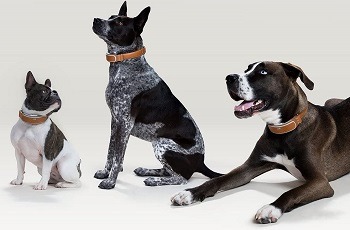 The Coolest Features
Apart from tracking the location of your pet, this collar will record your dearest walks. Moreover, there is an LED light on the collar that helps you see your pet when in the dark. Lastly, there is the environment temperature alert feature as well.
In Short:
this is a Bluetooth pet tracker
pairs with the app
requires monthly subscriptions
allows you to log the vet's records
works nationwide (in the US)
features LED light and temperature alert
BEST WATERPROOF PET TRACKING COLLAR
Ruimingt Pet Collar GPS
The Compact Design
The Ruimingt collar with GPS is a small, lightweight, and compact tracking device. Your pet will wear it with no problems and almost won't notice it is wearing it. This tracker will locate your pet anywhere it goes and you can track it on your smartphone.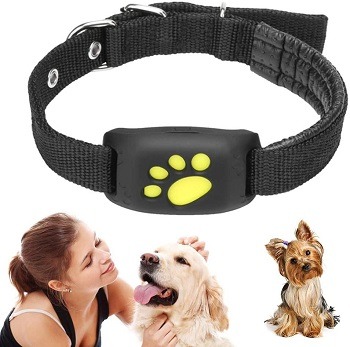 The Safety Features
This animal GPS collar has a few safety functions. It allows you to set the safe area and if your pet leaves it, you will get alerted. Moreover, there is a callback function. This means that if someone clicks the button on the collar, it will ring your phone number.
It Is Water-Resistant
Your pet will get to wear the collar in many different environments. Even if your pet wants to go running, playing, or walking in a humid environment, your collar won't stop working. The collar is long-lasting and durable. It is one of the best GPS collars among the waterproof ones.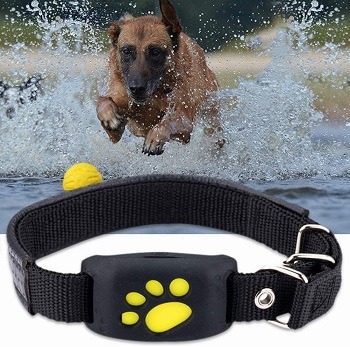 The Dimensions
The collar itself measures 5.51 x 4.72 x 1.18 inches and it weighs 5.29 ounces. This means that the collar is made for medium to larger-sized pets. It is durable and its battery will last long. This pet tracker chip has a long standby time, as well.
In Short:
made of medium-sized to large pets
it is waterproof and durable
has long standby time
allows you to set the safe area
comes with a callback function
BEST ACTIVITY GPS PET COLLAR
PetBiz G20 Animal GPS Collar
For Cats And Dogs
The PetBiz G20 model of a GPS pet tag is great both for cats and dogs. It attaches to their collars. Its small and compact size will allow your pets to wear the device with comfort. It is a pet collar GPS tracker that is made of high-quality and splash-proof materials.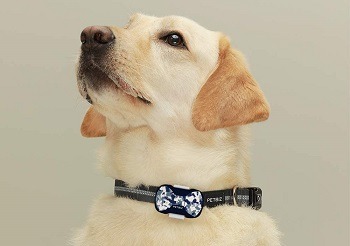 Nationwide GPS Locator
The PetBiz tracker for your pet works in the US. It uses NB-IoT technology. This means that this device covers about 20%-30% more areas than many other 3G devices. Also, there is a chance that PetBiz will locate your pet in some areas that other devices won't be able to.
Requires Subscription
In order for this tracker to work, you will need to subscribe and pay monthly fees. The fees are not expensive, and after all, most of the trackers require the same. Once you subscribe, you will be able to track your pet's location, activity, burnt calories, etc.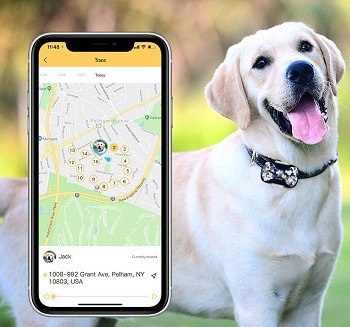 The Battery Life
The long-lasting battery is included. The battery lasts for almost a month. There is a proprietary algorithm included that will keep the PetBiz running for that long on a single charge. This is very convenient because you will know that you will have time to locate your pet easily.
In Short:
the battery lasts for up to 1 month
this is a location and activity tracker
PetBiz requires you to subscribe
locates better than most 3G trackers
ideal for cats and dogs
BEST LOCATOR PET COLLAR GPS TRACKER
Black+Decker Pet Finder Collar
Two-Way Communication
Imagine that your pet is able to answer your call in any way. That is actually possible. The Black+Decker collar is not only a GPS pet tracker but a remote communication collar as well. If you need your pet to be back, try calling the collar and tell it to come back home.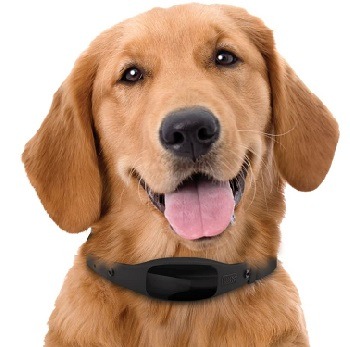 The Tag With Your Contact
The Black+Decker collar will help you to find your pet easily. However, there is a chance that it goes missing before you even notice. There is a small info tag on the collar that will contain your contact and if someone finds your pet, they will be able to call you.
Use The App
Don't forget that this collar pair with your smartphone as well. Simply download the app to your Android or iPhone and pair it with your collar. It will help you use all of the features. Also, there is the activity tracking function included as well.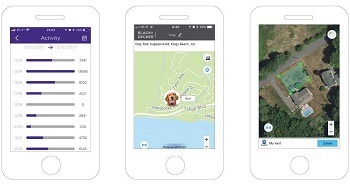 Water-Resistant And Precise
This collar will work even in a humid environment, or if splashed with water. In case it gets submerged in water, don't worry. It is waterproof up to 3 ft. It will still work precisely, accurately, and it will your favorite must-have pet gadget.
In Short:
includes a remote communication feature
comes with a small contact-information tag
pairs with the app on your smartphone
the collar is 3 feet submersible
functions well even when in a humid environment
How To Pick: Pet Collar GPS Trackers
Getting the best pet tracking collar may seem like an easy job. Of course, it is not difficult, but reading expert's advice may only help. Our guide comes with a few suggestions that will help you pick the right collar for your pet. Keep on reading and see why the dimensions, durable battery, and other features are so important.
The Tracker Dimensions – If you have a large pet, it may not seem so important that your GPS is small or lightweight. But if you have a smaller-sized pet, it may be crucial. Your dog or cat will probably wear the collar all the time, and getting it a proper sized one may only feel more comfortable.
The Battery And Quality – The material of the tracking device and the collar should be water-resistant, durable, and long-lasting. It should also protect the battery from getting wet. If you consider your collar would break easily, it is better to check out another one.
The App And Monthly Fees – Most of the GPS tracking collars will pair with the app on your smartphone. Some of them will require you to subscribe and pay for monthly fees, and some won't. Not paying for monthly fees doesn't mean the app is working less. Check out each app's features to see which one suits your needs.
Nationwide Or Worldwide? – If you want to be sure your pet is always going to be found, microchip it with a pet tracker microchip because some of the reviewed collar locators function only nationwide. If you are often abroad and sometimes you take your pet with you, make sure your collar works worldwide.
The Extra Functions – Some of the additional features are the Bluetooth pet tracker feature, the LED light that helps you see your pet in the dark. Also, there are one or two-way remote communication features, or the small tag or display on the collar with your name and contact information.
To Sum Up
All in all, there is one model that we consider the best and it is the Whistle pet collar. We like it because it is a 2 in 1 device and monitors your pet's health as well. For more similar models, read our post about the pet activity trackers. There are more pet GPS locators that we suggest checking out before you decide to buy.