Looking to find the best GPS and shock collar?
In our article, you will find the six best training shock collars, some of them with GPS. Check out the reviews to find out all you need to know about the best of best, waterproof, locator, and more models. See our buying guide and make sure to buy the right collar for you and your pet.
The Summary
6 Best GPS And Shock Collars
BEST OF BEST GPS SHOCK COLLAR
Garmin Shock Collar For Dogs
The Best Features
The Garmin collar comes with a quick turn dial on the handheld. There are positive clicks when changing between the simulation levels. There are 10 stimulation levels. Also, there are the controlling auxiliary functions. You can operate the handheld with one hand and without looking at it.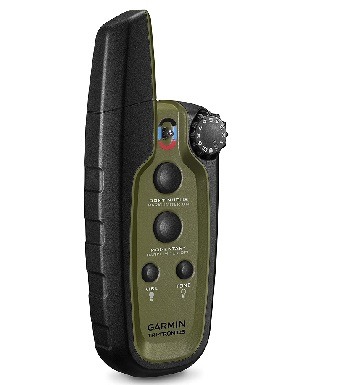 The Training Buttons
There are four training buttons. You can choose the continuous or momentary stimulation. There is a vibration or tone training mode that you can choose from as well. Use the buttons on the handheld to active the training mode you want to apply.
The LED Lights
The dog shock collar comes with an LED beacon lights. It will help you see your dog in low-light conditions or in the woods. Your dog will be visible up to 100 yards away. The radio-frequency is 27 MHz. This collar is of good quality and works accurately.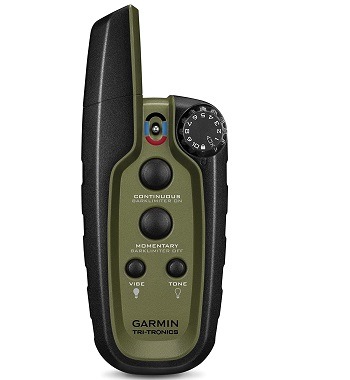 The Package
In the package, you will find the main device – shock collar, the Sport PRO handheld, the black collar strap made of polyurethane-coated nylon. There is an AC adapter and a split adapter cable. Moreover, you will get a charging cable and user manual.
In Short:
comes with a Sport Pro handheld
the battery lasts long
train with vibrations, tone, and stimulation
there are four training buttons
the range is 100 yards
comes with an LED beacon light
BEST WATERPROOF TRAINING COLLAR WITH GPS
iSpecle Collar With Shock
The Range
The iSpecke collar comes with a remote distance of up to 875 yards. It helps you train your dog easily and anywhere. Use it at home in your backyard, or somewhere else like in the park or the woods. The collar is waterproof and durable.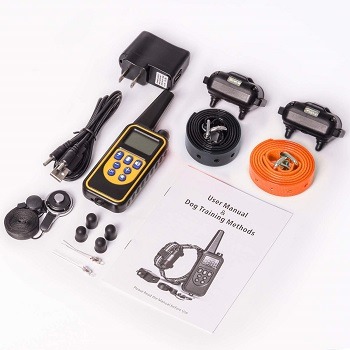 The Soft Touch-Points
This is not a training collar with GPS. It doesn't locate your dog, but it helps you to train it more easily. Feel free to use the collar in various water and dry activities. The receiver has soft-silicone touch-points, unlike many others that have metal ones.
Four Training Modes
The collar includes shock, vibration, sound, and LED light modes. The LED light will help you locate your dog in the dark, in fog, or at dusk. Choose the training mode according to your dog's weight, age, breed, etc. Please, make sure your dog is safe.
What Is Included
The package consists of a remote transmitter with two receivers. There are two dog shock collar belts. The user manual that is included will help you use the collar in the best and safest way. There is the charging cable included as well. This package is affordable.
In Short:
very affordable price
safe to use, if used properly
comes with a user manual
includes a charging cable
features 4 training modes
use it with water activities too
BEST TRAINING GPS SHOCK COLLAR
DogCare Training Shock Collar
Tree Training Systems
This DogCare collar with shock provides great, effective, and safe training for your dog. Teach your pet to behave well and make sure you choose the appropriate training mode. There is the vibration, shock, or beep mode.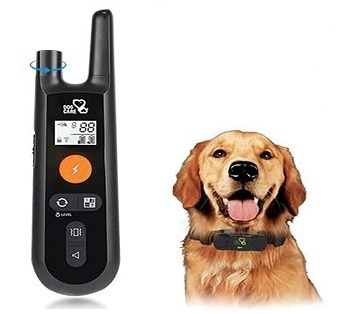 It Is Safe To Use
This collar will make sure there are no accidental shocks. If you have ever experienced a misoperation situation, you have probably felt sorry for your dog. This collar comes with a security keypad lock and you can carry the remote with you all the time.
Adjustable For All Dog Sizes
Choose the static level depending on your dog's breed, size, age, etc. Don't worry bout hurting your dog anymore. There are 0 – 99 static levels. So, adjust the accurate level for your dog and start with the trainings. It can be used for dogs from 15 to 100 lbs.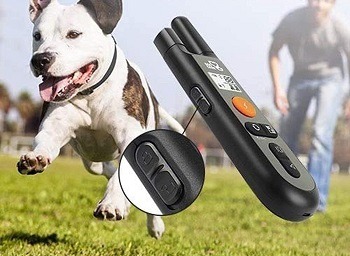 The Battery And Range
The range of this shock collar is up to 330 yards (remember, this is not a GPS shock collar, only training one). Thanks to its long-lasting battery, is going to be easy to train your dog with this collar. The battery life will make sure you have effective trainings with your pet.
In Short:
safe and effective shock collar
the range is 300 yards
the battery is durable
there are three training modes
choose the training mode accordingly
provides safe and efficient trainings
BEST BLIND OPERATION TRAINING COLLAR WITH GPS
PatPet For Dogs Training Collar
The Effective Trainings
Choose the beep, vibration, or static shock training mode. Teach your pet good manners easily. You will notice how your pet's behavior has improved to better in only a few days. Make sure the training mode you choose is appropriate for your dog.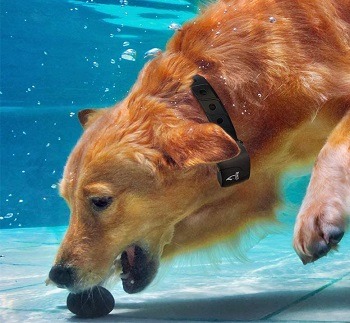 Wireless Operation
The package includes the remote control device that will allow you to use it without having to look at it while training your dog. In other words, this is a great blind-operation collar. Focus on your dog fully and don't let the remote distract you.
Waterproof And Sturdy
You can train your dog from distance. Your pet can even enter the lake, river, or the ocean. The color is waterproof and weather-resistant. It will resist even the coldest or warmest temperatures. It features the durable RF 434Mhz technology and has a 3000 range.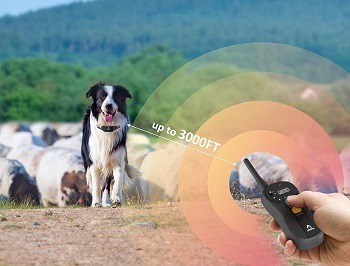 The Long Battery Life
The remote control and the collar come with lithium-ion batteries. The receiver's life is up to 10 days and the remote's life up to 20 days. There is a long standby time as well. A year for the remote and about 100 days for the receiver.
In Short:
provides safe and efficient trainings
the long-lasting battery is included
the collar is water-resistant
the shock collar's range is 3000 ft.
this is a high-quality collar
BEST E-COLLAR GPS SHOCK
Educator Collar For Training
About The Best E-Collar
This shock collar by Educator is a high-quality training collar. The collar does not weigh much and it not too large. It will be comfortable for your dog to wear it. The collar is perfect both for small and large pets. It helps you teach your dog to behave well.
Operate It Remotely
Your dog can stay at a distance of up to 1/2 mile away from you and you will still be able to train it. This collar is operated remotely. It includes a night light that will help you track your dog in the dark or in the woods. Don't worry about losing it from your sight.
Choose The Right Training Mode
Before starting with the trainings, we suggest you read the user manual. It is very important that you understand how to train your dog. Chose the perfect mode according to your dog's character, temperament, age, size, and breed.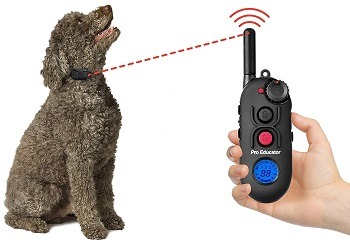 Smart Display
The Educator e-collar comes with an LCD display that shows you the level of stimulation or other training modes (vibration, taping, etc) that you chose when training your pet. The collar is of good quality and will resist the cold and warm weather.
In Short:
this collar comes with an LCD display
made of good quality
resists all weather temperatures
includes a user manual
read the manual before starting with trainings
BEST LOCATOR TRAINING COLLAR WITH GPS
Dogtra GPS Shock Collar
GPS Shock Collar
This is one of the rarest and the best GPS shock collars there are on the market. It helps you find your dog if it goes missing. It uses the GPS and e-collar technology in one. The GPS feature works without using the cellular data. Use the Pathfinder app.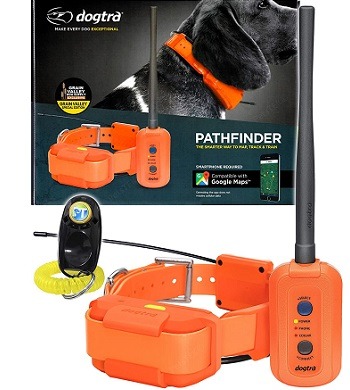 The Best Features
The Dogtra Pathfinder best e-collar with GPS comes with a 9-mile range. It is completely waterproof. It has 100 levels of stimulation. This training collar with GPS allows you to choose the constant or non-stimulation mode. It is accurate and effective.
The GeoFence And Battery
The Dogtra Pathfinder is a geo-fence shock collar. Create the custom geo-fence and locate up to 21 dogs at the same time. This collar comes with up-to-date terrain maps. The battery is long-lasting and charges very quickly. The device is compatible with Google maps.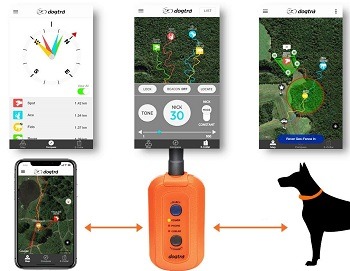 When Buy And When Not?
This collar is not intended to be used on very aggressive dogs. Use it to make sure your dog behaves well every time. Use it outdoors and allow your pet to run, and play in nature. In case you are not able to see your dog, you can track and locate it easily with this shock and GPS collar.
In Short:
best e-collar with GPS
waterproof, shock and training collar
has the 9-mile range
allows you to custom the geofence
includes the long-lasting battery
tracks up to 21 pets at the same time
How To Pick: GPS Shock Collar And Training Collar
It is not an easy job to find the best GPS shock collar or the training collar for your dog. Please, before you chose a certain model, make sure it is safe and you know how to handle it. Read about other important features that your shock and GPS collar should come with, such as the training modes, the range, and other functions.
The Training Modes – Apart from the static shock and electric stimulation mode, consider getting a collar with other training systems. Sometimes your dog won't necessarily deserve to be shocked, just warned. This is when you can choose the beep, vibration, or tapping mode.
The Guide And User Manual – Whether you are an expert or a new pet owner, it is advisable to read the user manual and the training guide. Most of the packages include the guides. Make sure to read it and please remember that you shouldn't ever harm your pet!
The Long Range – The longer the range, the better. You will probably want to go running or walking in nature together with your pet. Use the collars with long range to train your pet from distance. Also, it is a plus if the handheld comes with a so-called blind operation.
Accuracy And Durability – It is very important to get the GPS shock collar or the training collar that is reliable, safe, and water-resistant. This way you can train your dog even when it is in the water or during a rainy day. Get a weather-resistant and sturdy collar.
Best Extra Features – Some of the best features, apart from the long range, are the LED beacon lights that help you locate your dog in the dark and the GPS feature. Get the device that suits you and your pet the most and remember that it must be safe and of good quality.
To Sum Up
In our opinion, the best out of these GPS shock collars and shock training collars is the Dogtra GPS Shock Collar. We liked it because it comes with the GPS feature, that not every model includes. In case you want to track your dog's location, consider getting it a pet gps chip. You can attach it to the training collar too. Also, getting a pet activity tracker is a good idea to keep track of your dog's activity and health status.