Have you been looking for a mesh dog crate but can't seem to find one that's right for you?
Luckily for you, we've gathered and reviewed a wide variety of these crates. We picked out only the best and we've even gone as far as to place them into categories like small and medium So continue to read this article if you want to be sure that you're finally going to find the one you want.
The Summary
Best 5 Mesh Dog Crates
BEST OF BEST MESH DOG CRATE
A4Pet Soft Collapsible Dog Crate
Bottom Properties
If you want to use this crate as a soft travel dog crate you most certainly can and you will get the most out of this crate if you do. You see, the crate has a leakproof bottom that will make any dog urine stay inside the crate and away from your car floors.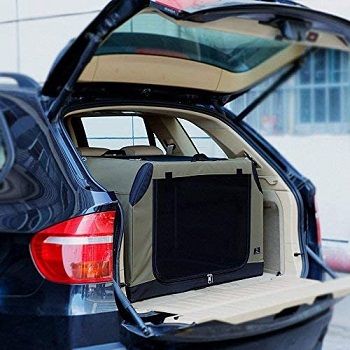 Crate Parts
This is a collapsible mesh dog crate and it's thanks to the strong steel tube frame that this is made possible. What will further aid in making this possible is the soft but durable oxford fabric cover. You'll also get a pillow cover for the bottom. You can wash both the cover and the pillow but make sure you wash the cover by hand.
Mesh Windows Uses
You will find the mesh fabric on each side of the crate except for the back where there is a pocket for storing dog accessories. What the mesh fabric does is make sure that the crate is well ventilated and that there's some visibility on the outside and inside of it. # of the mesh fabric windows are also doors.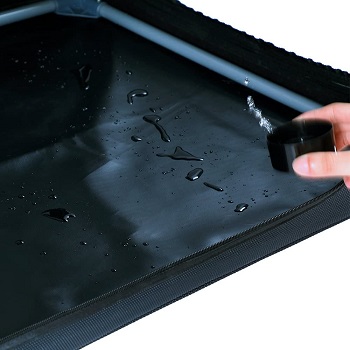 Calm Dog Containment
This mesh dog crate doesn't stop being a travel crate with just its bottom, another thing that it has is rounded corners that will protect your car interior from damage. We should note that you can use this crate for large but only crate trained dogs.
In Short:
Has rounded corners to keep your car free from damage
The leakproof bottom will contain liquids well
Has a strong steel tube frame
The oxford fabric cover can be hand washed
Comes with a bottom pillow cover that's washable
Cna house large but crate trained dogs
It can be folded down
BEST SMALL WIRE MESH DOG CAGE
Iris Wire Dog Crate
Materials It's Made Out Of
The Iris pet wire dog crate hits a little different than the rest. The main reason is that this crate is primarily a small wire dog crate since its sides are made out of steel wire, while only the top has a mesh fabric that can be removed while the edges of the crate are made out of plastic.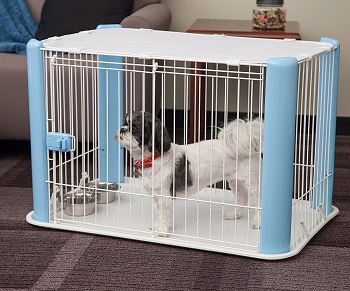 Saving Space Around It
The mesh dog crate is not only build to look nice, but it's also made to save space at least when it comes to space around the crate because the single door that you'll get for access to the crate is a sliding door that will not get in the way if you choose to leave the crate open.
Non-Slip Bottom
On the bottom of the crate, you'll find a plastic tray that's molded. This is so that the bottom edges of the actual mesh dog cage can fit inside nicely and that the pa doesn't slide out accidentally. On the bottom of the pan, you'll find located rubber feet to double ensure that the crate as a whole won't move.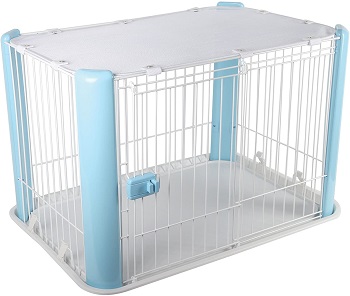 Living Space Size
When you crunch the numbers together, this crate will give your dog 6.2 square feet of floor space. Keep in mind that the crate is made to house small dog breeds but you can purchase a larger version of the crate if you like it so much but have a large dog.
In Short:
Has plastic edges and steel wire sides
The top mesh fabric can be removed
Has a sliding door for access
Made to house small dogs
Has a molded plastic pan on the bottom that won't slide or slip
BEST MEDIUM MESH DOG CAGE
Noz2Noz Soft-Krater Crate
Light And Portable
This mesh dog crate is incredibly light with only 6.6 lbs. The fact that it's so light makes it an amazingly portable soft dog crate. Another thing that you'll be able to put to good use in terms of its portability is the foldable design that will allow you to store or carry it virtually anywhere.
Ease Of Cleaning
You will find that there's nothing easier than to clean this crate. The bottom o the inside of the crate is water-resistant so all you need to do to clean is to wipe it down and if you want to clean the whole crate and get better results you can machine was the whole crate cover.
Dual Purpose Mesh Windows
The crate has rounded padded corners and what this will do is that it will keep either your car interior safe from damage or your home. There are three large entrances located on the top, front, and on the side. The front and back entrances are made out of mesh fabric that will, along with the other windows, ventilate the entirety of the crate well.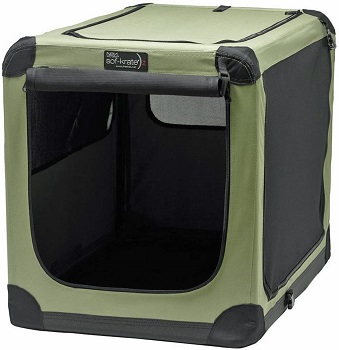 Height And Length
The crate is 30-in long and 23-in tall. These are the only dimensions that you really need to figure out if your dog can fit inside it. To put the crate's size into perspective, you can house medium dogs up to 40 lbs inside it.
In Short:
Has a water-resistant bottom
The cover can be taken off to machine wash
Can be folded down
Has 3 entrances
Has mesh fabric windows on all sides
Has rounded corners to keep your home safe
BEST LARGE COLLAPSIBLE MESH DOG CRATE
EliteField Soft Dog Crate
Taller And Wider Design
We have to accentuate the fact that this soft sided dog crate large 2 inches wider and 4 inches taller than most of its competitors. This will make it easier for you to pick the right size and when you do, your dog will have more room, inside to be kept as comfortable as possible. Generally speaking, this crate is made to house large dog breeds.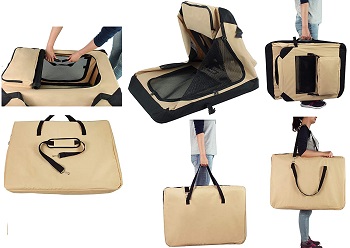 Color Choice
If you wish to make this mesh dog crate look really nice you can do so by choosing a different color or color pattern and you'll get to choose from a total of 16 different ones. You can be sure that you'll find the one you like best.
Entrances As Ventilation Windows
This crate also uses mesh fabric to keep the crate well ventilated. You'll find them located on all sides including the top while 3 of those will function as entrances as well. the crate's cover also has a built-in accessory pocket on top and there's a removable one in the back as well.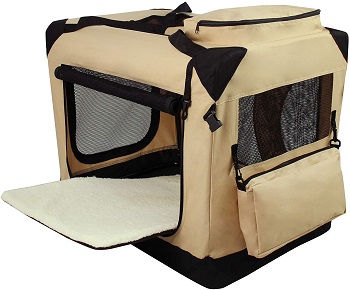 Crate Transport And Cleaning
You will also get a bed for the crate that you can easily remove and wash just like the cover. the crate can also be folded down and placed inside it's own carrying bag that has a shoulder strap and if you want to carry just the crate, you can do that as well with the provided carrying handles.
In Short:
It can be folded down
The bed and crate cover are removable and washable
Comes with its own carrying bag with a shoulder strap
Can be carried with its top carrying handles
It's a few inches wider and taller than most
Made to hous elarge dogs and dog breeds
Has a built-in accessory pocket and a removable one
Has 3 entrances
BEST SOFT MESH DOG CRATE
Petnation Port-A-Crate
Strong Fabric
The fabric cover of this crate is tightly woven together to make itmore durable than the rest. Of course, this does not mean that crate will survive a dog that tends to chew, scratch or bite his crates so please make sure that your dog is crate trained before purchasing this small soft dog crate.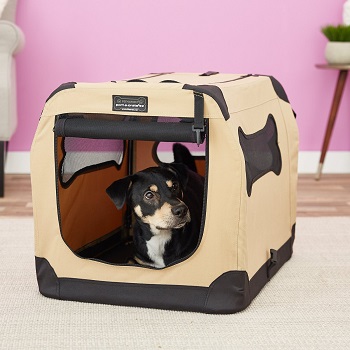 Different Sizing Criteria
There are some slight differences in terms of choosing the right size for your dog. The way you do it with this crate is that you measuer your dog's length and height. The crate should be 4-6 inches longer and 2 inches taller than the dog.Generally, this crate can house small dogs.
Storage And Travel
The crate holds will hold its shape well by using the steel tube frame that it has. The frame makes it so that the crate can be folded down for you to store with ease when you're not using it or to travel with it. Make sure you remember that your ddog should be supervised while he's inside.

Mesh Location And Design
This mesh dog crate has a bit of a different design. One the sides, the windows are shaped like lovely dog bones while for the front mesh fabric window it uses the regular shape since this is also a entrance. Yoo will also get a top entrance.
In Short:
Has a tightly woven fabric cover
Can be folded down
Has a steel tube frame
The mesh fabric on the sides is shaped like dog bones
Has a top and front entrance
Made to house small dog breeds
How To Pick A Mesh Dog Crate
It's pretty easy to get lost in translation as to what exactly is a mesh dog crate. There's also a lot of them to choose from so finding a good one might be a rather difficult task. Fortunately enough, we understand that the answer to what separates a good mesh dog cage from a bad one usually lies in its build materials, dog behavior they can handle and like always its size.
What The Mesh Is For – There's a really simple explanatio as to what mesh fabric does and the answer lies in its structure. Mesh fabric has little holes in it to provide the crate with ventilation whether it is a small, large, or medium soft dog crate.
Most Common Mesh Crates – Although we have proven that mesh crates that are in fact wire dog crates exist you will most commonly find soft sided dog crates to be the ones with mesh. They are usually great soft dog crates for cars since they are incredibly light and highly portable altogether.
Mesh Durability – The mesh fabric itself isn't very durable while the durabiltiy of the rest of the crate depends on the materials surounding the mesh. If the material in question is wire, you can be sure that it will be able to handle chewing while if the material is soft fabric you have to know that these won't do well with dogs that aren't crate trained.
Crate And Dog Sizes – You can find all sorts and sizes of the mesh dog crates that will fit your dog size well but to say that a crate is made for example small dogs is much too vague. What you want to do is know your dog's length and height and compare it to the crate's. Speaking generally, if the crate is 4 inches larger than the dog you can be sure that you're getting the right size. If the crate uses a different method for you to determine the size it will definitel be mentioned.
To Sum Up
Since we were focusing on what the majority of mesh dog crates are, the one we have to recommend is the A4Pet Soft Collapsible Dog Crate. the leakproof bottom and rounded corners will protect your car or home from damage and the mesh windows are quite large and provide the crate with good airflow. If you came here to find a crate that is actually a metal dog crate then you'll find the article about folding metal dog crates quite useful and if you want something even more durable then we recommend you read the article about heavy duty metal dog crates.