Do you wish that you had an open dog cage but you're finding it difficult to find one?
It can stop being hard if you continue to read this article because we found and reviewed only the best and gave you the option to get a different variety of crates like soft ones, wooden ones, and many more. If you're a bit unsure what type of dog crate to take, we didn't just review one style of open so you can be even more sure to find one that's the right fit for you and your needs and wants.
The Summary
Best 6 Open Dog Crates
BEST OF BEST OPEN DOG CAGE
Yaheetech Metal Dog Cage
Sturdy In Every Sense
There's not a single thing o this heavy-duty metal dog crate that is not made sturdy. The crate has a metal frame that is quality made and the liners on the bottom for cleaning are made with ABS plastic that is known to be sturdy and it's quite common to see liner built out of it.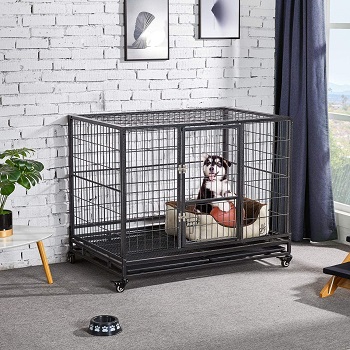 Folding Design And Its Looks
The coating finish for this crate is not toxic and it is a hammer finish that makes the crate look even nicer, smooth, and shiny. We usually wouldn't expect this from a heavy-duty open dog cage but the crat can be collapsed for easy storage.
2 Doors, 3 Entry Points
The crate's doors are located on top that makes it an open-top dog crate and on the side. The side access door is actually a double door since it has an additional feeding door located inside it. The locks on them are two-step locks so that your dog doesn't figure out the locks and escapes.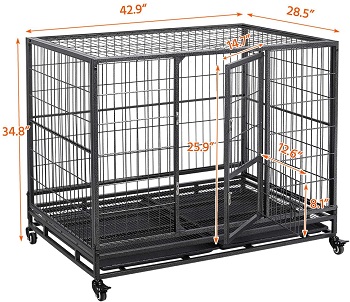 Size And Weight
The crate weighs 52 lbs which makes it not as portable but the solution to it are the lockable caster wheels located on the bottom. Inside it, you can house a large dog that shouldn't be longer than 39 inches since it's a 43-inch crate.
In Short:
Has a metal frame
Can be folded down to store
has a top and a side entrance
Comes with an additional feeding door
Made for large dogs
Has 2 ABS plastic cleaning pans
The door can be locked with 2 step locks
BEST LARGE OPEN DOG CRATE
Iris Usa Wire Open Pet Pen
Wood Like Frame
The frame that surrounds the top and bottom edges of this dog crate playpen is made out of plastic but intended to look like wood. The wire sides are colored in white so that this open-top dog crate can look really nice inside your home.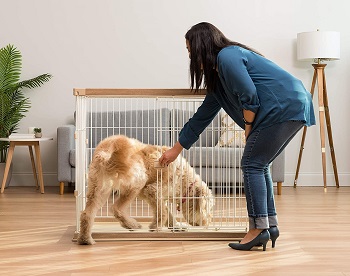 Lack Of Doors But Not Access
The crate does have a single door for access and it locks with a positive lock but that shouldn't be too worrisome if your concerned about access since the top is opened and you can access your pet through it at all times without your dog making it difficult because he's trying to escape. The single door o the side for access is also a sliding door.
Molded Tray Description
There is a plastic tray on the bottom and it is molded so that all the bottom edges of the crate fit perfectly inside it. This will prevent the tray from sliding out and since it's molded the edges of the pan are a bit elevated so that if any liquids get onto the pan, they won't overflow and get on your floors that easily.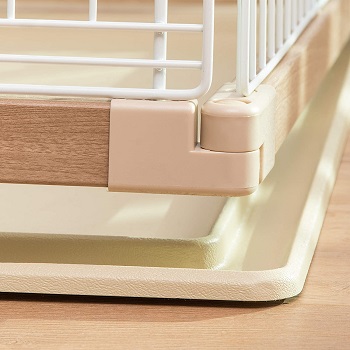 2 Types Of Large
The manufacturer made this open dog crate to be a bit taller than most. If you don't want it to be taller you can purchase the regular large size of this crate. The taller design will allow you to house inside it more, generally large dogs of different sizes like golden retrievers ad German shepherds.
In Short:
Made out of plastic and wire
Has a taller design
Made to house large dogs
Has a molded bottom plastic tray
Has an open top
The single door on the side slides open
BEST WOODEN DOG OPEN CRATE
BarkWood Pet Crate End Table
Chew Proof To An Extent
The crate is completely made out of solid wood and solid wood crates are known to handle chewing coming from a dog quite well. This doesn't mean that the crate won't get damaged slightly if your dog does chew on it but it won't be rendered completely useless if it does happen.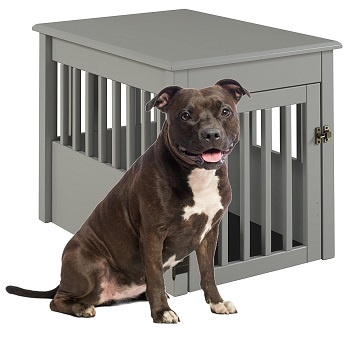 Swing Aside Door
А crate doesn't only have to have an open-top or a top access door to be an open dog crate. This crate has a door that swings open all the way to one of the sides so that it doesn't get in your way and so that it saves you space if you choose to leave the door open
Rubberized Bottom
What will make it work really well as a puppy apartment crate is its bottom on the inside that is rubberized so that it minimizes liquids absorption if your dog urinates inside the crate so that the crate lasts longer and doesn't absorb nasty odors.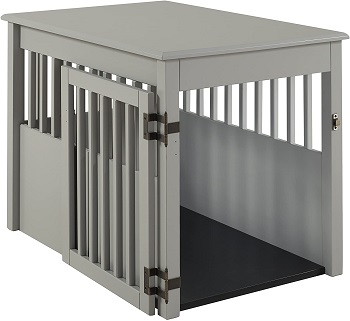 More Than One Function
You don't have to stop and use this open dog crate just as an crate, you can also use it as a piece of furniture because of its top. We advise you to get this crate only if you have a medium-sized dog. In terms of some kind of weight limit, you can use it for an up to 40 lbs dog.
In Short:
Made completely out of solid wood
Can be used to house puppies
You can house medium-sized dogs in it
The bottom is rubberized and it minimizes liquid absorption
Has a swing aside door
BEST PLASTIC OPEN DOG CAGE
Pet Gear 4 Door Steel Crate
4 Doors Info
There are more than enough doors on this crate for you and your dog to gain access to it. There are 4 doors in total, one on top, 2 on the front, and in the back of the crate, and this is also a side opening dog crate with a side door that slides open. This will allow you to keep the crate open without the door bugging you and getting in your way. All doors can be locked with steel locks.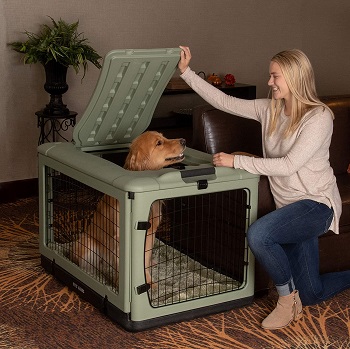 How it's Built
The plastic frame of the open dog crate is made out of heavy-duty plastic so you can be sure it's not flimsy and the sides are made with steel wire. The crate's bottom or base is insulated. What this means is that it won't crack in cold weather.
Two Extras
You'll get 2 things with the crate that might be useful to you, the first one is the puppy crate bedding. This is just a simple plush bed that you can easily remove and wash at any time and you'll also get a travel bag with the crate where you can store the crate that you've previously folded down.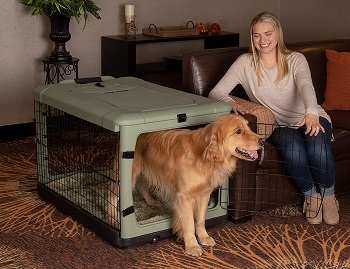 The Size Of It
You can also use this XL plastic dog crate to travel since it's easily transportable because of its built-in wheels and its top handle. Although it's extra-large, it can only be used to house large dog breeds like Rottweilers and golden retrievers.
In Short:
Has a heavy-duty plastic frame and steel wire sides
Has a slide-up side door
It has 3 more doors located on top and in the front and back
Can house large dogs
Comes with a plush bed
Can be folded down
Has built-in wheels and top handle for transport
Can be store inside its own travel bag
BEST FOR PUPPIES DOG CRATE OPEN
Diggs Revol Dog Crate
Durable Body
There's no doubt about it, this open dog cage is incredibly sturdy and durable because of its frame that' made out of reinforced plastic and especially because of its sides that are made out of diamond-shaped aluminum steel wire.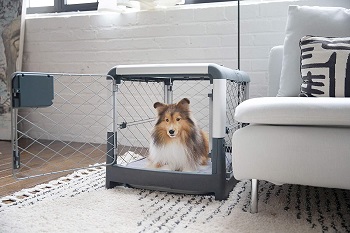 Doors And Their Type
This side opening dog crate has 3 doors for access. One is a top door, one is a front access door and the last one is a side door that opens up and doesn't get in your way if you choose to leave the door open. your dog won't be able to open the front door because of the way you open it.
Moving With The Crate
You can easily collapse the crate and drag it around using its wheels that are built into it or carry it around using its top handle. You can easily travel with it and you don't have to worry about dog urine getting onto your car floors because, on the bottom, you'll find a plastic slide-out tray.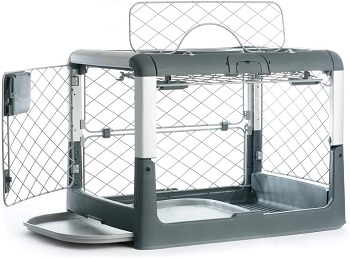 Puppy Training Crate
This dog crate can easily be the best crate for puppy training since it comes with its own puppy divider panel and the inside is made for your puppy to be safe inside because it's made with baby industry standards. When your dog grows into his full size, he should be a medium dog breed to fit inside comfortably.
In Short:
Has aluminum steel wire sides
The frame is made out of reinforced plastic
Comes with a puppy divider
Has 3 door for access to it
Has a cleaning slide-out tray on the bottom
Made with baby industry standards
Can house medium-sized dogs
BEST SOFT OPEN TOP CRATE FOR DOGS
Sportpet Large Pop Crate
Materials Quantity
There's more than one material that's used to make the SportPet Designs pop crate. The main one is definitely the polyester fabric that makes most of this crate, the second one is the polyester fabric mesh windows, heavy-duty plastic for the frame, and metal for the door.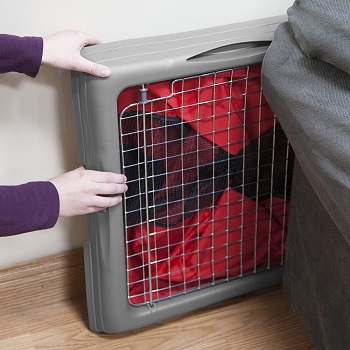 Good Airflow Features
You can find the plastic in the back and the front while the center features the polyester fabric. The back has gridded plastic to provide the crate with good airflow and the front door that's made out of gridded steel wire will also give you proper airflow inside it.
Fold To Travel
There's nothing easier than to fold down this crate. You can do that by simply twisting the center and attaching the front of the plastic frame to the back. This will make the open dog crate great to take with you on the road and for you to travel with it.

Time Spent Inside It
We must add that this crate isn't made for long term use. You should only use this pop open dog kennel to temporarily contain your dog inside of it. In fact, your dog should also be crate trained to use it since it is a large soft-sided dog crate that can't really handle aggressive behavior.
In Short:
Has a plastic frame
The door is made out of steel metal wire
The center of teh crate features a polyester fabric
provides good airflow from all sides
Can be folded down or back up in seconds
Best for large and crate trained dogs
How To Pick An Open Dog Crate
Before getting an open dog cage, you should concern yourself with a few questions like how the crate stays open, why'd you even need it, what are the materials that make the crate, and how durable it is durability but don't worry, we will go through these questions and answer them and we will also give you some tips on what to focus on most and even how to pick the right size.
Open Top Benefits – Open tops don't necessarily have to mean that there is a lack of one, you can easily have a top that you are able to open like the ones found in some stainless steel dog crates. This will be useful to you if you want and need to access your dog without him trying to escape the crate. It will also make things go a lot faster.
Materials That Last The Longest – Of course, there are some materials that last longer than others. The most flimsy material that you can get that won't last very long if you haven't crate trained your dog is fabric or polyester fabric. They are usually best and most used as small soft dog crates and are incredibly portable but if you're after a crate that can handle aggressive behavior, go with the metal ones.
Properly Sizing The Crate – Since there are a lot of different sizes that these dog cages come in you want to make sure that you get the right size from the start. The way you do this is that you measure your dog's height and length and add 3 or 4 inches to it, compare it with the crate and it the dimensions match, you're good to go.
Open Dog Crate VS Kennel – Although kennels do tend to be open especially since they have an open top they are a lot bigger than crates and are used outside to permanently contain your pet. They are much larger than crates and you can even put a crate inside one. They are incredibly durable since they have to be made to withstand outdoor weather conditions with ease.
To Sum Up
It wasn't easy to recommend the one open dog crate that we thinks is best but in the end, we just had to go with the Pet Gear 4 Door Steel Crate since it has 4 doors in total, a top access door and a slide-up door for you to keep the crate open whenever you feel like it. If you liked the door type that this crate has to offer then make sure you look into the article about sliding door dog crates and if you still haven't crate trained your dog then be sure to read the article about training cages for dogs.