Do you feel as if your dog and you would get to see each other best if you were to get him a clear dog cage?
Why don't you make it happen soon by continuing to read this article where we reviewed our top picks on the matter. You might think that there aren't many different types to choose from but there are, you'll find crates designed to be used indoor, for traveling, and a crate that's even airline approved.
The Summary
Best 6 Clear Dog Crates
BEST OF BEST CLEAR DOG CAGE
Tespo Pet Playpen
Panel Holes
Each panel on this dog crate playpen has 8 built-in holes all around it. This is so that you can tie them to other panels using cable ties for more stability and security. The cable ties you'll use to connect them comes with it and you'll get a total of 30 cable ties.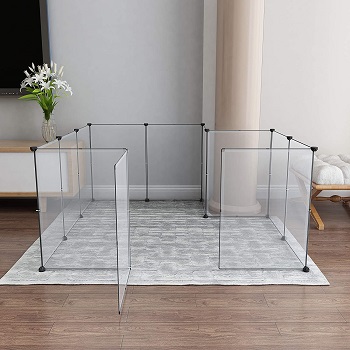 Connector Features
The cable ties are a new and improved feature of this crate but there's one more thing that's upgraded. It's the connectors that will help you connect each panel of this clear dog crate. They're upgraded by having non-slip mats on them to prevent the whole thing from moving and sliding.
No Access Door Solution
There isn't really an access door to it but what you can do is connect one of the panels just on top, connect the other side with cable ties, and when you're ready, remove the connector so that the panel opes like a door. You'll get 12 panels that you can shape however you want. The panels will give your dog a total of 20 square feet of playing area.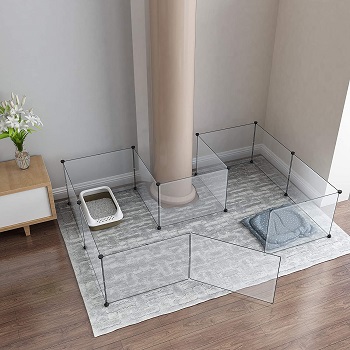 Size Of The Thing
Each panel is 28-in tall and 20-in wide. Although the height might make it seem like you can use it for dogs that bigger than small that won't work. The small dog will have less of a chance of ruining the crate. This is to be used as a play area and your dog should be supervised constantly.
In Short:
Each panel has 8 holes for cable tie connection
Can be shaped however you want
There are 12 panels in total
Can house small dogs
The connectors have non-slip mats
There is no door, you'll have to improvise
BEST PLASTIC CLEAR DOG CRATE
Susupet Dog Playpen Plastic
Customizable Panels
The great thing about this crate is that it's endlessly customizable. The 12 panels can be placed in whatever shape you want so that they adjust to the shape of your home. This is thanks to the connectors. You'll get 25 of them and for each one, you'll also get to stick a non-slip mat.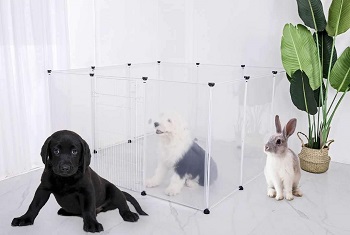 Panels Description
Eleven out of twelve panels are made to be see-through panels made out of plastic and there's one wire one that serves the function of doors. Each panel of this clear plastic dog crate is 29-in tall and 17-in wide. This means that however you decide to shape, you'll be getting 20 square feet of playing space.
What Its Height Means
Its height and durability indicate that you'll get to use it either for small dogs or puppies. Additionally, it would be wise if the dog is calm and doesn't find being inside disturbing. Even though you can connect another pen to it to create more space, This small plastic dog crate can still only house a small dog or dogs.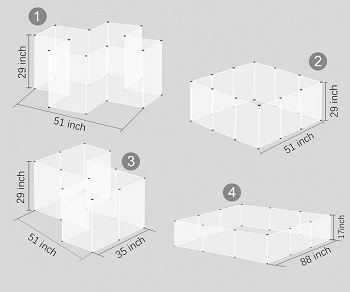 Assembly Help
For even easier assembly, although some precautions are to be taken, you'll have no problems with it because it comes with a rubber mallet that will function as an assembly tool. You'll even get instructions on how to properly assemble this clear dog crate.
In Short:
Made out of clear plastic panels
Can house small dog
You can attach another pen to it
Has plastic panels and a wire door
The connector can have non-slip mats
It assembles with a provided hammer
BEST FOR PUPPIES CLEAR DOG CAGE
Fnice Puppy Pet Playpen
Customizable Height
Because it's completely customizable, you'll not only get to widen the play area and shape it however you want but you'll also get to stack panels on top for more height. Thanks to this, you can even create a roof to truly make it a small puppy crate.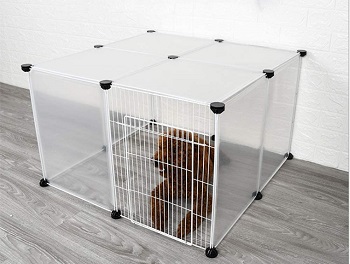 Panel Connectiveness
There are 12 panels in total that you'll need to connect on top and bottom to stabilize this clear dog cage. To help you place the connectors where they should be, you'll get a wooden hammer to do it. You simply have to align the connector and knock it with the hammer.
Safe Materials And Their Construction
The plastic used to make it is environmentally friendly and safe for your dog. Another thing that makes it safe for dogs is that it has no sharp edges so your dog won't pinch his paws while being inside. It's not entirely made out of plastic though. It also has some metal in its structure.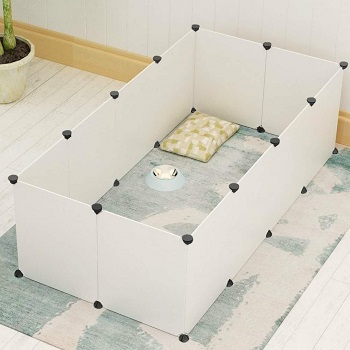 Outdoor Use Tips
You'll have the choice of using this crate outdoor as well since the plastic won't get damaged if it gets into contact with moisture and rain. Thanks to the fact that you can make a roof on top, this will protect your dog. Make sure your dog is constantly supervised if you use it outdoors.
In Short:
Made with plastic panels that have some metal
Has no sharp edges so it's safe for dogs
You can stack panels to create more height
The panels can serve as a roof
Comes with 12 panels
Can house puppies and small dogs
BEST FOR TRAVEL CLEAR DOG CAGE
Yafeco Pet Carrier
Not Your Typical Carrier
We're definitely not used to seeing dog carriers made like. Typically you'll get a soft travel dog crate that's light but not durable. With this crate, you'll get a lightweight crate that is more durable than the one we mentioned before. That's just one benefit and there are many more.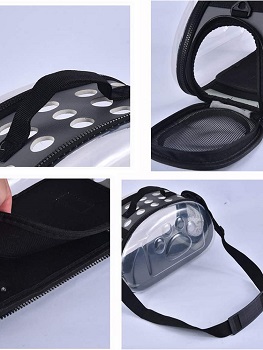 Edges Contents
It's made with EVA material which is some form of plastic. The edges are black and feature vent holes on them. You'll also find a carrying handle there and a hole for attaching a shoulder strap on it. The clear dog crate also features a small entrance door that has a mesh fabric bit for better ventilation.
Sides And Interior
The sides are what make it a clear crate for dogs. Each side has a paw shape. Thanks to the material the manufacturer used to make it, it's also water-resistant and it's even very easy to clean. on the inside, there is a hard floor board so that your dog can stand up and move around with absolute comfort.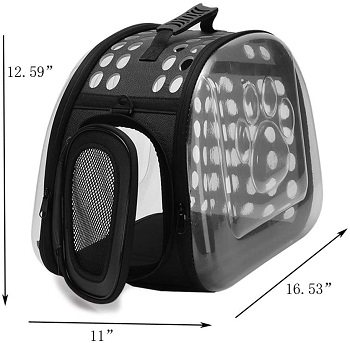 Proportion Fit For Air Travel
It's around 17-in long and 13-in tall. Because of its design, weight, and proportions, you'll get to take it aboard an airplane with you because it's so small. This means that you can use it to house extra small dogs like chihuahuas and Yorkies that weigh up to 20 lbs. The crate can be folded down.
In Short:
The sides are made with clear EVA material
Has a carrying handle and shoulder strap
Features a mesh fabric small entrance
Can house extra small dogs
Fit for taking aboard an airplane
Can be folded down
BEST AIRLINE APPROVED CLEAR DOG CAGE
Ibiyaya Premium Pet Carrier
Airline Small Crate Requirement
For a crate to be allowed on an airplane with you, it must be small enough to fit below an airplane seat. This one can fit below the seats of most American airlines. You should check with your airline for any additional requirements but this alone should be more than enough.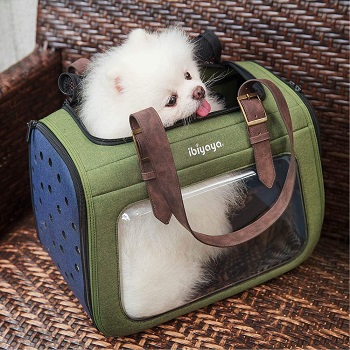 An Abundance Of Materials
A lot is going on with the materials that are used to make this clear dog crate.it has an eco-friendly material shell, mesh fabric windows for ventilation on the top, and clear plastic sides. The plastic is crack-resistant so you won't have to worry about it being destroyed too soon.
Ventilation Points And Doors
The mesh fabric window on top is also a top-load door and there are 2 more doors on the sides. All three close with zippers just like a regular small soft dog crate. The side doors also help with ventilation because of the built-in holes they both have.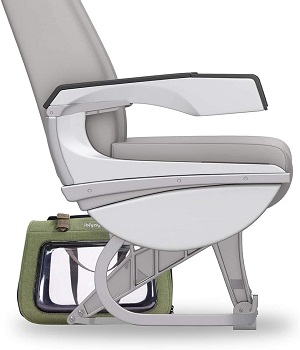 Travel Features And Size
You can easily collapse it as well for even easier transport or if you want to store it. It's also light so that just another reason why it's great for traveling. It's an extra small dog crate because it's 15.7-in long and 11-in tall. You'll get to house toy dog breeds inside like Yorkies.
In Short:
Small enough to fit below an airplane seat
Can house toy dogs like Yorkies
Has three entrances and three vent windows
Can be folded down and it is light
The clear sides are made out of plastic
BEST ACRYLIC CLEAR DOG CRATE
Lyn's Pet Carrier
Clear Material Representation
On other crates of this type, clear materials were less represented but o this crate it's the other way around. The only parts that don't have clear materials are the 2 sides and the bottom. The rest, including the connected rounded out top, are made with seethrough acrylic material.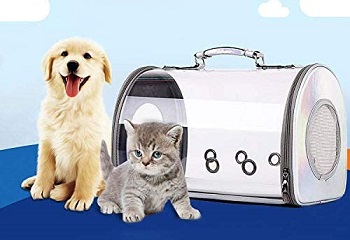 Ventilation Holes And Windows
This clear dog cage has ventilation holes on the acrylic material in the front and the back while the sides feature mesh fabric windows for ventilation. With this clear acrylic dog crate, your dog won't just get visibility because of the vent holes but also because of the material it's made out of.
Access And Carrying
The side mesh windows are circled out and smaller than the actual sides. These sides can be opened with zippers which means they are also doors. The top is equipped with a carrying handle and you can also attach the provided shoulder strap to the holes to carry it like that.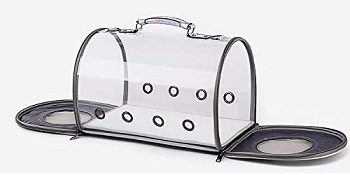 Extra Small And Light
It's incredibly light with only 2 lbs. It's designed and sized s that you can house dogs that weigh no more than 10 lbs inside it. We wouldn't go as far as to say that it can contain a dog that hasn't been crate trained but considering the dog's size, it just might.
In Short:
Has an acrylic see-through shell
The sides have mesh fabric windows and are also entires
the acrylic material has vent holes
Comes with a carrying handle and a shoulder strap
Can house dogs up to 10 lbs
Weighs two lbs
How To Pick A Clear Dog Crate
To pick out the best clear dog crate for yourself, you need to know what you are being offered and what these offered crates and crate types are best for. They don' differ that much in size but they do in materials used and primary purpose so make sure you keep reading this buying guide to find the best possible choice for yourself and your dog.
Keeping An Eye On Your Dog – What these transparent crates might help with best is visibility. To be specific you'll get to constantly supervise your dog while he's inside these crates which is great cause you'll have to do it, either way, it's best to make it slightly easier.
Both Way Benefits – The visibility benefit goes both ways. if your dog is a bit anxious and needs to keep an eye on you at all times, he can do it with these crates easily. This is not included with any of these crates, but if your dog is the complete opposite and needs his privacy you can help him with that by getting him a breathable dog crate cover
Playpen Use – Typically, dog crate playpens are made out of plastic panels and have no top. Some of them are customizable so you could make your own roof with the provided panel connectors and cable ties. We Advise you to use it indoor and maybe sometimes outdoors if you can butt with constant supervision of your dog.
Carrier Use – these carriers are mainly made for traveling. You should stick to this ruler because these crates are not reliable enough o keep your dog contained inside your home while you're away. The reason why they're amazing travel crates is that they're easily transportable since they're lightweight dog crates, can be folded down and easily carried.
To Sum Up
The clear dog crate we recommend you get is definitely the Lyn's Pet Carrier. It's mostly made out of see-through acrylic material, you can carry it and travel with it because it only weighs 2 lbs and can be carried with either a handle or shoulder strap. If you want to learn more about extra small dog crates but for a specific breed, we advise you to check out our articles about either chihuahua crates or about crates for Yorkies.