Have a lovely German shepherd and you want to get them an appropriately sized and functional German shepherd cage?
Make your wishes a reality by continuing to read this article. What you'll find here are not just reviews of different types of crates like car, travel, puppy, and barn-door crates but you'll also get the chance to read in detail what each crate is all about in the guide that we've provided at the end of the article.
The Summary
Best 6 Cages For German Shepherds
BEST OF BEST CRATE FOR GERMAN SHEPHERD
MidWest Homes For Pets Dog iCrate
Long-Lasting Use
Whether your dog is a puppy or an adult dog, you can get this crate with confidence that it's going to last you a long time. It's because it's made out of steel wire and has an e-coat finish. The e-coat finish makes it rust-resistant so you won't have to worry about it wearing down too soon.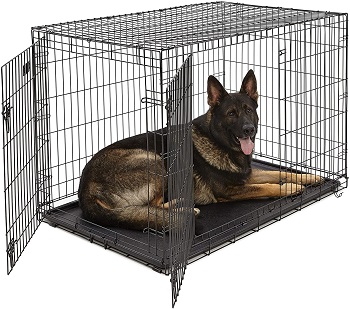 Puppy Housing
We mentioned puppies because you can house a puppy inside this crate. This is due to the fact that you'll get a puppy crate divider with it. It's adjustable so that it can adjust to your growing puppy's size. This will help you both potty train and house train the pup in question.
Indoor Placement And Interior Safety
You'll get to place it inside your home with more options because it has both a side door and a front door for access that lock with 2 sliding bolt locks each. The interior of this dog cage for the German shepherd is also safe because of the rounded corner clips that eliminate share edges where your dog might pinch his paws.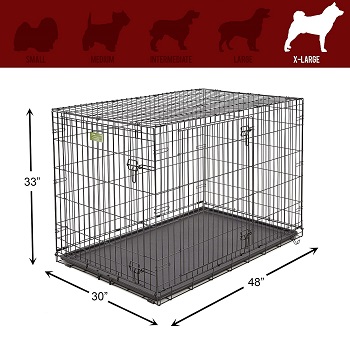 Easy Travel And Cleaning Features
When you're done crate training your dog or puppy, you can also travel with the crate because it's easy to fold down and carry with the provided handle. The bottom is equipped with a plastic cleaning pan that you can slide out to clean by removing the pan stopper.
In Short:
The steel wire is coated with an e-coat
Comes with a divider for housing puppies
Can be folded down and carried with a handle
Has 2 access doors for more versatile home placement
The rounded corners inside will keep your dog safe
BEST FOR PUPPIES GERMAN SHEPHERD CRATE
Lucky Dog Sliding Door Dog Crate
Standard Build And Features
Adjustable dividers that come with crates for housing puppies are most commonly featured in large wire dog crates and this one has it too. It has a standard all-steel wire build and features a black e-coat finish that makes it resist rusting just like the crate before it.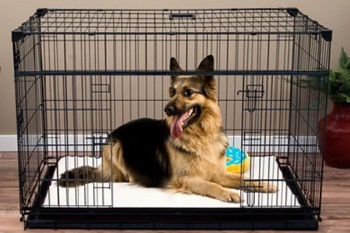 Stable, Low-Noise Construction
Wire crates tend to produce a lot of rattling noise so the manufacturer of this German shepherd crate provided a solution to this problem. The top corners have corner stabilizers not only to reduce the noise but also to provide a more stable crate construction.
Saving Space Door Design
It has 2 entry points but three access doors. This is true because the side door is actually a double door that also makes it a sliding door dog crate. Both doors slide open to the sides while the front door opens like a regular swing-through door. These crates tend to save you space when you leave the door open.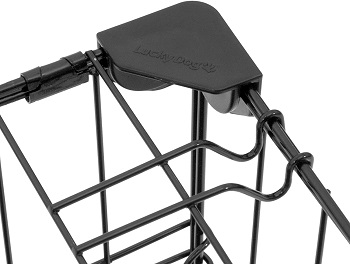 Handle Use
It has a handle on top that you'll use to carry the crate when you fold it down. This feature is typically used to either store the crate away without it taking up your precious storage space or to transport it easily to a car or any other transportation vehicle.
In Short:
Has a sliding double door and a single regular one
Made out of steel wire with a rust-resistant e-coat
The top handle will hep you carry the folded crate
Comes with a divider for puppies
The corner stabilizers reduce rattling noise
BEST 42 INCH DOG CAGE FOR GERMAN SHEPHERD
Cardinal Gates Sliding Door Pet Crate
Double Sliding Door
This crate is somewhat similar to the one we reviewed before it because it also features a sliding door for access. Instead of one double sliding door, you will get two. The other one located in the front slides upwards and can be placed on top of this dog crate for German shepherd.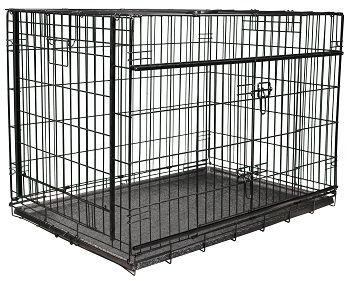 Gauged Wire Build
It's not only space-saving but also incredibly durable. That's because it uses a heavy gauge steel wire as its primary build material. Both doors feature a 6 gauge wire while the rest of the crate features a 10 gauge wire. The door has a thicker wire because the lower the gauge the thicker the wire.
Plastic Parts
The handle for easy carrying is attached to the crate. You'll use it when you fold the crate down or if you want to move it when it's assembled. The handle is made out of plastic just like the cleaning pan located on the bottom while the main material is wire.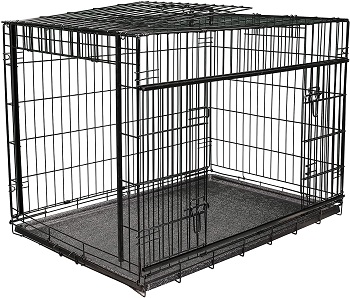 Indoor Use Benefit
It might just be the perfect large indoor dog crate because both doors of this crate are designed to save you space when you leave them open. Not only that but there are 2 entry points so you can place the crate any way you want without having to worry if you're going to block a pathway.
In Short:
Made with 10 gauge and 6 gauge steel wire
Both entrances feature sliding doors
The sliding door save space
Features a plastic carrying handle and a cleaning tray
Easily folds down for travel and storage
BEST 36 INCH CRATE FOR GERMAN SHEPHERD
Unipaws Pet Crate End Table
Crate-Training Is A Must
Please note that all the other crates we are reviewing require you to have a crate-trained dog. When it comes to this dog crate, your dog needs to be crate-trained because the crate is primarily made out of wood that can easily get destroyed with excess chewing.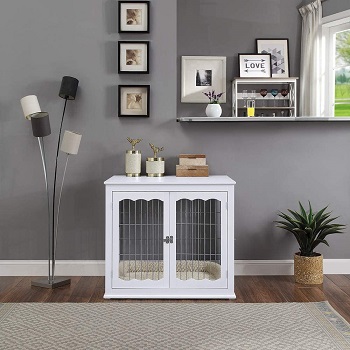 Sides Characteristics
As we mentioned, the wood is not chew-proof but it's not the only material used in the making of this indoor dog crate furniture. it also features steel bar sides that are ad that will help your dog see better outside of this dog crate while also providing it with good airflow. The sides are also equipped with three access doors that all lock with 3 different locks.
Looks And Top Ability
Because of its mostly wooden construction, it's made to look like white dog crate furniture but it doesn't only look like it, it functions as furniture as well. This is due to its top that's slightly wider where you can place your personal belongings making sure that you don't go over the weight limit of 200 lbs.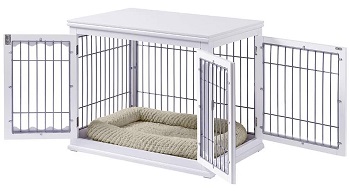 Size Explanation And Inside Comfort
This is actually a 36-inch crate for German shepherd instead of being a 42 inch one. It can house a German shepherd but this will depend on the fact if your dog is male or female and other aspects. To keep your dog comfortable while he's inside, you'll get a waterproof and washable bed with it.
In Short:
Made with wood that's not chew-proof and metal that is
Has three doors that lock with 3 different locks
weight limit of 200 lbs
Comes with a waterproof and washable bed
Can house crate-trained dogs
BEST TRAVEL CRATE FOR GERMAN SHEPHERD
SportPet Designs Plastic Kennel
Reason For Crate Training
Although this crate might survive a dog that has not been crate-trained you should still use it with crate-trained dogs only because it's designed for traveling. to be specific, it's designed for traveling by air. You can also use it as a large dog car crate.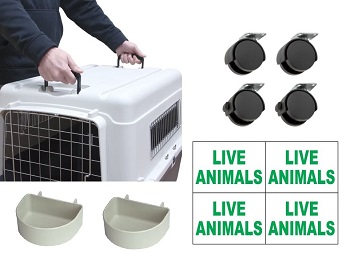 Travel kit Basics
The things it comes with that make it a large dog airline crate make up the basic travel kit. These things are nuts and bolts, tie-down holes for bungees, 2 detachable water, and food bowls, and stickers that have "live animal" written on them. For any additional regulations, you should check with your specific airline.
Shell Connecting
The nuts and bolts will help you better secure the connection between the two plastic shells that make this German shepherd travel crate. If you want this to be simpler, you can connect them with plastic clips as well. Just know that the nuts and bolts will be required when traveling by air.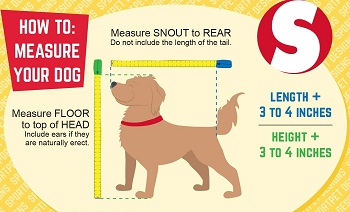 Transport To The Airport
It has a single steel wire door that locks with a pinch to unlock the lock. This lock will prevent slipping and sliding during air travel. To help you get to the airport with ease, you'll get to drag the German shepherd crate on its 4 wheels that can easily be taken off. You can also carry it with the provided handles on top.
In Short:
Designed for air or car travel
Comes with a basic air travel kit
You should only travel with a crate-trained dog
Comes with 4 wheels and 2 handles
Made out of 2 plastic shells
The 2 shells connect with nuts and bolts and plastic clips
BEST CAR GERMAN SHEPHERD CRATE
EliteField 3-Door Soft Dog Crate
Easy Portability
If you want to make traveling by car with your dog alongside you easier you'll want to get a lightweight dog crate like this one. Its weight of only 18 lbs isn't the only thing that makes it great for traveling. This is also true thanks to its steel tube frame that can be folded down.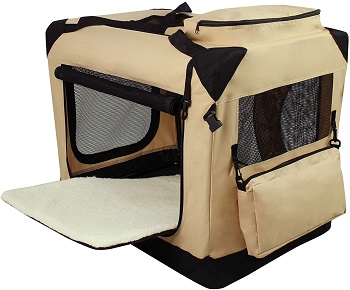 Transport Options
When this dog crate for German shepherd is folded down you'll get to store it inside its own carrying bag that features a padded shoulder strap for easy carrying. The crate itself has 2 carrying handles on top for yet another carrying option.
Inside Comfort
It is a 42-in long German shepherd car crate but it's actually 2 inches wider and 4 inches taller than most soft travel dog crates. Another thing that'll make your dog feel more comfortable inside is the padded bed that you can insert on the bottom and just as easily take out for cleaning.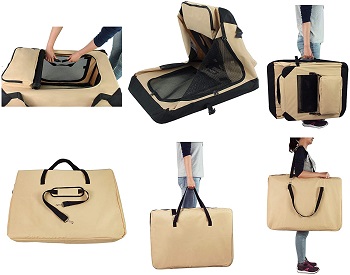 Cover Material And Contents
The steel tube frame has a cover that's made out of oxford fabric that can also be taken off for washing. It has mesh fabric windows for ventilation and three of them are also entrances. The top has a built-in accessory pocket while the back has a removable one. because of its cover, the crate should only house crate trained dogs.
In Short:
 Comes with its own carry bag
It's foldable because of the steel tube frame
It's wider and taller than most soft crates
Features a washable bed insert
Can house crate trained dogs
Weighs only 18 lbs
Features 3 entrances and 5 ventilation windows
How To Pick A Dog Cage For German Shepherd
There's more to cages for German shepherds than just picking out the correct size. You want to get acquainted with each crate type and learn about its flaws and advantages. We'll go through their differences, similarities, and many other things in this simple guide on how to get your German shepherd the perfect crate.
Average Crate Size – Most of these crates are sized as 42-in long dog crates. Crate length is the proportion used to determine crate size. 42-in long crates are considered to be large. We did review a few 36-in long crates because sometimes you might want to get this size depending on your dog's gender and breed type. To know for sure it's best to measure your dog.
How To Measure A Dog For A Crate – Sometimes crates will come with their own size charts to make it easier for you to pick the right size. If that's not the case it's good to know how to generally measure out a dog for a crate. What you'll want to do is take your dogs' length and height and compare it to the crates' to see if the crate is at least 4-in larger than the dog.
Required Crate Training Crate Types – We split the reviews into two pairs of three and got crates that require crate training for your dog to be inside it and the ones that don't. These crates are wooden dog crates, soft dog crates, and plastic travel dog crates. The wooden and soft dog crate require crate training because they might easily get destroyed while the travel crates require crate training not because they're not durable but because the dog should crate trained when traveling.
Training Crates – The other pair of three are the crates for German shepherd made out of steel wire that are perfect training cages for dogs. If they come with a divider they can even house and potty train puppies. They are the most durable out of all these and are the perfect starting point to crate training. If your dog is full of anxiety and aggression you can opt for a heavy-duty metal dog crate but this is reserved for extreme cases.
To Sum Up
If you're still unsure about what dog crate for German shepherd to get we would recommend the Cardinal Gates Sliding Door Pet Crate. It features a heavy gauge wire, has sliding doors that save space and since it's so durable it can be a great crate training tool. If you happen to be looking for a much smaller crate for toy dog breed check out the article about crates for Yorkies and if you want to go the other way and get a crate for a giant dog breed you might be interested in checking out the article about crates for giant breed dogs.