Do you need an XXL plastic dog crate to be able to travel with your dog virtually anywhere?
We've got just what you need because in this article we have reviewed the best ones you can find that range from one for extra large dogs, to ones that are airline approved and so much more so continue reading to find the one that will make your dog a part of your adventurous travels.
The Summary
Best 5 XXL Plastic Dog Crates
BEST OF BEST XXL PLASTIC DOG CRATE
SportPet Designs Plastic Crate
Detachable Wheels
The wheels on this cage don't need to be there if you don't want them to, they easily come off and back on whenever there is a need for it. It's easy to assemble because of its plastic build, but don't be fooled, it is still a sturdy crate.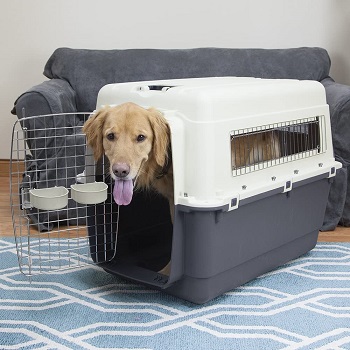 All In One Travel Crate
This XXL plastic dog crate has everything that you need to travel safely and according to regulations with your pet. This means that it has 2 dishes for water, 4 stickers that say "live animals", and metal bolts and nuts. It even has holes required to tie down the crate with a bungee.
Crate-Trained Dogs
This dog training crate should not be used if your dog wasn't already trained to be in one. Apart from that, by using this crate, the dog's measurement should not go over 32-in in length and 24-in in height.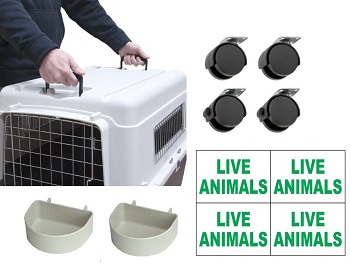 Measuring Your Dog
To measure your dog, you should measure them from snout to rear, not including the tail length and for the height from the floor all the way to the top of his head. For your dog to comfortably fit inside a crate always add 3-4 inches in height and length when choosing a crate.
In Short:
Has wheels for easy transport that can come off easily
Comes with 2 water dishes, 4 "live animal" stickers, metal bolts and nuts, and hole to tie down the crate
It's airline approved and has everything you need for it
Dogs that can fit inside the cage should not go above 32-in length and 24-in height
BEST AIRLINE APPROVED XXL PLASTIC DOG KENNEL
Petmate 21796 Ruffmaxx Travel Carrier
Heavy Duty Plastic Build
The plastic that this crate is made from is strong and heavy-duty. To assemble it you will get nuts and bolts to do so but it is made simple. The top part of the plastic has holes on all three of its sides to provide your pet with ventilation and good airflow.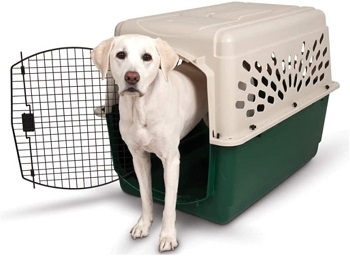 Crate Size For Different Size Of Dogs
To figure out what size of the large dog airline crate is best for your dog, they have a color-coded chart that takes dog breeds of different sizes and what crate size fits which. For example, a pomeranian or a similar-sized dog would best benefit from a 24-in crate while a german shepherd would benefit best from a 48-in crate.
Smaller Size Of Crate Additions
The entrance door is made from metal and is wire grated and has a squeezing locking clip to ensure that your dog doesn't unlock it on his own and escape. Smaller versions of this crate also have a handle on top for easy carrying and transporting.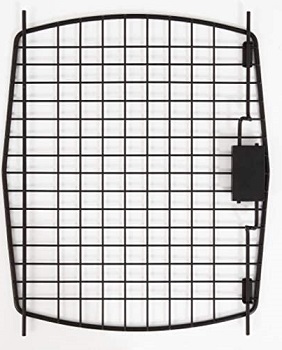 Rounded Edges
The edges of this XXL plastic dog crate are rounded for your dog to sleep comfortably inside when traveling. it measures 40-in and is great for dogs from 70 up to 90 lbs.
In Short:
The crate size is 40-in and fits dog up to 90 lbs
the color-coded chart can help you to decide on a crate to fit your dog perfectly
Made from heavy-duty plastic
Has ventilation holes on 3 sides and one that serves as a door
BEST FOR TRAVEL XXL DOG CRATE PLASTIC
IRIS Extra Pet Travel Carrier
Spring Locks
The lock on this crate is supported by springs. the way you unlock it is by pinching the top and bottom side that creates spring tension and opens the door. You can do this on either side of the carrier, left or right.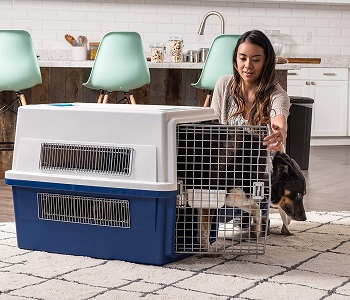 Ventilation Holes
The holes that you can find on this XXL plastic dog crate are sealed shut with a grided metal wire. This is to keep your dog safe while providing him with enough ventilation. These holes are located on the bottom sides, topsides, and of course the front that is used as a door.
Weight It Can Withstand
It's a 34-in crate so it can only withstand dogs' weight up to 75 lbs. The breeds that fit into this category are bull terriers, chow chows, dalmatians, and others of similar size. They are medium-sized dogs but at last, it all depends on the dog's individual weight so you should weigh them before deciding on a crate.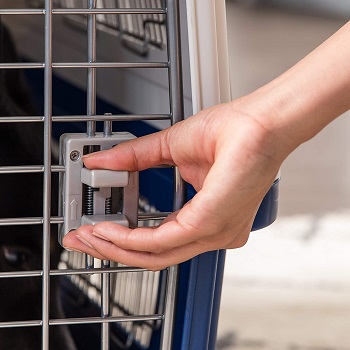 Travel Accessories
The crate comes together with clips that connect the top and bottom of the carrier. Some additional accessories that you will find on it that could be useful when traveling are a detachable bowl for food or water and a two-sided handle for easy carrying. It goes hand to hand wit soft travel dog crates since it is good for traveling with the only difference being the material used in making it
In Short:
Has two spring locks on the left and right
Can withstand weight up to 75 lbs
Comes with a detachable bowl for eating and drinking
ventilation holes are sealed with gridded metal wire
BEST INDOOR PLASTIC DOG KENNEL XXL
4 Door Steel Crate
Plastic And Metal Build
This crate is made with a combination of plastic and metal. The plastic is heavy duty and blow-molded and it has steel inserts. The crate is roomy and very well ventilated seeing as it has grided steel wire on each of the 4 sides of the crate and it has rounded edges to keep your dog safe.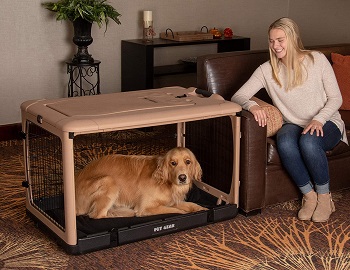 A Lot Of Doors
What's really interesting about this XXL plastic dog crate is how many doors it has. it has 4 doors in total, 2 side doors, one main entrance door that can be opened like a harmonica or a garage door, it slides open so it's similar in function to wooden dog crates with sliding doors. You'll also get a top entrance door with it. All doors can be locked in with locking clips.
Transporting The Crate
On top, you'll find located a handle for easy carrying but since the crate is so big that wouldn't be made possible so there are wheels inserted on the bottom so you can pull it and transport it anywhere with ease.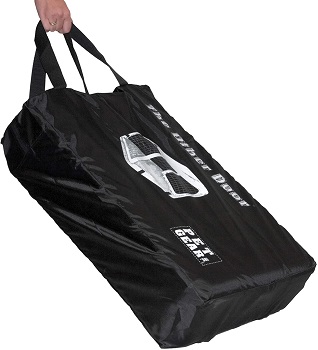 Accessories Included With The Crate
If the handle and transport wheels aren't enough for you, you can always collapse the whole thing, put it in a travel bag made for it, and carry it around like that. With it, you will also get a bedding area made of plush. The crate is made for large dogs and can withstand weight up to 100 lbs.
In Short:
Has a Handle on top and wheels on the bottom for transport
Comes with a travel bag that you can put the cage in when collapsed
Has 4 door in total that can all be locked with locking clips
The front door opens like a garage door
Comes with a plush bedding
Made for dogs up to 100 lbs
BEST FOLDING XXL PLASTIC DOG CRATE
Richell Convertible Pet Playpen
Convertible Playpen
This XXL plastic dog crate can be converted into a playpen, be used as a gate to prevent your dog from going into other rooms, or be used as a regular crate with no top. It is completely made out of plastic, has a neutral beige color, and provides our dog with visibility and ventilation since it has a plastic line with holes in between each one.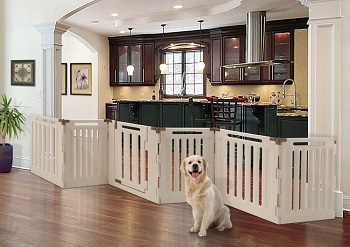 Number Of Panels And Included Mat
It has 6 panels and you can choose to turn it into a hexagon shape. When it's made to look like that you'll have good use of the hexagon-shaped mat that comes with the crate. You can also use it as a cover if you choose to place it outdoor to provide your dog with shade.
Multiple Degree Locking Clips
The clips that connect all the panels and lock them into place can be placed at a 90, 120, and 180-degree angle. This allows the sturdy dog crate to be used in any way you'd like including the already mentioned playpen or gate that serves as a room divider.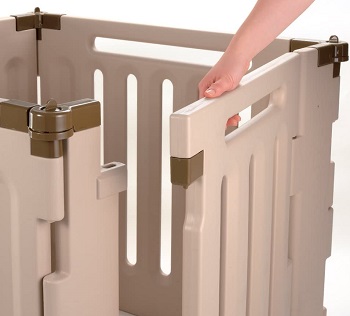 Advised Purpose
It does have a lockable gate but using it as a crate all the time might not be a smart idea since large dog breeds are stronger and could break it since it's entirely made out of plastic. Use it with small and medium dog breeds. If you want more room for your dog, you can connect more than one unit to each other.
In Short:
It's multifunctional and can be used as a crate, playpen, or room divider
It's Made up of 6 panels
The panels are connected with clips that are locked in a 3 different angles
Comes with a mat that can be used as a top cover or on the bottom
Has a lockable door
It's entirely made out of plastic
How To Pick An XXL Plastic Dog Crate
Since plastic is a less reliable material when it comes to durability, XXL plastic dog crates can be used for not many different purposes and perhaps for shorter periods of time but still, for the uses that they're made for, they do well in those departments like being airline approved and so that they're made for all types of travel. You have to think carefully when choosing a plastic dog crate so here are some things to consider before buying.
Airline Approved Requirements – Most plastic dog crates can be used to travel with your pet. This is because plastic is an approved material when traveling by plane. If a crate is airline approved it means that it will have enough ventilation holes (2 for home travel, 4 for international travel), have a hard top, might even include "live animal stickers" be sealed with bolts and screws, and have food and water bowls inside.
At Home Indoor Crates – If you're buying a crate for a large dog, it shouldn't be completely made of plastic, it should at least have gridded wire dog crate sides if you're looking to get a crate longterm. Plastic made crates will usually do good as a playpen or divider gate
Access Doors – How many access doors a plastic crate will have will largely depend on its use. If a crate is made for traveling with your dog it should not have more than one entrance hole that is well locked, if you're using it as an at-home crate, then the possibilities are really endless. It's really good to get one that has a top entrance as well because this way, your dog can't get out and you have access to him nonetheless.
Plastic Dog Crate VS Kennel – For one, you will rarely find, or not at all, a dog kennel that is made of plastic. The reason for it is because dog kennels are made large and are fit for outside use. XXL plastic dog kennels aren't available, but real kennels can contain wooden or metal dog crates within them.
To Sum Up
Since XXL plastic dog crates are usually made for short term use and we're focusing on crates fit for travel, the best one that we'd recommend is the SportPet Designs Plastic Crate. It has everything you need for traveling via plane with your dog including "live animal" stickers and nuts and bolts to seal it well. Now if you want a more homey crate that your large dog can easily use indoor look into the article about xl wire dog crates and if you want to look at other options for traveling check the article about travel dog crates out.