Have you tried to purchase a plastic dog crate but don't really know all of your options?
You're sure to find out that and more if you continue reading this article where we reviewed all sorts of different types of crates that all have one thing in common, they're plastic. You'll find large, extra-large, heavy-duty, and many more crates, and one is bound to suit you.
The Summary
Best 10 Plastic Dog Crates
BEST OF BEST PLASTIC DOG CRATE
Gunner Kennels G1
Car Safety
If you ever doubted that a plastic crate can be durable this one will change your mind. First off, it's a crash-tested dog crate meaning your dog will be safe in the event of a car crash. It's an intermediate dog crate so it can house both medium and some large dogs.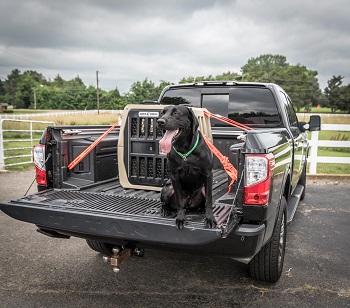 Build Technique
It's made with double-wall roto-molded plastic and its entrance is welded and has a reinforced aluminum frame with escape-proof locks. Although the safety of the crate is unmatched, there exist cheaper and equally safe crash-tested dog crates so check them out next.
In Short:
Made with roto-molded plastic
The plastic has a double wall
It's crash tested and safe
It's able to house medium and some large dogs
Has a welded door reinforced with an aluminum frame
The lock on the door is escape-proof
BEST LARGE PLASTIC DOG CRATE
SportPet Designs Plastic Kennel
Use And Build
It's an extra-large dog crate but it can house mostly intermediate-sized dogs due to its 35.5-in in length. It's made out of 2 plastic shells and comes with plastic locking clips and nuts and bolts to connect them. It also features stickers, bowls, and bungee tie-down holes so it's an airline-approved crate.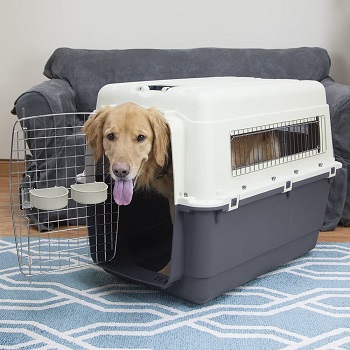 Top And Bottom
On top, you'll find 2 handles so that you can easily lift the crate and 4 easily detachable wheels on the bottom. It makes sense that it has these since it's an extra-large plastic dog crate. For more XL but portable crates like this one, check the article about them out.
In Short:
Made out o 2 plastic shells
The shells connect with clips and nuts and bolts
Can be used for air travel
Comes with a basic travel kit
Can house intermediate dogs since it's 35.5-in long
Has 2 handles on top and 4 wheels on the bottom
BEST HEAVY DUTY PLASTIC DOG CRATE
Petmate Ultra Vari Kennel
Shell Connection
The top and bottom plastic shells are made with heavy-duty, rigid plastic. The winged nuts that you'll use to connect the two won't corrode so it will definitely last longer. The edges also feature holes that will allow you to tie it down with bungees since it is an airline dog crate.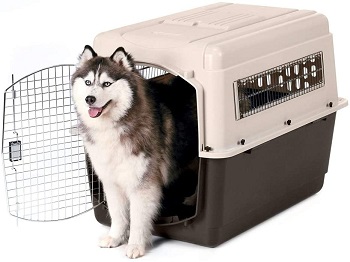 Other Material Bits
The plastic it's made with is recycled as well. The door is made out of wire and features a pinch to open lock so that it doesn't accidentally open on its own when traveling. If your focus is on car travel crates, you'll definitely find one of the best heavy-duty plastic crates in the article listed.
In Short:
Made with heavy-duty recycled plastic
The shells connect with winged nuts
The nuts are non-corrodible
Has a wire door and a pinch to open lock
Can be used as an air travel crate
Features tie-down bungee holes
BEST MEDIUM PLASTIC DOG CRATE
Iris USA Pet Play Crate
Frame Material And Looks
The top and bottom are where the frame is located. This frame looks wooden but it's actually plastic so as a medium plastic dog crate, it'll blend wonderfully inside your home. You can find others with different purposes in the article we linked before and you'll also find it at the end of the review.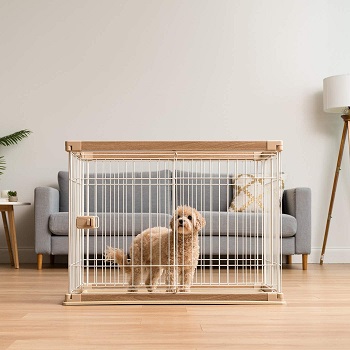 Wire And Size
The middle contains epoxy coated wire while the top isn't featured. The tray of the crate is molded to fit the bottom edges perfectly and so that the crate doesn't move around as much. It has a single sliding door and it's able to house both medium and some large dogs due to its 38-in in length.
In Short:
Has a wood-looking plastic frame
The middle is covered with wire
The wire has a white epoxy finish
Doesn't feature a top
it's 38-in long
The cleaning tray is molded into the bottom edges
Features a single sliding door entrance
BEST COLLAPSIBLE PLASTIC DOG CRATE
KindTail Collapsible Crate
Looks Details
This is the first, and probably the last fully plastic crate we will review. For ventilation, it has carefully crafted holes that add to the way it looks. It has a sage green color and overall looks vintage so it's sure to blend into your home. The ventilation holes are located on all sides except for the top and bottom.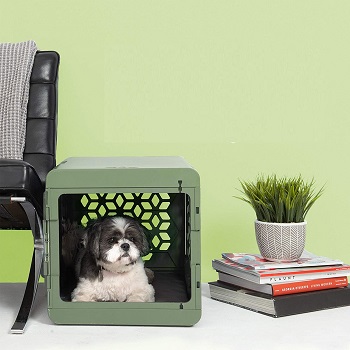 Safety And Folding Process
It's made so that there are no sharp edges that can hurt your dog. It has one door in the front and when it's collapsed, it looks like a suitcase you can carry with the provided handle. It's made to house extra small dogs so if you want to get a bigger one, be sure to read the article about more than just this plastic collapsible dog crate.
In Short:
Fully made out of plastic
Has lovely decoration vent holes on all sides
Has a sage green color
Made to house extra small dogs
Collapses into a suitcase shape
Can be carried when collapsed with a handle
Has no sharp edges
BEST WITH DIVIDER PLASTIC DOG CRATE
Diggs Revol Dog Crate
Puppy Housing Crate
If it features a divider it's most likely a puppy dog crate. This one is and it's also completely safe for them since it's made with baby industry standards. One of the features of a crate like this is that it has rounded corners. This is a plastic dog crate with a divider but if you'd like a metal one, you'll find them in the article mentioned below.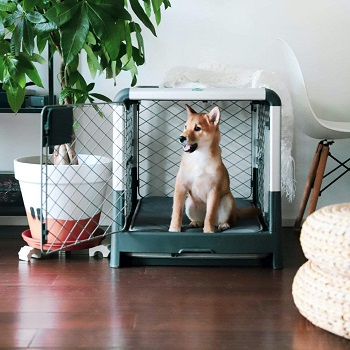 Durable And Smart Construction
The frame is made of reinforced plastic and it has wire sides made out of aluminum metal. You can collapse it easily and it even has built-in wheels for you to drag it without having to lift it since it weighs 25 lbs. The dog can grow up to be a small dog breed inside this crate.
In Short:
Made to be safe for puppies
Comes with a divider for potty training
The dog can grow up to be a small breed
Has a reinforced plastic frame
The sides are made out of aluminum wire
Features built-in wheels and can be collapsed
Weighs around 25 lbs
BEST TRAVEL PLASTIC DOG CRATE
MidWest Homes Skudo Crate
Top And Bottom Features
If you'd like the crate to be easily portable, you'll enjoy the fact that on top you'll have a long handle that will allow you to pull it. You'll have to buy the wheels for it separately. On top, you'll also find a plastic compartment that can be used for you to store dog accessories inside.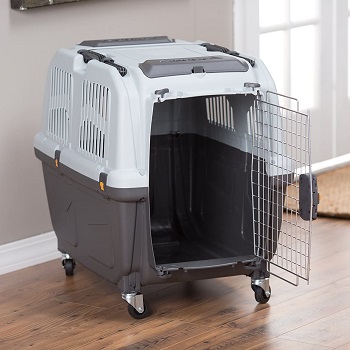 Everything Plastic
It's made out of plastic shells that are easy to connect with plastic lock buckles. Even the lock on the wire door is made out of plastic. If you'd like to have a rolling dog crate with wheels included, one is bound to have them in the article we linked. it's made to house small dogs since it's 27-in long.
In Short:
Has 2 plastic shells that connect with lock buckles
Has a single wire door
Made to house small dogs
Has a pull handle on top and an accessory compartment
Can have wheels but you need to buy them separately
BEST SMALL PLASTIC DOG CRATE
Amazon Basics Top Load Crate
More Entrances
It's very unlikely for travel plastic crates to have more than one entrance but this one has another one on top. it's a plastic entrance while the front one is a wire entrance. There's more to a small plastic dog crate than just that so check the detailed review and others in the article.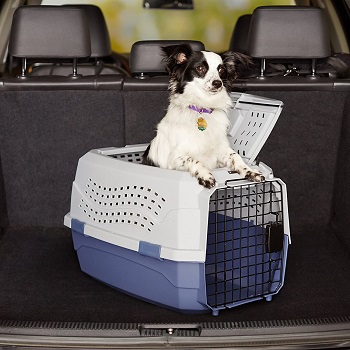 Ventilation And Carrying
The only major ventilation point is the wire door in the front while the sides feature small holes for that. It has a handle on top for you to carry it around with ease as well. The lock on the door is spring-loaded so that it doesn't accidentally open during transport.
In Short:
Has a top and front entrance
Has a carrying handle on top
Made to house small and extra small dogs
Has a spring-loaded front door lock
Features small vent holes all around it
BEST FURNITURE PLASTIC DOG CRATE
Ecoflex Dog Crate
Ecoflex Material Info
The simple reason why this model is reviewed as plastic crate is that it's made of a plastic and wood composite material. This material doesn't crack split or warp. It also won't absorb liquids that get onto it unlike other wood combinations or simply wooden materials.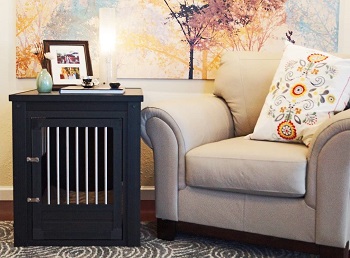 Doors, Ventilation, And More
For ventilation and visibility, it's covered with stainless steel tubes on three sides including the door. The top can come off for cleaning and you can place personal possessions onto it. It's extra-large dog crate furniture but you can surely find smaller models made out of more than just plastic as well.
In Short:
Made out of plastic and wood composite material
As a material, it doesn't split, crack, warp or absorb liquids
Purposed to house large dogs
Has stainless steel tubes for visibility and ventilation
Features a single entrance
The top can hold personal stuff and can be taken off
BEST 42 INCH PLASTIC DOG CRATE
Pet Gear 4 Door Steel Crate
Material Combo
Rarely will a crate be fully plastic. This one has a blow-molded plastic frame and steel wire sides. On the inside, the corners are rounded and you'll find no exposed steel wire edges so it's safe for both dogs and puppies. It's a large plastic dog crate so check others out as well to surely know if this one's right for you.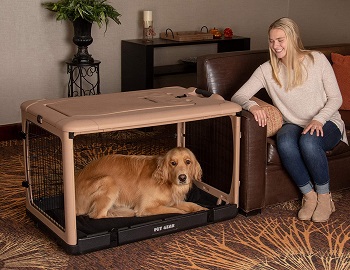 Entrances And Portability
The most impressive thing is that it has a total of 4 entrances. They can be found on top, in the front and back, and one is found on the side of the crate. This side entrance saves space because it opens by sliding upwards just like a garage door does. It can be collapsed and dragged with built-in wheels or in its own travel bag.
In Short:
Made with blow-molded plastic
Has steel wire sides
The corners are rounded and there are no sharp exposed edges
Made to house large dogs
Has 4 entrances
The side entrance slides open
Can be collapsed and dragged with built-in wheels
How To Pick A Plastic Dog Crate
It's easy to pick out a plastic dog crate when you know exactly what you need and are looking for. We're here to make that happen by informing you about all of the necessary info that will make it easy for you to choose. Some of the things we'll talk about are plastic types, benefits, and flaws.
Plastic Dog Kennels – There was more than one mention of kennels instead of crates. Plastic crates, especially travel crates tend to be named kennels. We're not sure why this is the case since kennels are much larger- So large in fact that they can hold a crate inside them. They're also designed to be used outdoors and withstand harsh weather conditions.
Plastic Dog Crate Sizes – Travel crates, especially ones made for air travel are going to have different sizes than the standard ones. You should avoid looking at the size like large and extra large and check out the dimension. That paired with knowing your dogs' length and height will help you decide on one.
Reference Sizes – There are some plastic crates though that have standard sizing. These include 24-in, 30-in, 42-in, and 48-in long crates. They range from small to extra large and you can sort of using them as a reference point to figure out what size of crate your dog needs. A crate should be at least 3-4 inches longer and taller than your dog unless stated otherwise by the manufacturer of the crate.
Plastic Types – Gone are the days when plastic was considered flimsy. With newer plastic molding techniques come stronger and more durable crates. We're truly fans of roto-molded crates that use a single piece of plastic to make a crate. This molding technique is often found on hunting dog crates and they're usually also crash tested.
Indoor Crate Choice – Rarely will a crate be made only out of plastic. It'll usually combine with other materials like wire and this is the exact sort of crate you should be looking for if you plan on using them not only as a containment tool but as a housing tool.
Common Prices – It's truly tough to pinpoint an average price of a crate and not miss by a lot. These crates definitely have the most varied price range. A crash-tested, roto-molded plastic crate can cost you around 600 dollars while others can cost around 200 dollars or even 60 dollars. Size is also a factor included in the price.
To Sum Up
We made this article by including every possible type of plastic dog crate available. This means that model to model, they're incomparable and so we can't really pinpoint the best one. A few tips before we end, make sure you look at dimensions for size and check the price since they vary greatly in those too. If you'd like to check also metal crates we'd advise you to either read the article about wire dog crates or steel dog crates. And for a full overview of all the dog crate types out there, you can read the article about dog crates.