Are you looking to complete the looks of your home with a new modern dog crate?
Dog crates are so much more than wire black crates and you can see for yourself if you continue reading this article where we reviewed the best ones out there. From furniture crates, wooden crates, to puppy crates, one is bound to be made just for you and your dog.
The Summary
Best 10 Modern Dog Crates
BEST OF BEST MODERN DOG CRATE
Unipaws Furniture Style Dog Crate
Puppy Protected
The frame of the crate is made out of MDF wood. The wood may not be chew-resistant but its wire sides definitely are so you can take that risk and house puppies inside. The floor will be protected from accidents with the help of a waterproof bed that comes with it. The top can withstand a weight of up to 200 lbs.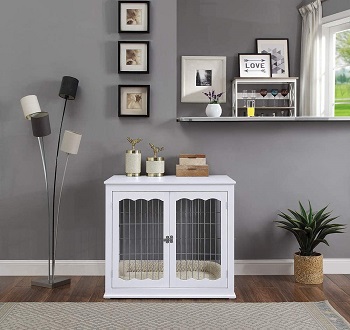 Doors And Locks
It has 2 entry points. One is a double door and the second one is a single door. They lock with three different types of locks for additional safety. It's designed to house larger dogs so if you'd like a contemporary dog crate that's smaller you can find one in the article.
In Short:
Made with MDF wood
Has chew-resistant wire sides
Comes with a waterproof bed
Has 3 doors with 3 locks on each entrance
The top can handle 200 lbs of weight
It's an intermediate dog crate
BEST MID CENTURY MODERN DOG CRATE
Staart Wooden Indoor
How It Looks
Vintage is the new modern with this crate. The bottom edges of the crate are curved and it sits on 4 legs that prevent it from slipping. Although it features metal windows, these windows have tiny holes so that it still looks like a mid-century modern dog crate. You can find more of them in the article listed below if you'd prefer a different look.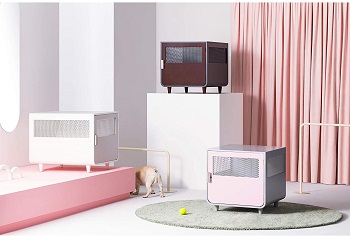 Interior Safety Features
It's made out of solid wood and its interior is safe for dogs because of the rounded edges. If your dog urinated while inside, you won't have to worry about damage because of the water-resistant coating it has. It's 36-in long so it can house some medium and some large dogs.
In Short:
Sits on 4 rubber grip legs
Has a rounded bottom and rounded interior edges
It's 36-in long
Has a water-resistant coating on the inside
Has 3 ventilation windows
Made out of solid wood
BEST FURNITURE MODERN DOG CRATE
BarkWood Large Pet Crate
Panel Material And Connection
The crate panels are connected with mortise and tenon joints that make the crate more stable and durable. It's constructed from solid wood and it's coated with a grey finish. The ventilation windows and the front entrance are also covered with wooden bars.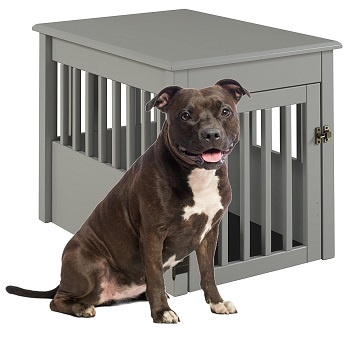 Door And Interior Bottom
The door of the crate can open fully to the side to save space while the bottom of the interior is rubberized so that there's minimal if liquid absorption. If you'd prefer a different color or more doors on your modern dog crate furniture, you're sure to find one in the article about them.
In Short:
Constructed out of solid wood
Features mortise and tenon joints
Has a single space-saving door
It's colored gray
The rubberized bottom has minimal liquid absorption properties
Features 4 ventilation points covered with wooden bars
BEST WOOD MODERN DOG CRATE
Casual Home Wooden Crate
Wood Durability
The solid wood it is made out of makes it chew-resistant and it's why this indoor wood dog crate is amazing but if you'd like to combine wood with let's say metal, you'll definitely find one in the article listed below. The crate has a taupe gray finish.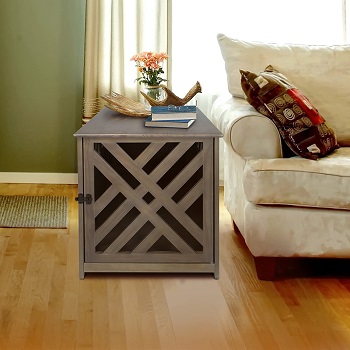 Looks, Size, And Double Function
The windows and the doors have diagonally positioned bars to make it look more elegant. This modern crate for dogs is designed to be used as a medium dog crate but it also functions as an end table that can hold the weight of up to 200 lbs. With the single hasp latch lock and wood built, we'd still recommend it for crate trained dogs only.
In Short:
Made out of chew-resistant solid wood
Has diagonally positioned bars on windows
Comes in a taupe grey color
Can house medium-sized dogs
The top can hold up to 200 lbs
Should still only house crate trained dogs
BEST LARGE MODERN DOG CRATE
Zoovilla Dog Crate
Sides And Frame
For the frame of this crate, the manufacturer used MDF wood while for the sides, they used wire. The door of the crate is also made out of wire and locks with a sliding bolt lock. The cleaning plastic tray on the bottom is hidden to not disrupt how the crate looks.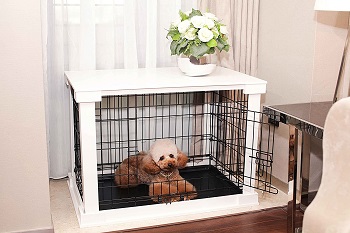 Space Saving But Large
This contemporary dog crate will save space because of the end-table function of the top even though it's a large dog crate. If you'd like to look at more space-saving large dog crates you're sure to learn about them and find one in the next article. This crate is around 43-in long, 29-in wide, and 30-in tall.
In Short:
Has an MDF wooden frame and wire sides
Features 1, sliding bolt locking door
The top can store your personal items
It's around 43-in long, 29-in wide, and 30-in tall
The plastic cleaning tray is hidden
BEST INDOOR MODERN DOG CRATE
Crown Pet Products Wood Crate
Wood Used, Color, And Size
Although the crate is made out of hardwood it looks like a teak wood crate. This modern dog cage has the classic espresso finish and it can house medium dogs with an adult weight of up to 45 lbs. It's best to determine size with dimensions though which are around 30-in in length 21-in in width, and 24-in in height.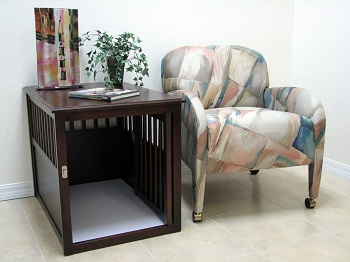 Saving Space
The floor is made out of MDF wood and it's covered with melamine so that it doesn't get damaged if your dog urinates inside. Apart from being space-saving because of its furniture function, the door opens and can be pushed inside to not get in the way. If you'd like this indoor dog crate furniture with different unique space-saving abilities, be sure to read about more of them in another article.
In Short:
Made out o hardwood that looks like teak
Has melamine covered MDF floor
The door can be pushed inside
Made to house up to 45 lbs dogs
The top makes it function as furniture
BEST PUPPIES MODERN DOG CRATE
Diggs Revol Dog Crate
Puppy And Adult Dog Safety
A modern dog crate doesn't have to be just furniture. This one is modern because it's truly safe for puppies since it's made with baby industry standards and it comes with a divider. It's also safe for adult dogs that can grow up to be medium-sized dogs since it's 35-in long on the outside ad 32-in on the inside.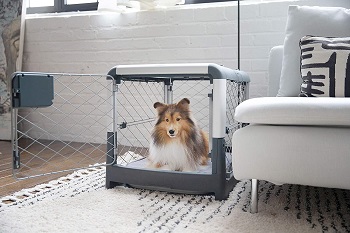 Build And Looks
It's made out of reinforced plastic and has aluminum wire sides. This all makes it incredibly durable. It has a minimalist look so if you'd like a puppy apartment crate that's a little extra, read the article listed and you might just find one. It can be collapsed and it has built-in wheels for ease of transport.
In Short:
Made with reinforced plastic
Has aluminum wire sides
Can house puppies and medium-sized dogs
Comes with a puppy divider
It's completely safe for puppies
Can be collapsed and dragged with built-in wheels
BEST SMALL MODERN DOG CRATE
Carlson Pink Secure Crate
Crate Color
If it weren't for the color pink, this would just be a regular small wire dog crate but thanks to it it's a colored dog crate. You can find other colored crates in the article listed below if you'd prefer another color. It's 24-in long and it can be folded down for storage and transport.
Door And General Safety
This modern dog cage has one entrance that locks from 5 different points. It's also certified to ASTM and JMPA standards that concern themselves with juvenile products safety. Even the slide-out cleaning tray below is colored pink so there's no part that disturbs how it looks.
In Short:
Made out of steel wire
It's colored pink
It's 24-in long
The single door locks from 5 different points
It's certified to ASTM and JMPA standards
Can be folded down
BEST PLASTIC MODERN DOG CRATE
Iris USA Wire Open Pen
Plastic And Wire Looks
The top and bottom frames of this crate look wooden but they're actually made out of plastic. Paired with the white epoxy coated wire found all around it, it's a dog crate playpen sure to blend wonderfully inside homes. If not, there are other ones you can check out.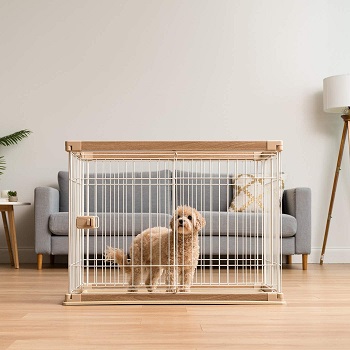 Size And Dogs It Can House
Since it's a playpen it doesn't feature a top but it's actually extra-large since it's 47-in long, 31.5-in wide, and 28-in tall. Nonetheless, this contemporary dog crate should house only medium-sized dogs. On the bottom, you'll find a tray that's molded into the bottom edges of the top so that it doesn't move around as much.
In Short:
Has a wooden looking plastic frame
The wire is coated with white epoxy
It's 47-in long, 31.5-in wide, and 28-in tall
Should only house medium dogs
Doesn't feature a top
The bottom tray is molded
BEST CREDENZA MODERN DOG CRATE
Ecoflex Homestead Crate
Material Details
The material that makes this crate is unique and modern. It's ecoflex which is a wood and plastic composite material. This material won't split, crack, or warp. It can handle getting into contact with liquids well and won't absorb them. The modern crate for dogs is colored in white.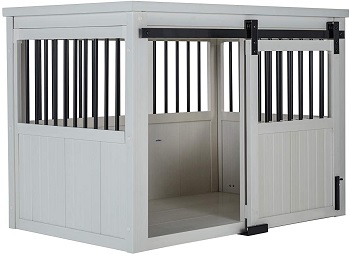 Doors, Top, And Size
This is a barn-door crate which helps it save space even though it's an extra-large credenza dog crate. If you'd like to check out more of these, you can do it now by reading the article we linked below. The door locks on the bottom, the top makes it act as furniture and it's able to house large dogs.
In Short:
Made out of ecoflex
Ecoflex doesn't absorb water and crack, split, or warp
It's colored white
Has a barn style sliding door that locks from the bottom
It's extra-large but able to house large dogs
The top makes it double as an end-table
How To Pick A Modern Dog Crate
It's not just about looks with any contemporary dog crate so make sure you continue reading this buying guide where we'll go through all the things necessary for you to know so that you can truly buy the best but tailored to your dog and needs. Some of the things we'll mention are how to size a crate, we'll divide them into types, and more.
Crate Types – The most common modern crate type is definitely indoor dog crate furniture. They're usually made out of wood or some kind of wood composite material or polymer ad they truly function as furniture due to their tops. Other types include highly safe but modern-looking crates for example colored wire dog crates.
Crate Training – With furniture crates, we advise you to not risk housing inside a dog that hasn't been crate trained. Even though some feature wire sides that are chew proof or are made with chew-proof materials, you should still avoid it. The most you can allow is for your dog to urinate inside certain ones that have protected bottoms.
Training Crate Types – The rest of the crates we reviewed can serve as amazing crate training crates. These crates are most commonly wire crates and if they're made for puppies they'll either be extremely safe for them or come with a divider. The two things combined are also a possibility.
Size Reference – A good point of reference to start your journey of picking out the right size is to know the standard sizes for small, medium, large, and extra-large dog crates. In order, they're 24-in, 30-in, 42-in, and 48-in long dog crates. What you shouldn't do is look at what size of crate you should get b their weight limit.
Size According To Dog Size – The way to figure out the size of crate for your dog is to take his length and width. After that, you'll want to add at least 3-4-in to the existing measurements and the numbers you get are your preferred crate size. This changes only if the crate manufacturer requests a different technique of measurement.
Pricing Standards – The price of a crate will depend on its size but you should know that modern dog crates usually aren't cheap. This is especially true if you'd like a furniture crate. The least you'll spend is around 100 dollars but some can easily climb up to 300 dollars and more.
To Sum Up
We were tempted to recommend one modern dog crate as the best but then quickly realized they're all incomparable. Each one is better than the other in some areas so we'll leave you with this, always measure your dog to figure out the size and make sure the crate doesn't require a crate-trained dog if your dog isn't already. If you'd like to check out nothing but furniture crates we advise you to read the article about the best large dog crate furniture models or if you'd like to stick to metal, check out the best wire crates for dogs. For a general overview of all dog crate types, you can read the article about dog crates.