Are you hoping to soon find an easily foldable and storable pop-up dog crate but can't seem to find or decide on one?
We will help you chose the best one for you and your dog if you continue reading this article. if you're wondering how and why, we reviewed only the best ones in the article, and we made sure to include different crate types but so that they all fit the previously mentioned description like extra-large, large, car crates, and more.
The Summary
Best 10 Pop Up Dog Crates
BEST OF BEST POP UP DOG CRATE
A4pets Collapsible Dog Crate
Clean Car Travels
You'll love having this crate on your travel since it has a leakproof bottom that will keep your car floors clean. Other than that, it's made out of oxford fabric and features a durable steel tube frame as well. If you're interested to check out more soft-sided dog crates large models, you can see what you can get in the article mentioned.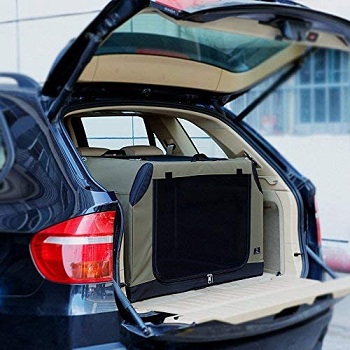 True Size And Access
Although it's large, this pop-up dog cage is actually an intermediate dog crate that's 36-in long and able to house medium and large dogs. It has 3 entrances that also act as ventilation windows and features a ventilation window on its own on the right side. The back has a pocket for storing accessories.
In Short:
Has a leakproof bottom
Made with oxford fabric
Features a foldable frame made out of steel tubes
It's 36-in long
Can house medium and large dogs
Hs 3 doors and 4 vent windows
The back holds an accessory pocket
BEST CARRIER POP UP DOG CRATE
X Zone Pet Soft Crate
Looks And Use
It's intended to house extra small dogs which makes it small altogether. It's 17.5-in long, 11-in wide, and 11-in tall. This means that it can fit under the seats of most airlines and that's why it's airline approved. Generally, this pop-up dog cage looks like a duffel bag.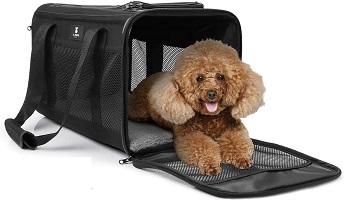 Inside Features
On the inside, it features an inserted hard base so that our dog can stand on it, and on top of that, it has a soft mat so that your dog can feel more comfortable. A soft dog crate for car will almost always be comfortable inside with different types of mats and beds so check them all out in the article linked.
In Short:
Looks like a duffel bag
Can house extra small dogs
It's 17.5-in long, 11-in wide, and 11-in tall
Can fit under the seat of an airplane
Has a hard base insert
Comes with a comfortable bed mat
BEST EXTRA LARGE POP UP DOG CRATE
EliteField 3-Door Crate
Fabric And Frame
The fabric used to make its cover is a 600D oxford fabric cover and it features a steel tube frame that allows you to fold it down. This paired with the 42-in in length makes it a soft-sided large dog crate so to learn about other choices, read the article linked.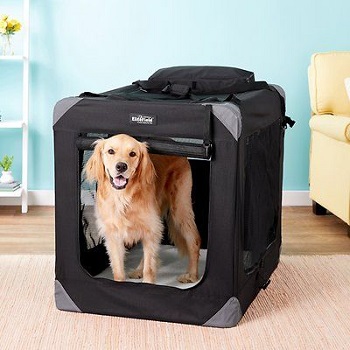 Spacious And Ventilated
Generally, it's 2-in wider and 4-in taller than most soft dog crates. The pop-up cage is extra-large but it's intended to house large dogs only. When folded, you can store it inside its own travel bag or you can carry it as it is using either the carrying handles or the shoulder strap. It has vent 5 points and 3 entrances.
In Short:
Made with 600D oxford fabric cover
Has a folding steel tube frame
Comes with its own travel bag
It's 4-in taller and 2-in wider than most
Able to house large dogs
Can be carried with handles or with a shoulder strap
BEST CAR POP UP DOG CRATE
Pet Gear The Other Door Crate
Folding And Entrances
You'll easily be able to collapse this pop-up crate to put it inside its own travel bag. It also features built-in wheels that will allow you to drag it. It has a total of 4 entrances and one is a space-saving entrance since it slides open. It's 42-in long which allows you to use it for large dogs.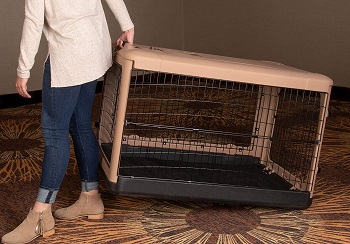 Odd Build Materials
Pop up crates don't have to be soft to be considered one. This plastic car crate for large dogs proves it so to check out more, you'll find them all in the article mentioned. It also features wire sides and its interior is safe for dogs because there are no exposed steel edges and it has rounded corners.
In Short:
Made out of plastic and wire
Generally has a safe interior
Can be used to house large dogs
It's easy to collapse and carry inside its own travel bag
Has built-in wheels
Has 4 doors and one slides open
BEST LARGE POP UP DOG CRATE
MidWest Portable Tent Crate
Is It Really Large
There's rarely a difference between an extra large and soft dog crate large model but surely you can find one in the next article we advise you read. It's 42-in long so it truly is large and it features a steel frame with U-shaped wires that help hold it up.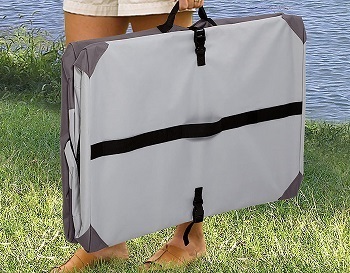 Preferred Use
It's going to do amazing as a dog camping crate since the fabric is water-resistant so your dog will be kept dry. It has one entrance and ventilation points on all sides. When you're done using it, you can easily carry this pop-up dog cage folded down using the provided carrying handle.
In Short:
Has a steel frame and U-shaped wire
The cover is water-resistant
It has a standard large 42-in size
Can be folded and then carried with a handle
Has one entrance and mesh fabric windows all around
BEST TRAVEL POP UP DOG CRATE
Diggs Revol Dog Crate
Puppy And Dog Safety
The crate screams safety for both puppies and adult dogs since it's made keeping in mind baby industry standards. It's also incredibly durable due to its reinforced plastic frame and wire sides that are made with aluminum metal. The 3 entrances can only ever be opened by humans.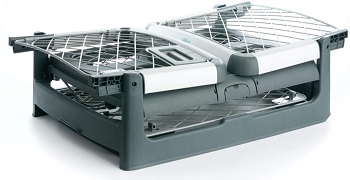 Indoor And Travel Crate
It's a long-lasting solution to the problem of having both an indoor and collapsible travel dog crate. For more versatile crates like this one, you're sure to find them in the next article. It's easy to collapse and then drag with built-in wheels. This pop-up crate for dogs comes also with a divider for housing puppies that can grow up to be medium-sized dogs.
In Short:
Constructed out of reinforced plastic and aluminum wire
It's safe for puppies and adult dogs
Comes with a puppy divider
Has 3 dog safe entrances
Can be collapsed
Has built-in wheels
BEST PORTABLE POP UP DOG CRATE
Petco Brand  You & Me Crate
Why It's Light
The reason why it's easily portable is that it's light. It only weighs around 10 lbs but it's able to house medium-sized dogs. For even lighter choices for a portable crate for large dogs, be sure to read the article about them as well. The reason it's light is because of the lightweight metal frame.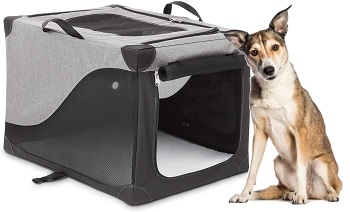 Interior And Transport
The frame will allow you to fold it down. It comes with its own carry bag or you can carry it with the provided handles. The interior of this pop-up crate is equipped with a soft fleece mat and it will be properly ventilated due to the 4 mesh fabric windows. Lastly, it has 3 doors for access.
In Short:
Made with a lightweight metal frame
Can house medium-sized dogs
Comes with its own carry bag
Has 3 door and 4 ventilation points
The inside is equipped with a soft mat
BEST SMALL POP UP DOG CRATE
Petnation Port-A-Crate
Cover Durability And Cleaning
You can consider this crate a heavy-duty soft crate because it's made with tightly woven fabric. This might even make it scratch-resistant to an extent when paired with the fact that it can house small dogs since it's 24-in long. The cover is easily washable either in a machine or by hand.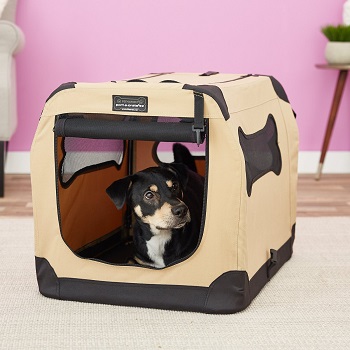 Looks And Price
It looks wonderful due to the 2 side mesh fabric windows that are shaped like dog bones. When folded, you can buckle this pop-up crate so that it doesn't accidentally unfold again. A small soft dog crate is definitely going to be cheaper than other large ones so check out the other ones to find one suitable for your budget.
In Short:
Made with tightly woven fabric
It can be cleaned inside a washing machine
Has bone-shaped side mesh fabric windows
Can be folded and buckled up
It's 24-in long
Best used with crate trained dogs
BEST LIGHTWEIGHT POP UP DOG CRATE
2PET Foldable Dog Crate
Travel Features
The steel tube frame of this crate is metal but it's not heavy with only 6 lbs so it's very portable and easy to carry when you're traveling. The fabric it's made out of is 600D oxford fabric that is water-resistant so your dog can be kept dry during transport in the rain.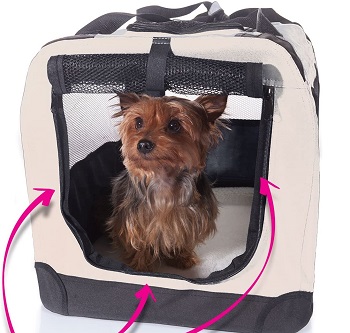 Ventilation And Size
This pop-up crate for dogs is a medium model but you can get larger models as well. Even though it's medium it's 24-in long so it's able to house small dogs. It has a top and bottom door that acts as ventilation windows along with the back and two side mesh fabric windows. If you're interested in checking out more soft-sided dog crates that are light be sure to read the article where we reviewed a lot of different ones.
In Short:
Made to house small dogs
Made out of 600D oxford fabric
Has a lightweight folding steel tube frame
The cover is water-resistant
Weighs around 6 lbs
Has 2 entrances
Features a total of 5 ventilation windows
BEST MULTIPLE POP UP DOG CRATE
One for Pets Portable
Dog Housing Quantity
This is a soft crate that can house 2 dogs this is the crate to go with. Using the fabric divider you can house two dogs separately or together by removing it. You'll actually be getting 2 crates in one. It's made out of fabric materials so it only weighs 7 lbs.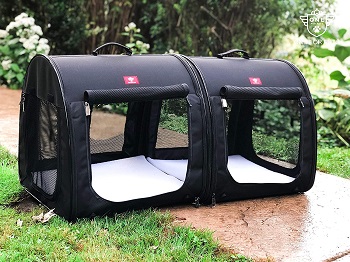 Car Safety, Doors, And Vents
In a car, your dogs will be safe since this pop-up crate allows you to connect it to a seat belt. If you wish to get a metal multi-dog crate, you're sure to find at least one or two in the article below. Each crate can be folded and features 2 doors and 3 vent windows. It can house only small dogs.
In Short:
Able to house two dogs
Can house only small dogs
You can connect the crate to a seatbelt
Comes with a removable fabric divider
Can be folded down
Each crate has 2 doors and 3 vent windows
How To Pick A Pop Up Dog Crate
To choose the best pop-up dog crate, we first need to rewind and take a look at the various types of crates you can get that fit this description. Next up, it's important to talk about each type separately, its flaws and benefits, and general crate size and uses. All of that and more will be mentioned in this guide.
Pop Up Dog Kennel – We're certain that you fin dan actual pop-up dog kennel in this article or any dog crate article. Some crates might say that they are kennels but unless the crate is so big that it can hold a crate and can't fit inside a house most of the time and it's made to withstand harsh weather conditions, it's not a real kennel.
Pop Up Crate Types – The most common pop-up crate type is soft dog crates. The size really doesn't matter, what's important is that they're cloth dog crates. Another type we included is collapsible plastic dog crates because the collapsible feature makes them pop up crates and a certain type of metal crates. These are unlikely to be collapsible so the one mentioned is unique.
Soft Crate Durability – The durability of these crates should be questioned. They will last long under certain conditions and the main condition is that the dog has to be crate trained and calm. Otherwise, you'll just have to buy another one pretty soon.
Indoor Crates – Soft crates can't really work as indoor dog housing crates. They're too unreliable to be able to withstand unpredicted dog behavior even if the dog is crate trained. For indoor options, you should go with the other type mentioned or plastic dog crates.
Size Determination – Some crates will step away from the standard sizing but usually they're going to be 24-in long for small, 30-in for medium, 42-in for large, and 48-in for extra-large crates. The dog should be 3-4 inches shorter in length and height than the crate to fit inside safely and comfortably. Unfortunately, in this article, there we no 48-in long crates and you'll hardly find a soft crate of that size.
General Pricing Chart – With so many different types it's hard to give you an average price that will make sense. Soft crates are going to be the cheapest but larger ones may still cost around 100 dollars. Plastic crates can easily go over 200 dollars depending on safety and versatility of use while metal crates are going to be the most expensive with some costing over 500 dollars.
To Sum Up
Since there are many types of pop-up dog crates, we won't recommend one as the best but instead, we'll leave you with a few tips on how to choose one that best suits you. Watch out for crate dimensions and your dog dimensions and make sure that the crate can house dogs that haven't yet been crate trained if this is the description you'd give your dog. If you'd like to read more about soft-sided dog crates, we have an article about and we also have an article about steel dog crates in case you want to learn more and get a metal one. For the full picture of what a dog crate can be, read the article about them.