Looking to get some kind of a new and improved or maybe an even more durable metal crate for dogs but can seem to find one?
We won't just help you look, we offered more than a few choices in this article. All you have to do is continue reading it and you'll go through our reviews of the best. We included heavy-duty, steel, large, medium, and many more crates so one is bound to be your perfect fit.
The Summary
Best 15 Metal Crates For Dogs
BEST OF BEST METAL CRATE
Itori Heavy Duty Cage
Build Stability And Strength
The steel that's used to make it is reinforced still and all parts of it are welded together for a more stable build. To top it all off, it has multiple layers of the hammer tone finish that helps it resist rust and corrosion. Overall, this heavy-duty steel dog crate will stand up to the abuse of dogs well so make sure to check other available products that will do the same.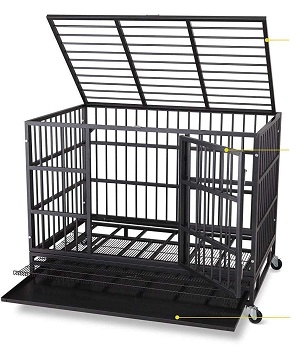 Cleaning And Size
This metal pet cage is 48-in long which allows it to house extra large dog breeds like rottweillers. You'll get to clean the cage without your dog leaving it because of the cleaning tray located outside and on the bottom of it. You can also interact with your dog through the top door apart from the front entrance door.
In Short:
Made with reinforced steel
All parts are welded together
Has multi-layered hammer tone finish
it's 48-in long
Made to house extra large dogs
Has a top and front entrance
Has a cleaning tray below the cage
BEST STEEL METAL CRATE FOR DOGS
Confote 48 Stainless Steel Crate
No Finish Crate
The thing this crate won't have you worrying about its durability and rust and corrosion resistance since it's made with stainless steel. Each part is welded and it has that classic shiny stainless steel color since it doesn't require a finish to be protected and to keep your dog healthy.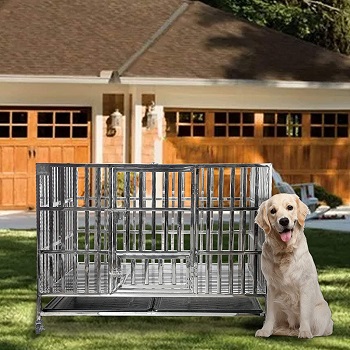 Cleaning And Entries
The bottom is covered is a metal grid that will let through dog excrements that will end up on the slide-out cleaning tray below. The metal steel cage has a top interaction entrance, a front entrance, and even a small feeding entrance. It's made for extra large dogs so if you'd like the benefit of a stainless steel dog crate but in a smaller size, you can find one in the mentioned article.
In Short:
Made with stainless steel
Doesn't need a finish to be rust and corrosion resistant
It's great for your dogs' health
Has a front, top, and feeding entrance
The cleaning tray is located below the metal grid bottom
It can house extra large dogs
BEST ALUMINUM METAL CRATE
Secure Aluminum Pro Series Crate
No Rust Metal
One of the benefits of aluminum metal is that it doesn't rust even if it's used for outdoor purposes. This one is designed to be used as a travel crate first and foremost. It consists of aluminum metal frame tubes and panels that require assembly. The single entrance is made entirely out of tubes.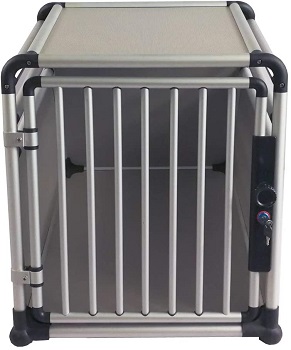 Safe And Low Noise
Moreover, this metal dog cage is low-noise. The interior corners are covered with plastic bits that round out the corners so that your intermediate do is safe inside. The door hinge is self-lubricating so it also won't produce noise when opened or closed. An aluminum dog crate can be a wonderful addition to homes and you can find one in the article listed below.
In Short:
Made with aluminum metal
Has plastic rounded corners
Consists of a tube frame and metal panels
The door hinges self-lubricated
Made to be used as a travel crate
Can house intermediate dogs
BEST COLLAPSIBLE METAL CRATE FOR DOGS
Midwest Ultima Pro Dog Crate
Toughness And Home Positioning
This is one of the toughest crates made by Midwest. The 3, 7, 9, and 11 gauge wire build is here to prove it. It will allow you to place it in many ways inside your home because of the front and side entrances. A wire crate is the most common collapsible metal crate but not every time so check other collapsible types as well.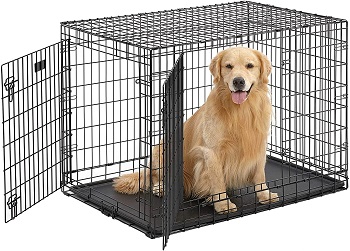 Size And Bottom
It's a 42-in long crate that can house large dogs like golden retrievers. It comes with a divider so you can even use it to crate and potty train a puppy. On the bottom, you'll find a slide-out cleaning tray and rubber feet that will protect your floors from scratches.
In Short:
  Made with 3, 7, 9, and 11 wire gauge
Has a front and side door
Can house large dogs
It's 42-in long
Has rubber feet for floor protection
Comes with a puppy divider
BEST HEAVY DUTY METAL CRATE
Smonter Heavy Duty Crate
Construction And Moving
You won't find wire bits on this crate since it's made with metal tubes only. All parts are welded together and it features a hammertone finish that makes it rust and corrosion-resistant. The metal used to make it is reinforced steel. It weighs around 80 lbs so it does sit on wheels.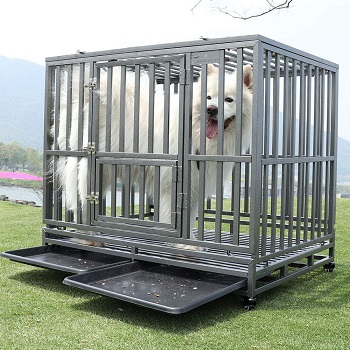 Door And Size
The front door has a smaller door built into it with its own lock. This door acts as a feeding entrance and there's a top, dog interaction entrance as well. It's 42-in long so this heavy-duty metal dog crate can house large dogs. If you'd prefer a different construction material but a heavy-duty one still, there's certainly one for you in the article linked below.
In Short:
Made with reinforced steel
Has all parts welded
Weighs around 8 lbs
Sits on 4 wheels for easy moving
Can house large dogs
Has a top, front, and a small feeding entrance
BEST LARGE METAL CRATE FOR DOGS
Homey Pet 43 Dog Crate
Wire And Tubes Build
On this crate, you'll find a combination of steel tubes and wire as its construction materials. The tubes are used for the frame and door frames while wire covers the rest. It comes folded down and all you need to do is unfold it and quickly assemble it. it's 1-in over the standard large metal dog crate size so if you'd like a standard one, you'll find one in the article about them.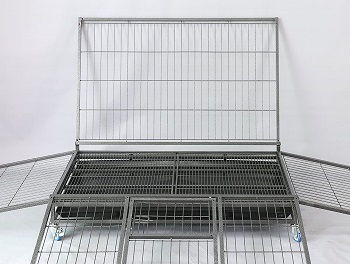 Moving And Stacking
It weighs around 60 lbs so it sits on wheels that you can lock for more stability when you're not moving it. It has one door with a built-in feeding door. If you have multiple dogs or are a dog care professional you'll enjoy that you can actually stack more crates on top.
In Short:
Has a metal tube frame and wire sides
It's 43-in long
You can stack more crates on top
Has one door with a built-in feeding door
Weighs around 60 lbs
Sits on 4 lockable wheels
BEST MEDIUM METAL CRATE
SmithBuilt Heavy Duty Dog Crate
Finish And Metal Details
The steel tubes that make this crate are made out of 20 gauge steel and have a 0.5-in diameter. It's a durable dog crate no matter where you point at it. The finish on the metal is a hammertone finish that helps it fight with rusting, corroding, and even fading successfully.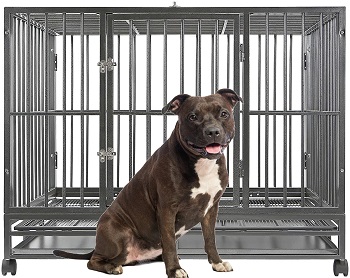 Door And Cleaning
The bottom metal grid can be taken out and below it, you'll find a slide-out cleaning tray. You can interact with your dog using the top entrance and your medium or large-sized dog can enter the crate using the front entrance that locks from 2 points. The 36-in in length makes this medium metal dog crate an intermediate one as well so if you'd truly want a medium one, you can find one in the article below.
In Short:
Made with 20 gauge 0,5-in diameter steel tubes
Has rust and corrosion-resistant hammer tone finish
Can house medium and large dogs
It's 36-in long
Has a top and front door entrance
The front door locks with 2 locks
Features a slide-out cleaning tray below the bottom
BEST SMALL METAL CRATE FOR DOGS
Pet Gear 4 Door Steel Crate
Entrance Quantity
It has a total of 4 entrances which is tough to find. The side entrance will even save you some space since it's a sliding garage-style door. It's 27-in long so it can house small dogs for the most part but if you'd like a standard-sized small metal dog crate, you can learn and read about more of them.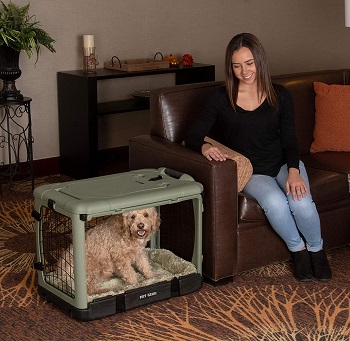 Materials Used And Interior Safety
Although it's not fully made out of metal, it has steel wire sides. The frame is made out of plastic and it's blow-molded heavy-duty plastic so it's still tough and reliable. The wire sides don't feature any exposed sharp edges and the corners on the inside are also rounded for safety. You can also collapse it for storage or transport.
In Short:
Has steel wire sides
The frame is made with heavy-duty plastic
Has 4 doors, one slides open to save space
It's 27-in long
Has rounded corners and no sharp metal edges
Can be collapsed
BEST EXTRA LARGE METAL CRATE
Lemberi Heavy Duty Dog Crate
Metal Thickness And Coating
The gauge of steel tubes this crate is made out of is 20. They have a 0.5-in diameter and it's rust and corrosion-resistant. This is thas to the environmentally friendly coating finish. You can think about using it outdoors every now and then as well.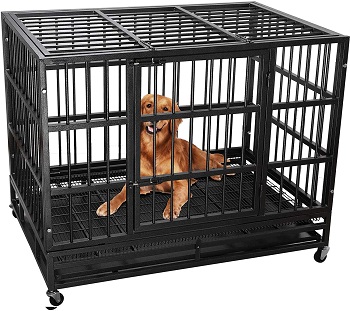 Locking Safety
The locks on the top and front door are made to be anti-escape looks. This metal large crate definitely successfully houses high anxiety extra large dogs. This is not the only heavy duty xl dog crate that is able to house dogs with anxiety and aggressive tendencies so check them out as well.
In Short:
Made with 20 gauge steel
The steel tubes have a 0.5-in diameter
Has an environmentally friendly finish
Can occasionally be used outdoors
Good for high anxiety extra large dogs
Has anti-escape locks
BEST 30 INCH METAL CRATE
Diggs Revol Dog Crate
Wire And Plastic Build
For the frame, this crate uses strong reinforced plastic while its sides are made out of aluminum wire. Aluminum doesn't rust and there's no need to say that for plastic either. It comes with a divider so you will get to house puppies inside and potty train them with it.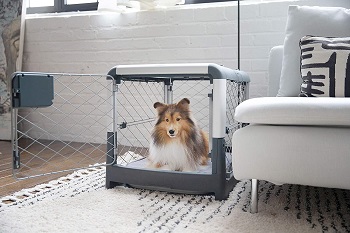 Entry Points And Dog Housing Details
The metal cage has three entrances with the side door being a space-saving door. It's completely safe for puppies and adult medium-sized dogs. If you'd like to check out more, you can do that in the 32-inch metal dog crate article. It's easy to collapse and can even be dragged with built-in wheels.
In Short:
Has a reinforced plastic frame
The wire sides are made out of aluminum
Comes with a puppy divider
Incredibly safe for puppies
Can house medium-sized dogs
Can be collapsed and comes with built-in wheels
BEST 36 INCH METAL CRATE FOR DOGS
Carlson Pet Products
Dogs It Can House
A 36-inch dog crate can house intermediate dogs. These are dogs that are neither large nor medium. Since this is a intermediate dog crate you can use it to crate train your dog but if you'd like a different type that will just look nice in your home, you might find one in the article linked before and below.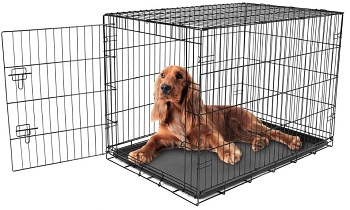 Safety Of The Crate
It's made out of steel wire and has a single door that locks safely from 5 points. The metal pet crate is certified to JMPA and ASTM standards which means it's safe for dogs. When you don't use it or you want to transport it elsewhere, you can easily fold it down to do it.
In Short:
Made out of metal wire
Can be used as a crate training crate
Able to house in between medium and large dogs
Has a single door with a 5-point lock
Certified to JMPA and ASTM standards
Can be folded down
BEST 42 INCH METAL CRATE
Lucky Dog 42 Dog Crate
Low Noise And Space Saving
The crate will blend right into your home not because it looks nice since it is a wire crate but because of the double side door. This door has a space-saving slide design and it has a regular door in the front as well. It's also a low noise crate due to the top corner stabilizers.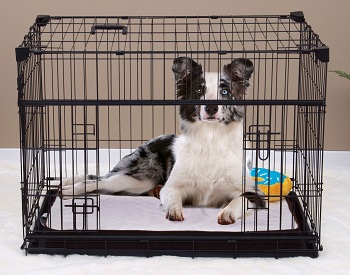 Puppy Housing
Even with the corner stabilizers, you can fold it down and with the divider included in the package, your soon-to-be adult large dog can be housed in there as a puppy. If you'd like another 42-inch metal dog crate that features a divider check out the article about them.
In Short:
Can house puppies
Comes with a divider
Has noise-reducing corner stabilizers
HAs a double sliding door and a regular door
Can be folded down
BEST BLACK METAL CRATE FOR DOGS
Cardinal Gates Sliding Door Crate
Wire Thickness And Weight
Black is the most commonly used finish on wire crates so it was easy to find. The wire used is 10 and 6 gauge wire which means it's thicker and more durable. Due to this, the metal cage for dogs does weigh more with its 34 lbs but this is also due to its large dog housing size.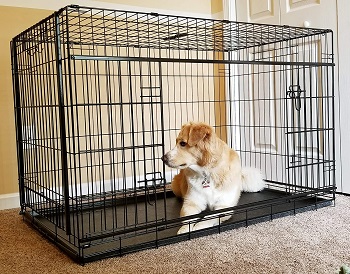 Saving Space
The two entry points found in the front and on the side are both space-saving doors. The side door is double sliding while the front door opens upwards and can rest on top. If you like this black dog crate but prefer a different material, you can check out the article about them to find one.
In Short:
Uses black wire as its build material
The wire used has a 10 and 6 gauge
Has a double sliding door and an upwards opening door
Can house large dogs
Weighs around 34 lbs
Can crate train dogs
BEST TRUCK METAL CRATE
Uws Dog Box With Divider
Two Metals Build
In this crate, you will be allowed to house two dogs. This is thanks to the unremovable divider it comes with. It's made fully out of aluminum and because of it, it won't retain heat keeping your dog cool during warm weather months. The locks on the doors are made out of stainless steel.
Other Details
This metal pet cage also comes with a storage compartment where you'll get to place your own possessions. Although it takes up some space since it's 48-in long and wide, the top has a welded rail where you can store all of your other things. There's something unique about this hunting dog box for trucks so be sure to check others, with more unique features out.
In Short:
Made out of aluminum
Comes with a non-removable divider
Can house two dogs
Features a storage compartment
The doors have stainless steel locks
Has a welded rail on top for storing more things
BEST SOFT AND METAL CRATE FOR DOGS
EliteField 3-Door Crate
Why It's Light
It's tough work to find a lightweight dog crate but this one combines fabric materials so it's only around 15 lbs. For more like this check out the linked article below. It's metal due to its folding steel tube frame and for the washable cover, it uses 600D oxford fabric.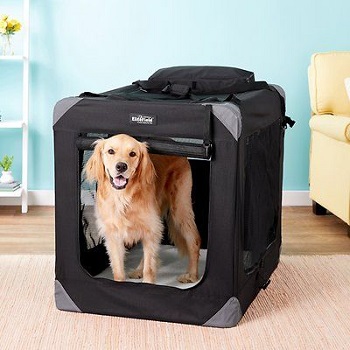 Everything Relating Comfort
This pet metal cage should house only crate-trained large dogs. They will have plenty of room because it's 4-in taller and 2-in wider than most. Proper air circulation is guaranteed because of the mesh fabric windows on all sides and for interior comfort, your dog will get to lay on a soft mat.
In Short:
Weighs around 15 lbs
Can house crate trained large dogs
Has a folding steel tube frame
The washable cover is made with oxford fabric
Has 5 vent windows
Comes with a soft mat
How To Pick A Metal Crate For Dogs
Picking out a metal crate for dogs is easier than it looks. All you need to do now is continue reading this buying guide where we'll go through all the necessary information for you to decide on the perfect one that's tailored to your dogs' needs, size, and more.
Metal Dog Kennel – Although metal dog kennels do exist, none of them were actually reviewed here. They're described as very large, so large in fact that you can easily fit a dog crate inside them. They're most commonly used by dog care professionals and they're meant to be used exclusively outdoors.
Metal Crate Types – The most common types of metal crates are wire crates and heavy-duty crates. Wire crates speak for themselves. In terms of how they're built while heavy-duty crates are made out of metal tubes, usually reinforced steel, and quite often they're welded together.
Main Crate Functions – Wire crates are the most commonly used training crates for dogs. They do excellent with puppies especially if they come with a divider because that's the way you'll potty train your puppy. Heavy-duty metal crates on the other hand are meant to house aggressive ad high anxiety dogs that easily check through wire crates.
Crate-Trained Dog Limitations – There's one more crate type reviewed here that can be considered metal because of the frame and those are soft travel dog crates. They're great for traveling since they're lightweight but you will only get to house crate trained dogs inside them.
Heavy Duty Crate Problems – The problem of heavy-duty crates lies in their weight. They're heavy so they're also difficult to move ad usually sit on wheels for your to do it more easily. You can't fold them ad they're not exactly great travel crates. This is where wire crates jump in since they are foldable.
Size Information – The best way to start figuring out the size of crate your dog will need is to learn about standard crate sizes first. They range from 24. 30, 42, and 48-in in length and are meant to house small, medium, large, and extra-large dogs. There are smaller and larger sizes but they are meant to house giant and toy dog breeds.
Crate Height And Length Importance – It's really important to know your dog's height and length and the crate's height and length. If you know both you'll easily decide whether a crate is appropriately sized for your dog. The crate should be at least 3-4 inches larger in both proportions than your dog. The only exception is if the crate manufacturer states otherwise.
To Sum Up
If you asked us to recommend the best metal crate for dogs we really couldn't say because they're different from crate to crate and each has its own flaws and benefits. It's just a matter of working those out to see what is the right fit for your lifestyle and your dog's behavior and needs. Up next, you can definitely read more about wire dog crates or about the best steel dog crates and if you'd like a full-blown review of all the possible crate types, the article about dog crates might interest you.