Are you looking to spice up the look of your crate or just to give your dog more privacy with a dog crate cover?
If you continue reading this article, you'll only read about the best ones out there. We made sure to include plenty of sizes and different models with different designs and functions like waterproof covers, breathable covers, 42-in, and even 48-in covers, with more reviewed as you go.
The Summary
Best 11 Crate Covers
BEST OF BEST DOG CAGE COVER
Explore Land Dog Crate Cover
Flap Windows
You can easily fully close this cover to give your dog maximum privacy or you can roll up the front, side, and top part of the cover to give them visibility. The flap window is either there for a third top door, or for you to reach the carrying handle on a crate for carrying.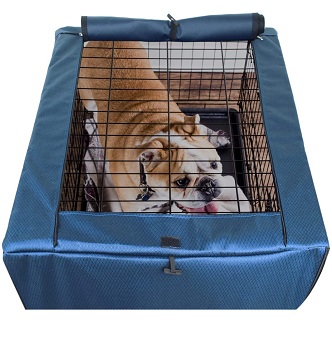 Cover Material
It's made with heavy-duty polyester fabric that's colored blue and features a fashion pattern. It will block of sun and wind as well but it's still a breathable dog crate cover so check them all out for more info and options. It fits 1, 2, or 3 doors large, 42-in dog crates.
In Short:
Made with heavy-duty polyester
It's colored blue
Has 3 flap windows, in the front, on the side, and on top
It Fits 42-in, large dog crates
Blocks off the sun and wind
BEST 36 INCH DOG CRATE COVER
Precision Pet Indoor Crate
Cover Canvas
The nylon canvas that makes this cover is colored with a tan color. It has a top and front large flap windows while the right side features a smaller one, aimed at functioning only as a window. It best fits on precision pet dog crates but it's a 36-inch dog crate cover able to fit on other intermediate dog crates.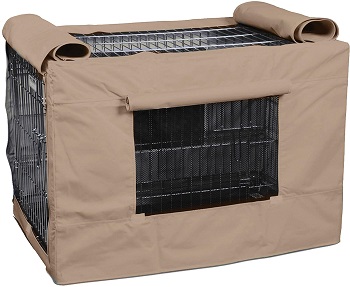 Dog Travels
The cover is also water-resistant so it will keep your dog dry if you decide to travel with it. There is plenty of other water-resistant covers for 36 inch dog crates so check the cages all out for more intricate designs and different size fits like a large, medium, or small.
In Short:
Made with nylon canvas
The cover is water-resistant
Has a top and front large window
The side features a small ventilation window
It can fit on most standard 36-inch dog crates
Has a tan color
BEST 42 DOG CAGE COVER
Hersent Dog Crate Cover
An Inch Bigger
Since covers fit on the outside of a crate, they should be an inch large than the crate. This one is with its 43-in in length, 29-in in width, and 30-in in length. To understand this sizing method better and to read about 42 inch dog crates, you can read this post.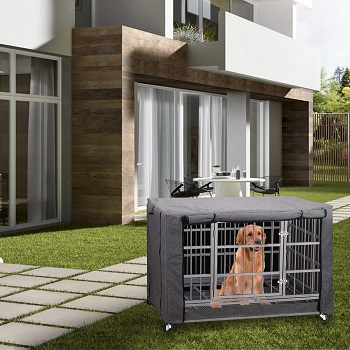 Cover Resistance
Even when the front and side windows are down, your dog will still get proper air ventilation inside the crate with this 42 dog crate cover on due to the mesh fabric window in the back. It's made with 420D polyester fabric that's both wear and tear-resistant. An added bonus is the PVC coating that makes it water-resistant.
In Short:
It's one inch large than the standard crate
It fits on 42-in dog crates
Has 2 door windows, one in the front and one on the side
The back features a mesh fabric window
Made with 420D polyester fabric
Has a water-resistant PVC coating
BEST 48 INCH CRATE COVER
Pethiy Dog Crate Cover
Roll-Up Windows
Even though it's grey, it's definitely not stale and boring because of its white, looped, and circular lines pattern. The windows don't take up all of the front and right sides. They are easy to roll up and connect to loop hooks to keep them open and provide visibility for your dog while inside their crate.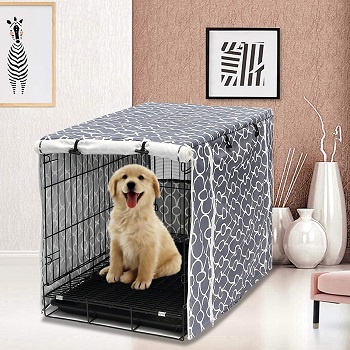 Additional Ventilation
The door shades can be closed with zippers and the back also holds a mesh fabric window that's scratch resistant. The cover is also waterproof and if you're interested in learning and reading more about not just 48-inch dog crate covers, you can next read the large dog crate covers article.
In Short:
The fabric is waterproof
You can roll the 2 windows up
The windows close with zippers
Fits on most standard 48-inch dog crates
The back mesh window is scratch-resistant
Has a grey color with white detail pattern
BEST BREATHABLE DOG CRATE COVER
Morezi Dog Crate Cover
Cover Looks
The way this cover looks is pretty neutral and can fit black dog crates quite nicely since it's black itself with only a few white vertical lines. These lines indicate where the zippers for the two roll-up sides are. They close with zippers and stay rolled up with toggle locks. It fits well on most 42-in long crates.
Heavy Duty Material
Heavy nylon is a heavy-duty material able to resist water leakage and tear. The back features a back mesh window that additionally helps it become and stay a breathable dog crate cover. If proper air circulation is important to you, read about others in the article linked.
In Short:
Constructed out of heavy-duty nylon
It's tear and water-resistant
it's colored fully black with a few white lines
The lines indicate where the zippers for the 2 windows are
You can roll up the windows to keep them open
Has a mesh fabric window in the back
BEST STOP BARKING CRATE COVER
Honest Outfitters Dog Crate Cover
Visibility And Privacy
Whether you'd like to stop your dog from barking by closing off the crate or by making yourself visible to them, this crate can do it all. The front and right sides fully roll up and it also has a left side privacy window. The windows of this cover dog crate to stop barking stay rolled up with velcro fabric strips.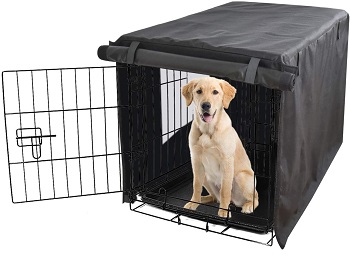 Fabric Choice
It's made out of 600D oxford fabric, a common material in making soft-sided dog crates. This material is windproof, durable, but it also makes it a waterproof dog crate cover. It's all black and fits on 42-in long dog crates so read into them a bit more if you'd prefer a different size.
In Short:
Has a front and side fully opening sides
The left side has a small privacy window
it's fully black
Made with 600D oxford fabric
It's durable, wind and water-resistant
Fits on 42-in dog crates
BEST CUTE DOG CRATE COVER
Morezi Dog Crate Cover
Design And Construction
Although large cute dog crate covers exist, it's more likely that it's going to be a small crate cover and this one proves it. It's colored black with a white dog paw pattern all around it. The material used is heavy nylon that's machine washable. This material also makes it waterproof. Thanks to the beautiful design, you will get a pretty dog crate just like these models in the post.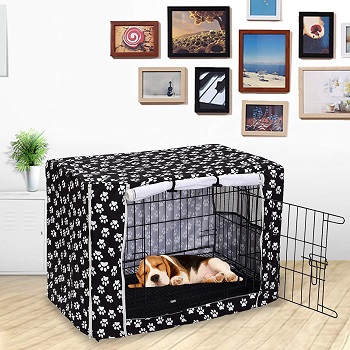 Cover Windows
The front and side roll-up windows can stay open with 2 toggle locks each. They are edges and don't open the crate sides fully. The exception is the bottom of the front that will allow you to slide out the crate cleaning tray easily. As it's small, it fits on 24-inch small dog crates.
In Short:
Made with heavy nylon
It's machine washable
It's black with a white dog paws pattern
Fits on 24-in crates
Has 2 roll-up windows
The mesh fabric back windows are for extra ventilation
BEST WATERPROOF DOG CRATE COVER
HiCaptain Double Door Crate Cover
Well Ventilated And Insulated
Although there are plenty of vent points on this crate like the large mesh fabric window in the back and the front and right side roll-up shades, it can still easily be considered an insulated crate cover. This is due to the 600D polyester fabric build that features a waterproof coating.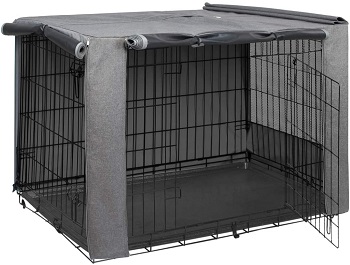 Shades Details And Size
The roll-up shades close with zippers and can be secured with elastic bands on the bottom. It's designed to fit most standard extra large dog crates which are 48-in long crates. You'll find plenty of well-insulated covers in waterproof dog crate covers article we advise you read next.
In Short:
Made with 600D polyester fabric
Features a waterproof coating
Has large back mesh fabric windows
Has 2 roll up shades
Fits on most 48-in long crates
The roll-up windows close with zippers
BEST XL DOG CRATE COVER
Explore Land Dog Crate Cover
Travel Features
It doesn't get any bigger than this cover for 48-in long crates which are the biggest standard sizes crates. The coating on the 600D oxford polyester fabric is windproof so your dog doesn't get too cold if you're traveling with them. The top even has a zipper closed line where you can pull through the crate handle for ease of carrying. You should check out the care instructions if you get them.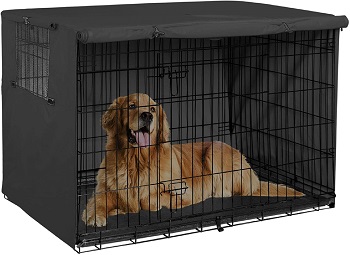 Privacy And Ventilation
The side is where the large, fully opening roll-up window is located. What would be the crate front features only a roll-up window for better ventilation without sacrificing privacy. Check out other large dog crate covers if you'd like a smaller model or one with a 2-door design.
In Short:
Made for 48-in long crates
You can pull the carrying handle through the zippered top line
Has one roll-up window entrance
The side features a small roll-up window
It's fully black
Made with 600D polyester fabric
Has a windproof coating
BEST 24 DOG CAGE COVER
Amazon Basics Dog Metal Crate
Every Window Shade Possible
The unique thing about this 24-inch dog crate cover is that the entry point roll-up window has a built-in ventilation window. The side entry shade closes with a zipper just like the front one but the side one has a built-in window closes with velcros. The top has a small velcro piece closing entrance for crate-carrying handles.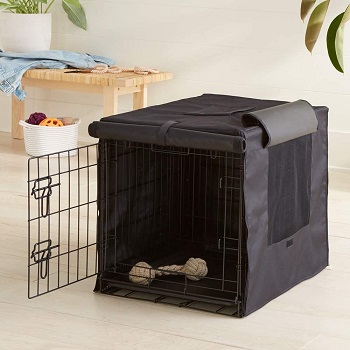 Basic Design
It's basic and fully black. The material used to make it is polyester fabric and it's easy to clean simply with a damp cloth. It's designed for indoor use on 24-in dog crates which are small. We can't guarantee you'll find more small ones, but you will find larger breathable dog crate cover models.
In Short:
Fits on small crates
Made with fully black polyester fabric
Has a built-in roll-up window on the side door shade
Features a front door shade as well
The top has a small window for crate carrying handles
BEST 30 DOG CRATE COVER
Femuar Dog Crate Cover
Shades And Windows
The front roll-up window shade of this crate closes with plenty of velcros while the side one closes with a zipper. The back features an additional mesh fabric window that can also be shaded with a window that closes with velcros. All of the things mentioned and more make it a breathable dog crate cover so check out others if this one peaked your interest.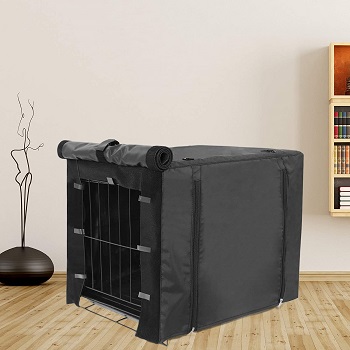 Build Fabric
It's primarily made with a 300D polyester fabric. This means That it's water and windproof but also provides quality shading. Each window shade can be additionally secured on the bottom of the crate with hooks. It fits on 30-in long, 19-in wide, and 21-in tall crates.
In Short:
Fits on 30-in long, 19-in wide, and 21-in tall crates
Has a front and side roll-up window
The front window closes with velcro
The side window closes with zippers
The back mesh fabric window has its own window shade
It's fully black
Made with 300D polyester fabric
How To Pick A Crate Cover
With this buying guide, we'll try to make your shopping experience of a dog crate cover easier by letting you in on all the information necessary for you to know before purchasing. We'll talk about types, what they're for, their size, price, and many other things.
Cover Purpose – Dog crate covers can give your dog a sense of security by minimizing visual stimuli from the outside world. Knowing your dog is half the job so if your dog fluctuates between having anxiety because it can't see you, you can always go for a cover with more and bigger roll-up windows and shades.
Crates They Most Likely Fit On – The most common crates they're used for are wire dog crates. It makes the most sense that they're made for them because a wire crate is one that offers the best visibility and airflow for any dog. It's also the crate you're most likely to have if you have a dog that hasn't yet been crate trained and they come in standard sizes.
Cover Standard Sizing – You should always check the cover dimensions before purchasing one. Covers are made to be 1-in bigger in all proportions since they go on the outside of a crate and it leaves you with room to easily put the cover on. Some are marked as being 1-in bigger but a lot of them just say that they're made for a crate of a certain standard size. Standard crate sizes include 24-in long, 30-in long, 36-in long, 42-in long, and 48-in long crates.
Cover Types – We've reviewed plenty of waterproof and breathable crate covers although almost all of them fit both descriptions. Waterproof covers are going to be reliable when you wish to travel with your dog since they're also more likely to be windproof. Breathable crate covers are what they are either because of breathable fabrics that make them or because of the addition of mesh fabric windows.
Cover Cleaning – You should really look into the cleaning instruction for your specific cover since most can be washed in a machine but not all of them. Some won't even allow you to clean them with soap and lukewarm water and a simple cloth should be the only thing used to clean them.
Cover Prices – Luckily, you can go all out on these covers and get the best ones without breaking the budget since they will rarely climb up to a price of 50 dollars. Most are in the 30-40 dollars price range but some can be even cheaper and cost as little as 20 dollars.
To Sum Up
If we could know your exact needs for a dog crate cover, we'd definitely recommend one but since it's very individual and based on your dogs' size and on what you plan on using it for, we can't do that. Just make sure you get the size right according to your crate and you'll do great. If you'd like to read about crates that these covers are for, check out the wire dog crates article, and if you'd prefer your crate to look nice inside your home, check out the wooden dog crate furniture article. If instead, you'd like to read about all the possible dog crates on the market, read the article about them all.