Looking for a back seat dog crate so that your dog can be as close to you as possible when driving around or going on a trip?
If you're here, you know that not every dog crate is made for residing on the back seat of your vehicle and we know it too. Continue reading this article because we only reviewed the ones that can be and chose them wisely so that there's a large variety of crates like plastic, soft, and even truck crates.
The Summary
Best 6 Back Seat Dog Crates
BEST OF BEST BACK SEAT DOG CRATE
Midwest Side-by-Side SUV Crate
Design Purpose
The making reason why this crate is here in the first place is how it's designed. It does seem like a regular large wire crate at first but it's actually made to be much narrower than others. This is both to make it fit on the back seat of your car and to give you more cargo space if you're placing it inside your trunk.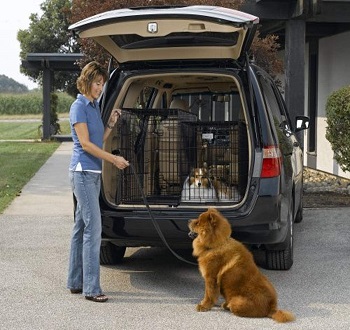 Home To Vehicle Transport
It's a great transport solution meaning that you'll easily get to take it from your home to your vehicle and vice versa. That's because of the fact that you can easily fold it down and carry it like a briefcase with the provided handle. It weighs around 36 lb so it will be easier to carry as well.
Material Build And Coat
This is a back seat cage for dogs meaning that it's made out of metal. To be more specific, it features a steel wire build that's coated with a black e-coat as its finish. This finish coat makes the crate resistant to rust so that it can better survive years of use.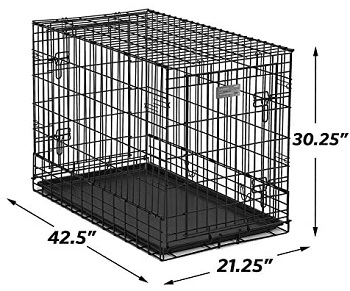 Door Placement And Size
You'll find a regular front door on this back seat dog crate but since it's an SUV dog crate and one made specifically just for traveling, instead of getting a side door, you'll get a back door. Both door can be locked using 2 sliding bolt locks. Your dog can also be a large dog breed that weighs up to 90 lbs to fit inside easily.
In Short:
Has a steel wire build coated with an e-coat
The finish makes it rust-resistant
Has a front and a back door
Can house large dogs up to 90 lbs
Has a narrower design to fit in the back seat
BEST TRUCK DOG CRATE FOR BACKSEAT
Gunner Kennels G1 Dog Crate
For Back Seat And Trunk
Although you might think that just about any crate can go in the backseat of your truck this is far from the truth. This is due to the fact that you want the crate in question to function as a hunting dog crate for trucks as well. This is mainly achieved by crates having a weather protection build and some other features. It's an intermediate dog crate able to house both medium and large dogs. Did we mention that it's also a crash-tested dog crate?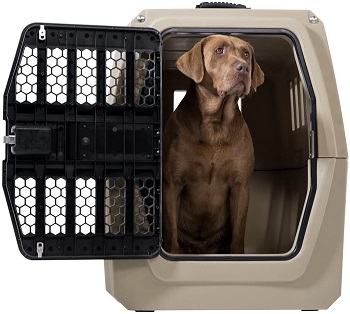 Weather Elements Protection
To make it work as a dog crate for the backseat of the truck but also a crate for the trunk of a truck it's made with a roto-molded double wall plastic that will help with UV ray protection and humidity and color weather. The ventilation windows on the other hand are designed in a way so that they repel water and keep your dog dry.
Reinforced And Safe Door
While the door is also made out of plastic it is reinforced with an aluminum frame to make it stronger and safer. Another thing to make it safer is its lock that uses a key to unlock and additional safety locks located on the bottom and top of the door on this back seat dog crate.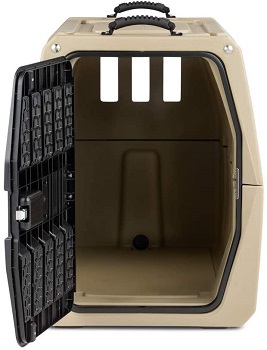 Reasons For Elevated Design
It's slightly elevated to minimize heat transmission from truck to crate. It's also elevated so that the interior can hold drain channels. This is where the liquids will go to if any find their way inside. To remove these liquids, all you need to do is plug out the drain hole on the outside.
In Short:
Made with roto-molded double wall plastic
The crate is crash tested
Protects from Uv rays, rain, cold, heat, and humidity
Can house intermediate dogs
The reinforced aluminum frame door locks with a key
There are additional safety locks on top and on the bottom
BEST PLASTIC BACK SEAT DOG CRATE
Lucky Duck – Lucky Kennel
Safety Guaranteed
This is yet another hunting dog crate able to fit both inside the back of a truck and on its backseat. You don't have to limit its use to just that. You can use it in the back or trunk of your car as well and you'll get to do it with utmost safety because it's a crash-tested dog crate.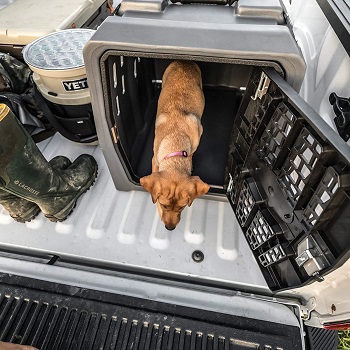 Build And Vent Holes
It's made out of roto-molded plastic and what this means is that a single piece of plastic was molded to create the shape that it has now. The vents on this back seat dog crate are strategically placed to protect your dog from warm weather and to properly ventilate it.
Door Details
What we find to be really important o these crates is how safely the doors lock. This crate's door also locks with a key and also has additional safety locks place on top and on the bottom. The door is reversible meaning that you'll get to open it in multiple ways if your stuff is ever in your way.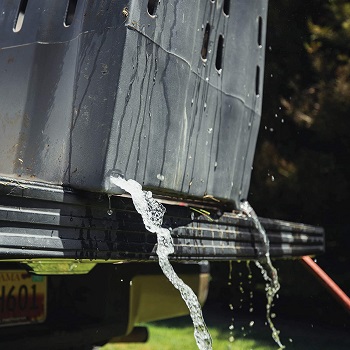 Easy Lifting And Cleaning
It's elevated to be able to hold cleaning drain channels inside. You'll also find a drain in the back that you'll pull out to release liquids. It's great that it only weighs 38 lbs so it will be a lot easier to transport when needed using two heavy-duty handles on top.
In Short:
Has a roto-molded plastic build
The windows are placed to keep the dog cool
The reversible door locks with a key and 2 other locks
The inside holds a drain channel for easy cleaning
It has been crash-tested
Only weighs 38 lbs so it's easy to lift
BEST SOFT BACK SEAT DOG CRATE
One for Pets 2-in-1 Pet Kennel
Crate Uses
Depending on how you're going to use this crate, it can take up as little as one back seat space and as many as the whole backseat. This is true because you can use it as one long back seat dog kennel able to house a single dog, two dogs or you can use each crate individually.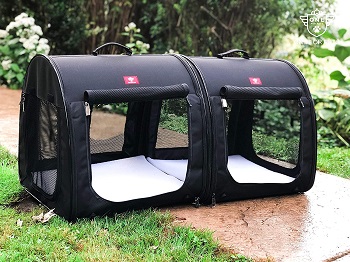 Dogs It Can House
The conclusion to the previous is that this is a multi-dog crate. Whether you're using it as a single or a double back seat dog crate, with or without a divider, you'll only ever get to house a small dog inside. Each crate has its own entrances and carrying handle on top as well.
How It's Built
This crate is made out of soft fabric and a frame that holds it together. They get divided with a fabric divider that can't be adjusted. On the bottom, you'll find soft fleece mats for more comfort when you're traveling with your dog. these mats can easily be removed and are washable.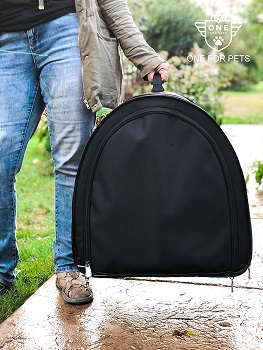 Safety Importance
The back of each crate doesn't only feature a mesh fabric window but also a loop to connect it to a seatbelt. This will prevent the crate from moving and sliding. You can fold it down when it's not in use and store it inside its own carry bag. Please note that your dog or dogs will have to be crate trained to be housed inside.
In Short:
Can house 2 small dogs or one small dog
Ca be divided into two separate crates
Made out of fabric so it's made for crate-trained dogs
Can be folded down and stored inside its bag
Can be connected to a car seatbelt
BEST CAR BACK SEAT DOG CRATE
A4Pet Pet Car Travel Crate
Important Soft Crate Feature
If we were to determine what the most important thing about soft travel dog crates that fit in the car's backseat is, it would definitely be how well they connect to the seat. This one gets connected to a seatbelt by pulling the seatbelt through the tight loop of this back seat dog crate.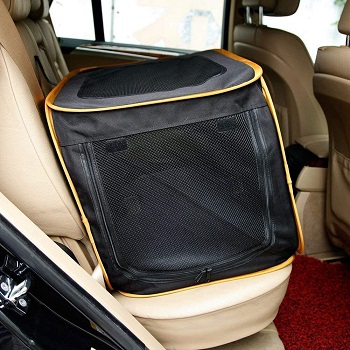 Leaning Design And Inside Safety
This dog crate for car backseat fits perfectly in the backseat because it has more of a leaning structure instead of standing straight. This balances it out more and will make you feel confident that it won't fall off the seat. On the inside, there's both a safety leash and even a bottom mat for more comfort.
Entrances Functions
It has a top, front and side entrance that close with zippers. They have a double function and that is that they help ventilate the crate. This is done easily because they're made out of mesh fabric that's breathable and will even offer your dog some visibility outside the crate.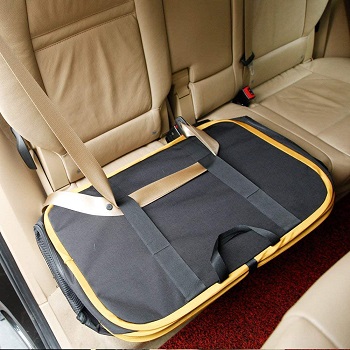 Crate Training That's A Must
Since it is still a soft fabric crate you should only use it to contain crate trained dogs inside. This goes to be true for all crates since they are made for traveling. It's 27-in long so it can be categorized as a soft dog crate medium able to house medium-sized dogs.
In Short:
Has a leaning structure to fit perfectly in the seat
Can be connected to a seatbelt
Has a safety leash and fleece mat inside
Can house crate-trained medium dogs
Has a top, side, and front entrance
BEST SMALL BACK SEAT DOG CRATE
Swihelp Dog Car Seat Crate
No Top Design
A problem that you might face by getting this crate is that it has no top. With that in mind, it's even more important to crate-train your dog for this crate. A dog that has not been crate-trained might easily distract you and endanger both you and himself with it.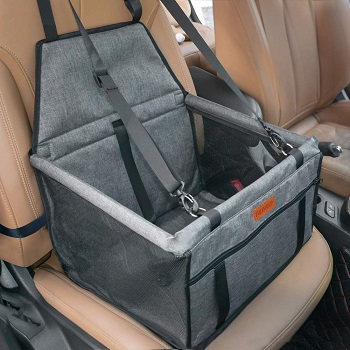 PVC Frame Support
On the other hand, the no-top feature of this back seat dog crate might help you keep a better eye on your dog. The top edges feature a PVC frame that supports the crate's shape and prevents it from collapsing. You can take this PVC frame out to fold the crate down when it's needed.
Material Details
The crate is also completely waterproof. It's primarily made out of 600d oxford fabric and additionally features a nylon belt and PVC mesh net for ventilation and visibility. Since it's waterproof you won't even have to worry about the crate absorbing your dog's urine if he ever urinated inside.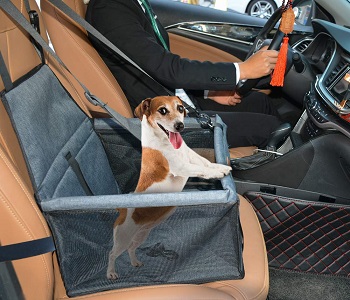 Size And Seat Belt Attachment
You should pay special attention to what size of dog you're housing inside especially because of the top. This is an extra small dog crate able to house dogs that weigh up to 13 lbs. The way you'll secure this crate into place is by attaching it to the seat itself using hooked straps or belts.
In Short:
Can be attached to seatbelt with hooks and belts
Made out of waterproof material
It has no top
Able to house dogs up to 13 lbs
It's advised to crate train your dog before traveling
Can be folded down when the PVC frame is removed
How To Pick A Back Seat Dog Crate
In order to help you pick the right back seat dog crate for yourself, we've comprised a list with all of their differences and similarities since there are so many types out there and you should know what each type of crate can do and can't. That way, you will surely get the right crate when you first buy one.
How They Fit In The Back – There are many ways that a crate like this can fit in the back. This will be done either through a narrower or leaning design so that the crate is not too big to fit in the back seat. if you're getting a large crate, try and find one that has a narrow design.
Back Seat Safety – Each crate type ensures safety in its own way. Soft collapsible dog crates tend to have either loops to connect them to a seat belt or hooked and belted straps to connect them to the actual seat. other crates are safe as it is because most of the time they are crash tested.
Crate Training Must Types – Although every dog should crate trained using a training cage for dogs before traveling, this might be true no matter what for some crates. These are typically soft dog crates because they just can't handle chewing or any form of aggression. The crash-tested and folding metal dog crates, on the other hand, can house uncrate-trained dogs meaning tha can be trained inside them.
Picking A Size – If you're confused about what size of crate to get a general rule of thumb is to measure your dog's height and length and compare the crates' with it. The crate should be around 4 inches larger in both aspects at least to fit your dog inside easily and comfortably.
Back Seat Dog Crate VS Kennel – Right off the bat, the difference between the two is that you won't ever get the chance to travel with a kennel. They are stationary and located outside. They're so large that you can't fit them inside a house and they can even hold dog crates inside them.
To Sum Up
The back seat dog crate we find to be the best and the one we should recommend is the Lucky Duck – Lucky Kennel. You can use it both on trucks and cars, it's safe because it's crash-tested, has a safety locking door and it's easy to clean as well. If you're looking for an all-around safe crate for cars you might want to check out the article about the safest dog crates for car but if you're focused on safety in general and not specifically for cars then we advise you to read the article about safe dog crates.