Are you a bit confused about what dog cage for husky you should get and need a little help picking one out?
we'll help you pick one if you continue reading this article where we did our best to review the best. Not only did we review the best but we also made sure to include a lot of different crates with different purposes like crates for puppies, crate training, and even travel crates.
The Summary
Best 6 Crates For Huskies
BEST OF BEST CRATE FOR HUSKY
Ultima Pro Professional Dog Crate
Gauged Wire Construction
Huskies are typically an energetic dog breed that requires a lot of exercises so if your dog is bored and doesn't have a place to let his energy out, he'll most likely take it out on his crate. That's why we made sure to review this crate that has a heavy gauge steel wire build of 3, 7, 9, and 11.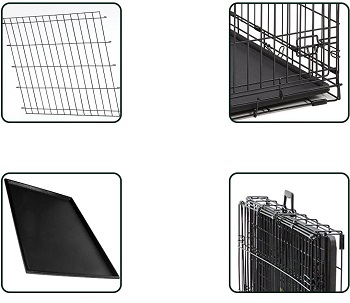 Crate And Potty Training
That's definitely not the only thing you'll benefit from. You can altogether avoid this type of behavior by crate training your dog with this husky crate. Not only that, but you can also use it as a potty train crate because it comes with an adjustable divider for housing puppies.
Cleaning Accidents
Until your puppy learns to control his bladder better, you'll easily get to clean up any messes by sliding out the plastic cleaning pan on the bottom. This is where most, if not all of the dogs' accidents will end up and stay because they have raised edges to prevent liquid overflow.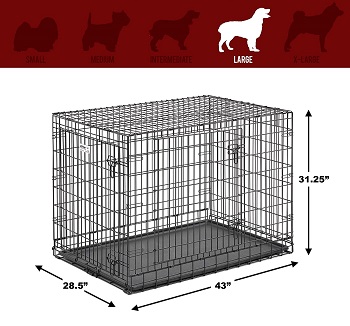 Indoor crate Accessories
It has most things needed to be a large indoor dog crate. For more versatile positioning you'll get 2 access doors. To protect your floors from scratches you'll get roller feet and to store it away when it's not in use, you'll get to easily fold it down. Because of the carrying handle, it can just as easily be used for crate transport and travel.
In Short:
>
Made with 4 different heavy gauges of steel wire
The adjustable divider will allow you to house puppies
Has 2 access doors
The bottom roller feet protect your floors from damage
Can be cleaned by sliding out the plastic cleaning pan
It's easy to fold down and carry with the provided handle
BEST TRAINING HUSKY CAGE
Cardinal Gates Dog Crate
Steel Wire Thickness
Although this crate may not get to house puppies since it doesn't come with a puppy divider, you can still use it well enough as a crate training cage. This is due to its durable build. The steel wire that makes it has a 10 gauge and the door feature an even thicker 6 gauge wire.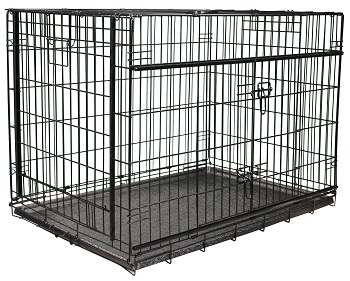 Indoor Use Benefit
It will come in handy when it's used as an indoor dog crate for husky because of its doors. It's not so much because of the door number and placement than it is because of the fact that it's a sliding door dog crate. These 3 space-saving sliding doors slide open upwards and two of them slide to the side.
Assembly And Disassembly
Almost every large wire dog crate is a folding metal dog crate as well and this stands to be true for this crate as well. The same goes for when you want to assemble the crate for the first time because it's just a matter of unfolding it in a matter of seconds. You won't need tools for it.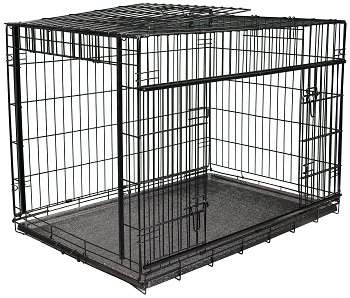 Plastic Handle And Pan
The handle that's attached to it for carrying when you want to transport the folded-down crate is the only other plastic bit of this crate. The first one is the cleaning pan that's found on the bottom. You can easily slide it out for cleaning when it's needed. This pan will better keep your dog's messes contained.
In Short:
>
Has a 10 and a 6 gauge wire build
Durable enough for crate training dogs
Has a double sliding door and a single sliding door
Folding and unfolding it is easy and fast
The carrying handle and cleaning pan are plastic
BEST HEAVY-DUTY HUSKY PROOF CRATE
Itori Heavy Duty Metal Dog Cage
Aggressive Dog Option
Sometimes a husky can get a little bit more aggressive if he has not been properly crate-trained when he was still a puppy or if he has too much energy. In both cases, and if he chews through his crates, it's time to get a heavy-duty metal dog crate like this one.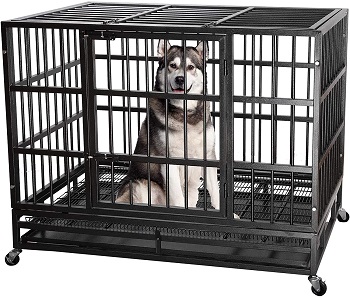 Construction That Shows Durability
It's made with 20 gauge steel and has a reinforced construction because of the 0.5-in diameter tubes made out of steel. It's an even more durable dog crate because of the fact that each metal bar and part of it is welded together. It even has rust and corrosion-resistant finish.
Top Door Use
These are the crates that will most typically have a top-load door as well. You'll want to be able to interact with your dog without him trying to get out so that's why they're here. There's another door in the front thought which your dog will access this husky-proof crate.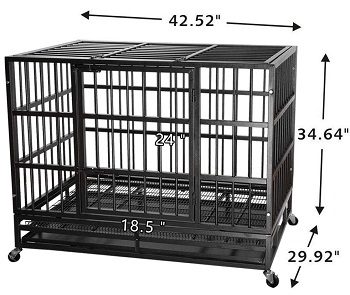 Weight, Movement, And Cleaning
Since it's all-metal it weighs around 84 lbs. For that reason you can install 4 wheels on the bottom to move it with ease. 2 of the wheels that come with it are lockable as well. Another thing you'll find there is the slide-out tray that's located outside the crate and below the girdded crate floor.
In Short:
>
Made with steeel tubes made with 20 gauge steel
Each part is welded together
It's resistant to corrosion and rusting
Has a top load and front door for access
The wheels are here for easy movement of th 84 lbs crate
The cleaning pan is located outside the crate below the bottom
BEST TRAVEL DOG CAGE FOR HUSKY
4×4 North America MIM Safe VarioCage
Safe Travels
If you're prone to traveling with your husky pet, you'll need an exceptionally safe dog crate and this oe is eactly that. We concluded this because of the simple fact that this is a crash-tested dog crate. It's tested for roll-over, fronta, and rear car crashes.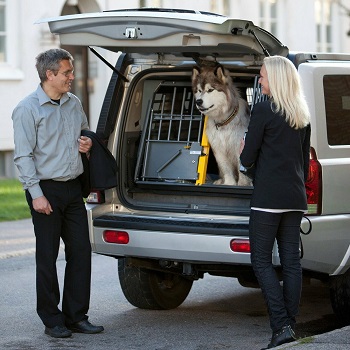 Crumple Zone Function
It works in multiple ways to protect you and your dog but one of the first is that it can mimics yoru car's crumple zones. the way it does that is with its sides that are of adjustable length. They will retract back and absorb some of the energy producded if a car crash happens.
Housing Two Dogs
If you need a dog cage for husky that can house 2 dogs this crate is actually a multi-dog crate. It comes with a metal divider panel that divides a single crate into two. Both crates have their own entrances that you'll get to lock with a key and an additional lock for more safety. There's an additional escape door in the back.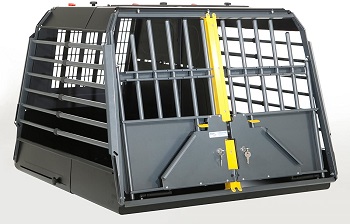 Car And Dog Size To Think About
Since you'll have to think about both your dog's size and your car's size to see if this crate can fit inside well, we would refer you to the size chart of the crates for you to easily figure out what's best for your dog. Remember that a husky will typicall fit well inside a 42-in long dog crate.
In Short:
Crash-tested for roll-over, rear, and frontal crashes
Mimics the car's crumple zones
Has an adjustable length
Can house two dogs
Each crate has its own opening
The doors lock with both a key and an additional lock
BEST AIRLINE APPROVED CRATE FOR HUSKY
SportPet Designs Plastic Dog Kennel
Preferred Dog Length And Height
Since huskies are right on the border between large and intermediate dogs, it's best to get a 42-in long dog crate just to be sure it's right. They can be smaller in some cases so you'll get to buy a crate that's 36-in long. This is that crate and your dog can easily be up to 32-in long and 24-in tall to fit inside comfortably.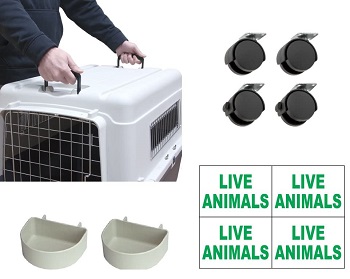 Why Crate Training Is A Must
Although this crate is durable enough to maybe house a not so calm dog, you should still only get it for a crate-trained husky because its main purpose is for you to travel by air with your husky. Since huskies are large dogs, this dog kennel for husky will have to travel as cargo.
Plastic And Wire Bits
It's made out of two plastic shells, the top, and bottom, that you'll connect with plastic clips or with the included nuts and bolts. It has a single steel wire door in the front and vents on the sides also covered with steel wire. The lock on the door won't slide or slip open accidentally.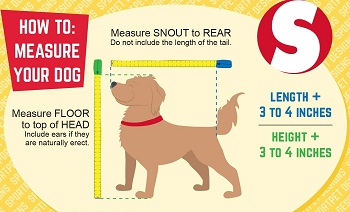 True Size And Air Travel Kit
It's sized as extra-large but it's in fact a large dog airline crate. You'll get everything needed for it to be an airline husky crate. These things are the nuts and bolts, tie-down holes for bungees, water, and food bowls, and "live animal" stickers. for any additional regulations, you should check with your specific airline.
In Short:
Made for air travel
Comes with the basic kit for air travel
The dog should be crate trained before traveling
You can house up to a 32-in long and 24-tall dog inside
Has a single steel wire entrance
Vent points are covered with steel wire
BEST FURNITURE STYLE HUSKY CRATE
New Age Pet EcoFlex Crate
Size And Dog Behavior Warning
Crates like this indoor dog crate furniture are hard to find in extra large sizes. This one is 42-in long so it's perfect for huskies but not without a warning. Your dog should definitely be calm and crate-trained if you want this crate to last you a long time.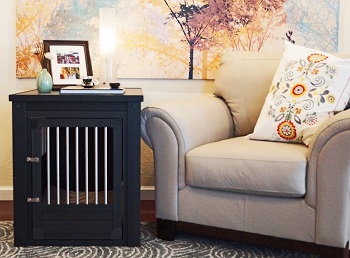 Material Used
it's primarily made out of ecoflex that is a plastic and wood polymer composite material. composite materials tend to be far more durable than the singled-out materials used to make a new material. In this case, the materials in question are wood and plastic.
Metal Parts And Top Purpose
This dog crate for husky features some metal parts as well. They are tubes made out of stainless steel that serve the purpose of vent points. Two locks on the single front door are also made out of it. Thanks to its top, the crate can function as a piece of furniture.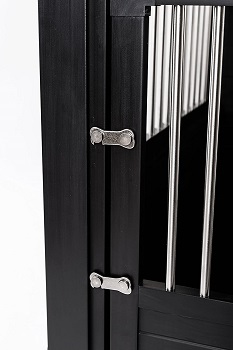 More About Ecoflex
The top can be removed so that you can access the inside for easy cleaning. We say easy because ecoflex won't absorb moisture and odors as typical wood does. Even though it's durable in the sense that it won't split, warp, or crack, you should still crate train your dog if you want to use it.
In Short:
Built out of ecoflex that won't split, crack, or warp
The top is removable but also makes it function as furniture
Your dog should be crate-trained first
Ecoflex doesn't absorb moisture or odors
Has a single access door in the front
How To Pick A Dog Crate For Husky
Picking out the best crate for husky is hard work because of one simple reason. It's because they're an incredibly energetic dog breed that needs a lot of exercises so if one doesn't have a way to let his energy out, he'll take it out on his crate. That's why it's important to get a sturdy crate but that's not all there is to them.
Most Common Size To Get – Huskies are large dogs that are right at the border of needing an intermediate dog crate and a large dog crate. large dog crates are usually 42-in long while intermediate ones are 36-in long. Which one you'll get depends on your husky breed and gender.
Sizing According To Height And Length – If you want to be extra sure that you're getting the right crate size you can easily measure out your dog's length and height. After you have these two proportions, you should compare them to the crate and see if the crate is at least 4 inches larger than your dog.
Energetic Breed Problems – Since they're highly energetic, soft travel dog crates and soft crates, in general, are out of the question because they'll easily chew through them. Your best bet is to get a heavy gauge wire crate. If your dog is a bit more extreme you even might have to opt for a heavy-duty metal crate.
Wire Crate Versatility – The best crate to start with is definitely a wire crate. They are most typically used as training cages for dogs and can even be used to house and potty train a puppy. You'll have to make sure that the crate comes with an adjustable divider if you want to house a puppy inside one.
Husky Crate VS Kennel – Although some crates might be listed as kennels they are far from it. You'll typically find kennels outdoor since they're too large for indoor use anyway. They are designed to survive different outdoor weather conditions and are often so large that a crate can fit inside them. Most commonly, they're used by dog care professionals.
To Sum Up
Definitely, the best crate for husky we would like to recommend is the Ultima Pro Professional Dog Crate. To justify our choice, it's made with heavy gauge steel wire, comes with a divider for housing puppies and you can use it both indoor and for traveling. If you're looking for ccrates designed for even larger dog breeds we suggest you read the article about dog crates for rottweilers and if you're looking for a bit smaller crate you might want to read the article about the best crates for french bulldogs.