Do you own a dog and a crate and it's been a really long time since you've replaced a dog crate plastic liner?
If you're a dog owner, you definitely know the importance of them and we know it too so we've prepared this article where we reviewed the best so you can read it and get the right replacement pan for yourself and your dog. We've gone a set further and categorized them into small, medium, and large categories but of course, we didn't stop there since there's more.
The Summary
Best 5 Dog Crate Plastic Liners
BEST OF BEST DOG CRATE PLASTIC LINER
Confote Replacement Trays
Tray Quantity
The number of replacement plastic trays for dog cage that you'll get for the price of one is two so if you have a dog that often digs through its tray and damages them rather quickly you'll definitely like the number of trays that you get. You can also use two at the same time if you have a modular heavy duty metal dog crate.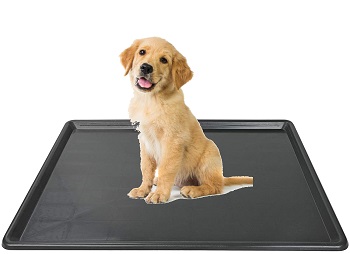 Deep Design
The edges of the trays are a bit raised to give each tray some depth. This will become useful if your dog tends to urinate while he's inside his crate which will lessen the possibility that the urine will end up on your floors or anywhere rather than the tray and crate.
What is ABS Plastic
Each crate is made out of ABS plastic that is known to be quite tough and durable since it combines three monomers that make it a polymer. The way it's made is through a process that emulsifies each monomer to combine them all together.

Multiple Cleaning Options
There are multiple ways in which you can clean these trays. You can either wash it with a damp cloth, hose it down or scrub it. Pretty much anything will do. These trays are made for small dog crates but you can choose to get larger sizes as well.
In Short:
You'll get two trays for the price of one
Made with durable and tough ABS plastic
Fits small dog crates
You can clean it in more than one easy way
Has a deeper design to contain liquids
BEST SMALL PLASTIC TRAY FOR DOG CRATE
Paws & Pals Replacement Tray
Medium But Small
Although this tray is branded as a medium one we know enough to realize that it is in fact a replacement tray for small dog cages. How we know is quite easy to explain. The tray is 24-in long and that is the length of most small wire dog crates.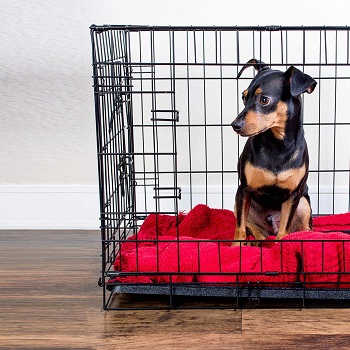 Preventing Liquid Over Flow
You won't have to worry about some urine and other liquids from overflowing the pan and getting onto your floors or car floors if you have a travel crate since the edges of this replacement liner are slightly elevated to give the tray some depth.
Plastic Polymer Tray
The material used to make the tray is the standard ABS plastic and since it's ABS, you can be sure that is sturdy and durable. It is said that the tray will better replace your old pan and while it may be true in some cases, it might not be true for some since trays can be made from a variety of materials including metal.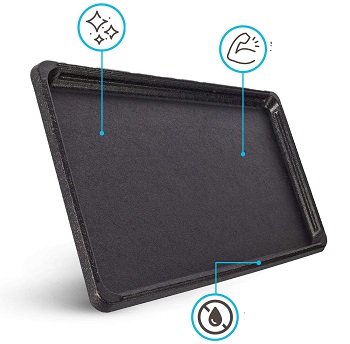 Cleaning Tips And Size
To clean it properly, all you really need to is get rid of the large debris and wash it down with soap and a damp cloth. The tray, as we've alread mentioned is 24-in long and it is 16.5-in wide so you can fit it inside most dog crates made for small dogs.
In Short:
Made out of ABS plastic that's durable
It is 24-in long and 16.5-in wide
Because of its dimensions, it fits most small dog crates
You can clean it easily with soap and a damp cloth
Liquids won't overflow because it has a deep design
BEST MEDIUM DOG CAGE PLASTIC TRAY
Petmate Precision Pet Replacement Pan
Branded Replacement
If you have a Petmate medium wire dog crate you'll be pleased to know that this dog crate plastic liner can replace the tray that you got with the crate without you giving it much thought and checking the dimensions. the models it works with are the 2 door ProValu crate and the Great Crate. You can use it for other crates as well but make sure that the dimensions match the crate since it's a 30-in long pan.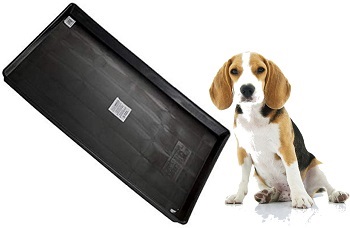 Flexible But Rigid
It isn't made with tough and hard ABS plastic that is the typical material used when making these trays but rather, it is made out of polypropylene material that tends to be flexible but don't worry, it's still rigid plastic that won't bend easily.
Pan Depth
The pan is quite deep, in fact, it is 1.5-in deep. This will prove to be more than enough dept so that liquids and other dirt particles that end up on the tray don't also end up out of it and on your precious floors.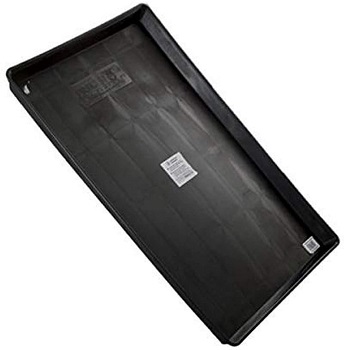 Surface Properties
It does have a slightly textured surface but nothing you need to concern yourself since it won't endanger your dog in any way. The pan's surface is also leakproof so it will repel any food or liquids that get onto it. apart from you being able to use it.
In Short:
Made out of polypropylene material
It is 1.5-in deep
It is flexible but still rigid
Fits inside medium crates that are 30-in long
BEST LARGE CRATE PLASTIC TRAY
MidWest 42-in Crate Replacement Tray
Long But Not As Wide
You do need to be careful if you're going to purchase this replacement plastic tray for dog crates since it is ot as wide as you'd expect so it wouldn't work well with a regular 42-in wire dog crate. The reason why is that it's made for Midwest's SUV dog crate that is narrow itself so it can fit most vehicles better.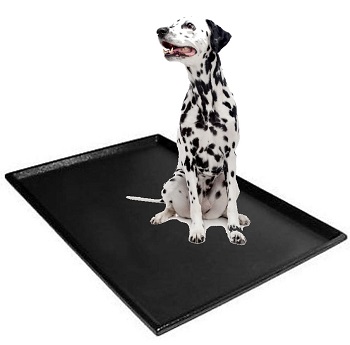 A Solution To The Narrow Design
Don't worry though, if you want, you can get a replacement pan for midwest regular dog crates and their features are pretty much the same except that they are wider to fit most standard wire crates especially if they're Midwest crates.
Odor Resistant Properties
Just like with other replacement liners for dog crates, this one is also made out of durable and tough ABS plastic. It is flexible and made out of a plastic polypropylene mixture. What this means in practical terms is that the crate won't absorb unpleasant odors and will be very easy to clean.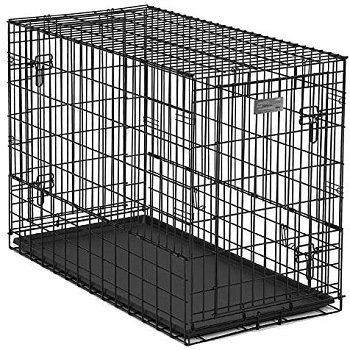 Flexible Use
You really don't have to limit its use to just a line for dog crates. You can also use it as a food mat for dogs so that dog food and water go onto the pan instead of your floors. If you need a plastic and for pretty much anything, this one can help you with that.
In Short:
Made with durable ABS plastic
The pan is odor resistant
Made only for midwest SUV 42-in crate
You can buy a regular-sized pan with the same properties
It has a narrow design
Can be used for more than just dog crates
BEST EXTRA LARGE PLASTIC PAN FOR DOG CRATE
ProSelect Crate Replacement Tray
Which Crates It Fits
This is another branded replacement line for dog crate. Specifically, it is made for the ProSelect stainless steel dog crates but alas, you can purchase it for other crates as well if the crate's dimensions fit the tray that is 50.5-in long and 32-in wide.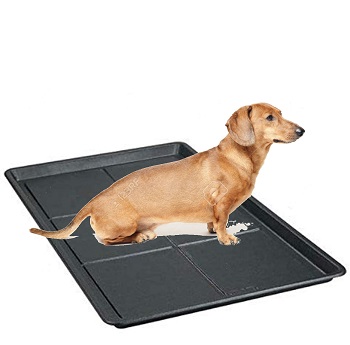 The Liquids Gutter
The pan looks like it's divided into six square pieces with lines going across it. What the lines are for is that they are carved into the pan to create a gutter where the excess liquid will drain into to and with it, keep your dog and his paws as dry as possible.
Deep Design
Apart from the gutter that will keep your dog dry, the crate is also 3-in deep which will prove to be absolutely enough dept to prevent liquids from overflowing and getting onto your floors. The pan is very easy to clean because of the type of plastic it's made out of.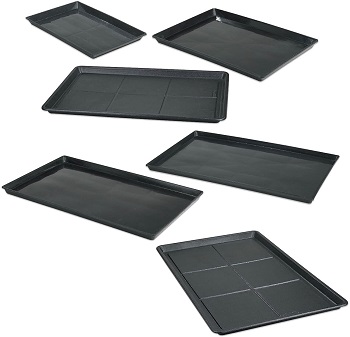 Plastic Type
To be more specific, this extra-large plastic bottom for dog crate is made out of ABS plastic. If you really like the tray you'd want to know that only the large tray is also made out of ABs plastic while the smaller version are made out of polypropylene plastic.
In Short:
Тhe pan is made with ABS plastic
It is 3-in deep
has a gutter for liquids to keep your pet dry
Smaller versions are made out of polypropylene plastic
Fits inside extra large dog crates
How To Pick A Dog Crate Plastic Liner
There's more than one thing that can go wrong when you're buying a plastic bottom for dog crates since they vary so much in size and depth and there are also slight differences in their build materials so make sure you keep reading because we're about to explain and offer some tips for buying so you get it right with your first purchase.
Always Check The Dimensions – We don't have to say anything more than this. To get it right you have to check your crate's dimensions and the try's dimensions as well. Note that the tray should be ever so slightly smaller than the crate so you could get it inside with no problems.
How To Make Them Last Longer – You can line the tray with puppy pads in crate as well as puppy crate bedding. This will help you with making the tray last longer and you will also be better ensured that if your dog urinates inside his crate and onto the pan, the liquids won't spillover.
Who Needs It – Everyone who either owns a wire dog cage or a heavy-duty cage needs one of these because they're an integral part of crates. You should also get one if you have a puppy that tends to pee more inside his crate to prevent liquids from getting onto your floors. If that's the case, make sure you buy a deeper pan and one that won't absorb odors as much.
Branded Plastic Trays – If you have a branded crate you can easily find a replacement liner for dog crate. This way you can be positive that the tray will truly fit perfectly inside the crate but there are also unbranded versions that fit most standard-sized crates as well.
To Sum Up
Although it is narrow and can fit inside only one certain type of crate we just have to recommend the MidWest 42-in dog crate plastic liner. The simple reason why is that it is odor-resistant and if you do have a different crate, you can buy other versions of the liner as well. If what you're missing inside your crate is a puppy divider, then we suggest you look into the article about puppy crate dividers and if your dog is old enough to travel then we suggest you read about collapsible travel dog crates in this article.