Have a dog that's either a rottweiler, german shepherd, or some other similar-sized breed so you set out to find a 48-inch dog crate?
You'll find more than a few if you keep reading this article where we made sure to review a variety of different crate types with different functions so that there's a crate for everyone's taste like travel crates, puppy crates, divider crates, and more than just those.
The Summary
15 Best 48 Dog Crates
BEST OF BEST 48 INCH DOG CRATE
Precision Pet Products Great Crate
Finish, Doors, And Puppy Housing
A wire crate is always a good choice for crate training dogs. This one is covered with a rust and corrosion-resistant finish that's black. It has 2 doors, the front and side one that you will get to lock from 5 points each. It's easy to fold down this 48 in crate and even comes with a puppy housing divider.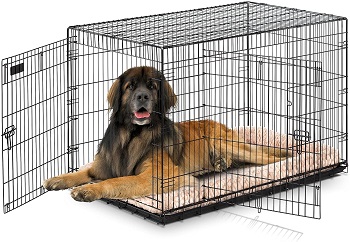 Bottom And Top
The top is where the plastic carry handle is located while on the bottom, you'll also find a plastic slide-out cleaning tray. It weighs around 48 lbs and apart from being 48-in long, it's 30-in wide, and 32-in tall. For more crates of this size but different types, check out the xl wire dog crate article next.
In Short:
Made out of wire
Has rust and corrosion-resistant black finish
Has a front and side doors that lock from 5 points
Can be folded down
Features a top carry handle and a bottom cleaning tray
It's 48-in long, 30-in wide, and 32-in tall
BEST HEAVY DUTY 48 DOG CRATE
Confote Heavy Duty Dog Crate
Color And Metal Used
Stainless steel has a specific color and that's exactly the color of this crate since it is made out of it. Each part of the crate is also welded that only proves that it's truly a 48-inch heavy-duty dog crate. You can check out more if you'd like in the article linked below.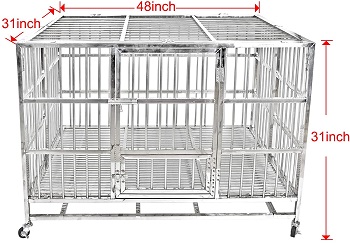 Bottom Contents And Doors
The bottom floor features square tubes so that it doesn't bend under the weight of an extra-large dog. Below it 2 cleaning trays easily collect fallen dog dirt and excrements. It has strong and durable locks on the front, top, and feeding door and it sits on 4 wheels that you can lock to set it into place.
In Short:
Made with stainless steel
Has 3 entrances, one is a feeding entrance
The doors lock with safety locks
Has metal square tube floors
Comes with 2 cleaning trays
Sits on lockable wheels
BEST PLASTIC 48 INCH DOG CRATE
Petmate Sky Kennel
Size And Plastic Details
This is the largest crate for air travel that you'll find since these tend to be smaller than indoor dog crates. It's 48-in long, 32-in wide, and 35-in tall. It's made out of 2 heavy-duty plastic shells that you can connect with winged nuts that don't corrode. It has a wire door and 2 wire ventilation windows.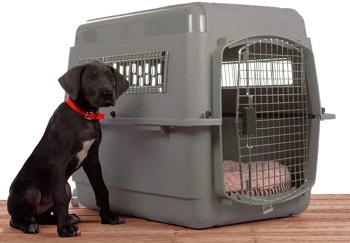 Travel Kit Extras
This 48-inch plastic dog crate comes with a basic air travel kit that consists of an ID and live animal stickers, the previously mentioned nuts and bolts, tie-down holes for bungees, and bowls you can clip on the wire door that locks with a vault lock. If you'd like to travel with your dog by car, you might want to check out other xl plastic dog crates.
In Short:
Made with heavy-duty plastic
Comes with nuts and bolts for shell connection
Can be used for air travel
Has a wire door that locks with a vault type lock
Features ID and live animal sticker, bowls, and tie-down bungee holes
It's 48-in long, 32-in wide, and 35-in tall
BEST 30 X 48 DOG CRATE
Midwest XL Dog iCrate
Proportion Specification
The 30-inch proportion marks the crate's width in this case. It's a wire crate and paired with the 33-in in height and 48-in in length, it's the most standard-sized crate for extra large dogs out there. These are great dog crates for german shepherds so check others out if your dog matches this size or is a german shepherd.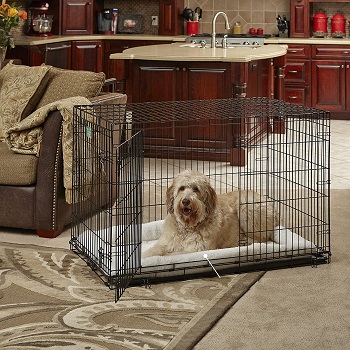 Crate Safety
It's made fully out of wire and features safe rounded corners. It comes with an easily removable and adjustable divider as well. The doors are located in the front and on the side and lock with sliding bolt locks. You can fold this whole 48 x 30 dog crate down and transport it with a carry handle.
In Short:
It's 48 inches long and 30-in wide
Made fully out of wire
Has safe rounded corners
Comes with a divider
Has a front and side door
It's easy to fold down
BEST 30 X 33 X 48 INCH DOG CRATE
BestPet 48 inch Large Dog Crate
Adult Dogs And Puppies Crate
The interior of this crate features rounded corners to prevent dogs from pinching their paws. This also includes puppies because it does come with a puppy divider for potty training them. It has a top plastic handle and a plastic bottom cleaning tray. You can easily fold this 48x30x33 dog crate down as well.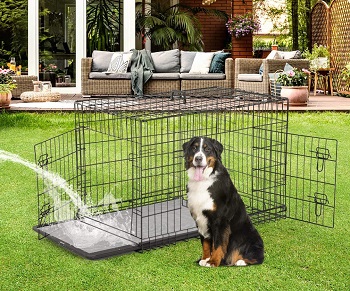 Budget-Friendly Crate
It has a door in the front and a door on the side. It is one inch smaller than the 33-in height but the difference is menial. Extra Large dog crates tend to be expensive but this one costs only around 70 dollars so if you're on a budget, you might want to read about other cheap large dog crates next.
In Short:
Has safely rounded corners
Comes with a puppy divider
Costs around 70 dollars
It's easy to fold and unfold
Has a top carry handle and a bottom cleaning tray
BEST WITH DIVIDER 48 DOG CRATE
BestPet Durable Wire Dog Crate
Strong Wire Build
The high tensile strength of the wire is due to the low carbon steel this crate is made out of. It surely makes it more durable and better for housing fully grown dogs and puppies. Since it's a 48 dog crate with a divider it's also an adjustable dog crate so check them all out in this post.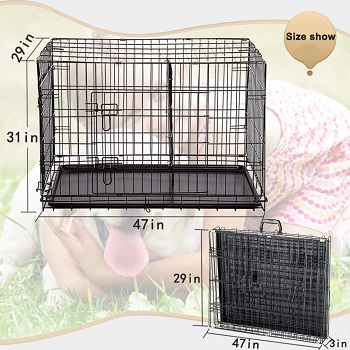 Travel Features
The strong wire build wouldn't mean much if it weren't for the safe rounded corners and durable epoxy coat finish that makes it rust and corrosion-resistant. Due to the finish, folding design, and carry handle, it's also easy to transport and travel with. The cleaning tray on the bottom will prevent liquids from ending up on your floors.
In Short:
Made with high tensile wire
Has an epoxy coat finish
Comes featuring a puppy divider
Can be folded down
Comes with a carry handle
The bottom holds a slide-out cleaning tray
BEST DOUBLE DOOR 48 INCH DOG CRATE
Cardinal Gates Sliding Door Dog Crate
Wire Gauge And Door Opening
Another way to make sure that your wire crate is durable is to check if the wire is gauged. This one has a thick 10 and 6 gauge wire build. The doors are more durable because they're made with 6 gauge wire but also unique and space-saving since the side doors slide open while the front door opens upwards.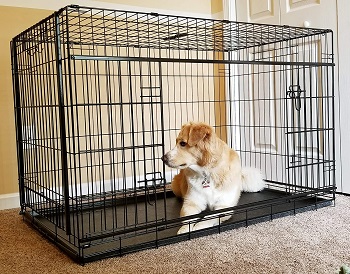 Wire Crate Abilities
Everything that a regular wire crate can do this one can do as well. You can fold it down, store it, transport it carrying it with the provided handle and easily clean it due to the slide-out cleaning tray. This 48 double door dog crate does not come with a divider though so read the dog crate divider with door article next to find one.
In Short:
Made with 10 and 6 gauge wire
The front door opens upwards
Has a double sliding side door
Can be folded and features a carrying handle
Has a bottom slide out cleaning tray
BEST AIRLINE 48 INCH DOG CRATE
SportPet Designs Plastic Kennel
Travel Kit Extras
This is another airline-approved dog crate that's made out of 2 plastic shells. The two connect with nuts and bolts for air travel or simply with plastic locking clips for traveling by car. It comes with stickers, bowls, and bungee tie-down holes, all a part of the air travel extras kit. It even comes with 2 handles and 4 wheels.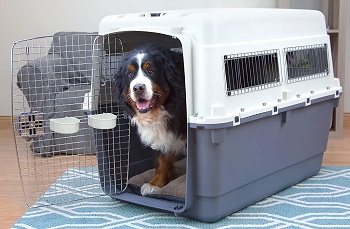 Wire Bits
It has a wire door and 3 wire windows for extra ventilation. It fits dogs that are up to 44-in long ad 33-in tall inside. It's a crate for giant dog breeds so if you'd like to learn more about those and this 48-inch airline dog crate, you can check out the article about them next.
In Short:
Made out of 2 plastic shells
You can connect the shells with nuts and bolts or plastic clips
HAs a wire door and 3 wire windows
Fits inside dogs up to 44-in in length and 33-in in height
It features IATA approved air travel accessories
Has 2 top handles and 4 wheels on the bottom
BEST SOFT 48 DOG CRATE
Zeus Deluxe Soft Crate
Build Materials
It's comprised out of a metal tube frame that allows you to fold it down and a waterproof fabric cover. Crate price increases when size increases and paired with the fact that a 48 inch soft dog crate is hard to find, its price of around 200 dollars still makes it a cheap xl dog crate. Check out others if you're on a budget.
Cover Features
The cover features 4 ventilation windows, 3 entrances, and the back and one of the sides feature accessory pockets and a bottle holder. It weighs around 18 lbs so it's easy to carry it inside its own carrying case. It also comes with a soft and washable bed for the interior.
In Short:
Has a metal tube frame
Can be folded down
The fabric cover is waterproof
Has 4 vent windows and 3 entrances
Comes with its own carry case
Features 2 accessory pocket and a bottle holder
Costs around 200 dollars
BEST TRAVEL 48 INCH DOG CRATE
Uws Norther 2 Door Dog Box
2 Dog Housing
The only ventilation point of this crate is its 2 doors. The 2 doors are entrances to separate dog crates split with an unremovable divider. It's 48-in long and 48-in wide. Paired with the 2 stainless steel locking entrances, it allows you to house 2 dogs inside.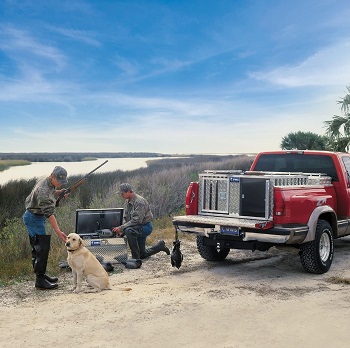 Metal Used And Storage Space
It's made out of aluminum which means it won't rust or corrode. It has top rails so you can secure it and store more things on top. the top also opens up and there you'd find a compartment that acts as more storage space. This 48-inch travel dog crate is also a hunting dog crate for trucks. They are incredibly durable and safe so check them all out if that's your focus when traveling.
In Short:
Made out of aluminum
HAs a non-removable divider
Can house 2 xl dogs separately
The 2 doors lock with stainless steel locks
Has top rails and a storage compartment
It's 48-in long and 48-in wide
BEST WIRE 48 DOG CRATE
Homey Pet 49 Stackable Dog Crate
Sides And Frame
Although it's a wire dog crate, its frame is made out of metal tubes, it features rust and corrosion-resistant hammertone finish so it can easily house anxiety-ridden and aggressive dogs. It has a top interaction entrance, a front door, and a built-in feeding door. The locks are more secure with additional chain hooks.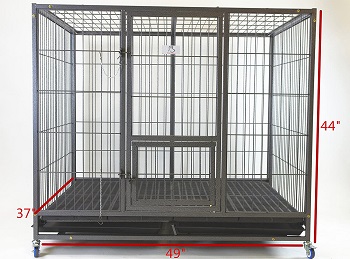 Other Proportions And Bottom
It's 44-in tall but that's more because of the lockable wheels it sits on for easier moving. Its interior is 37-in tall and it's 37-in wide. The bottom can easily hold a dog up to 150 lbs but the dimensions of this 48-inch heavy-duty dog crate may not allow you to house that heavy of a dog. For even bigger models, check out the article linked below.
In Short:
Has a metal tube frame and wire sides
Sits on 4 locking wheels
Overall, it's 44-in tall
The inside is 37-in tall
Can house dogs up to 150 lbs
Has a gridded floor and below 2 cleaning trays
BEST 32 X 30 X 48 DOG CRATE
PawHut Folding Heavy Duty Dog Crate
Crate Looks
This crate looks better than a lot of the heavy-duty dog crates out there. What helps keep it looking great are the wire sides paired with the steel tube frame and the rounded corners on top that prevent it from looking boxed in. You can find other classic-looking heavy-duty large dog crates in the linked article below.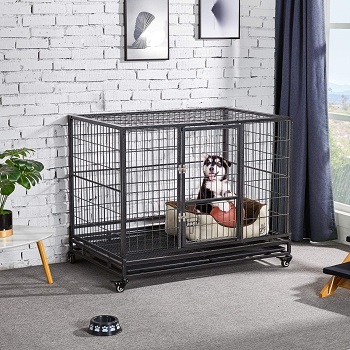 Folding Desing And Other Details
What's great about this 48 x 30 x 32 dog crate that weighs around 53 lbs and sits on wheels that you can lock is that you're able to fold it down for storage. The cleaning tray is located inside and features a pan stopper to prevent it from sliding out. It features a top and front door that locks with 2 locks each.
In Short:
Has rounded top corners
Feature a metal frame and wire sides
You can fold it down
Weighs around 53 lbs
Sits on 4 wheels that you can lock
Has a cleaning pan inside
BEST 36 X 48 INCH DOG CRATE
Polar Aurora Heavy Duty Crate
Metal Tubes And Wire Bits
For the frame, the manufacturer of this crate made sure to use only steel tubes. The only wire bit on it is its gridded wire floor that has a cleaning tray below it for ease of cleaning. The doors are located in the front and on top and the crate is elevated from the ground since it sits on 4 lockable wheels.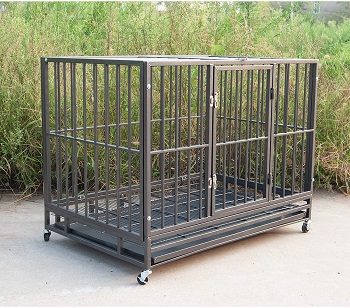 Proportion Specification
It's a 48 x 36 dog crate with the 36-inch proportion being its height and the 48 proportion being its length. It's also 31.5-in wide. It can house extra large dogs like rottweillers but if you'd prefer a different height and width, you can find these crates in the 48-inch heavy duty dog crates.
In Short:
Made with steel tubes
Has a wire grid floor
It's around 48-in long, 36-in tall, and 31.5-in wide
Sits on 4 lockable wheels
Has a top and front entrance
BEST PLAYPEN 48 DOG CRATE
Iris Usa Wire Open Pen
Elegant Plastic Design
This pen is 48-in long, 31.5-in wide, and 28-in tall. It has a plastic frame and white epoxy-coated sides. The frame doesn't look plastic though and instead looks wooden. It acts as a crate because of its molded bottom tray but doesn't have a top. If you'd prefer a classic playpen, you can read the dog crate playpen article to find one.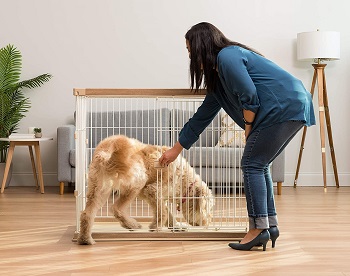 Tray And Size
The bottom tray is plastic and is molded into the bottom edges. Below, it has rubber stops to prevent it from sliding. Your dog will get to enter through the single sliding door and although it's 48-in long, due to the lack of top on this dog playpen 48-inch model and its height of 28-in, it's best if you'd house medium dogs inside it.
In Short:
Has a plastic frame that looks wooden
Has white epoxy-coated wire sides
Doesn't feature a top
The bottom holds a molded plastic tray
Has a sliding door entrance
Should house medium dogs
BEST PUPPY 48 INCH DOG CRATE
Precision pet 3 Door Great Crate
Simply Safe
The crate is a perfect example of how a simple wire crate, can be made with fine attention to detail. For example, it features rounded corners for both puppy and fully grown dog safety. One other thing is that it has a triple door design – a front door, a top door, and a side door.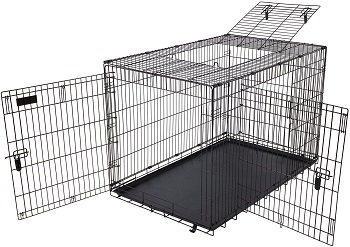 Crate Mobility
It's easy to fold down and transport this 48 in dog cage. It's made with heavy gauge wire and the doors lock from 5 points each. It even has roller feet to protect your floors. It's 48-in long, 30-in wide, and 33-in tall meaning the width and height make it much bigger. It's a great example o of a dog crate for rottweilers and if you're interested, read about others in the article linked below.
In Short:
HAs rounded corners
Features a top, front, and side door
it's 48-in long, 33-in tall, and 30-in wide
Comes with a puppy divider
The doors lock from t5 points each
Can be easily folded
features roller feet for floor protection
How To Pick A 48 Inch Dog Crate
Do you want to pick out the best possible 48-inch dog crate but can't figure out which one that is? We'll provide you with all the necessary information like size info, crate type info, durability details, and primary function details in this buying guide so you'd know which one you have to look for and why?
48 Inch Crate Size – If the crate you're looking at is 48-in long, it's a crate able to house extra large dogs like rottweilers for instance. It's a standard xl crate size and the standard size is rooted in wire dog crates that every other crate expands from in function.
Is Your Dog Extra Large – If perhaps you're confused about whether or not your dog can fit inside one of these crates, the best way to figure it out is to measure your dog. You'll want to take their height and length, add at least 3 or 4 inches to those numbers and look for a crate within the size range of the given numbers.
Crates It All Stems From – The most common 48-in crate type are wire dog crates. They're great for crate training fully grown dogs and puppies. They often come equipped with removable and adjustable dividers that will help potty train your puppy. The puppy you want to house inside these crates should be in one size to its approximate adult size.
Crate Rarely Or Never Found Here – One specific crate type you'll never find in that precise size is wooden dog crate furniture. Their max is around 42-in in length and they are marked as extra-large in those cases. They often provide a weight limit for the dogs you're able to house inside, but you shouldn't focus on that and only focus on your dogs' dimensions to figure it out.
Heavy Duty Crates – If you failed to crate train your dog properly just because the dog destroyed its wire crate, it's time for a heavy-duty crate. They are excellent in housing aggressive and anxiety-ridden dogs but they are very heavy and don't fit inside homes very well either.
48 Inch Dog Crate Cover – We mentioned that heavy-duty metal crates rarely fit well inside homes but there is a solution to this problem. The solution would be to get a crate cover that will also help calm dogs if they are overly stimulated by out of crate visuals. They're easy to find since it's a standard crate size and they should be an inch bigger than the crate to fit on the crate properly.
48 Inch Dog Crate Tray – Crate trays are an essential part of any dog crate, especially if it's a heavy-duty metal dog crate or a wire dog crate. Some are found inside and some are found below the bottom of crates. Nonetheless, sometimes, you're going to need a replacement tray and in that case, we'd recommend you get a metal one since they are more durable and extra-large dogs are heavy.
To Sum Up
There's plenty of crates out there that are 48-inch dog crates. The proof is in this article and it's visible that one should be chosen based on your and your dog's needs. That's why we'll only leave you with 2 tips so you can choose one and not get it wrong. Make sure you measure your dog and make sure you chose a durable option in case your dog is not crate trained. For even bigger crates, check out the 54-inch dog crates article and for generally large crates, read the large dog crate article next. If you'd like to go through short reviews of all of the possible crate types out there, check out the best-rated dog crates article next.