Need a hidden dog crate that definitely won't get noticed inside your lovely home?
We've got just the thing for you. By continuing to read this article you're signing up for success in terms of finding a quality dog crate since we tried to find and review only the best. What we've also done is include a large variety of dog crates like small, medium, and large ones so that there's something for almost everyone.
The Summary
Best 5 Hidden Dog Crates
BEST OF BEST HIDDEN DOG CRATE
Unipaws Pet Crate End Table
Getting Creative With The Double Function
The way that this crate hides inside your home is by having the top function as an end-table but that's pretty common for hidden dog crates. What's so special about it though is that the weight limit for the top is 200 lbs so you can really get creative with what you're putting on top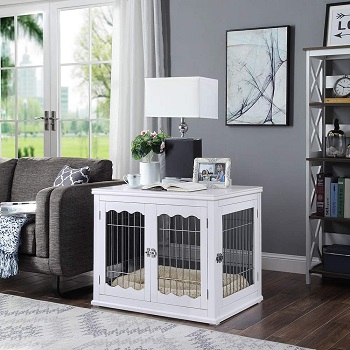 Chew-Proof Bits
This dog crate wouldn't be hidden without its wooden construction. Typically, large wooden dog crates aren't chew-proof and while this can be applied to this crate, it can only be done so partially since the metal bar sides of the crate are chew-proof.
Door Panels Assembly
The crate has an enhanced hidden appearance because you will have more freedom with how you're going to place it in your home. You can thank the double side door and the single front door for that but for even more placing options you'll get to choose where you're going to place the door panels when you're assembling the crate. The door lock with three different locks each.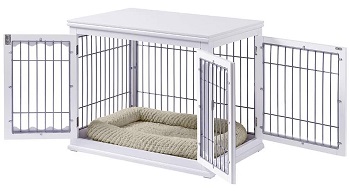 Allowed Dog Size And Behavior
Your dog definitely won't be left unsatisfied with this crate because it comes with a bed that's waterproof and that can be removed to wash. You should only use the crate for crate-trained dogs that weigh up to 90 lbs.
In Short:
 Made out of wood and metal wire bars
The metal wire sides are chew-proof
Can be used as a piece of furniture like an end-table
Can house large dogs up to 90 lbs
The dog should be crate trained
The weight limit for the top is 200 lbs
Comes with a waterproof and washable bed
BEST MEDIUM HIDDEN DOG CRATE FURNITURE
Casual Home Wooden Pet Crate
Solid Wood Build Benefits
If you thought that the crate before this one is an amazing hidden dog crate furniture then you'll absolutely adore this one because it is completely made out of wood. The wood used is solid wood that makes it chew-resistant. it might still take some physical damage so it's important that you crate train your dog.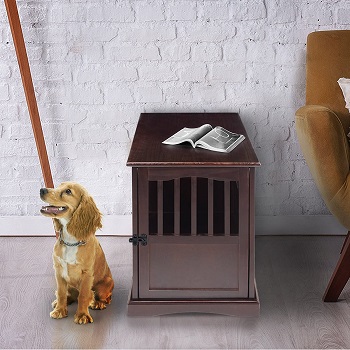 Wide Top Ability
The crate has a wider top so that more stuff can be placed on it. You can put on top anything from plants to pictures and magazines, just make sure you don't overdo it since the weight limit for the top itself is 120 lbs. It is quite a lot, but it's easy to get carried away.
Single Door Placement Options
Although it features a single door for access that locks with one hasp latch, that surely won't be a problem because you can put the next to couches or right in the middle of your room so that it's used as a coffee table.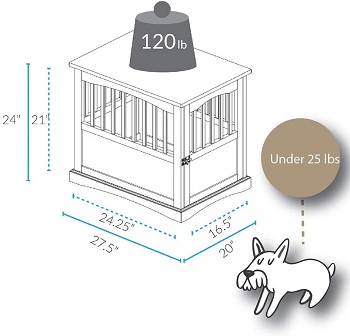 Medium But Small
It is sized as a medium dog crate but that doesn't mean you'll be able to contain medium-sized dogs. In fact, your dog shouldn't weigh over 25 lbs to fit inside easily and comfortably. this means that it's made to house small dogs and dog breeds.
In Short:
Made out of chew-resistant solid wood
Has a single door for access with a single lock
The wide top can handle up to 120 lbs of weight
Designed to house small dogs up to 25 lbs
The dog should be crate trained for a longer crate life
BEST LARGE HIDDEN DOG CRATE
BarkWood Large Pet Crate
Color And Build
Тhis is another dog crate disguised as furniture that's built with solid wood. It is colored with a grey finish so if you have a minimalistic and neutral-colored home this might be the crate that blends better in your home than the others will.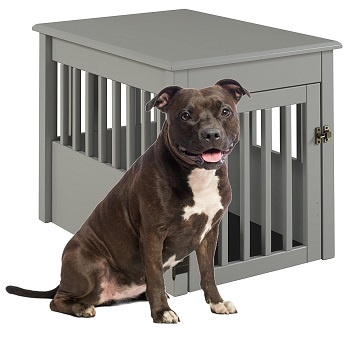 Coming Fully Assembled
There's a good reason why this indoor wooden dog crate comes fully assembled. Mortise and tenon joints connect the crate and they are the most commonly used joints to connect furniture wooden panels. It's because they are so strong that this is the case.
Door Opening
The single door in the front can be opened fully and get attached to the sides for times when you want to leave it open without the door getting in your dog's or your way. It locks with a single lock that won't be reachable to your dog because of the way it's placed.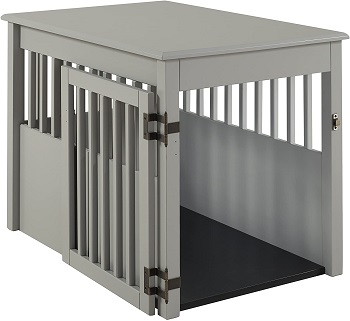 Scratch And Liquid Protection
There are 4 protectors on the bottom that will prevent your floor from getting damaged. The hidden dog crate is protected from liquid and urine spills because the inside is rubberized which means that liquid and odor absorption is minimized.
In Short:
Completely made out of solid wood
The crate is colored grey
Built to house large dogs
HAs a single door that can be attached to the side
The rubberized bottom minimizes liquid and odor absorption
Has 4 floor protectors on the bottom
BEST INDOOR DOG CRATE DISGUISED AS FURNITURE
Crown Pet Products Wood Pet Crate
Lacquered Finish Build
It features a hardwood build but it's intended to look like teak s it looks nicer. It has an espresso finish and it is also lacquered which gives it that extra shine just like a piece of furniture. The crate shouldn't be chewed on so it's advised you use it for crate trained dogs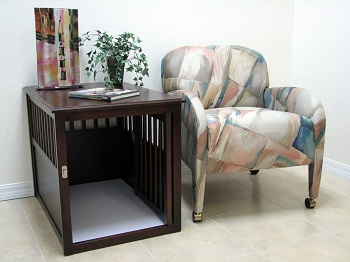 Melamine Bottom Benefit
The bottom or the floor of the crate, if you will is actually made out of medium-density fibreboard. That shouldn't mean much to you but what should is that the same MDF bottom is covered with melamine that puts a stop to any kind of liquid and odor absorption
Push Inside Door
The door o this hidden dog crate furniture is a space-saving kind. That's only true if you leave the crate open for your dog to enter and exit freely since it can be pushed on the inside of the crate when you open so it won't get in your way. It's a single door that locks with a hasp latch.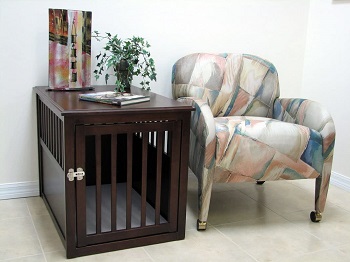 Truly Medium Sized
This is truly a medium dog crate and what we mean by truly is that the size description matches the dogs it can house. So, with this crate, you can house medium dogs that weigh up to 45 lbs but the weight limit shouldn't bother you too much since you should focus more on size to figure the right size out.
In Short:
Made with hardwood that's intended to look like teak
Has an espresso-colored lacquer finish
Built to house medium dogs up to 45 lbs
The melamine covered MDF floor won't absorb liquids or odors
Has a door that can be pushed inside
BEST SMALL HIDDEN DOG CRATE
EcoFlex Pet Crate/End Table
Material Durability
This crate is made out of ecoflex which is a composite material made out of wood and plastic polymers. Composite materials are made using 2 or more materials with certain properties to make a material that has better properties than the two materials when they're separated.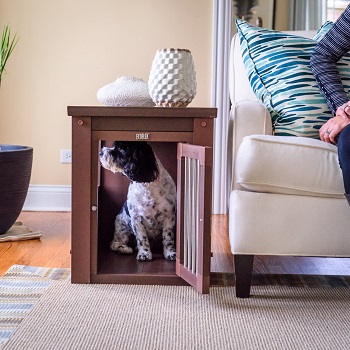 Vents Positioning
It's a dog crate disguised as furniture that has stainless steel tubes on the sides and in the front on the single door for access. They serve the purpose of air vents so that the crate gets enough and proper airflow and with it, your dog as well.
Removable Top Function
The hidden dog crate's top, of course, makes it function as a piece of furniture but what you should also know is that you can remove it. This will allow you to access the whole crate easily to clean it with a damp cloth instead of through the front access door.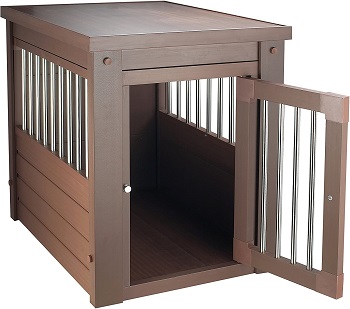 Additional Material Traits
Another great trait of ecoflex that's a recycled material is that it won't crack, split or warp. Another amazing trait is that it doesn't absorb liquids or pet odors. What that means for you is that you won't have trouble with your dog if he ever urinates inside this small dog crate furniture.
In Short:
Made out of recycled composite material called ecoflex
The crate's furniture style top can be removed for cleaning
Features a single door for access in the front
The whole crate won't absorb liquids or odors
Made to house small dogs
Gets ventilated through the front and sides
How To Pick A Hidden Dog Crate
It's quite easy to make a dog crate disguised as furniture. Mostly it's about the material that they're made out of which is wood but there are differences there as well and they include the crate's durability. Other differences may be size, whether or not the crate's built out of other materials, and more.
How They Hide From Plain Sight – As we've already said, it's fairly simple to make a dog crate that hides well inside your home. You just need to make it a wooden dog crate and give it a wide wooden top. Then, the top can make it function as furniture while the crate looks like it as well because of the wooden build.
Wood Durability – You still have to concern yourself with whether or not the crate is durable. Typically, you'll get a more durable crate if it's made out of solid wood or if it has other parts built out of some form of metal whether it's bars or wire.
Saving Space – Another thing that these things do well because of their furniture function is that they'll save you a lot of space that way. you can even enhance that by getting a triple dog crate furniture with more doors and more placing possibilities.
Color Choices – The most common color for these crates is espresso but you can get crates that are colored with grey, white, or with softer versions of brown. This is an important thing to think about because this is another thing that will determine whether or not your dog crate can be well hidden from plain sight if it fits with your other furniture.
Behavior Warning – The hidden dog crates are not meant to be used as training cages for dogs no matter how durable they are since they might take some physical damage or they're just not equipped needed for it. They are mostly indoor dog crate furniture meant to house already crate trained and rather calm dogs.
To Sum Up
We've decided to choose the Crown Pet Products Wood Pet Crate as the hidden dog crate we want to recommend. It's made entirely out of hardwood so there are no metal pieces that disrupt the hidden look, has a door that can slide inside the crate and the melamine-covered bottom won't absorb the liquids and odors it comes into contact with. If you're looking to get a large furniture crate but you're finding it really hard to find one, reading the article about XL dog crate furniture might help with that, and if what you want is just a pretty dog crate then check out the article about nice looking dog crates.