Are you trying to find a small dog training crate but had no luck so far?
If you weren't so far, you are lucky now because you stumbled upon an article where we found and reviewed only the best. We'll do you one better because we didn't stop there. we've also reviewed different types of crates like the ones for puppies, wooden ones and that's only the beginning so make sure you keep reading cause you are definitely about to end your search.
The Summary
Best 5 Small Dog Training Crates
BEST OF BEST SMALL DOG TRAINING CRATE
MidWest Homes for Pets Dog Crate
Removable Divider Importance
When choosing a small dog training crate you have to know what to look for but with this one, you don't need to because it has everything that you might need to crate train your dog starting with the divider panel that will allow you to train your dog even when he's a small puppy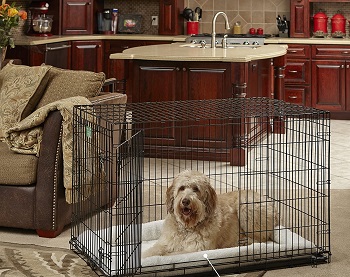 Inside Crate Safety
What's really important for a small wire dog crate or any wire dog crate to have is rounded corners so that your dog or puppy doesn't get hurt while he's inside. This crate does this with the rounded corner clips that remove any possible sharp edges.
Door Quantity And Lock Type
You'll get a single door for your dog to access this small puppy training crate and you won't have to worry much about your dog possibly escaping it since the lock on the door is a single sliding bolt lock that you might see a lot of with wire dog crates.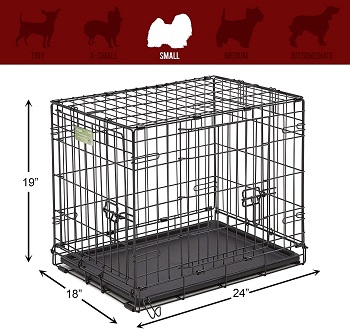 Important Bottom Extras
The bottom has some really important and useful extras. There are roller feet on the bottom that will protect your floors so that the crate doesn't damage them and there's also a pan stopper that will stop the tray on the bottom that will be useful to you for cleaning the crate from sliding out.
In Short:
Made out of steel wire
Has a single door access
The door locks safely with a sliding bolt lock
Comes with a divider and a bottom pullout tray
Has rounded corner clips for added inside safety
The roller feet on the bottom will protect your floors
BEST FOR PUPPIES SMALL PUPPY CRATE TRAINING
Diggs Revol Dog Crate
Puppy Safety
If you're after the best crate for puppy training then you've definitely hit the lottery by finding this one. First and foremost, it's made with baby industry standards kept in mind so no matter how your puppy behaves, you can be sure that he won't hurt himself while inside this crate.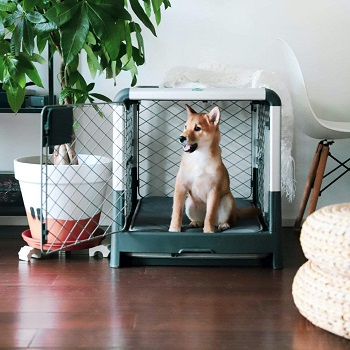 Crate Build Materials
The small dog training crate is made with a heavy-duty plastic frame and it uses diamond steel wire that is high grade for the sides. It will give your dog enough visibility which is important for growing puppies. the crate can also be collapsed and you can utilize its built-in wheel and handle to transport it, tuck it away when you don't need it, or even travel with it.
Puppy Crate Extras
This small puppy training crate doesn't stop being for puppies just with the baby industry standards. It also comes with a divider that can adjust to your puppy's size as he grows bigger and there's a slide-out pan on the bottom that will make cleaning the crate extremely easier. You'll also get a front door that can't be opened by dogs, a side door, and a top access door.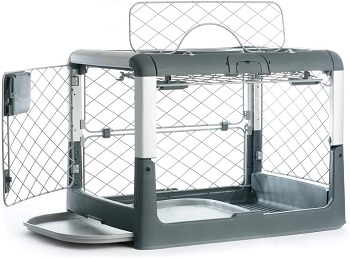 How Large Your Dog Can Be
No matter the plastic frame, this crate 25 lbs, and it's made to be used by small dogs. To make it easier for you, your dog shouldn't be taller than 16 inches and longer than 22 inches since the crate is 25 inches tall and 19 inches long.
In Short:
Has three points of entry
Made with plastic and aluminum steel wire
Best for puppies and small dogs
Completely safe for puppies to be inside
Has a removable divider panel and slide-out pan
Can be collapsed
Has built-in wheels on the bottom and a top handle
BEST WOODEN SMALL DOG TRAINING CAGE
Simply Plus Wood And Wire Dog Crate
Bits That Are Chew Proof
The crate does have a frame made out of MDF wood which is normally not chew-proof but the sides of the crate are made out of steel wire which means that it will definitely survive a chewing dog or puppy to an extent. It comes in white or brown color.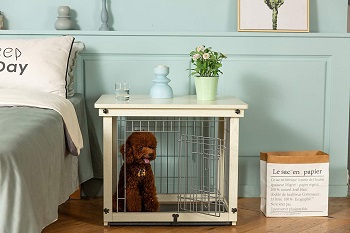 Plastic Pan Function And Purpose
You will rarely find a wooden dog crate that can act as small dog crate furniture but also as a small dog training crate. The reason why this one can is mainly due to the plastic bottom pan that you can pull out to clean the crate with ease. There's also a pan stopper on the bottom shaped like a dog bone that will prevent the pan from accidentally sliding out.
Entrance And Its Locks
There's only one access door located on the lengthier side of the crate. It's pretty small but that won't be a problem since the crate can only house small dog breeds. You will get to lock the door with two slide bolt locks that should be enough to keep your dog safely contained inside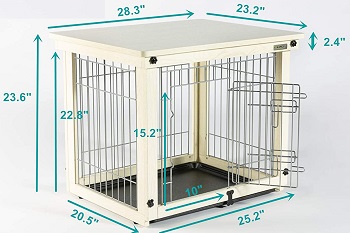 Space-Saving Design
The crate will save you space because the top can be used for you to put on it things like pictures, magazines, and other personal belonging. You can treat it just like a regular piece of furniture. To make it even more cute and appealing, the screws are shaped like dog paws.
In Short:
Built out of MDF wood and steel wire
Has one entry that locks with two slide bolt locks
can be used as a piece of furniture because of the top
Has a slide-out tray on the bottom
the screws are shaped like dog paws
There's a slide stopper shaped like a dog bone
BEST CHEAP SMALL PUPPY TRAINING CRATE
Amazon Basics Foldable Exercise Playpen
As Useful As A Crate
You don't need to buy an actual crate to have a successful small dog training crate. You can have as much success with crate training your dog by buying a dog crate playpen like this one. The reason why is because, at the beginning of your crate training journey, your dog shouldn't constantly be contained inside a crate.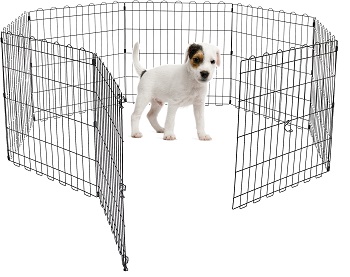 Playing Options
The playpen crate is made with steel wire that's coated with a rust-resistant finish. You can easily use it indoors and outdoors as well. It's pretty light with its weight of around 16 lbs and you can easily fold it down to store when you're not using it.
Playing Space Size
Each of the 8 panels that make small puppy crate training a breeze measure 24 by 24 inches. When connected together, they give your dog a total of 16 square feet of secure playing area. There's even an access door for this crate playpen that locks with 2 slide bolt locks. It's made for dogs that have a maximum height of 16 inches.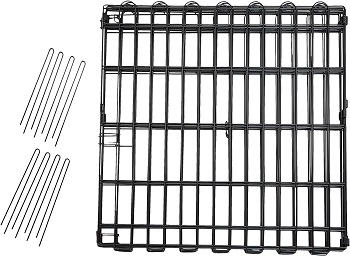 Durability Extras
There are some extras that make using this crate more practical. you'll get thumb clips made out of metal to safely connect the ends of the crate and you'll also get anchors for the ground that will support it when you're using it outdoors.
In Short:
Made out of steel wire
Coated with a rust-resistant finish
Consists out of 8, 24×24 panels
Gives your dog a total of 16 square feet of space
Has an access door that locks with 2 slide bolt locks
The ground anchors will support it when used outdoor
Your dog shouldn't be taller than 16 inches
BEST METAL SMALL DOG TRAINING CRATE
Petmate ProValu Double Door Dog Crate
Build Materials And Coating
The crate, as a whole, is made out of metal steel wire and it's coated with an e-coat black finish. The e-coat makes the crate rust-resistant. The pan on the bottom is break-resistant and you will get to use it to clean the crate by taking out and cleaning the pan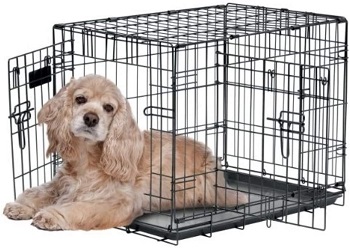 Divider Use
The crate comes with a puppy crate divider which means that small puppy crate training will be much easier since the crate will easily adjust to their size as they grow. To keep your dog safe, the corners of the crate are rounded so that your dog doesn't pinch his paws or hurt himself in other ways.
Positioning And Entry
The small dog training crate has multiple positioning options because it has 2 doors, one in the front and one on the side of the crate. The crate locks with a standard slide bolt lock but that's not all there is to it because the crate locks from 5 different points as well.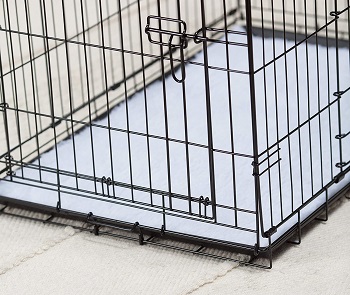 Plastic Bit And Folding The Crate
The pan on the bottom is made out of polypropylene which makes it the only part of the crate that's made out of plastic. You can easily collapse the crate for transport or to store it when you're not using it since that will be pretty often in the beginning.
In Short:
The pan on the bottom is break-resistant
The crate is made out of steel wire
The doors lock from 5 different points
Comes with a divider
Has rounded corners for added inside safety
How To Pick A Small Dog Training Crate
You've got to be careful when choosing a small dog training crate because not every crate is made to have things needed for crate training like dividers, ease of cleaning, and added inside safety. It's important to know what these things are for and so much more so make sure you read these tips on how to choose the perfect one.
Necessities For Puppy Training – If you have a puppy that's about to begin his crate training journey you should, first and foremost, make sure that the crate has a puppy divider so that the crate can adjust to his size as he grows. Make sure you buy the crate according to his adult size.
Best Type Of Crate For The Job – The best type of crates for training are definitely small, large, or medium wire dog crates depending on the dog's adult size. They provide the best ventilation and visibility and they are durable enough to survive chewing. they will usually have rounded corners so that your dog doesn't hurt himself. If you don't like their color there are other colors available like white, blue, pink, and even purple dog crates.
Crate Sizing Tips – This is the part where most dog owners choose wrong and waste their money. To get it right all you need to do is measure your dog from snout to rear and to get his length and from the bottom to the top of his head for the height, add 3 or 4 inches to it, and compare it to the crates' dimension. If it's equal to the crate dimension or just below it, you've got yourself the perfect crate size.
How Often You Should Use It – What you'll find quite useful is if the crate has a double function as a piece of furniture but more often if it's collapsible because you shouldn't keep your dog inside the crate for extended periods of time. In the beginning, 2 hours should be the maximum and later on, you can increase the using time.
To Sum Up
The small dog training crate that we would recommend is 100 percent the Diggs Revol Dog Crate. It has all the things needed for a safe experience for puppies, you can travel with it and it's amazingly durable and sturdy. If you have already crate trained your dog but your dog is on the more aggressive side you'll definitely need an unbreakable dog crate so make sure you read that article and if on the other side, you have a dog that's on his best behavior and you want a crate that will save you some space and go unnoticed then the article about small dog crate furniture is the one for you to read.