Are you always on the move or your dog simply can't stay put and wanders off easily so you thought you'd get a GPS dog collar fence?
You'll want to continue reading this article if that's the case since we reviewed only the best that fit the description. We didn't stop there though. We made sure to include a variety of products suitable for everyone. One is bound to be a match if you're serious about buying one since we reviewed collars like wireless, geofence, invisible collars, and a lot more.
The Summary
Best 10 GPS Dog Collar Fence
BEST OF BEST GPS DOG FENCE
Findster Duo Pet Tracker
No Cell Phone Plan Required
Some GPS trackers will require you to buy a cellular network subscription plan every month but not this one. It works with an app you can download on your phone. It comes with 2 pieces of equipment, one for the human and one for the dog. It connects the dog's wearable via radio signal and the human wearable via Bluetooth.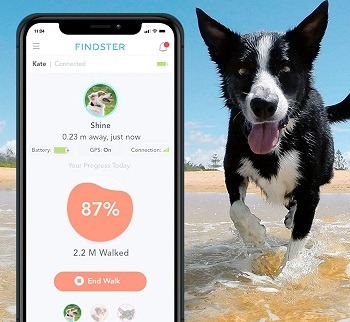 Durable Casing
It's small and sturdy, able to resist getting damaged by the water of up to 3ft in water depth, You can customize safe areas in the app and you'll receive alerts when the dog passes the safe zone. If you'd prefer a different model, you can always go look into the GPS dog collar no monthly fee article to find them.
In Short:
It's waterproof up to 3ft in depth
Comes with 2 pieces of equipment
Requires no monthly subscription
You can manage safe zones via an app
Sends alerts to your phone when the dog crosses safe zones
BEST WIRELESS GPS DOG COLLAR FENCE
Link Akc Smart Dog Collar
Collar Design
The collar looks amazing with its white stitches and brown collar. It's made for dogs with a weights of 10 lbs and up but you can get a free collar size exchange. If you'd prefer a different color and collar look, you can read the Bluetooth pet tracker article to find them.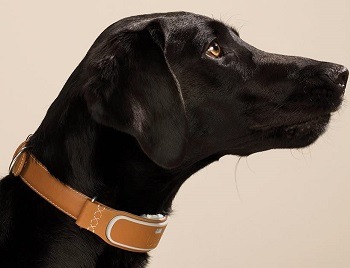 Celular Plan Requirement
This GPS wireless dog fence connects to your phone via Bluetooth but in order to work, you'll need a cellular plan since it has a built-in GPS tracker. You can customize goals for your dog's daily activity via the app and you can map out and record walks to save for later. It can also send alerts to your phone if your dog is in a too hot or too cold environment.
In Short:
Requires a data plan
Connects through an app via Bluetooth
Features a built-in GPS tracker
You can record walks and save them
Can track environment temperature
The collar is brown with white stitches
Made for dogs from 10 lbs and up
BEST INVISIBLE GPS DOG COLLAR FENCE
Black Decker Smart Dog Collar
Collar Tech
The technology that makes it work is packed into a black collar that fits onto a 15-in up to 21-in dog neckline. It has built-i two-way audio so you can communicate with your dog but it won't work overseas. It's water-resistant up to 3 ft and is made for medium to large-sized dogs.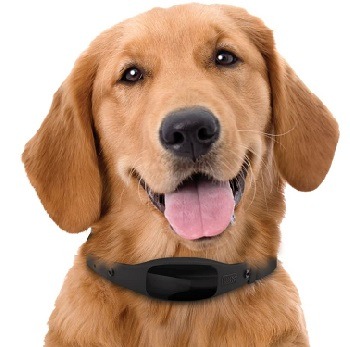 Display And Charging
It has a QLED display that can hold your contact info and your dog's name. It's rechargeable via USB, you can trace GPS invisible dog fence maps that act as geofence zones and it also tracks dog activity. For smaller and even more invisible models, read the GPS pet collar tracker article next.
In Short:
Comes with a black collar
Requires a cellular plan and 2G network coverage
Doesn't work overseas
IT's rechargeable via USB
You can customize geofence zones via an app
It's water-resistant up to 3 ft
Has a QLED display for virtual dog tag
Fits on medium to large dogs
BEST GEO GPS DOG COLLAR FENCE
Gibi Pet Location Tracker
App Details
Thanks to the app it connects to, you can manage safe zones that, if crossed, will send an e-mail or text to alert you that it has been crossed. It can attach to any dog collar and is hardly noticeable. You will have to sign a pet location service agreement and register for it to work.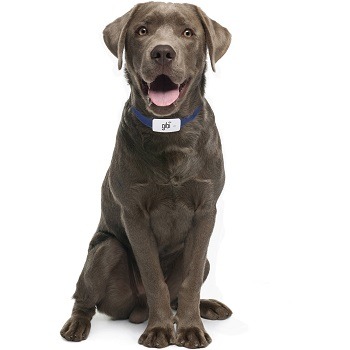 Batter And GeoFence
You'll get low battery alerts so you can have plenty of time to charge it or find your dog using the GPS locator. You can also share your location with other people using google maps. This geofence for dogs is not the only one, so check out others in the dog location tracker chip collar article for more models.
In Short:
Requires a pet location service agreement and registration
Sends alerts to your phone when it's low battery
Has customizable geo-fence zones
Sends a text or e-mail when the safe zone is crossed
You can share dog location with family using google maps
BEST PERIMETER GPS DOG FENCE
Dogtra Pathfinder Tracker
Working Radius
Even if your dog wanders off, the collar and radio signal device can be 9 miles apart and still work properly. It offers online and offline maps and you can easily set up a geofence zone on the radio signal device. You can even train your dog with nick, audible tone, and pager vibration to correct unwanted behavior.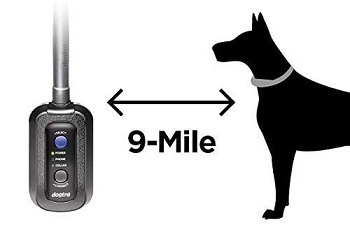 Connectivity And App
You can get more collars, 21 in total to track more dogs using one device. It doesn't require a cellular plan or subscription fees either. The app it connects to even has a compass. If this dog perimeter fence GPS is too advanced and you need something a bit simpler, you can check them all out in the dog tracking and training collar article.
In Short:
Comes with a collar and radio signal device
Connects to a smartphone app
Has online and online maps
You can set up geofence zones
Has a 9-mile radius
The collar can act as a training e-collar
BEST LARGE ACREAGE GPS DOG FENCE
SportDog Brand Gps Tracker
Equipment It Comes With
Тhe collar works with 2 pieces of equipment: the collar and a handheld device that displays topographical maps that work with GPS satellites. If for some reason you'd prefer a cellular data working GPS pet fence for large acreage, you can find them in the dog tracking and training collars article.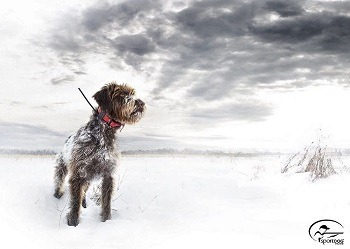 Device Details
The handheld device shows routes the dog took, whether they are moving or not, and shows where they are headed. You can do it with multiple dogs by purchasing other collars. Both devices are waterproof and they have a 10-mile radius. You can set up geofence zones, train your dog, and the battery can last up to 24 hours on a single 4-hour charge.
In Short:
Works with GPS satellites
Comes with a handheld device and collar
Can train your dog
You can set up pet safe zones
Has a 10-mile working radius
Lasts up to 24 hours on a single charge
Can track where the dog has been moving
BEST VIRTUAL GPS DOG COLLAR FENCE
Petfon Pet GPS tracker
Looks And How It Works
The small box the small tracker comes in reminds us of wireless earphones. One piece is for you to attach to your dog's collar and one is for you. It trach in real-time using GPS and doesn't require a SIM card or monthly fees to work. It has a range o up to 3.5 miles and works around 8 to 16 hours per charge.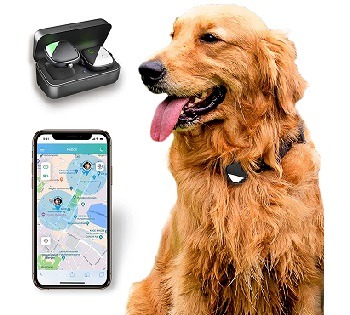 Fence And Danger Zones
You can customize GPS virtual dog fence zones and danger zones as well. When you're trying to find your dog, the radar can point you in the right direction to find them easily and the device is weather resistant. Since it's small, it's a perfect GPS collar for small dogs and you can check out more in the linked article below as well.
In Short:
Comes with 2 small wearables
Has an 8 to 16 hours working range
Works via GPS
Can manage safe zones and danger zones
Has a pointing rada for easy dog tracking
It has a 3.5-mile range
BEST PROGRAMMABLE GPS DOG FENCE
Eureka Technology Pet Tracker
Expandable Tracking
The package includes everything that you'll need to track and monitor one dog but you can expand it up to three dogs by purchasing more. It's self-managed which means it doesn't use GPS, cellular data, or needs any monthly fees. If you'd prefer to rely on both, you can find more models in the dog location tracker chip collar article.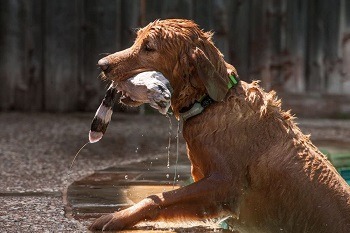 Handheld Locator
The programmable GPS dog fence comes with a handheld locator that allows you to program safety zones. When the safety zone is breached, the collar tag responds and acts as a radar so you can find your dog. On a single charge, the internal battery works up to 6 weeks and the tag has a 2-mile range.
In Short:
Has a 2-mile range
Has programmable safety zones
Comes with everything needed for one dog
It's expandable up to 3 dog tracking
Features a handheld device
On a single charge, it works up to 6 weeks
BEST SMART GPS DOG COLLAR FENCE
Muxan Pet Tracker
Recharge Warning
The white device connects to your pet's collar and when it's close to needing a recharge, you'll get warned about it. It has live tracking with 5-meter accuracy. You can track your dog's moving history and set up geofences, all of that using its app for smartphones.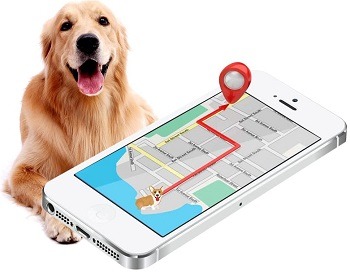 No Range Limitation
This GPS based dog fence charges via USB cable. It has no distance or range limitation since it works with a 2G network but that means that you'll have to pay monthly fees for this wireless GPS dog collar to work properly. It's made for small dogs and if you'd prefer a free-of-fee tracker, you can read about others in the GPS collar for small dogs article.
In Short:
Sends alerts when in need of a recharge
Connects to dog collars
Works anywhere with 2G network coverage
Requires a monthly fee paid to work
It's controlled via a smartphone app
Can show dog tracking history
Recharges via USB cable
BEST ACTIVITY GPS DOG FENCE
Petbiz Gps Pet Tracker
Where It Works
The tracker only works within the US and with its special tracking technology, it offers coverage where 3G trackers wouldn't work. It attaches to a dog collar and works up to 30 days per single charge. It takes 2 hours to charge with a charging cable that comes with it. You can always read about other GPS trackers for hunting dogs to learn more about them.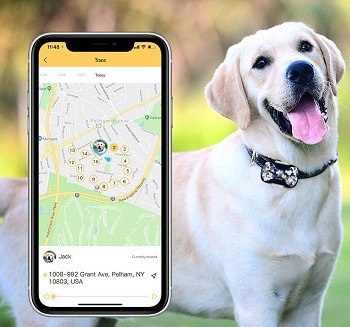 Location Data Refresh Rate
It refreshes dog location data every 20-50 meters so you can get a precise reading of where your dog is. The e-fence is manageable using its app and it will send you alerts when it's breached. You can even see how many calories the dog has burned, the distance it traveled, and how many minutes it has been active.
In Short:
Works only within the US
Tracks with special technology that covers more areas
The battery lasts 30 days on a single charge
You can set an e-fence using the app
Sends alerts when a safe zone is breached
Refreshes location data every 20-50 meters
Shows calories burnt, distance travels, and minutes active
How To Pick A Gps Dog Collar Fence
There's no point in getting a Gps dog collar fence if you're not familiar with what they do, how they work, what models are available and so much more. To make sense of it all and a lot more, we made this easy-to-understand buying guide to help you pick one out for yourself.
GPS Dog Fence System – The way the fence system works is through GPS, radio waves, or through a network like 2G or 3G. You'll either get an app for your phone or a handheld device that will show you a map and you can draw up a fence zone. When it locates a dog outside a fence zone, it will warn you and you can begin the search for your dog.
Working Radius – A working radius is important to check out because if your dog tends to wander off far away, the device won't be able to track them down. Home devices have a smaller working radius and they're usually meant for smaller dogs that can walk smaller differences. The largest radius is found on GPS trackers for hunting dogs.
Networks Connection Devices – If the device you're looking at connects to a network, know that you will have to pay a monthly fee in order for it to work. The benefit of these devices is that they can work anywhere where there is a network connection so there's no limit on the working radius.
Types Of Devices – There are two types of devices that we were able to distinguish from one another. The ones that attach to preexisting dog collars and ones that are actually a dog collar with the technology built inside of them. In the case of a collar, you'll have to check out your dog's neck circumference to see if you can securely but comfortably attach it to your dog.
Battery Life – It would be best if you get a device with long battery life on a single charge because you never know when your dog can wander off away from the safety zones. In that case, you want to be able to rely on its battery that it will work until you've found your dog.
Activity Trackers – If your dog's health and fitness are important to you, you can get a dog activity tracker collar. If you'd like the benefit of fence mapping, look for devices that have options for geofences and e-fences available for mapping out. Some of the activities they can track are calorie consumption, minutes active, and distance traveled. Most of the devices are waterproof up to 3ft deep.
To Sum Up
If you've read the reviews and the guide, you'll know that it's not possible to recommend one GPS dog collar fence since they're all so different. The one you'll pick depends on your budget, the working radius you wish to have, your dog's size, behavior, and more. If you'd like to read about other types of collars, you can read next the posts about the best dog trackers or dog tracking collars. If you'd like us to include reviews of devices made for cats and dogs, you can find those products in the dog and cat GPS tracker article.