If you are in search of a home camera for pets, you shouldn't miss our article.
We have found the best available models, divided them into six categories, and now we are presenting them for you.
Check out which model we find the best of best, which one comes with a super-useful treat dispenser, or which device is the most budget-friendly. In the end, have a look at our buying guide that will help you understand which model is the one you should get.
The Summary
6 Best In-Home Camera To Watch Pets
BEST OF BEST HOME CAMERA FOR PETS
Arlo Q Pet Camera To Watch Pets
A 1080p Camera
Having a good image resolution camera is a must when it comes to home camera for pets. After all, these devices will record your entire home and serve as security cameras too. Arlo Q's camera provides a clear day and night vision and a 130° field of view.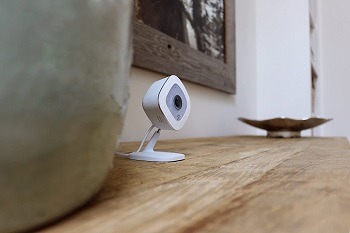 The App And Storage
You will need to download the free app to use this camera remotely and to customize it. Moreover, the app comes with free cloud storage. Most of the cloud services require subscription. Luckily, this service is completely free and it keeps your media for 7 days.
The Microphone And Speaker
It is possible to interact remotely with your pet. The built-in speaker and microphone allow you to talk to your pet through your app and you will be able to hear your pet bark or meow you back. Train your pet to get close to the camera when it hears the ringtone. Use the Alexa voice assistant feature too.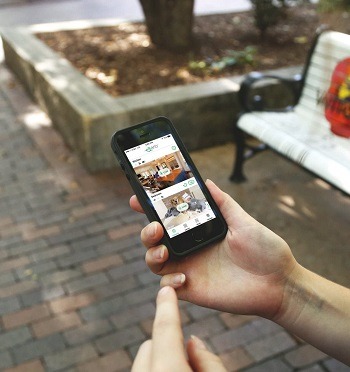 Safety Features
There is the motion detection sensor included within this camera to watch dogs at home. It will make you feel safe about your pet and your home. It will send you an instant notification and alert you via the app that something unusual has happened at home.
In Short:
a 1080p image resolution camera
download the free app
use the free cloud storage service
two-way interaction possible
option of using Alexa voice assistant
motion detection sensor included
get real-life notifications
BEST TREAT DISPENSER HOME CAMERA FOR PETS
Furbo Alexa Treat Toss Pet Camera
How To Use
It is incredibly easy to set up and use the Furbo home camera for pets. It is a simple plug-in device. The USB cable comes included. Once you plug it in, connect it to your wifi and download the app to your smartphone. Pair the devices and you can start using the camera.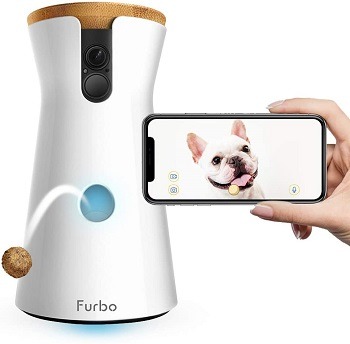 The Camera And Audio
This 1080p Furbo camera for pets provides you with a clear image and video vision. It comes with a 160° wide angle. It comes with the two-way audio which means that you will get to use the app to interact with your pet remotely if you feel the need to.
The Food Dispenser
The wifi dog treat dispenser is ideal feature for people who are not at home often. You will never forget to feed your pet. Fill the food dispenser with your pet's favorite dry food and let the device toss it the delicious reward automatically. You can also feed your pet through the app whenever you wish.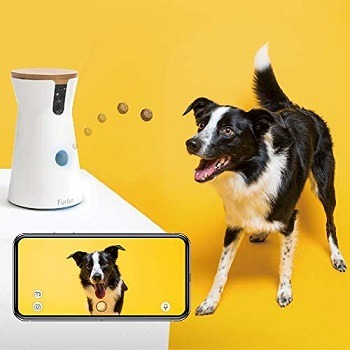 Supports Alexa Voice Assistant
If you are a fan of using the voice assistants, you will love the Furbo pet camera. This feature is optional and it only works when you are at home. Use the Alexa assistant for Furbo to toss a treat to your pet. Follow the instructions to learn more about this feature.
In Short:
easy to set up and use
download the Furbo app
use the app to check on your pet
interact with your pet remotely
use the food dispenser
set the automatic toss treating
optional: Alexa voice assistant feature
BEST CHEAP HOME CAMERA FOR PETS
Jztek Budget-Friendly Camera For Pets
The FHD Camera
Another model that features a great camera quality. This Jztek full HD 1920 X 1080p camera comes with a 90 degree wide-angle. It combines a 355-degree horizontal and 65-degree vertical rotation range. You will use the camera through the app that is supported by iOS and Android.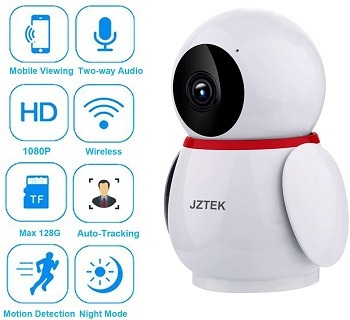 Night Vision And Audio Features
The camera supports night vision mode. It features 6 pieces of built-in infrared LEDs that allow the night vision up to 20 ft. There is a built-in anti-noise filter included. It helps you get the clearest two-way audio experience. Call your pet and talk to it remotely.
Wifi And Storage
Connect this home camera for pets to your wifi. Note that this device supports only 802.11b/g/n 2.4Ghz network frequency. It does not work with 5Ghz. The device supports the safe cloud for data storage. Use the cloud to store all your photos and videos.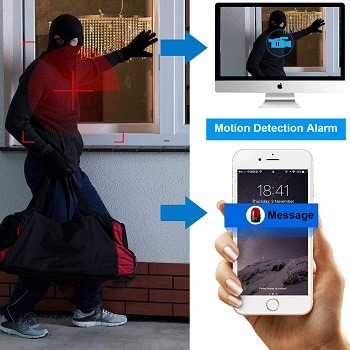 The Safe Smart Sensor
The main safety feature of this cheap home monitoring wifi pet camera is the smart motion detector. If it notices unusual motions, it will start recording. Also, you will get the alert notification to your app instantly. Use the two-way audio to scare off the intruders.
In Short:
budget-friendly device
FHD 1920 X 1080p camera
night vision mode
two-way audio feature
connects to 2.4Ghz wifi
comes with a smart motion detector
BEST TWO-WAY AUDIO HOME CAMERA FOR PETS
Deyan Interactive Camera For Pets
Deyan Product Overview
This is a small, 3.9 x 3.6 x 4.5 inches and 14.72 ounces home camera for pets. It comes in a discreet white design. It is made for indoor use only and it easily fits in any room. It is affordable and the general user's satisfaction is pretty high. You will operate this camera through the app.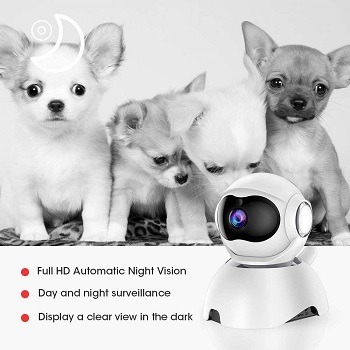 Technical Specifications
The Deyan camera connects to your 2.4Ghz wifi. It gets set up very fast. The iOS, Android, and tablet support the "YI LOT" app. You can find the app in the App Store or Google Play. The 1080P FHD comes with a 6G lens and 9 pieces of infrared LED lights for clearer night vision.
The Two-Way Interaction
This Deyan two-way pet camera is a great device for two-way interaction. It features a two-way audio and microphone. So, you can speak to your pet remotely, and listen to it barking or meowing you back. Also, you will be able to chat with your family from anywhere.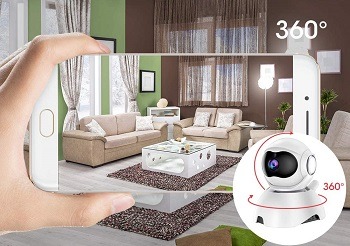 The Safety Detector
Use the smart sensor to detect unusual motions or sounds. If your pet moves, the camera will track its movements and record it. Also, if it detects any other motions, it will record the video and notify you. Apart from that, if the camera detects a sound, it will capture it and alert you.
In Short:
3.9 x 3.6 x 4.5 inches and 14.72 ounces camera
affordable for anyone
clear day and night vision
two-way remote communication feature
motion and sound smart detector included
smart sensor sends instant alerts
BEST WIFI HOME CAMERA FOR PETS
Deatti Wireless Pet Camera
Connect It To Your Wifi
This home camera for pets by Deatti connects to your 2.4G Hz wifi. It pairs with the app that you will download to your smartphone (Android or iOS). You will get to operate the camera through the app and receive important alerts. Also, you will be able to check your photos and videos.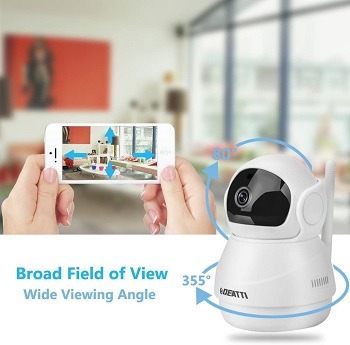 About The Camera
This is a 1080P high definition wide-angle camera. It combines a 355-degree horizontal and 90-degree vertical rotation range. This creates a 360-degree panoramic coverage of your home. It is easy to check on your pet and see if everything's fine at home.
Safe Personal Data
Your personal photos and videos won't be store on any online server. Instead, you will use your micro SD card (up to 128 GB and not included in the package) to save your data. This is the safest way of storing your data and you won't have to worry about the leakage of information.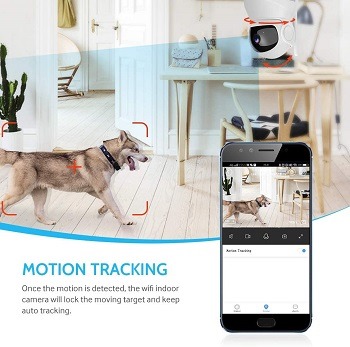 Why Buy Deatti Wifi Pet Camera?
Apart from it being very affordable, you will get to have the clearest day and night vision of your home. Also, you can use the indoor camera for pets for two-way remote interaction with your pet and feel safe about your home. It includes the motion detector and the camera covers your entire room.
In Short:
easy connects to 2.4G Hz wifi
use the app to operate the camera
clear view and panoramic coverage
no risk of storage leaking
use your personal micro SD card
affordable price
easy to use
BEST INDOOR HOME CAMERA FOR PETS
RVA Camworks Pet Cam For Home
About RVA Home Camera For Pets
This is the best in-home cameras for pets. It is exclusively made for indoor use. The camera runs 24/7 and makes you feel safe about leaving your pet home alone. You will operate it through the app that will help you check on your home at any time of the day and night.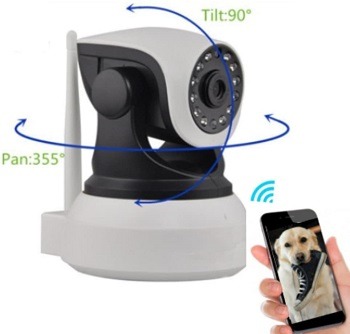 The Camera's Characteristics
This is a 720p camera. It pans 355 degrees in a circle and tilts 90 degrees up and down. If you want to cover your whole house, you can use 4 cameras that you can connect in your app. It includes the night vision mode. You will get to see your pet and house in low light conditions as well.
Remote Camera For Pets At Home Operation
As you already know, you will use this indoor dog camera through the app. The iOS and Android support the app. The setup and usage is simple. Once you download the app, pair it with the camera and follow the app's instructions. Snap and record funny and adorable photos and videos through the app.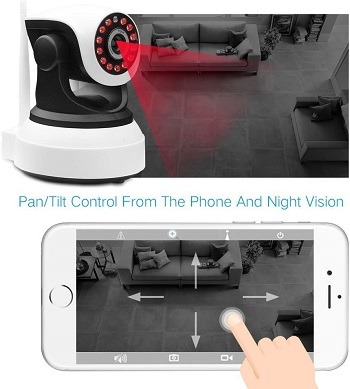 Multi-User Monitoring
If another family member wants to monitor your pet and home, it can. Multiple users can log in to the app to view the camera at the same time. Let another person check on your home while you are busy. Also, snap pictures and forward them to other family members.
In Short:
made for indoor use
download the app the pair it with the camera
use the app to check on your home at any time
camera covers 355 degrees in a circle and 90 degrees up and down
use the app with multiple users
share or store the best pictures or videos
How To Pick: Home Camera For Pets
Picking the right home pet monitoring device may seem confusing sometimes. To help you out with your decision, we have listed five main features that you should consider before buying. Read on to see why having a good camera resolution and a night vision camera is so important. Moreover, owning an interactive home webcam for pets, or the one with the treat dispenser, may help your pet stay entertained and feel less lonely. Here are our key factors that we suggest sticking to.
Get A 720p Or 1080p Camera – When buying a pet camera, don't forget that you will want to get the clearest image of your pet and home. This is why we suggest you choose a high-image-resolution camera with good video quality. A clear night vision mode is a must too!
Remote Interaction – Try to find the device that comes with the built-in microphone and speaker. This will allow you to say hi to your pet remotely, but also to interact with other family members, if necessary. Moreover, you can use it to scare off the intruders.
Real-Life Alerts – The pet cameras usually come with the motion detectors. Should something unusual happen, the device will alert you instantly. It will send the push alert notification to your app that you will have previously downloaded to your smartphone and paired with the camera.
Safe Data Storage – Most of the time, you will have the choice of storing your data (photos and videos) to the cloud or your micro SD card. Choose the data storage you find the safest. If you save your data to the cloud, ensure it features the advanced encryption technology that prevents it from hacking.
The Pet Food Dispenser – This is a great extra feature that not every home camera for pets comes with. In case you have to leave your pet at home alone for a few hours and on a daily basis, get a device with a treat tossing dispenser. Let it not stay hungry for too long.
To Sum Up
In the end, we will conclude with our best pick which is Furbo Alexa Pet Camera. We consider this model the best home camera for pets because of its treat-tossing and Alexa features. We simply love the interactive pet cameras. For more great models, have a look at our 2-way pet camera post as well.