Searching for the ideal wifi pet camera to check on your pet even when you are not able to be there?
Great, because we are here to help you find the right model for you!
In this article, we have gathered six wireless pet cameras that are most searched for. See which model we find the best of best, best interactive, or best for monitoring puppies or other baby pets. Make sure to check our buying guide at the end of the article to help you with finding the right pet camera for your home.
The Summary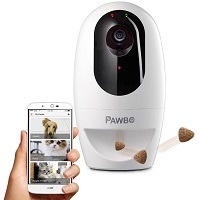 Pawbo Life Pet Camera
OVERALL RATING: ★★★★★
Entertain your pet by playing a laser game, or tossing it a treat remotely. Interact via the app and check on your pet whenever you feel the need.
Jump To Review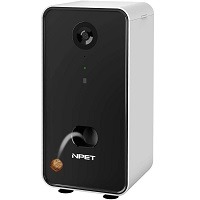 Aonesy Pet Camera With Treat Toss Feature
OVERALL RATING: ★★★★☆
Don't ever let your pet stay without its favorite treat ever again! Use the Aonesy app and toss a crunchy reward remotely.
Jump To Review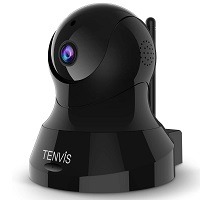 Tenvis Pet Monitoring Cam
OVERALL RATING: ★★★★☆
Your pet baby or your puppy will stay safe 24/7 with this great smart day and night vision Tenvis monitoring pet camera.
Jump To Review
What Makes Wireless Camera Different From Other Models?
Wireless cameras don't have a cable port for Internet like other models which allows you to place it in different spots in the house. WiFi camera connect with Internet by using the frequency signal so to start recording your network needs to be always stable.
Type Of Camera Suitable For Your Needs
The type of the camera for you needs depends on your daily pet routine and habits. If you're planning to only monitor your pet while no one is home, choose the simple monitoring device with basic features. Your pet loves getting treats? Choose the multifunctional camera with treat dispenser which will eject his favourite treats. Also, to have an interaction with your pet so he can hear you and speak to you when you're away, choose camera with two-way communication feature.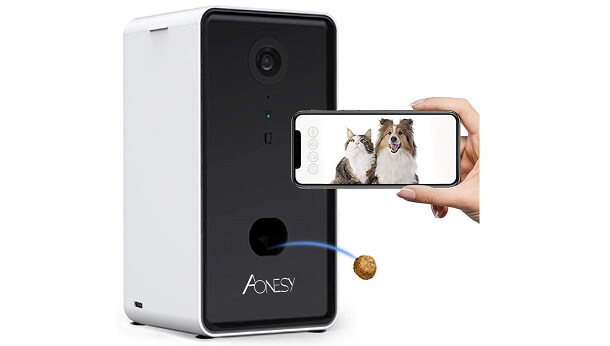 Pet Owners Who Are Advise To Buy Camera
Pet cameras are mostly recommended to cat and dog owners. They are most likely to walk around the house. Also, they can easily get trained to respond to the voice of the camera and most likely to use it.
Benefits Of Having Wireless Devices – Why To Buy?
If you're still having doubts whether to buy a wireless camera or not, here is the list of benefits you'll have if you buy this smart device.
Daily Monitoring – You're away from home and want to check what your pet is doing or is he ok? With this device you can easily monitor no matter where you are at the moment. If your dog is behaving strangely or having health problems, this device can be a life-saver
Communicate With Your Pet – Almost every wireless pet camera has a two-way communication feature, which allows you to speak to the camera so your pet can hear you. This can really help with separation anxiety which pets oftenly have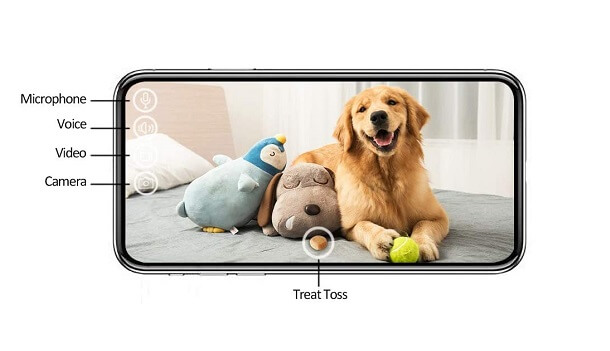 Flexible Placement – Wireless models are much easier to install and provide flebile placement as well as movement whenever you want.
Pet Training – you can easily train your pet to listen to commands when you're calling them. Train your pet to get closer when they hear a calling ringtone which will notify them to respond with their voice
Use It As Security Camera – Not that only wifi camera is used for monitoring, it can also be a security camera so you can check if there are intruders or suspicious noises nearby
Guide To Buy Wireless Camera – Which Features To Look For?
If you don't have a WiFi pet camera yet, this guide will help you to check the most important features to look for when buying this smart device.
Is The Model High Quality?
Camera needs to be made of high-quality plastic, without any glass parts that can easily break and hurt your pet. The construction needs to be stable and sturdy.
What Is Supported Internet Frequency?
Every pet WiFi camera works with only 2.4gHz frequency, but some of them also work with both 2.4ghZ and 5G frequency. Before buying a camera check if your home connection is compatible with the model.
Which Power Supply Camera Use?
Pet cameras can have an electric or battery supply. Models with electric supply request a socket nearby. Most models with battery supply have rechargeable batteries which you can charge with USB cable when they run out.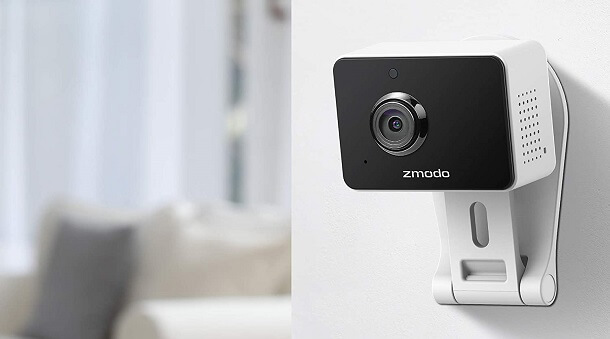 Which Type Of Monitoring Devices Are Suitable For Use?
Most of the pet cameras can connect with multiple smart devices like smartphone, laptop, tablet, iPad etc. Before buying a pet camera, check if your device can be paired with a camera as well as if the app can be downloaded.
Which Camera Features Are Most Important?
To have an easy daily monitoring, we don't recommend picking a model under 720p image resolution, otherwise you will have a very blurry picture. If you want a crystal clear image pick model with 1080p. Camera needs to have a 3x zoom so you can check every corner of the room.
Are There Any Useful Additional Features?
Pick the camera with day and night vision if you want full 24/7 monitoring.Sme models include multiple infrared LED lights that will automatically turn on. Also, vertical and horizontal monitoring will provide a better view. If you're planning to use it as a security device, choose a model with motion and sound detector which will send alert notification to your remote device.
6 Best Wifi Pet Cameras
Pawbo Life Pet Camera
Quick Overview 
Having a Pawbo wifi pet camera will help you feel safer about your home and your pet. This 4.4 x 4.4 x 7.9 inches device item fits everywhere. It leaves its users super-satisfied, it easily connects to your wifi, and pairs with the Pawbo app. Use the app to toss a treat or play a laser game.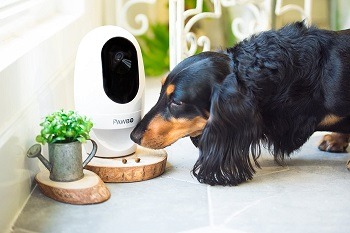 The Pawbo Camera
The 720p HD camera enables you to have a clear vision of your home and your pet while you are away. You can easily do the live video streamings and make sure everything's fine at home. Check on your pets and call them from your office or any other place.
Train Your Pet 
You can train your pet to get close to the Pawbo when you are calling them. They will hear a calling ringtone to notify them to respond. Your pet will come to the camera, and you will be able to see it. Your pet will hear your voice, be happy, and less lonely when you are not there.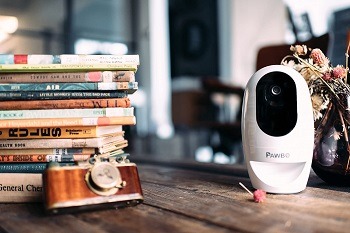 Save The Photos
The app allows you to snap the cute, funny, and interesting photos of your pet. You can also record video clips that you can store to the app. If there is a special photo or a video, you can easily download it, forward it to your family, or share it on social media.
In Short:
small and fits everywhere
easily train your pet to respond to your call
talk to your pet
snap photos and videos
save or share the media
toss your pet a treat
Aonesy Pet Camera With Treat Toss Feature
Toss Your Pet A Treat
Don't let your pet feel hungry and lonely. Fill the wifi dog treat dispenser with up to 2 lbs of its favorite treats. Select how many treats the dispenser will toss to your pet (from 1 to 12). Make it stay active and catch the treat. Note: the dispenser doesn't support wet food.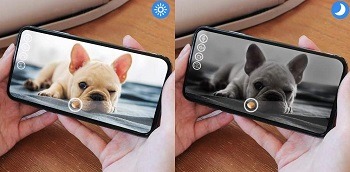 Use The App
To operate the Aonesy wifi pet camera and treat dispenser, you will need to download its app to your iOS (7.0 and above) or Android( 5.0 and up). The app allows you to operate the device completely – to toss the treat, check on the camera, or to interact with your pet remotely.
The Main Characteristics 
This is an FHD 1080p wifi pet camera. It features a 3x zoom. You will use the built-in speaker and microphone when communicating remotely with your pet. It connects to your 2.4G Hz wifi network frequency. This device plugs into a power outlet using a USB cable (included).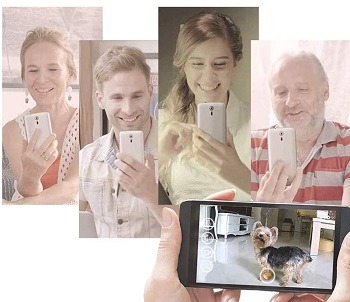 Why Get Aonesy Pet Cam? 
Whenever you feel like your pet could need a treat or simply hear your voice, this device is here to help. It will make you feel relaxed and safe both about your pet and your home. The app is completely free and you can share the account with up to 5 family members.
In Short:
use the free app to operate Aonesy wifi cam
toss a treat to your pet remotely
call your pet and interact
snap a photo or take a short video
connect the device to your 2.4G Hz wifi
charge it with a USB cable
share the app account with up to 5 family members
Tenvis Pet Monitoring Cam
Take Care Of Your Puppy 24/7
If you have a new puppy, you know that it required constant care. This is not always possible because you cannot take it anywhere with you. If you need to leave your puppy at home alone (or in another room during the night), use the Tenvis wifi monitoring cam and be with your puppy 24/7.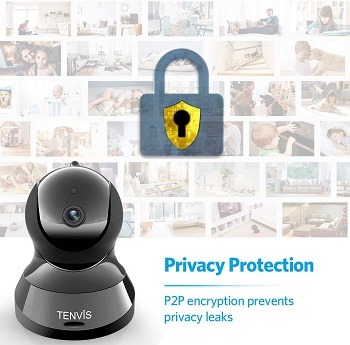 The FHD Camera
Puppies are active and sometimes act like human babies. Having a camera to watch them may help you to see how it is doing while you are away. Tenvis 720p camera comes with a covering area of horizontal 355° and vertical 120° which means no blind spots.
Check Your Puppy In The Dark 
You will probably need to see if your puppy is fine at night. This camera has a clear night vision mode included. You will be able too up to 32 ft in the dark. There are 11 pieces of infrared LED lights that will automatically turn on in the dark.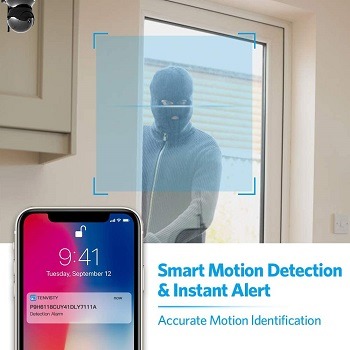 The Motion Detection Sensor 
Apart from checking how your puppy is doing, you will probably want to know is something unusual happens when you are away. The Tenvis wifi pet camera for home includes the motion detector which means that, whenever it notices something strange, you will get alerted.
In Short:
put your mind to ease 24/7
720p camera resolution
horizontal 355° and vertical 120° covering area
11 pieces of infrared LED lights
motion detection sensor
Zmodo Pet Camera With Wifi
What To Know About Zmodo 
The Zmodo wireless 720p pet camera is a so-called non-stop monitoring device. It provides you with clear and detailed images of your pet and your home. It makes you feel 100% safe even when you are not at home. Operate it remotely via the app.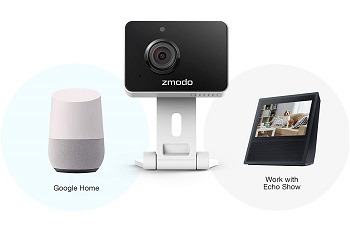 The Setup 
You don't have to be a professional to install and set up this camera to watch dog at home. It is easy and fast. Simply unpack it and plug it in. Turn on the camera and complete network configuration in a few minutes. It connects to your 2.4G Hz wifi. It pairs with the app.
Real-Life Alerts 
If an unusual motion gets detected by the motion sensor, you will get an instant push notification to your smartphone. Check on your pet and your home at any time, and call the emergency services if necessary. Customize the detection zones.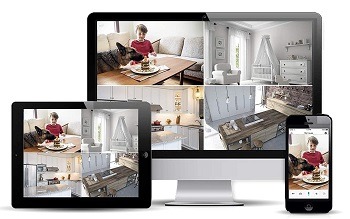 Last Details 
There is a cloud service that is provided. Store all the important photos and videos to it. The camera comes with a 4 optical and 4 digital zoom. The overall dimensions of this unit are 4.49 x 2.13 x 6.85 inches. It fits anywhere and it comes in a discreet design.
In Short:
720p camera
clear vision and high-quality image resolution
real-life notifications
motion sensor
4x optical zoom
4x digital zoom
Kamtron Two-Way Pet Camera
Day And Night Camera
This Kamtron device is a great 1080p interactive pet camera. It comes with a day and night vision mode and a 360° panoramic view. The night vision mode will make your home and your pet safe 24/7. The camera includes a microphone and speaker for two-way remote interaction.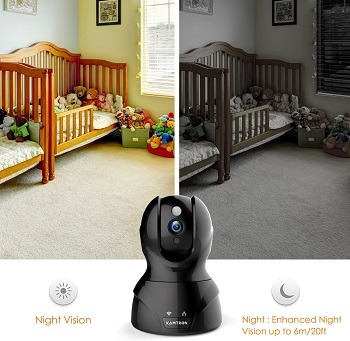 Save Your Data
There are two ways of storing your photos and video recordings – the SD card up to 128G (that isn't included in the package) and the MIPC cloud. Choose the data storage you prefer and find the safest. Share the funny and adorable media with your friends or family.
How To Set Up?
There is no easier job than setting up this wifi pet camera. Once you unpack it, simply plug it in. After you have turned it on, connected it to your wifi, you will need to download the app to your smartphone or tablet. Pair the camera with your app and you are ready to go.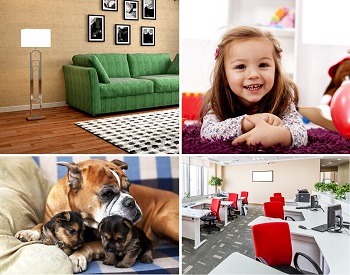 It Is Budget-Friendly 
This wireless pet camera is cheap. However, this doesn't mean that it doesn't work properly. On the contrary, this device comes with all the important features one has to look for in a pet camera. What is important too is that the user's general satisfaction is very high.
In Short:
features 1080p camera
includes day and night vision
allows you to communicate to your pet remotely
store your data on the cloud or micro SD
easy and quick to set up
pairs with the app
cheap and of good quality
Victure 1080p FHD Pet Camera
Works With 2.4 GHz And 5 GHz
The Victure wifi pet camera is among the rarest models that work with 5 GHz wifi. It supports a dual-band router. This device will never give you connection problems. You will be able to use it at all times.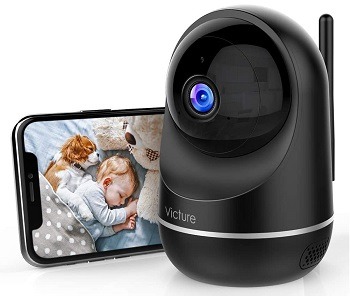 The Features 
The main and most important features are the safety motion detection sensor and the real-time notifications alert. Also, this camera comes with two-way audio with the anti-noise technology and with a built-in microphone and speaker. The night vision mode is included too.
The Technical Specs 
This is a 1920 x 1080 resolution and no distortion camera. It offers you a correct angle and a clear view. There are 10 pieces of 850mm IR LED for the clear night vision. You'll be able to see up to 30 ft in the dark. It is a plug-in device and supports cloud or Micro SD Card (8-64GB).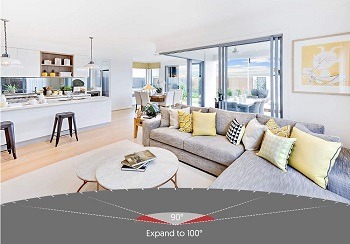 Why Is Victure So Great? 
The Victure pet cam is extremely easy to set up and use. It is quick and allows remote operation via the app. It features the advanced encryption technology that prevents the cloud from hacking. You can mount it on the wall or let it stand on the flat surface. It is cheap.
In Short:
supports 2.4 GHz and 5 GHz wifi
motion detection sensor included
two-way audio
anti-noise technology included
1920 x 1080 image resolution
cloud or micro SD card
How To Use Wireless Pet Camera?
You will need only 5 minutes for the whole setup by following the instructions. Place the batteries inside or plug it in the socket. Camera needs to indicate with green light it is correct and ready to work. Press the WiFi button and connect it to your home network. Internet connection needs to always be stable and turn on so the camera can work properly.
Most Functional Monitoring Device Is Smartphone
Pair your smartphone with a camera and download the manufacturer's app. Most apps don't require fees or subscription. Check video and audio settings as well as other additional features and start with monitoring. Make sure to always have an Internet connection for real-time monitoring.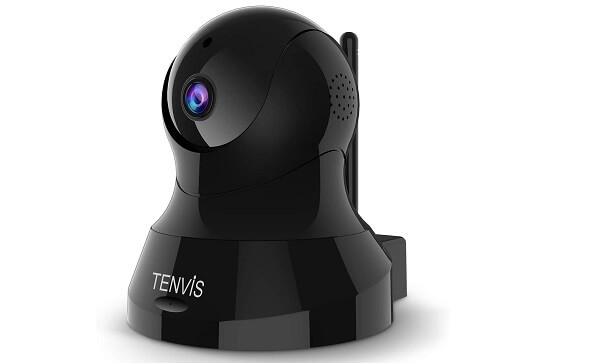 Can Only One Family Member Monitor?
No, other family members can use the app and monitor, as well. Most manufacturers allow more than 3 additional monitoring users. Some of them allow up to 8 users.
Functionality Of Wireless Wifi Pet Camera – What To Consider?
Camera needs to be functional for the user so there are no difficulties with daily monitoring. Check the recommended spots in house and safety tips.
Where To Place Camera For Best View?
We recommend placing the camera on a higher area like a shelf or desk so your pet can't reach it. If you're planning to have a camera with a treat dispenser, place it in the corner so your dog or cat can take the rewards easily. Most pet owners place the wifi cameras in the living room.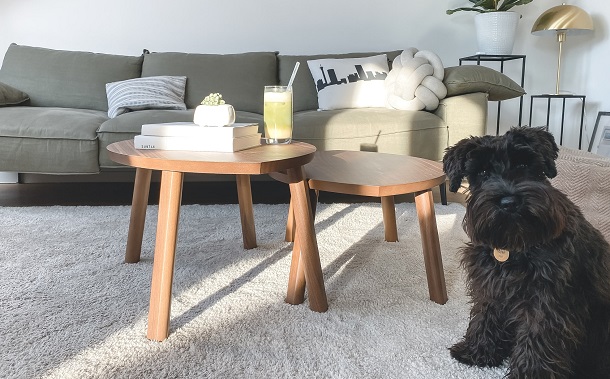 Use It Only Inside The House
Only cameras with outdoor labels can be used outside the house. Indoor models don't have weatherproof protection from hot or cold weather as well as wind. They're not as bulky as outdoor ones, and most of them used electric supply which is not suitable for outdoor use because of damage.
Security Protection From Pets
If your model has an electric supply, the cable needs to be hidden behind the furniture or placed inside the cable management box so your pet won't damage it if it starts biting it, which can be very dangerous. Also, if you will place the camera in a higher area, make sure it is on a flat surface with anti-slip protection.
To Sum Up
To conclude, we must say that all of the above-listed devices are great. However, there is one that we especially like. It is the Kamtron Two-Way Pet Camera. We love it because it is budget-friendly, but still has all the important features and it is durable. An ideal pet monitor is a device that comes with a good quality camera and other necessary features to make you feel safe about your pet and home. Don't forget that using a pet cam app will help you operate all of the device's functions remotely.