Looking to find the interactive pet camera for easier remote communication and entertainment with your pet?
Great! Keep on reading this post to find out more about the six models we have reviewed. Learn everything about the best of best, best wifi, cheap, or other interactive cameras for pets. See which interactive features they come with. Also, if you are still not sure which model is ideal for you and your pet, our buying guide is here to help. You will find it at the end of this article.
Summary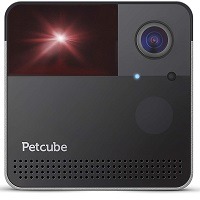 Petcube Play 2 Pet Camera
OVERALL RATING: ★★★★★
Connect the Petcube Play 2 camera to your 2.4G Hz wifi to ensure your pet is safe 24/7. It will help you get instant alerts too.
Jump To Review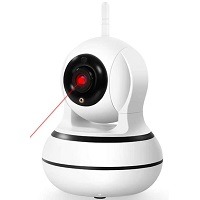 DoogCool Smart Pet Camera
OVERALL RATING: ★★★★☆
Check out why this smart DoogCool budget-friendly camera for pets has such a high number of satisfied users.
Jump To Review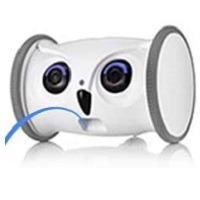 Skymee Owl Robot Treat Toss
OVERALL RATING: ★★★★☆
Don't leave your pet hungry. Toss it a treat remotely and make it catch the treat. Use the app to entertain your pet while you are away.
Jump To Review
What Is Interactive Camera Used For?
Interactive cameras have two-way communication which allows you to communicate with your pet by using speaker and microphone while you're, for example, at work. Also, it allows you to see your pet through a monitoring device, play interactive games with lasers or feed your pet with treats as a reward for good behavior.
How Interaction Works?
To start with the interaction with your pet, you need to have an Internet connection and stable network all the time. Pair the camera with one of the supported remote devices such as smartphones. By using the app while you are online, you can interact with your pet while you're outside of the house.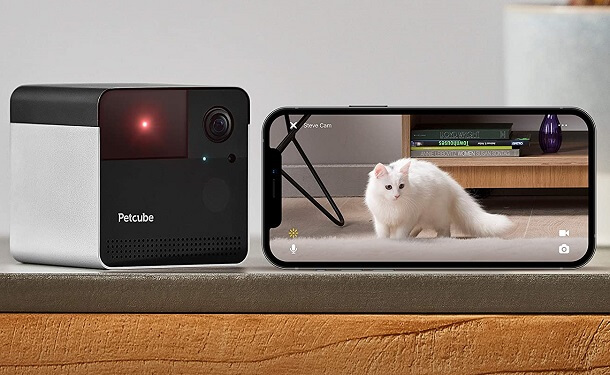 Is the Interactive Device Worth The Money?
Interactive models are, in our opinion, worth the money. They are multifunctional devices that provide monitoring and interaction. Your pet will be much happier to hear you during the day and interaction will shorten waiting time till you come back.
Who Needs To Buy an Interactive Pet Camera?
Interactive camera is the best choice for dog and cat owners, especially if your pet is often alone at home and allowed to use the whole room. Also, it is recommended to the owners that want to be sure their pet is ok and check there are no intruders around.
Benefits Of Having Interactive Device
There are many benefits of having an interactive at home and the most important one is an easy monitoring of what your pet is doing while you're away. The interactive device can be really helpful with pets that have separation anxiety, because the owner's voice can calm them down while they're alone at home. Also, it is specially recommended for owners whose pet has health issues so you can quickly react to something if you notice he is behaving differently.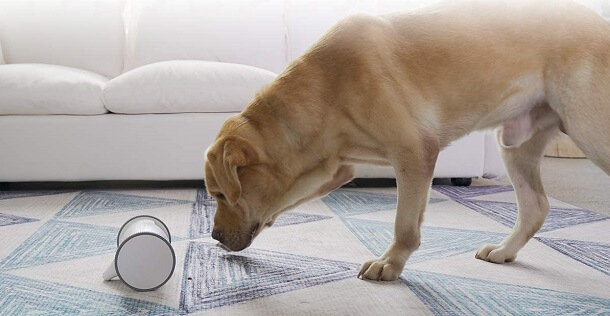 Features To Look For In Interactive Pet Cameras
So the camera can be easily used for daily routine. It needs to have great features and specifications and most important ones we listed down below.
Easy To Use
Most of the interactive cameras don't require assembly and have very simple functions for easy daily use. Before buying a camera check pictures so you can see if the model is too complicated.
Electric Or Battery Supply
There are interactive devices that have a wire and those that go on rechargeable or replaceable batteries. Which one you pick depends where you will place it and how you'll use it. Battery supply is very practical for use and movement.
Internet Connection
One of the most important features is that the supported frequency of the camera is compatible with your home frequency. You need to have 2.4gHz frequency so the camera can connect with the Internet.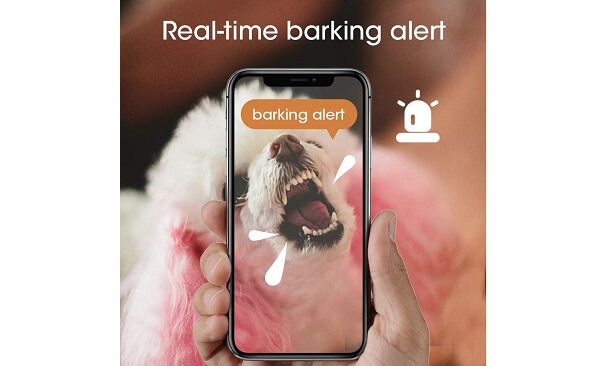 Camera Specifications
No one wants a blurry picture while monitoring or talking with a pet, so make sure to check if the image resolution is not under 720mpx, and that it has a wide lens for better view.
Pairing Device
Cameras can be paired with different devices such as smartphone, laptop or tablet. Check if your type of model supports the manufacturer's app and monitoring.
Additional Features
If you use the voice assistant oa daily basis, choose the model that supports Alexa or Google assistant feature. To feel safier when no one is home, check if the model has a sound and motion detector Also, for 24/7 monitoring pick a model that has a night vision mode.
6 Best Interactive Pet Cameras
Petcube Play 2 Pet Camera
Connect It To Your Wifi
The Petcube 1080p camera will easily connect to your 2.4G Hz wifi and function 24/7. As long as your camera is connected, you will be able to check on your pet through a live video streaming, day or night. The camera comes with a 3x zoom and a 138° wide-angle view.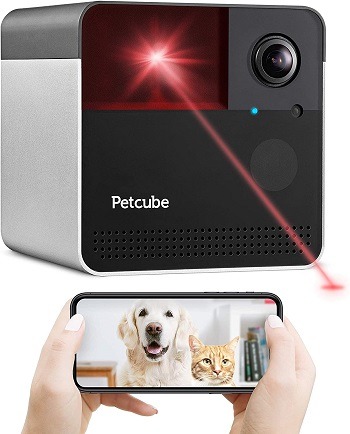 How To Use
You will use this interactive pet camera through the app. First, you will plug it in and connect it to your wifi. Then, you will download the app to your Android or iOS and pair the camera with the app. Simply follow the instructions and you will get to use this cam in no time.
The Interactive Features
The app allows you to operate the wifi dog camera. Interact with your pet remotely. Call it, talk to it, and get to hear it meow or bark you back. Then, there is the Alexa voice assistant feature too that you can send voice commands to. There is a laser game included that both your dog and your cat will love.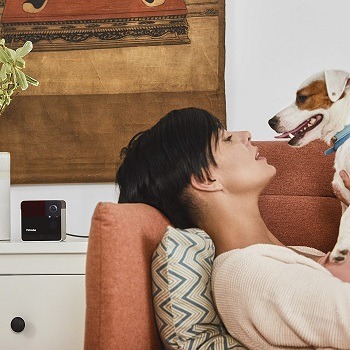 Why Get This Device?
If you are away often and need to leave your pet alone at home, this device is here to help. You can simply check on it from time to time to see if everything is fine. This is an incredibly useful device for people whose pet has health problems or for the first-time pet owners. If you have a baby pet at home, you will love also love this pet camera.
In Short:
great for first-time pet owners
ideal for baby pet owners
comes with a high-quality camera
operate it through the app
interact with your pet remotely
let it play a laser game
optional Alexa voice-assistant
DoogCool Smart Pet Camera
DoogCool Laser Pet Cam
This great camera for your pet comes with standard features and interactive games. It is a long-lasting unit that won't get broken if your pet accidentally knocks it over while playing. Let your pet feel entertained and less lonely when you are not there.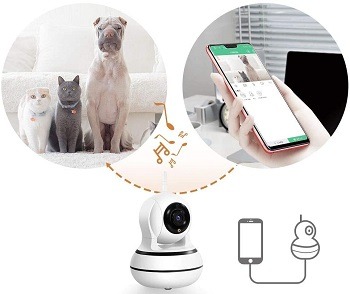 The Interactive Games
First of all, this is a laser-game camera-toy. It is a great game for your pet. Your cats and dogs will simply love this laser game and it will help them pass time. Additionally, there are bells and whistles included too. Try it and you won't be sorry!
The High-Quality Camera
This dog and cat camera with laser comes with a 1080p full HD camera. Its high image resolution and the 360° panoramic view will make you feel safe all the time It comes with the 155° tilt and a 120° wide-angle. There is the night vision mode too so your pet will be safe at all times.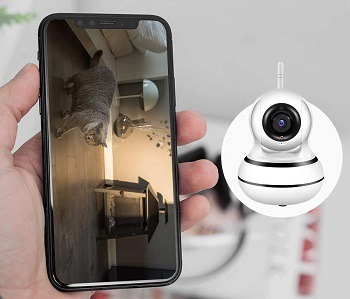 Warning Tips
Mount this interactive pet camera laser-toy above the level of your pet's eyes. It may harm its sight if it gets pointed to the eyes. Make sure your pets don't play too much with the laser. Avoid mounting or placing this camera next to the heaters. Use only indoor.
In Short:
durable device that doesn't break
bells, whistles, and laser game included
camera provides with a clear vision
ideal to use for entertaining your pets when you are away
night vision mode
affordable price
Skymee Owl Robot Treat Toss
3 In 1 
The Skymee owl interactive pet camera and robot is three things at the same time – a clear vision camera, an interactive two-way audio toy, and a treat-tossing dispenser. If your pet likes such devices and it is not afraid of them, read on and find out more.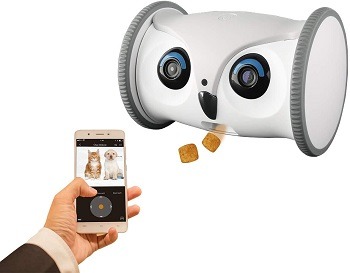 The Camera's Features
This Skymee robot includes a 1080p full HD camera. It comes with a 4x zomes and a clear night vision mode to check on your pet even in the dark. The high-quality images and videos will make you feel safe 24/7. Should something unusual happen, the camera will track it and alert you.
Toss Your Pet A Treat
Reward your pet with a delicious snack. Fill the wifi treat dispenser with its favorite dry snacks. The robot will lure your pet and it will curiously get close to it and let it stay active while it waits for the treat. Make your pet happy and entertained even when you are away.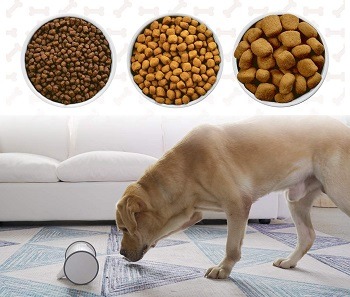 Last Few Characteristics
The two-way audio will make your pet hear your voice of comfort if you notice it is sad, lonely, or anxious. The robot comes with the PIR detection and TF recording. It will monitor your home all day and night and you will be able to enter the video history to check if everything was fine at home.
In Short:
3 in 1 camera-robot
comes with interactive games
features a 2-way audio
can toss a treat to your pet
PIR detection to make you feel safe
operate it with the app
PetChatz HDX Two-Way Talk Pet Camera
PetChatz Product Overview
The PetChatz camera is a great interactive dog camera for remote interaction with your pet. It comes with a small camera for your pet to see you and FHD image resolution. Connect the device to your wifi and operate it with the free app. Use all of the features remotely.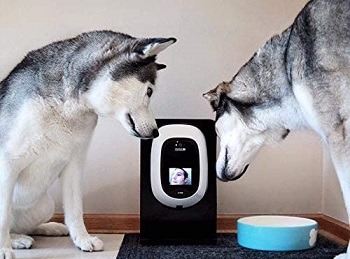 The Remote Interaction
Every pet owner knows that good communication between the pet and the owner is important. This device allows you to remotely interact with your pet when you are not at home. It is different from other models because apart from you seeing your pet from your app, your pet will get to see you too.
Safe Design
You will agree that our pets are like our babies. We must be careful and take care of them constantly. This is why we felt the need to review the PetChatzs design. It is small, can be wall-mounted, and it has no sharp edges or corners. Also, there are no cords, so your pet won't be able to chew on them.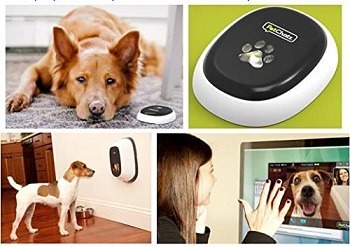 More Interactive Functions
This great pet interactive camera has a small treat dispenser. Toss your pet its favorite snack. Also, there are a few brain games included. There is the optional DOGTV streaming to entertain your pets while you are away.
In Short:
one of the best interactive pet cameras on the market
made of high-quality materials
safe design
no cords
treat-tossing dispenser
brain games included
DOGTV entertainment
Festnight Robot Pet Camera
About Festinight Interactive Pet Camera
This great two-way pet camera is a robot to interact with your pets and entertain them, and a camera to check on them at the same time. It connects to your wifi and you can use the app to check on your pet in real-time. You will get all the important information about your pet and your home.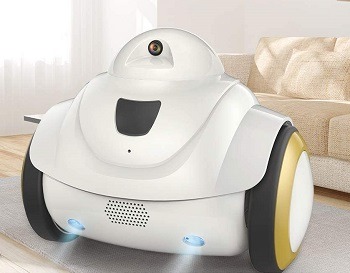 Festnight Functions
The robot can go forward and backward. It can turn left or right. It can turn trimming. It has a gravity sense mode. It features the 720p high-quality camera with a 360-degree camera angle. It will help you feel safer about your favorite fur friend.
Store The Media
You will probably notice how your pet makes fun movements and it will be interesting for you to capture some moments. You can easily take pictures and make short video clips. They will automatically save into your app's album.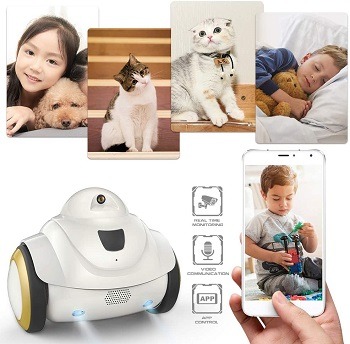 Last Details
The gravity sensing works in a way that when you wave your smartphone, the robot will move in the same direction. The robot comes with laugh sounds that can be changed in the app's settings. The user manual comes included to teach you how to use this device properly.
In Short:
entertain your pet while you are away
let it play with a robot
the robot features different laughing sounds
use the app to operate the robot
snap pictures or record vides
store the media in the app's album
CuteDigi Interactive Laser Camera
Two-Way Audio Interaction
Connect this CuteDigi interactive pet camera to your wifi and download the app. Whenever you need to leave your pet home alone, you will be able to call it and train it to respond. You can tell it hello or the words of love. Also, you can use this device during the night if you need to check on your baby pet.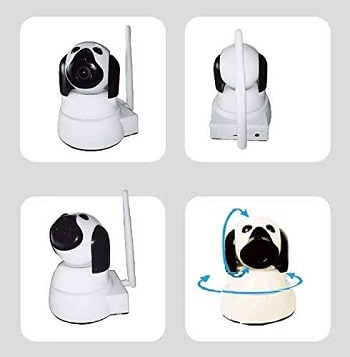 Use The App
The app will help you operate this camera laser-toy. You will pair it with your indoor pet camera and get live stream the videos from your home. Call your pet, talk to it, snap pictures, record videos. Store the data and share it with your other family members.
The Laser Game
Tease your pet and let it stay active. Make it entertain while you are away. Use the laser game to make their day more fun while you away. Just make sure the laser doesn't point your pet's eyes, so install this camera for pets below their eye level.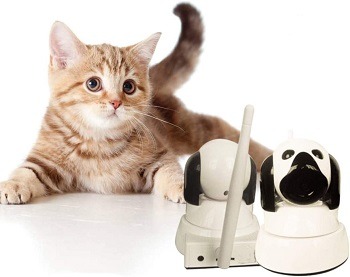 Get Alerted Instantly
This camera comes with a sensor that will detect unusual motions. Thanks to the fact that the camera is connected to the wifi, you will get alerted via the app if something strange happens in your home. Enter the app and check the recorded video to control if everything is fine at home.
In Short:
download the free app
use ti for operating the camera
check on your pet at any time and from anywhere
let your pet play a laser game
get alerted if the sensor detects a strange motion
Start With Camera Installation
All types of interactive cameras have very easy instructions for installation and you will need only 10 minutes for the whole setup. Plug the wire to socket or place the battery inside the camera, depending which model you have. Camera needs to have a green lamp or other type of indicator that will show you it works properly. Connect the camera with internet using the wireless connection.
Pairing With Monitoring Device
Pair the camera with your monitoring device by using the app. Download the app on a supported Android or iOs device and follow the installation steps which allows you to customize audio, video and all additional settings.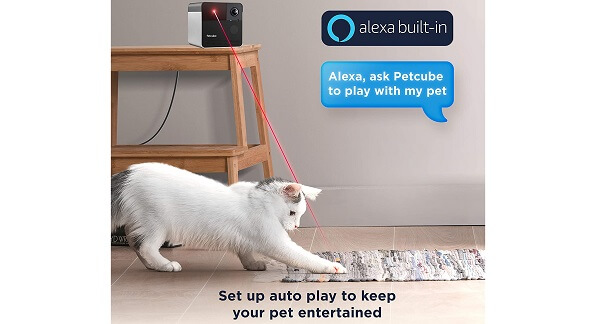 Share The App With Family Members
Other family members want to monitor the pet? No problem. Most of the manufacturers allow monitoring from different models at the same time. Use the username and password and log in.
Are All Interactive Models Pet Friendly?
Not all interactive models are the best choice for all types of dogs and cats. It mostly depends on their age, size and temperament. For example, if you have a pet that loves to play catch games, you can buy a model with a treat dispenser which will toss treats. Also, if your cat is afraid of moving objects, then it's not a good idea to buy a robot camera. Check how your pet reacts to bells, whistles and other interactive sounds and set the favorite one.
Moving Camera Types Are Not For Crowded Rooms
So your active cat or dog won't crash into the room while playing with the robot or a moving camera with a treat dispenser, it is important that the room don't have many accessories around. We recommend placing the moving interactive model in a large room with open space.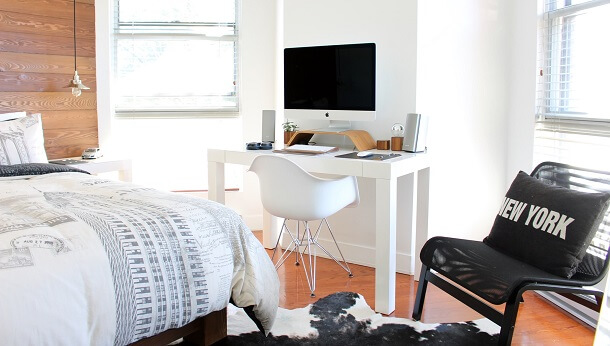 Additional Tips For New Users Of Cameras
If you have a static interactive camera, place it somewhere your pet can't reach it, especially if it has a wire. Install the wall camera with LCD monitor at pet eye level so he easily watches TV. If you're buying a laser model, make sure that it has angled rays which won't go directly into the pet's sensitive eyes.
To Sum Up
To conclude, we would like to mention the device we find the best. It is the PetChatz HDX Interactive Pet Cam. We like it because the pet can see you, and you can it too. It also includes great additional features. If you want to see more interesting models, don't miss our post about the home cameras for pets. Also, a good wireless pet camera will do the job too.