Have you been looking for a pet monitor camera?
If your answer is yes, then keep on reading.
We have found the best models and divided them into six categories. Check out the pet monitor camera reviews and read more about the best of best camera, the best indoor, two-way, or wifi. Have a look at other models too and let our buying guide help you get the best pet monitor for you.
The Summary
6 Best Pet Monitoring Camera
BEST OF BEST PET MONITOR CAMERA
Tooge 24/7 Pet Camera
General Product Overview
The Tooge pet monitoring camera to watch dog at home is a high-quality device that comes with great picture quality. You can easily check on your pet and use this device as a baby monitor. The camera can tilt, pan, and zoom. It charges while monitoring and recording.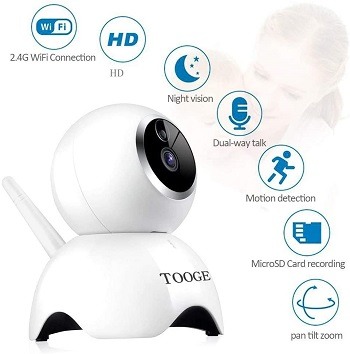 Sets Up Quickly
The Tooge per security camera sets up in a flash. All you need to do is plug it in, connect it to your home wifi, and download the app to your iPhone or Android. Pair the devices and start using the camera. This device supports 24/7 video recording.
Clear Day And Night Vision
The most important feature of such devices is a good camera. The Tooge camera comes with an intelligent IR-cut switch that provides you with high-quality images. The night vision will make you see up to 16 ft. in the dark. Check on your pet at any time and from anywhere.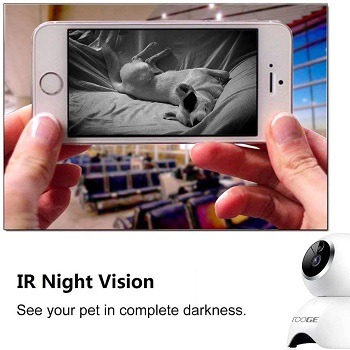 Safety Features
The P2P technology makes sure your personal data is not stored in the server. The data is stored locally so the safety is high. Your saved media (photos and recordings) won't leak out. The device supports a micro SD card up to 128GB. Also, Tooge camera detects strange motions and sends alerts to your app instantly.
In Short:
good price
pan, tilt, and zoom included
come with a night vision mode
it charges while recording
motion detection
BEST INDOOR PET SECURITY CAMERA
Arlo Q Indoor Camera To Watch Pets
Perfectly Clear Images
The Alro Q pet camera is designed for indoor use. It comes with a 1080p HD camera that provides clear images. It also features a night vision mode that lets you see clearly in the dark. The camera comes with a 130-degree field of view.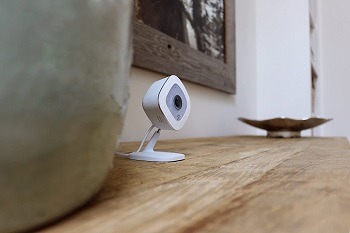 Free Cloud Storage
Unlike many other pet monitoring devices, the Arlo Q model comes with the feature of using cloud storage for free. You don't have to subscribe and pay for it. The storage keeps the data for up to 7 days. You can download, view, or share the data.
Two-Way Communication
There is a built-in microphone and speaker included. Use the app to call on your pet and check on it anytime. Train it to come close to the indoor dog camera when you call it. Interact with your pet, say it hello, and hear it bark or meow back.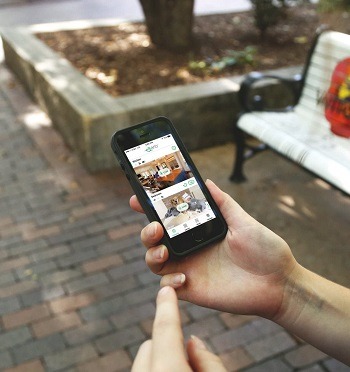 Additional Features
This indoor security camera for pets works with Alexa voice assistant (the Alexa device is sold separately). This device will alert you whenever it detects a strange and unusual motion or sound. It is able to detect people, specific zones, and contact emergency responders.
In Short:
free cloud storage
share, view, download the data
interact with your pet remotely
use the free app
works with Alexa voice assistant
sends motion alerts
BEST INTERACTIVE PET VIDEO CAMERA
Imillet Video Camera To Take Care Of Pets
Easy To Install And Use
The installation and set up is quick. This device is a simple plug-in unit. It connects to your wifi and it pairs with the app. The app is supported by your tablet, smartphone (iPhone or Android), and Windows PC. Simply follow the app's instructions and start using the device in no time.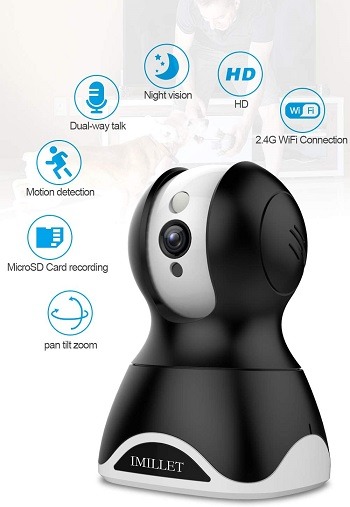 Stay Safe Day And Night
The Imillet interactive pet camera features the IR-cut switch. It has a great day and night image resolution, so, even when you at not at home during the night, you will be able to get a clear picture of what is happening in your home. Use the app to check on your home at any time of the day.
Technical Details
The Imillet camera is a two-way pet monitoring camera. This means that it includes a microphone and speaker. You can interact remotely with your pet.  The dimensions of this pet video camera are 7.1 x 4.1 x 3.7 inches. It will connect to your 2.4G Hz wifi.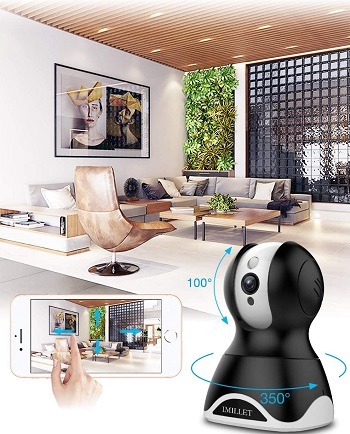 Important Characteristics
If you are interested in this device, you should also know that provides a horizontal 350° and vertical 100° rotation. It comes with a 4x digital zoom function too. Lastly, you can add multiple cameras to your app and cover your home entirely.
In Short:
sets up in a few minutes
connects to the app
connects to 2.4G Hz wifi
comes with 4x digital zoom
two-way interaction included
provides a horizontal 350° and vertical 100° rotation
add multiple cameras to the app
BEST WIFI PET SURVEILLANCE CAMERA
Bioxo Wireless Camera To Watch Pets
Why Get Bioxo Pet Surveillance Camera?
The wifi Bioxo camera is an ideal solution to make you feel safe about your pet and your home when you are away. Its clear and high-quality camera provides a panoramic viewing of your home, and the motion detector sensor that notifies you if an unusual situation occurs.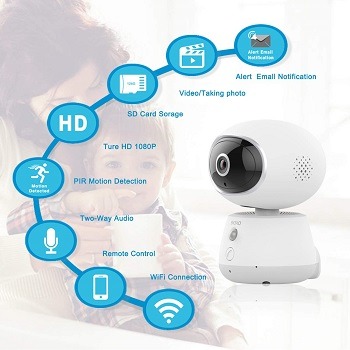 The Camera Details
The 10820p full HD camera provides a clear image quality. You can easily move the camera through the app to find your pets. It features the infrared motion sensor detector that keeps you safe and sends you an instant alert if it detects an intruder.
Remote Communication
If you are often away and need to leave your pet alone at home for a few hours, you might want to check on it and tell it hello. This Bioxo wifi dog camera allows you to communicate remotely with your pet with no echoes. It comes with a built-in noise filter.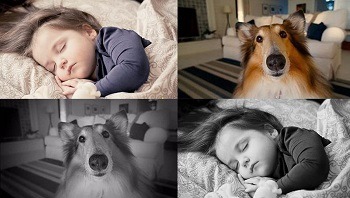 Technical Details
The unit comes with an advanced T21N chipset for smoother and more accurate operation. It features the unique HDR lens and makes it possible for you to make a 3D panoramic image. The camera's rotation motor is sound-free. It connects to your 2.4G Hz wifi.
In Short:
360-degree viewing area
1080p full HD camera
built-in speaker and microphone
easy remote communication
motion detection sensor
real-time alerts
connects to your wifi and pairs with an app
BEST SECURITY PET VIDEO MONITOR
Canary PRO Security Pet Camera
Scares Off The Intruders
The Canary Pro pet security camera features a 90-decibel siren that will stop the thieves from robbing your home. How to enable the siren? If you notice an unusual motion at your home, simply use the app to remotely turn on the siren and make that person go away.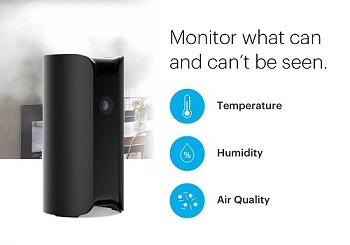 The HomeHealth Feature
HomeHealth technology is a feature that makes this device slightly different than the other ones. This function measures and monitors the temperature, humidity, and general air quality of your home. It helps you understand easier if your home environment is healthy.
More Features
With only one touch, you will be able to contact the emergency services if necessary. Also, there is the two-way remote interaction feature included. The motion detection is included. It instantly alerts you if it detects something unusual.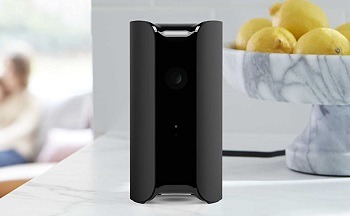 Why Buy Canary Pro?
You will feel extremely safe with this best security camera for pets. You can check on your pet at any time and from anywhere. Also, if you notice an unusual situation or detect a strange person, you will be able to scare it off instantly. The videos are automatically stored and you can enter the video history for 30 days.
In Short:
the 90-decibel siren
make the intruders go away
call the emergency services with one touch
communicate with your pet remotely
high-quality camera
BEST NANNY PET MONITORING CAMERA
Fredi Baby Pet Camera
Product Description
This baby pet monitor comes as a small two-way 720p nanny camera. It features a night vision mode, motion detection, and a built-in microphone and speaker. There are 11 LED lights for the clearer night vision mode that don't disturb your baby pet.
About Camera
This best nanny cam for pets comes with a 1280 x 720p image resolution. The visibility in the dark is up to 32 ft. The images are clear. The live stream videos are accessed via the app. This wifi camera comes with 355° horizontal and 120° vertical rotation.
Pair The Camera With The App
Connect the device to your 2.4G Hz wifi and pair it with the app. Download the app to your iOS or Android and start using all the features with it. Call your pet from the app and talk to it remotely. Use the app for adjusting the settings or check your stored photos and videos.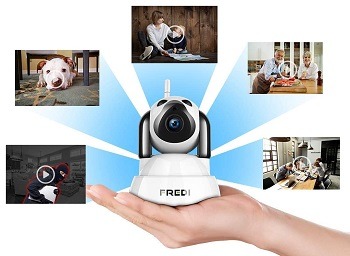 Local Storage
Store all of your important photos and videos to the local storage. The camera supports a micro SD card up to 128GB. Don't worry about your data leakage and forget about storing it to the could. The package does not include the micro SD card.
In Short:
clear day and night image vision
device connects to the wifi and pairs with an app
app supported by iOS and Android
use the app to remotely check on your baby pet
store your data to local storage
micro SD up to 128GB supported
How To Pick: Pet Monitor Camera
There are different reasons for one to get a pet surveillance camera. You might need to leave your home often, and simply check on your pet. Maybe you have a baby pet or a pet with health problems and you want to make sure they are fine all the time if they are staying in another room. Whichever your reason may be, you need to make sure the device you are getting is of good quality. Below you will find the five most important functions every device must come with. Good camera quality is the most important one. Keep on reading to find out more.
High-Quality Camera – How else will you see things clearly, if you don't get a device with a high-image image resolution? Make sure your camera quality is not below 720p. Also, a great plus is if it comes with a good angle or panoramic view.
Night Vision Mode – This function is very important for a camera to come with. You might be away during the night, or you simply want to check on your pet while it is asleep in another room. An ideal camera comes with a night vision mode.
Two-Way Interaction – The remote interaction with your pet has never been easier. Clearly, your pet cannot use a smartphone. You can simply train it to get close to the camera when you call it. This way you will be able to tell hi and heat it bark or meow you back.
Sound And Motion Detector – If you want to be sure the intruders don't enter your home, get a pet security camera that features a smart detection sensor. It will alert you if a stranger comes up and send you instant push alerts to your app.
Extra Features – Lastly, there are various features that pet monitor cameras come with. For example, if you like to use voice assistants, get the model that supports Alexa or Google Assistant. Moreover, some models feature interactive games that will keep your pet entertained while you're gone.
To Sum Up
If we were to choose between the six listed pet monitoring cameras, we would go with the Canary PRO Security Camera. We simply loved all its safety features and HomeHealth technology. Getting a good indoor pet camera is necessary to stay safe even when you are away. Make sure you get a wireless pet camera so that you can use the app to enter it remotely.